Below is an introduction video for the Hackaday contest.
Following the Semi-Finals rules, here is the 5 minute video of "What Works and What Doesn't" as the rules state.
Here is an "Artists Rendition" of the project, as described in the rules for the Semi-Finalists round.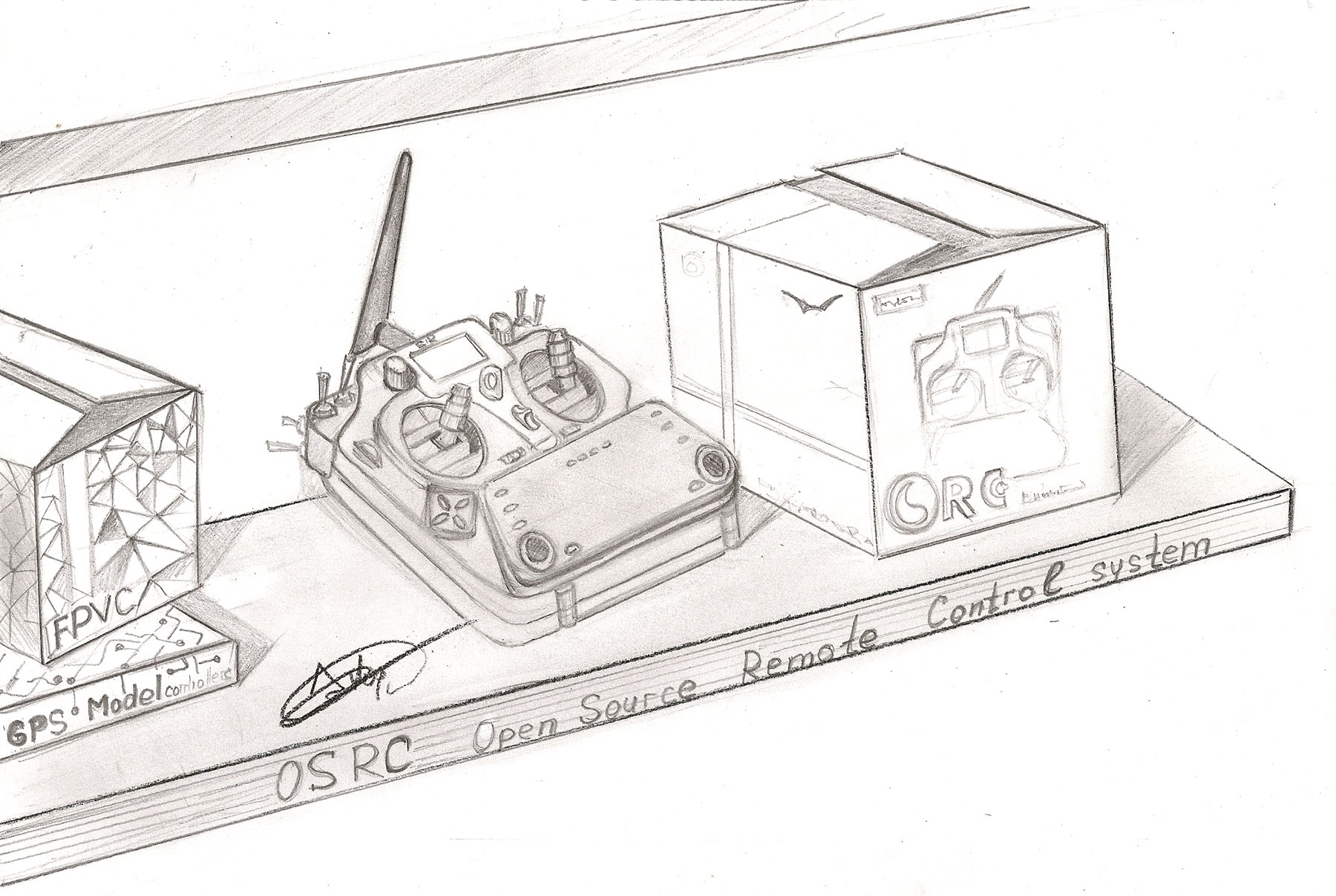 Below are the specifications of the OSRC device currently being developed by rdGizmo For You LTD. Please note that the specifications listed here although are to be considered Final, may change due to R&D restrains and limitations.
Processor
CPU Complex

0.8 – 1 GHz ARM Cortex-A8
Vector Floating point co-processor

Multimedia

OpenGL ES 2.0 and OpenVG 1.1 hardware accelerators
Multi-format HD 720p video decoder and D1 video encoder hardware engine

Memory

512MB – 2GB DDR RAM
1 or 4GB NAND Flash
2 - 32GB Expandable microSD
Communications
RF Modem (900 MHz or 2.4GHz)
WiFi
Bluetooth
GPS
Video Transfer Interface
Default RC Module Compatibility
GSM Communications
External GSM, RF, Video SMA Antenna Connections
Multimedia
4.8" 800x480px LCD (Or similar)
128x64px Monochrome Display
Resistive Touch screen (Both Displays)
Internal Speaker
Internal Buzzer
Headphone Jack (Remote Audio and other Possible Functionality)
Sensors
Triple Axis Accelerometer
Digital Compass
General
Self-Actuated Sticks
2000 – 3300 mAh Li-Po Battery (Internal Charging)
Upgradable Switch or Pot
Removable Main display Unit
Thumb Sticks (For camera or other control)
Two Way Telemetry & Sensor Communications
Accessories
Power Adaptor
USB Cable
GSM, RF & Video antennas included
Operating System (OS)
Linux GTK Gui – At the time of this writing
Dimensions (Approx.)
Over-All Width: 19.5cm
Over-All Length: 18.5cm
Over-All Depth: 5.78cm
Most of the information can be found on the project website since there is lots of content posted there for everyone to see. I will try to add some info here as the project progresses.
Stick Gimbals
One of the features that makes OSRC unique is its gimbals assembly. Since from day one, the idea behind OSRC was to create an advanced platform in every possible way, we have taken the time and designed a completely unique assembly for the most important part of the control.
The first thing to notice about the design is that both X and Y axises are supported by 4 steel ball bearings, suspending the entire motion in complete freedom and smooth operation. All of the moving parts are being touched by nothing but the bearings since the motion is being recorder by Optical encoders which read the position in increments less than 0.1mm.
The Optical Encoder technology we selected for the movement fits ideally the OSRC design as it in no way interferes while moving the stick in any direction, while providing accurate measurements every time. At the same time, since there is no friction or any sort of contact while moving the sticks, there is also almost no wear on the assembly and minimal chance of damage over time. The same technology is used in advanced robotic projects where every increment of motion is important for achieving a perfect result.
To achieve motion on each axis with the same effectiveness and flexibility, we use a completely new technique. Inside each axis of the assembly there are only 2 parts as thick as 1.6mm which produce a motion if tuned to the correct frequency. To understand this better imagine that there is a disk filled with electrically stimulated components which contract if a current is applied to them. Combined in a circle they produce a moving wave that pulls whatever comes in contact with it. This technique take up less than a centimeter of space and can produce as well as simulate motion like a Ratchet effect of the stick as well as Spring response without actually having any one of them installed.
To visualize the internal assembly better and understand what actually is going on inside each stick, take a look at the drawing on your left, which represents internal workings of the design. As you can see, the design is quite simple and yet very...
Read more »