While I'm rewriting this part, please read the project logs to learn many important details and what is currently under changes.
Basically, it acts as a wifi / ethernet router and access point. It could connect to the internet using some random wifi, a wired network, or a tethered android phone. On the secured side, it acts as a wireless access point or a wired router with internet forwarding.
From the touch screen interface, TOR or an OpenVPN tunnel could be enabled. This custom interface could be used for basic operation, while an optional web interface could be used for more advanced tasks (connecting to a public wifi for an example). This last part may move to the main python interface sooner or later.

Connection diagram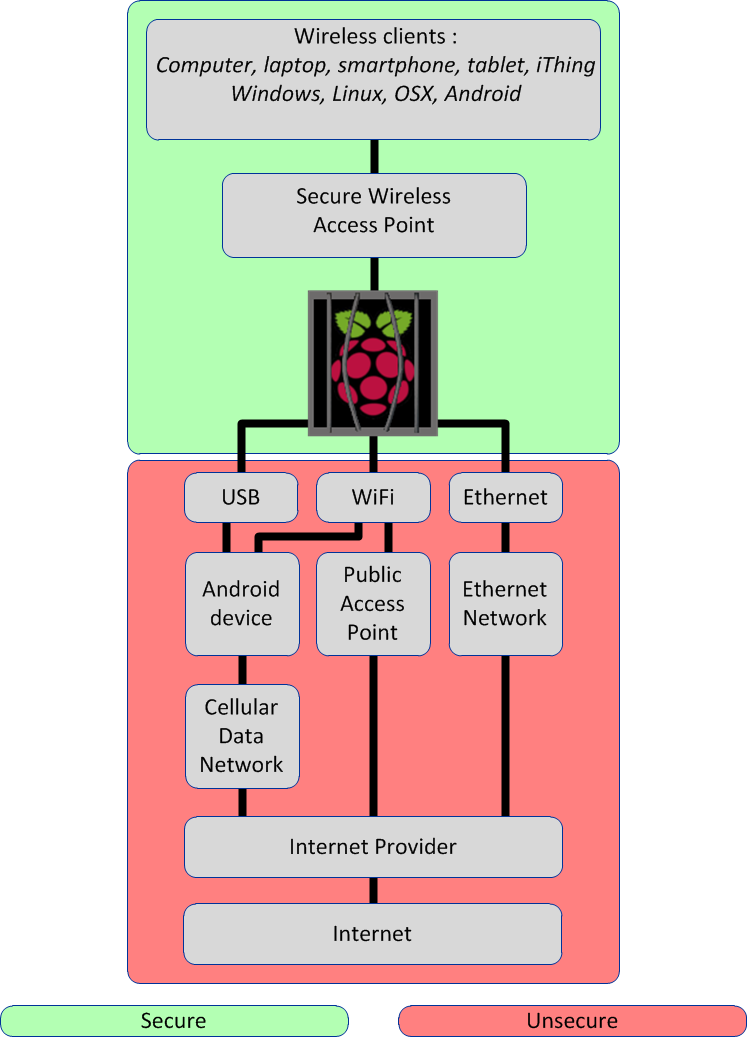 Functions :
on-demand OpenVPN transparent tunnelling to a remote trusted network/server (here, it is a second Raspberry Pi),
on-demand Tor transparent proxy for anonymous browsing,
fully automated firewall rules switching
touch display custom control interface,
optional configuration web interface - REMOVED from last prototype device -
optional on-board encrypted mini-cloud with android sync - REMOVED from last prototype device -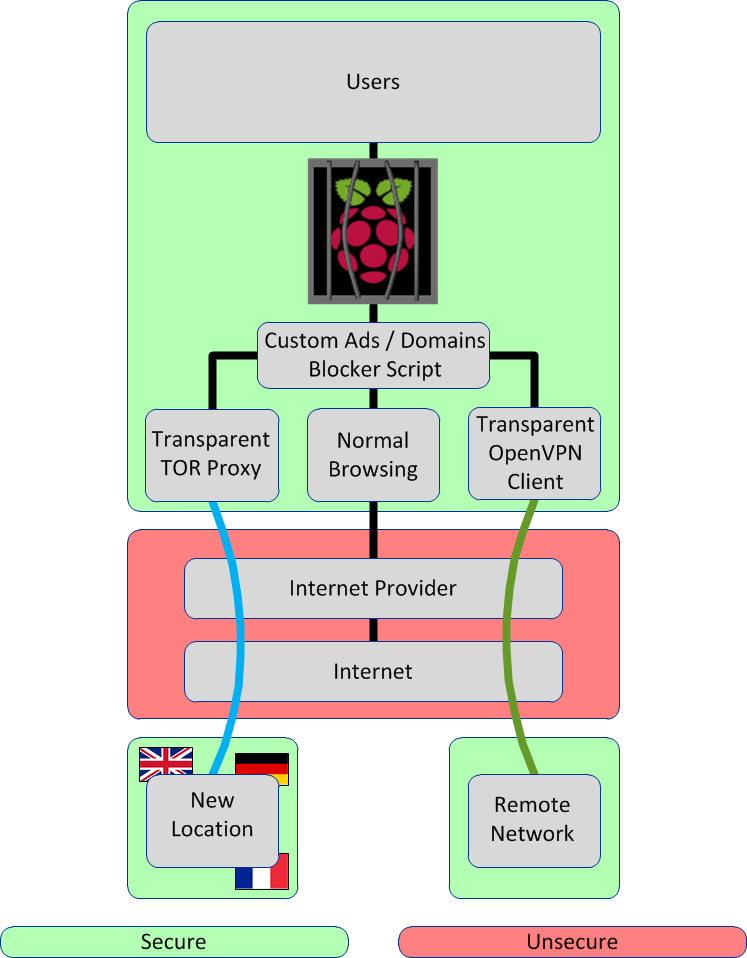 It runs on main AC or with external 10.000mAh battery, providing 6-8 hours of running time.
As a bonus, it also includes the PiNoIR camera, for advanced HD night photography or movies but this part is now a project on its own. - REMOVED from last prototype device -
The main issue is I don't have easy access to a 3D printer, CNC machine or this kind of very cool hardware, so I have to use some ingenuity and elbow grease instead.
Software bits :
[Client device] Notro fbtft Raspbian (cleaned up)
[Server device] OpenWRT scratch build
hostapd
dnsmasq + dnsutils
OpenVPN client and server
OpenSSL
TOR
Apache + PHP + MySQL + Twitter Bootstrap (optional) - REMOVED from last prototype device -

Samba + ntfs-3g (optional) - REMOVED from last prototype device -
WiringPi
Python + Pygame + python-psutil + python-evdev
geoip-database + libgeoip1 + python-geoip_1.2.4-2_armhf.deb
Licences
Each software or library used is under one of these licences :

Creative Commons Attribution-ShareAlike
GNU General Public License 2 or 3
Apache Licence 1.0
BSD Licence
PHP Licence
MIT Licence
Final project may use MIT licence (to be confirmed).