THIS CONTEST DEADLINE HAS BEEN EXTENDED TO OCTOBER 1ST 
We're challenging you to see what you fit on a 1x1 inch square PCB that's both useful and and awesome. Get creative with both how it works and how it looks. Embrace the constraints to make something you'd otherwise never even imagine. 
This contest is a sequel to @alpha_ninja's popular Square Inch Project from 2015. @Jeff won that edition with his outstanding Quadcopter In One Inch. Can your entry reach even greater heights? 
Awards And Prizes
Grand Prize :: $500
Tindie gift certificates will be awarded for:

Best Project - $100
Best Artistic PCB Design - $100
Best Documentation - $100
Best Social Media Picture or Video - $100

You can post a picture or video of your PCB, of you working on your PCB, or anything related on Twitter, Facebook, Instagram, Youtube, or any other social platform. You must post a link to the video in the comments on this page.

Five Runner-up projects will each receive $100 OSH Park gift cards. 
How To Enter
Build a functioning 1x1 inch/ 2.54 x 2.54 cm (or smaller) PCB and document it as a new project on Hackaday.io. Yes it MUST BE a project that has not been entered into the previous version of this contest. Once you have published your project, look in the right sidebar for the "Submit project to..." menu in order to enter it in the 'The Return of the Square Inch Project':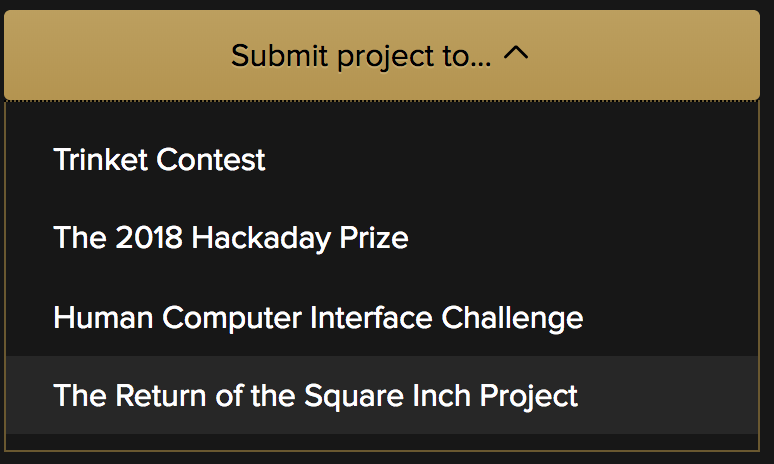 Entries must consist of:
An EDA design for a printed circuit board, including a schematic, PCB design files, and generated gerber files. (Gerber files must be sufficient to create a copy of the board. This includes Excellon drill files.)
A bill of materials in the components section of your project page.
Information about the purpose and usage of the project.
Images of an assembled version of the project.
Stuff that we let you decide about:
PCBs may have any amount of layers.
Jumper wires and component connections in the air are allowed.
Components choices are not restricted; components may be overhanging but all components must originate within the square inch boundary.
The following restraints are placed:
The total printed circuit boards required for a single copy of an entry must fit completely within a 1 inch by 1 inch square. (It may also be smaller.)

Should such a copy of an entry require multiple separate circuit boards, they must be panelized by the entrant to fit within the aforementioned dimensions.

Every account on hackaday.io may enter no more than 10 projects.
The PCB must actually work ("fulfill its purpose") and you must demonstrate this with pictures or videos.
Deadlines and Important Dates
Contest starts August 7, 2018
Contest ends October 1, 2018
Pictures of assembled projects must be posted on your project's page by October 1, 2018. 
All these deadlines are at 15:00 UTC/ 09:00 PDT on the specified date.
Judging Criteria
The judges will decide on the winning projects in the weeks after October 1, 2018.
The number of likes on your project won't directly influence the winner of the contest, but judges may take them into consideration during judging.
Judges will rate designs based on usefulness, innovation, creativity, and...
Read more »