This contest has ended and the winners have been announced! Thank you all for participating! 
Together with Digi-Key, Hackaday is proud to present the Tech At Home challenge.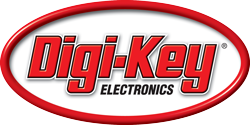 We're in interesting times, all of us together as one big maker community, but we're also alone and staying at home. Now more than ever, creatives and engineers need a sense of community.
What better way to fire up your creativity (and use up some parts)  then by building something fun from stuff you own already!
The goal is to come up with any project from parts that you have lying around the house. We won't ding you if you order supplemental components, but if you're like most of us, you have Arduinos, Raspberry Pis, a mountain of capacitors, and other parts just waiting to be used.
This is your chance to learn some new skills involving those things you have lying around. We bet you have motors, shields, hats, passives, actives, and more in boxes and drawers. 
We bet you once bought a bunch of parts for a project, promising yourself that you'd get to it on the weekend. We bet that those parts are languishing in a drawer just waiting for you. 
There are so many different ways to jumpstart your skillset, learn something new, and share it with the community. Some of the things you can do right now, today, are:
Learn about robotics: how do PID controllers work?
Learn about communications systems: how does an IR LED communicate with a receiver?
Learn about LED art: how do you make LED blinkies with gorgeous patterns?
Learn about wearables and data from the self: what is your heartbeat?
An indoor flower-waterer? A hot air balloon that waters plants? Sure! A submarine that explores undersea caverns? Perfect! Your project can move via remote-control or be autonomous. It can be serious or frivolous! Your imagination is the limit.
What's more, Digi-Key will be providing a grab bag of parts to replace what you use to 30 very lucky winners. It's like going to their warehouse and choosing all the best parts for yourself, but instead it ships to you.
We asked you for input on what you'd like to see in a grab bag, we listened, and now it's your chance to help choose.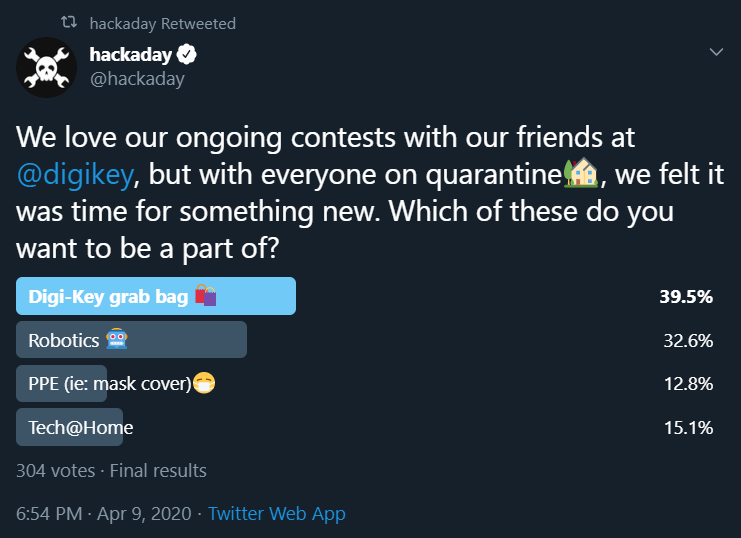 Choose what you'd like to see in Digi-Key's grab bag here! 
The top thirty projects will receive a portion of Digi-Key's warehouse.
The top three projects will receive a grab bag worth $500.
We'll be judging using the following criteria:
Is it clear what the project does? Catchy titles matter!
Have you mentioned where you found the parts you used in your project?
Is the project well documented?
Is there a system design, CAD model, or basic sketch, and how well does it illustrate the project?
Is the project creative and original?
Bonus: post about your project on social media using the #TechAtHome hashtag, then link to it in the comments so we can find it.
To get started, start a project on hackaday.io and submit to the Tech At Home Challenge. 
Contest runs from 9AM April 30th to noon July 30th. All times are in Pacific Standard Time.
******Surprise winners will be chosen ******
**edit: we have randomly chosen 5 surprise winners and notified them all June 18th**
How to enter:  Show your project by documenting it as a new project on Hackaday.io. Once you have published your project, look in the left sidebar for the "Submit project to..." menu in order to enter it in the Making Tech At Home Contest.
Who is eligible: Everyone is eligible to enter this contest. Employees, contractors, and relatives of Supplyframe are not eligible to win.
Winners must have a Digi-Key customer number so we can ship from the warehouse: register at digikey.com