Hackaday Odd Inputs and Peculiar Peripherals Contest:
Join Hackaday and Digi-Key for the Odd Inputs and Peculiar Peripherals Contest! Just as the Jedi youngling would have to build their light saber, so is it a rite of passage for a true geek to build their own computer interfaces. And nothing makes a personal computer more personal than a custom keyboard, a bespoke mouse, an omnipotent macropad, a snazzy jog wheel, or a fancy flight yoke. 
In this contest, we encourage you to make your strangest, fanciest, flashiest, or most custom computer peripherals, and share that work with all the rest of us. Wired or wireless, weird or wonderful, we want to see it.
Hackaday and Digi-Key have partnered on this contest to offer three winners an online shopping spree to the Digi-Key warehouse!

Awards
Thanks to our partner Digi-Key, three top projects will be awarded a $150 shopping spree to Digi-Key.
Special Categories
Strange Topographies 

Tired of the normal old keyboard? Is a split, layered, staggered-row, orthogonal layout more your style? Prefer to type on spheres or in bowls? We'd like to see your craziest keyboard topography.
Building a Better Mouse(trap)

The domestic computer rodent is a prime target for peripheral personalization. DIY mice, trackballs, touch pads, or anything else that can move a cursor around is fair game here.

Press the Any Key 

Sometimes you just need a few more buttons to press or a knob to turn. Maybe it's special functions for your video conferencing rig, or just a friendly volume control. Here's a category for these single-purpose helpers that make your desk truly yours.

Cyborg

If you've got a wearable computer, you've certainly noticed the dearth of wearable input methods. What have you done about it? Voice control, gesture detection gloves, or one-handed chording keyboards are popular alternatives. Let's see yours!

Virtual Reality

Let's be honest. The normal ways of interacting with VR or AR scenarios are a little bit lame, and playing a driving game on a keyboard just doesn't cut the mustard. A full-on cockpit for your flight simulator or physical sword for your virtual swordfight makes all the difference. Show us the peripherals that make virtual worlds more immersive.
Examples
Need some inspiration? Here are some projects to check out that should get your ideas flowing:
How to Enter
Start a new project on Hackaday.io. Share images of your project and tell the story of how you designed it and built it in the description of your project.
Once you have published your project, look in the left sidebar for the "Submit project to..." menu to enter it in Odd Inputs and Peculiar Peripherals Contest: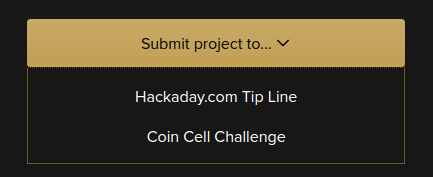 Judging Criteria 
Here are some criteria judges will have in mind while reviewing entries: 
We'd like to know how it works, and maybe make one ourselves. In addition to the entry, we'll be scoring on how well the project is documented.
Odd Inputs and Peculiar Peripherals Contest Rules
This contest runs from 8:30 AM PST Monday, May 23rd, 2022 through 8:30 AM PST Monday, July 4th, 2022 (here is a handy countdown timer), and projects must be submitted during this timeframe. 
All devices must be computer peripherals – something that connects to a computer and helps you interact with it. 
Physical peripherals must exist in the real world. Include some photos and/or a good video demo of your work in action.
We're not just interested in seeing your work, we'll want to make one too! Whatever firmware, 3D models, and of course quality documentation are necessary to replicate your masterpiece should be included in the entry.
All entrants must agree to have the work covered on Hackaday, in case we really like it.
Employees and contractors of DigiKey, Supply...
Read more »