"Hackaday NYC May: Interactions" Recap (hosted by @Sophi Kravitz and @Shayna)

Last May, the Hackaday NYC community enjoyed another evening with our friends at ThoughtWorks, a technology consultancy near Madison Square Park. Sharing our ethos of hacking, collaboration and positive social change, the ThoughtWorks crew have been awesome hosts for our monthly NYC meetup!
Hackaday's NYC meetups often have a speaker-driven program, with each night centered around a different theme. Tonight's theme was all about interactive art and the incredible artistic potential of hardware and software.
We were joined by artists Allison Berkoy and Daniel Scheibel, who discussed the ways that they incorporate digital and physical elements into their installation pieces.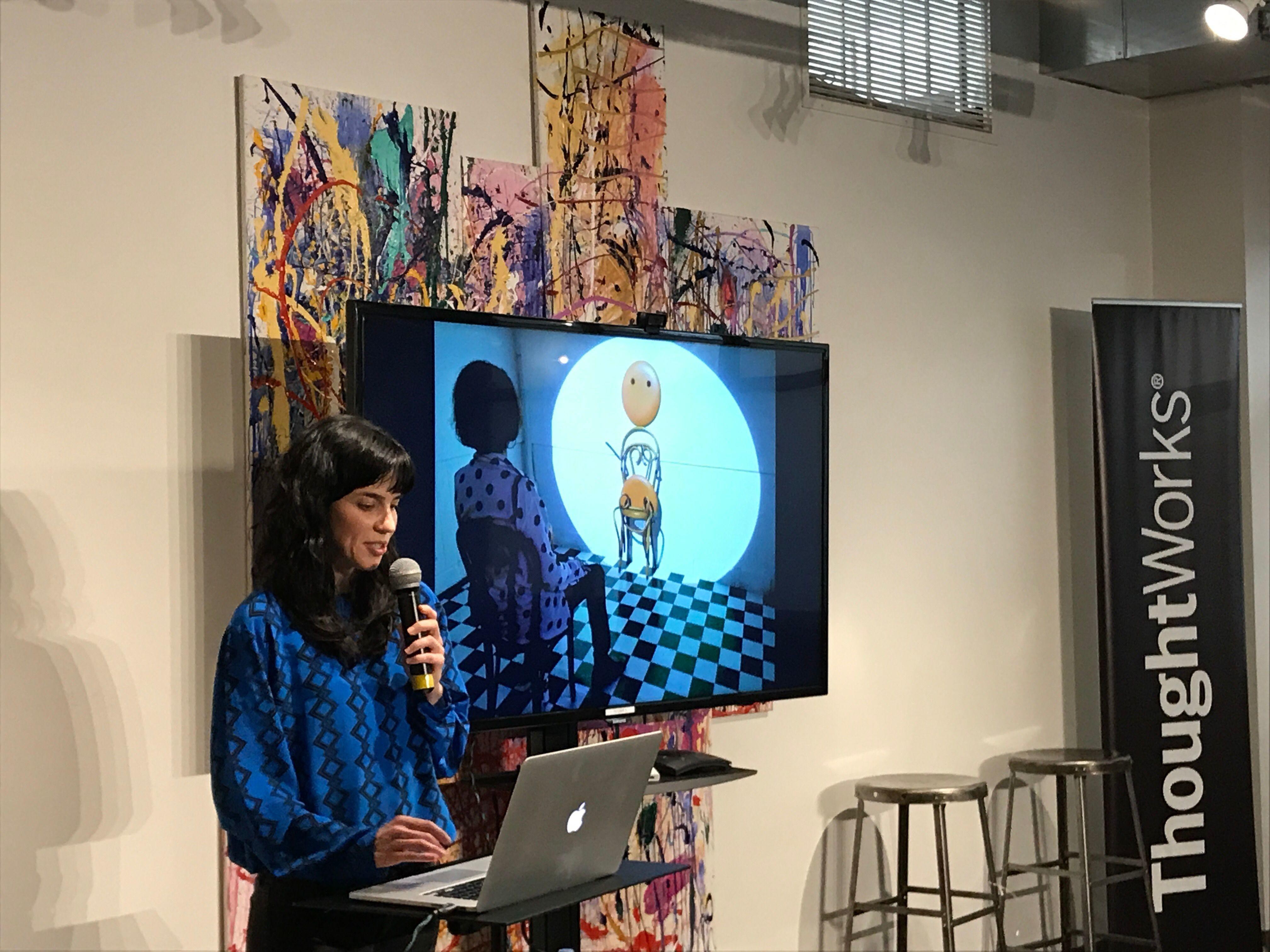 Allison Berkoy (pictured above) showed us how she joins objects, audio, video, projection-mapping and computer vision to create performances about human/machine interaction. Allison's multi-media pieces change behavior directly in response to viewers' actions, blending her interest in technology alongside her background in theater. By driving the experience, the audience becomes as important to the art as the installation itself.
Giving viewers the opportunity create their own unique experience can be an incredibly effective way to make art that truly resonates. By exploiting hardware and software, many artists, designers and performers are discovering new ways to allow their audiences to become active participants in their work.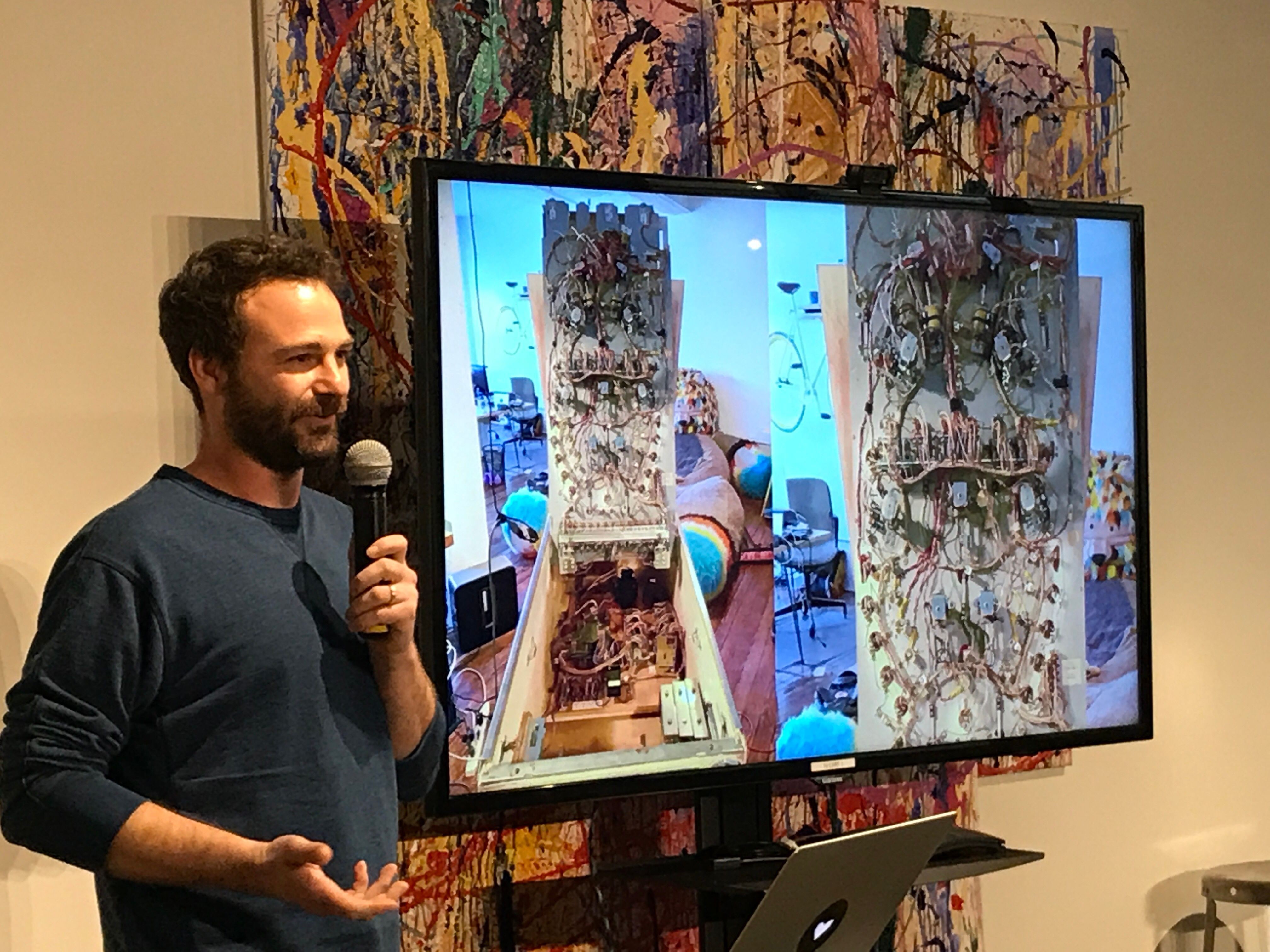 Daniel Scheibel
(pictured above) is the Co-Founder and Head of Technology
of Red Paper Heart, a Brooklyn-based studio of designers and coders working together to combine interactivity and animation. Daniel talked about Red Paper Heart's process and walked us through the creation of some of their recent projects.
Illuminated Glass, for instance, uses generative animations and transparent screens to add a new dimension to the static art form of stained glass. Red Paper Heart styled the animated visuals of the display after the famous abstract paintings of Piet Mondrian.
Projects like these are a great example of how artists can use technology to reimagine familiar objects and experiences and introduce all kinds of exciting new possibilities into their work.
---
Venue: ThoughtWorks (99 Madison Ave, 15th floor, New York, NY 10016)
RSVP required: https://www.meetup.com/MakeIt-NYC/events/239546603/
Join us for another installment of Hackaday NYC, featuring makers who are uniting the digital and physical through unique, interactive art installations.
We'll convene once again with our ThoughtWorks friends during their weekly Hardware Hack Lab. If you have a project that you'd like to bring and work on, you are more than welcome to participate in HHL as well.
Currently confirmed:
Allison Berkoy is a Brooklyn based artist working at the intersection of art, performance, code and technology. With mixed physical and electronic media, she creates videos, sculptural installations, interactive environments, and performances between humans and machines. Recent exhibitions include InLight at Virginia Museum of Fine Arts, Alter Space Gallery (San Francisco), University of Tennessee's Downtown Gallery (Knoxville), and Harvestworks (NYC). Berkoy has an MFA in Electronic Arts from Rensselaer Polytechnic Institute, an MA in Performance Studies from New York University, and a bachelors in Theatre from Northwestern University. She teaches interactive and new media arts at Pratt Institute, NYU, and CUNY.
As a founding partner of Red Paper Heart, Daniel leads a team of creative coders who combine physical and digital art to build fun, honest experiences. Daniel's unique understanding of interactive animations is coupled with an appreciation for quality design. He has created award-winning work for clients like Adobe, American Express, HBO, Lucasfilm and Nike. Daniel studied multimedia design and computer science at the University of Applied Sciences in Augsburg and is...
Read more »