Join the Hack Chat by clicking on the JOIN HACK CHAT button. Then, request to join #Hack Chat.
Don't request to join from this page, click the JOIN HACK CHAT button.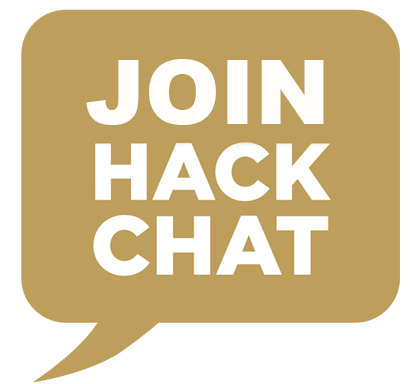 ____________________________________________________________
Whitney Merrill, Karl Koscher, bitsr3m, and Hyr0n will be hosting the Hack Chat.
Hack Chats are (almost) always on Fridays at noon PDT.
Time Zones got you down? Here's a handy time converter!
@Whitney Merrill is a hacker, ex-fed, and lawyer. She's currently a privacy attorney at Electronic Arts (EA), and in her spare time, she runs the Crypto & Privacy Village. Her jump into badgelife started three years ago with the first Crypto & Privacy Village badge, which also played a role in the puzzle she designed. She runs the Badgelife Slack group and has nightmares that this year's badges will get stuck in customs.
@Karl Koscher is a research scientist at the University of Washington where he specializes in embedded systems security. In his spare time, he likes to dabble in RF and electronics. He is one of the co-organizers of the Crypto and Privacy Village.
@Hyr0n, a recent badge hacker pr0spect to AND!XOR, is a mathematician and computer scientist turning hardware. He has a BS is Applied Mathematics and Computer Science, MS in Systems Engineering, and is a currently a PhD Student of Systems Engineering with a focus in Cybersecurity. Starting early on by building his first 386 DX66 with the awesome power of the turbo button and additional math coprocessor, he proceeded into C++ & Assembly projects before moving on in life to Java and other interpreted languages. Now a security researcher coming full circle to working with embedded electronics and firmware programming with AND!XOR puzzles, games, <REDACTED>, and bling.

@bitstr3m is a security researcher who works in the areas of hardware and software reverse engineering and safety assurance analysis. He is a veteran, an engineer, and a hacker who likes to challenge himself to learn things out of his comfort zone. In his spare time (once the kids are down to bed) he is 1/5 of AND!XOR working nights and weekends throughout the year to bring a feature packed badge to the peoples of DEF CON.

In this chat, we'll be talking about badgelife and what it means. We'll talk about what goes into design and fab for custom, bespoke badges, how badgelife has grown, and what indie badges have become at DEF CON. We might even share hints on what we'll see with this year's unofficial badges.
Badgelife is a big part of the environment at DEF CON, which is coming up on July 27th. DEF CON is a hacker convention in Las Vegas, Nevada, USA. The convention has multiple speaker tracks about computer and hacking-related subjects, social events, and contests.
There are dozens of badges from Darknet, Crypto and Privacy village, the Bender Badge from AND!XOR.
TL;DR :: we'll be discussing:
Design of conference badges
Fabrication of conference badges
Selling of conference badges
Here's the sheet to guide the discussion.
Image from Whitney Merrill's puzzle with Crypto & Privacy Village