We're celebrating 10 Years of Hackaday with a day long event in Pasadena. We'll be recording the talks and posting them on the blog.
Tickets are sold out, but you can check out the live streams:
What we have lined up for the day: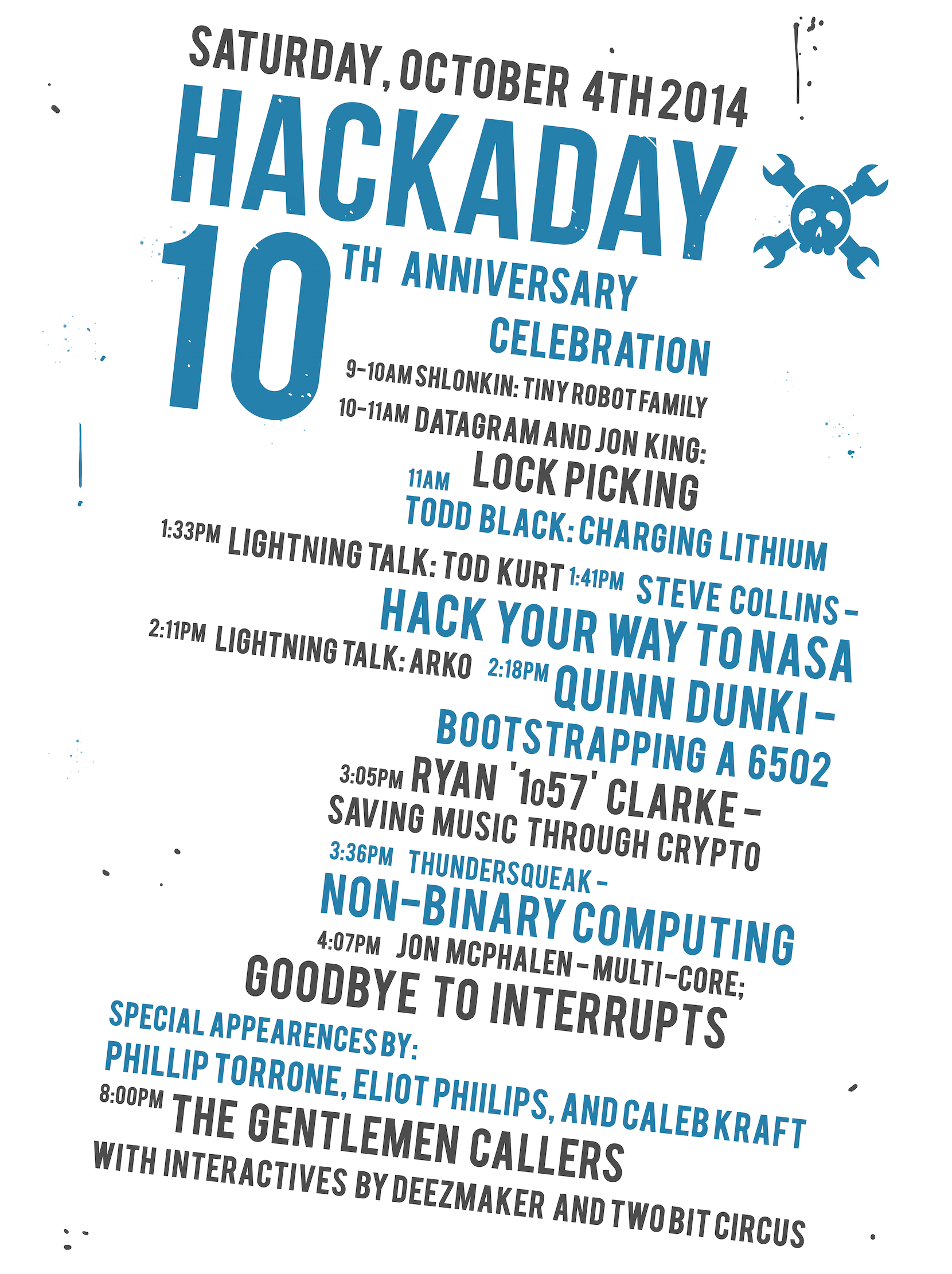 A small group of hand-picked hackers will begin the day building alternative gaming controllers for use at the party that evening. The morning will be occupied by a trio of workshops focusing on robot building, lock picking, and LiPo cell charging.
1:30pm-5pm Mini-Conference
Things start to really pick up steam in the afternoon with a mini-conference. There are a few dozen tickets left so get yours now.
[Steve Collins] will talk about how early hacking led him to a career with NASA, [Quinn Dunki] will discuss Veronica the 6502 Computer, and [Jon McPhalen] will present the benefits of mult-core embedded development.
To the list of speakers we can now add [ThunderSqueak]. You may remember her CO2 laser build that used a lot of hardware store parts. We've asked her to talk about her work on a non-binary computer. We covered the project back in June but this type of through-the-looking-glass subject fares better as a live talk with Q&A.
We hope to announce one more speaker soon, and already have a few lightning talks (one on a Demoscene board and another on hardware dev that ended with a successful Kickstarter). We'll keep you posted! on up. This fascinating project started with a breadboard and a lot of wire and has led to multiple home-etched PCBs to host everything from RAM to VGA. [Hackaday Coverage] [Veronica Project Site]
[Jon McPhalen]: "The Parallax Propeller: Embedded Multi-core Made Easy!". When not writing, shooting, or directing for film or television, [Jon] is busy publishing articles in Nuts and Volts magazine and being an all-around Parallax Propeller Guru. His talk will cover the virtues of multi-core embedded design when compared to interrupt-based approaches.
[ThunderSqueak]: presents a talk on Non-Binary Computing. Having already managed an IT company and electronics shop where reverse engineering was par for the course, she has moved onto work on a degree in Electrical Engineering. Coursework isn't enough, she still has projects on the side, one of them being a Ternary Computer build which doesn't stop at ones and zeroes.
Party 7:30-11pm
What's a birthday without a party? Ooooh... makes me wonder if we should be getting a cake?
When the solder fumes have cleared and the speakers have all said their peace there's nothing left to do but enjoy some good music and the company of your fellow hackers while hanging onto a red plastic Solo cup filled with something delicious. This part of the day is open to hackers 21 years of age and older. You will need your eventbrite ticket details to gain admission.