Fundamentally, this universe is divided into 3 main categories:
Extremely-Large matter: It involves planets, galaxies, etc.
Extremely-Small matter: It involves micro-structures i.e. electrons, neutrons, protons, etc.
Middle-Sized matter: It involves a wide range of matter ranging from small objects to Earth itself.
Physics is all about this middle-sized matter & its energies. In physics, we analyze all naturally occurring processes/laws and their effects on matter i.e. motion laws, space & time quantum, forces holding objects together, the transmission of energy, physical properties, compositions of different matter, etc. 
Physics Definition
Physics(originated from Latin word Physica means 'natural thing') is a field of science, mainly focuses on matter & energy and the relationship between them.
It provides the mathematical formulas for all-natural activities happening on our planet earth.
Physics involves the study of all-natural laws defined for matters or forces i.e. heat, light, magnetism, sound, nuclear, etc.
Physics is considered the most fundamental branch of science and is divided into numerous sub-branches.
Physics has also provided many fundamental laws which formulated the basis of other science branches.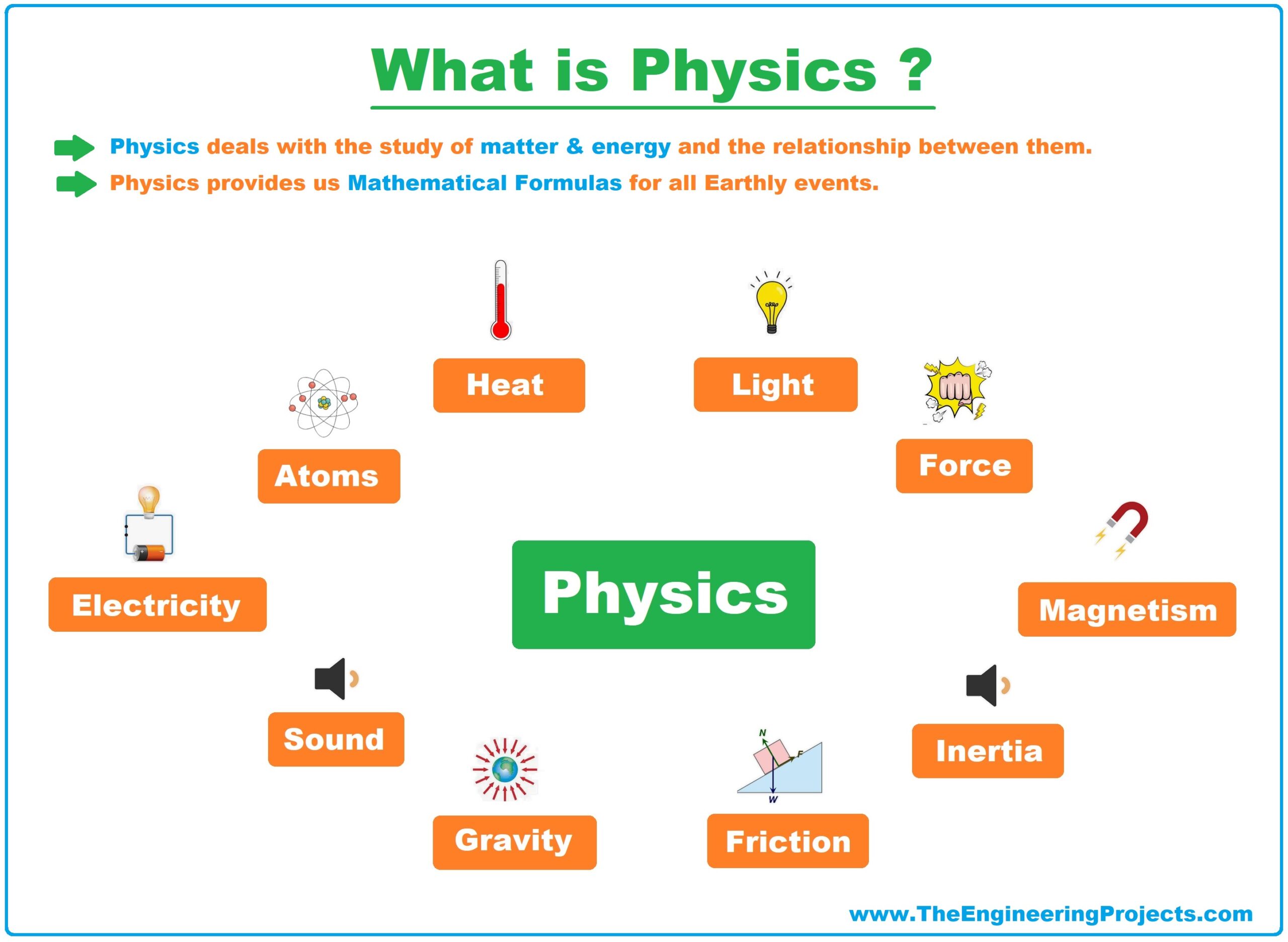 Branches of Physics
As we have discussed, physics deals with middle-sized matter so its applications range from a simple tire to nuclear energy, and thus it is further divided into several branches. 
Few Physics branches are as follows:
Mechanics
It deals with the motion of objects, why & how is motion produced in different objects and what are the effects of different types of motions.
Thermodynamics
It deals with heat energy, how is heat transferred from one object to another, and the effects generated by heat.
Sound
It studies the physical behavior of sound energy, how is it produced, traveled, and transformed.
Light (Optics)
It studies the physical behavior of Light energy, how is it produced, traveled, and transformed.
Electricity & Magnetism
It studies the physical behavior of electrical charges i.e. either moving or at rest, along with its relationship with magnetism.
Atomic Physics
It deals with the study of the physical structure & activities of atoms.
Nuclear Physics
It deals with the study of nuclei & the energy it releases under different circumstances. GeoPhysics
It studies the structure, behavior, forces, etc. related to Earth.
Biophysics
It is the deep experimental study of biological problems using laws of physics.
One of the outstanding and remarkable discoveries that happened under this branch is the DNA structure by James Watson.
Astrophysics
It deals with the study of the universe i.e. planets, galaxies, and stars using the laws of physics.