I have been a big fan of Totem products for quite some time; they have some fantastic construction 'maker' kits which have proven extremely useful to me for prototyping many projects, and I have been invited to test some of their other kits in the past, varying from mini lab setups to robots.
Very recently I applied to become a Global Team Member for Totem, and was overjoyed to be accepted as an ambassador. This gives me a fantastic opportunity to continue to work with Totem and continue to share some reviews and thoughts on the stuff these guys are working on, and to help spread the word about these fantastic kits amongst the maker community.
***Disclaimer*** - all thoughts and opinions on the products are entirely my own, and are in no way influenced by Totem. 
Now, on to the first kit I have been sent to review -  the Black Spider robot kit!
The Product
The Black Spider robot is a fairly recent addition the kits available on the site, and once built creates an 8 legged robot using two motors to power the walking movement. At the heart of this robot is a custom Totem microcontroller and is powered by an onboard rechargeable battery pack.
I was really excited to get the chance to get my hands on the release version of this kit, as I had previously sampled a prototype build of the kit some time ago and I was keen to see what improvements had been made to it from that stage.
The biggest and most exciting change for me was the microcontroller upgrade; the version I had used the X3 version of the microcontroller, which only worked with the Totem smartphone app. Now the kit features the X4 version of the controller, which is built around an ESP32 module and can now run Arduino sketches and could possibly run micropython with some effort. There are also some GPIO available too, in addition to the 'BUS connectors' used to connect various Totem modules to the controller. I'm itching to see if those can be used as a software Serial port via an arduino sketch to allow for communication with a Raspberry Pi or similar SBC. This thing is screaming out to be given some kind of machine learning capabilities.
On to the unboxing!
Unboxing

Upon receiving my package I opened it up to be greeted by this imposing, impressive thing: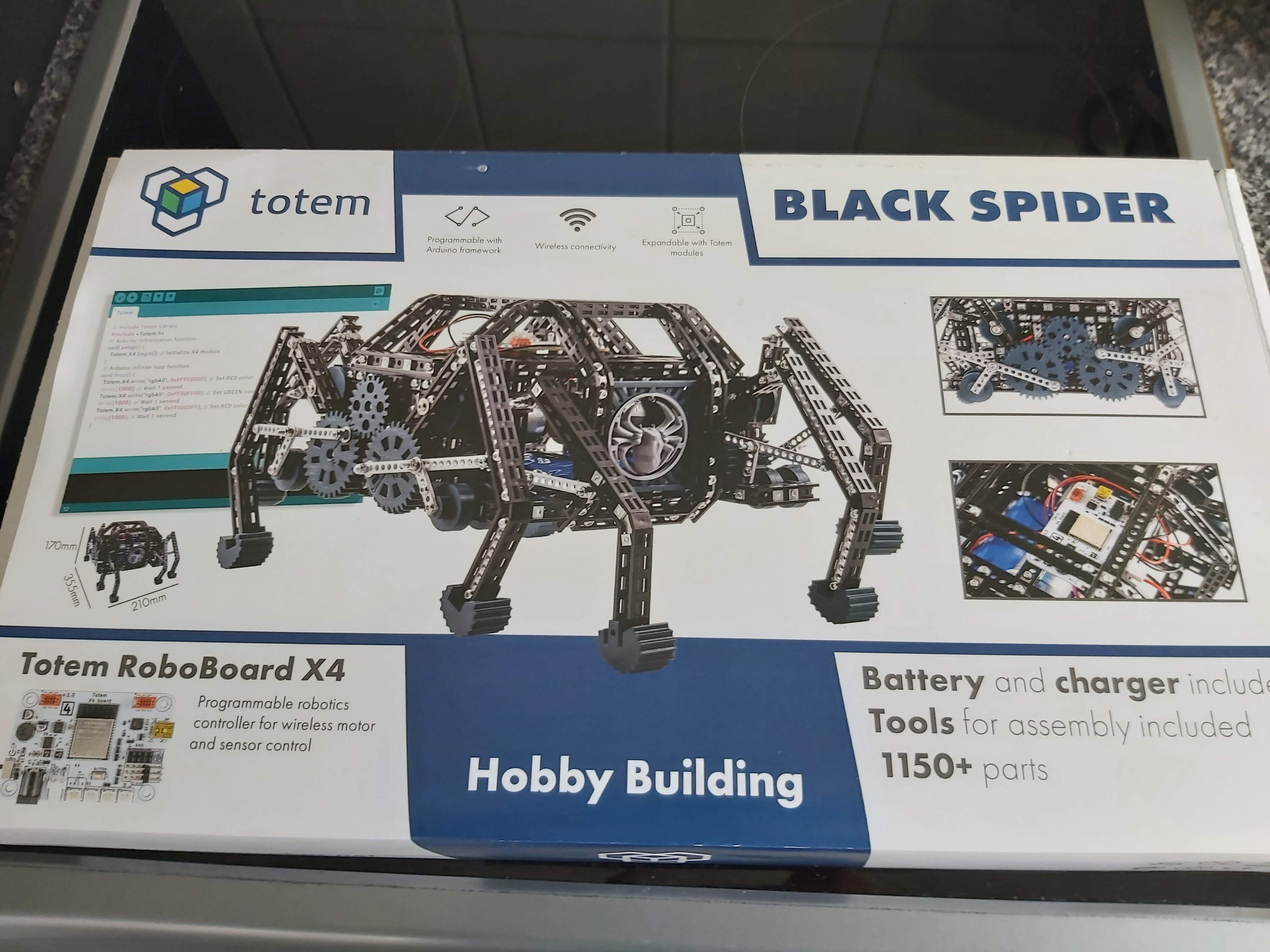 1150+ parts. It's a big old kit! :-)
On first glance it looks as though the linkage system used to transfer motor power into leg movement has been revised, which is great to see. My prototype kit had a few sticking issues with the mechanism and I think it was due to some extra framing around this mechanism. I'm keen to try revising my prototype model to see if I can reflect the changes seen in the released model!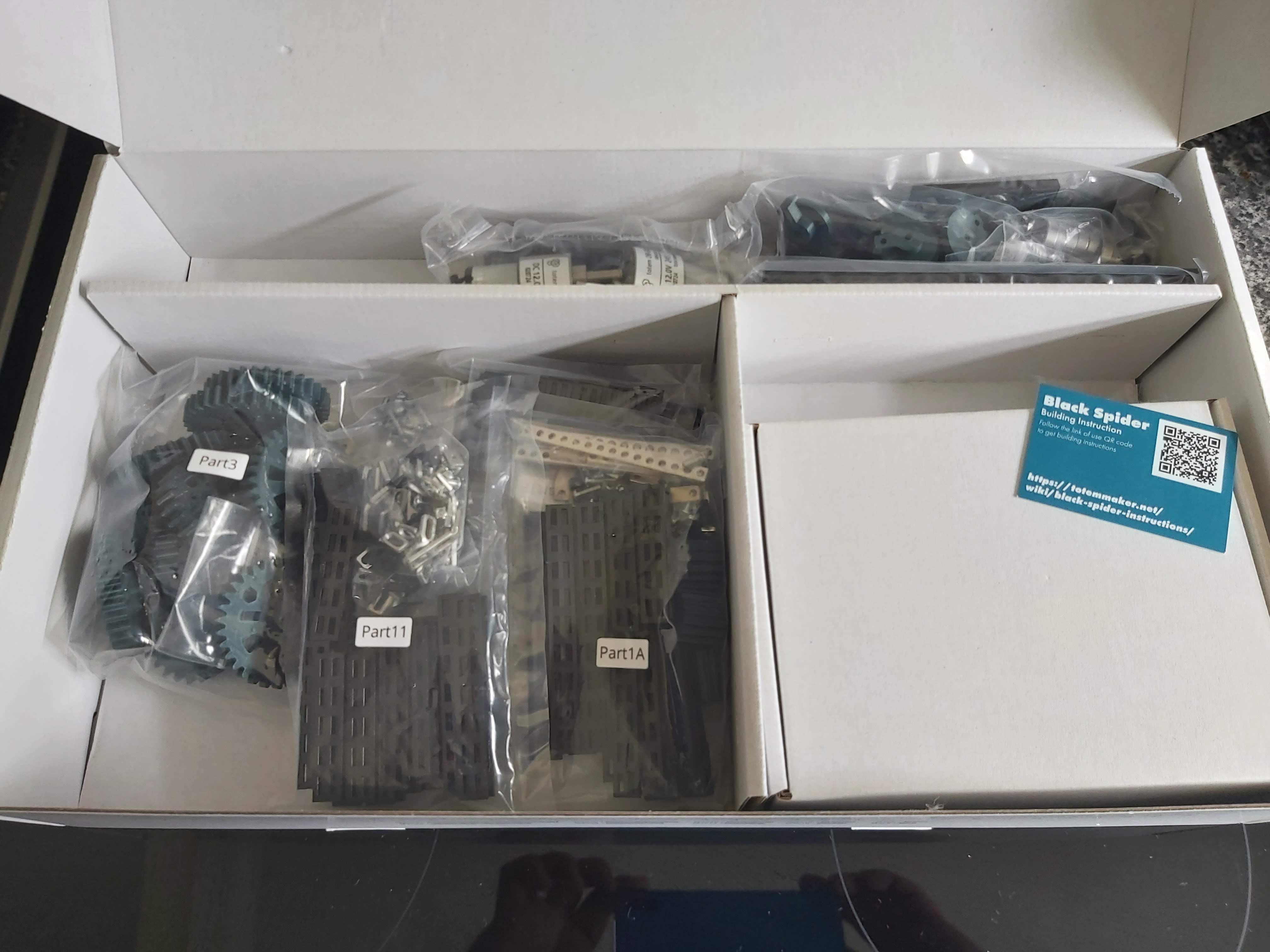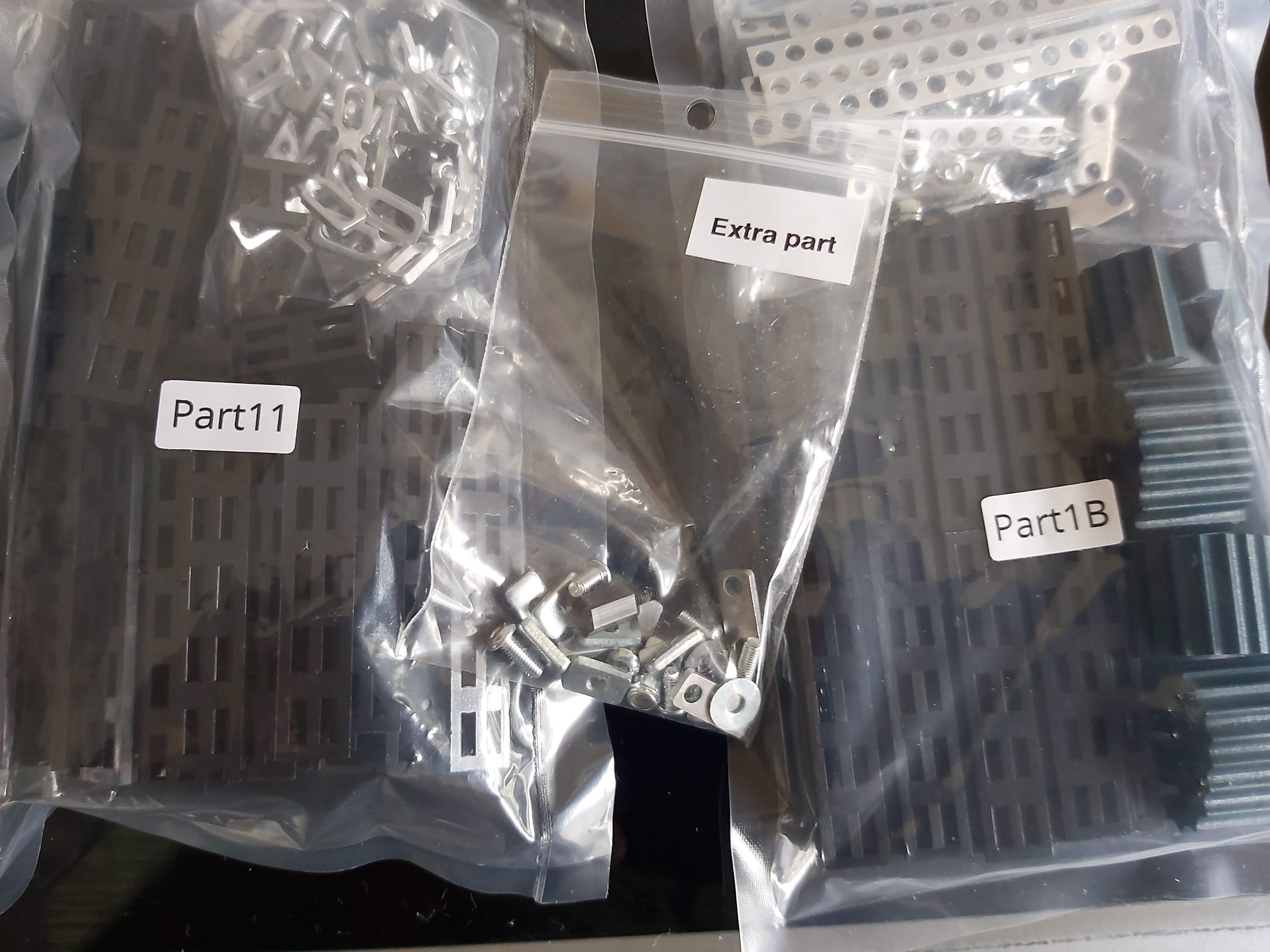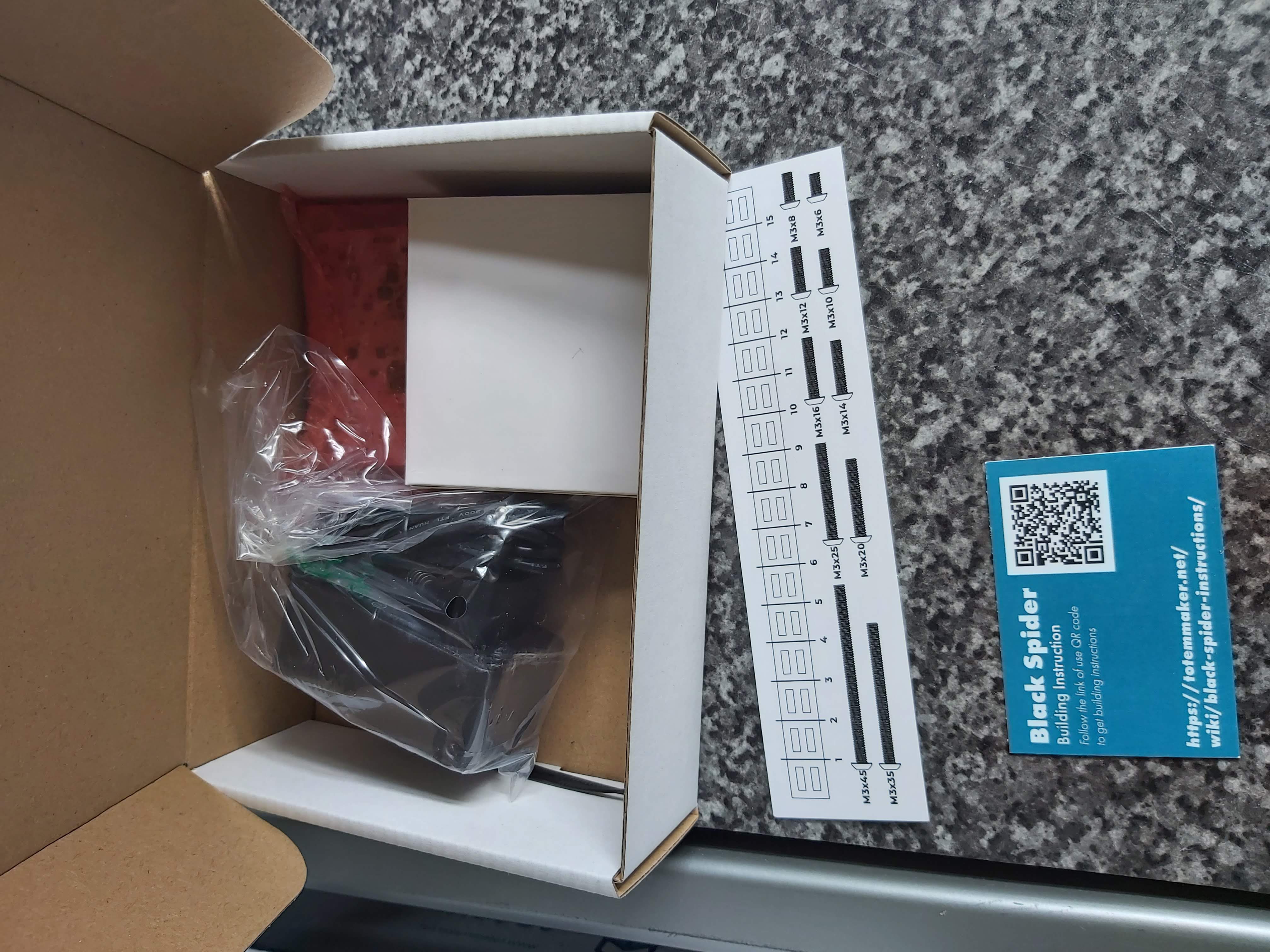 Inside I was pleasantly surprised at how organised the parts were; each construction step is packed into it's own little bag, meaning there'll be no lego-esque 30 minute pre-build sorting going on before building it, ha ha ha.
The inclusion of a size guide was helpful too, just to speed up the identification of similar lengths of beams and screws.
There's no bulky manual to accompany the kit; they include a little card with a smart code on to scan and it takes you to a link on their site where the instructions are found. This is something I like about all the Totem kits; their manuals are all available on their wiki, so there's no paper waste and it's also possible to build other things if you have the maker kits.
Assembly Phase 1 - [Added 27th July]
So far I've been able to put together the first few steps, fitting little 20-30 minute segments of building in where possible. Ideally you should put aside bigger chunks of time, as you lose a lot of time getting everything out and organised to crack on and also packing things back up, but I lack the ability to plan my life that way, ha ha ha.
So far, so good! I've assembled the 8 legs, the sides of the body that hold the gearing for the motors and begun adding the gearing.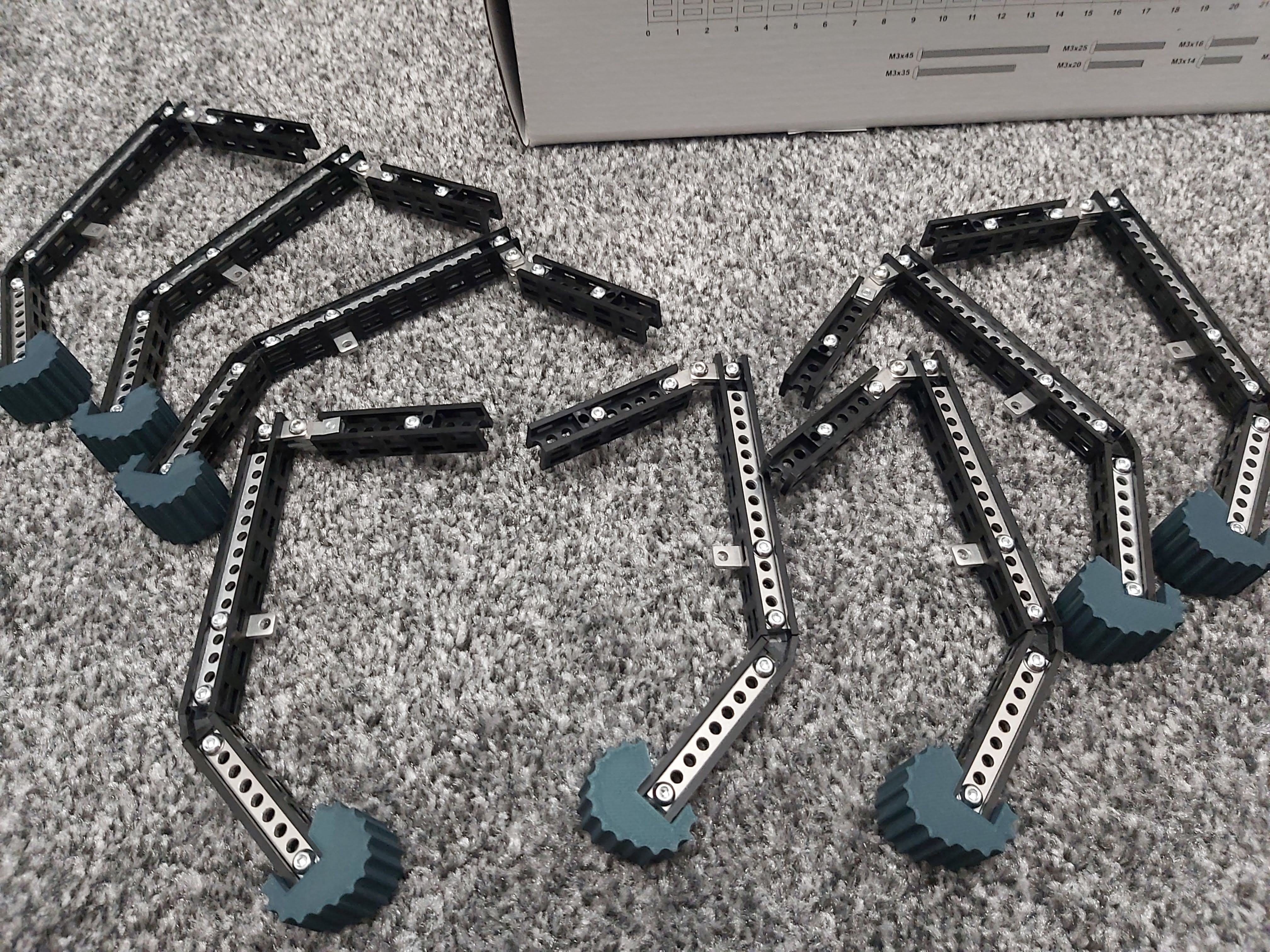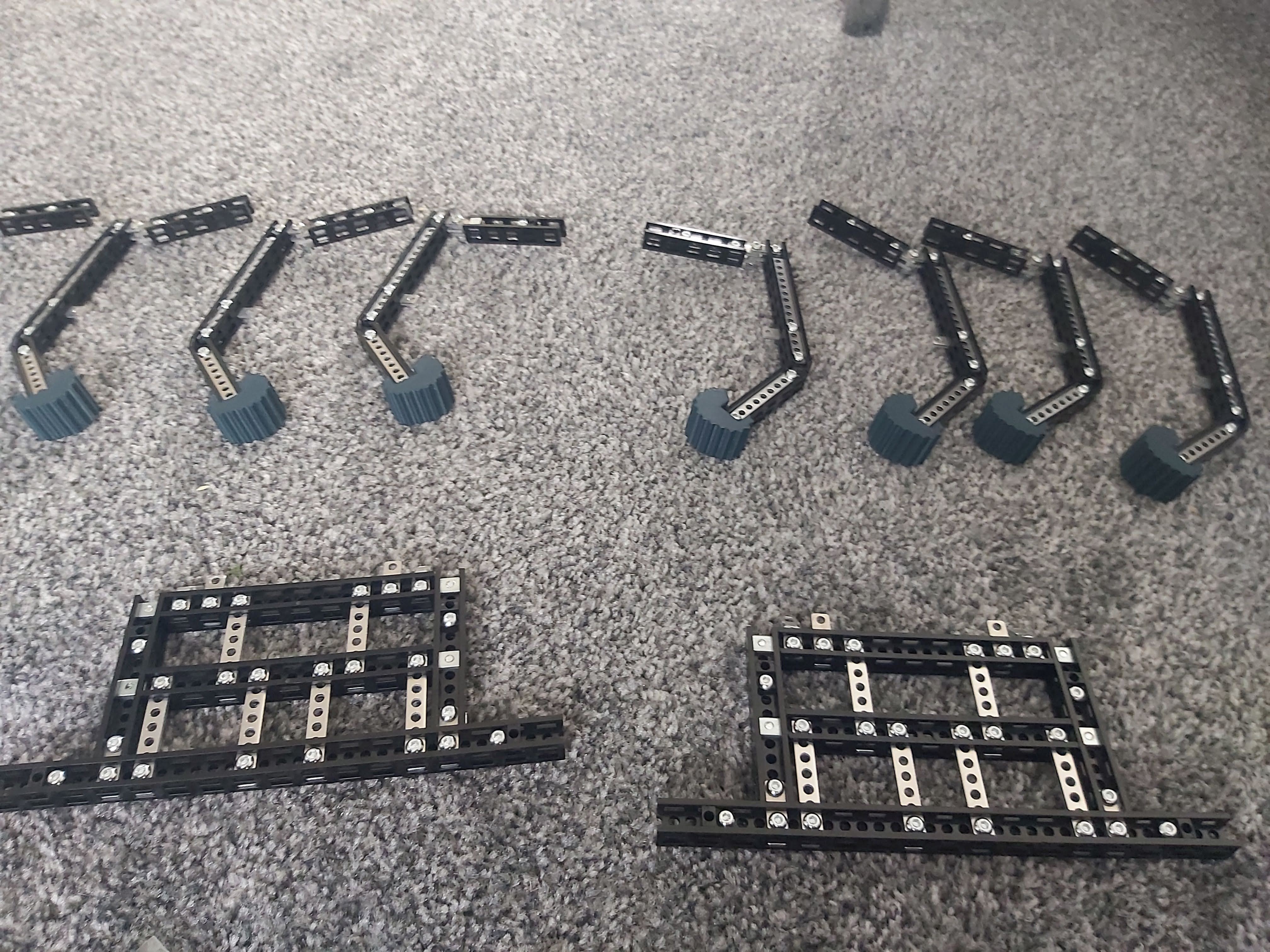 The legs are nice and straightforward, just a lot of repetition in the steps. I must say the quality of the custom parts (feet, cogs) are a much finer quality than I expected. There's been a lot of effort refining the prototype model I get to play with a while ago.
The frame is also straightforward, but some of the smaller areas can be a bit fiddly. A word of advice; don't waste time thinking you can do it better in a different order, because chances are you're wrong and will end up having to undo stuff and doing it the way the manual says, anyway ha ha.
Another word of advice; try and have someone with small fingers on hand if you have shovels for hands like I do. Trying to hold this tiny nut in place while threading a long bolt through has caused me more stress than 18 months of lockdown restrictions ha ha ha: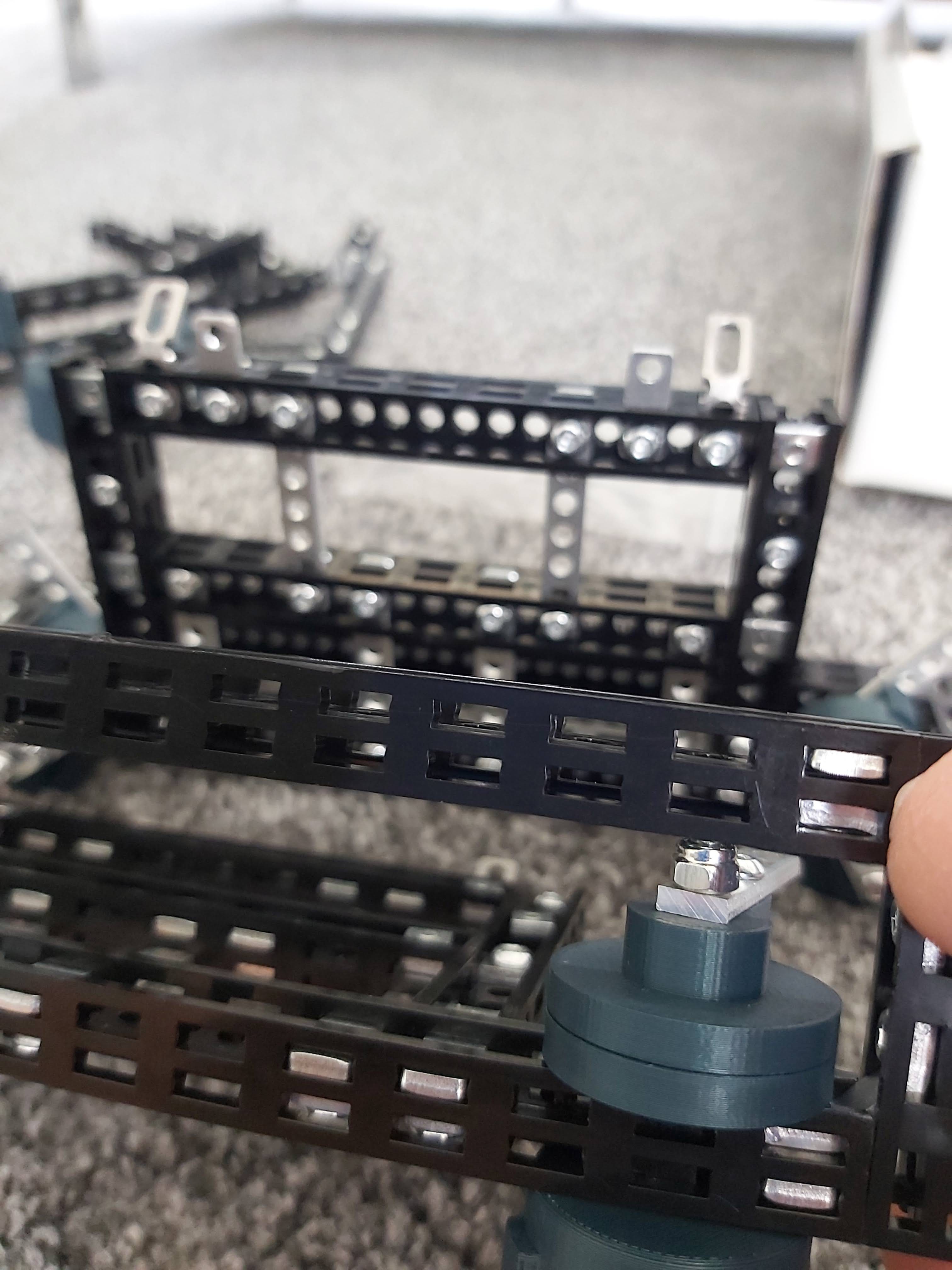 The next steps of the build involve adding the gearing system to the above frame. It is a bit fiddly to get the gears perfectly aligned in a fashion that allows them to move smoothly, so I'm going to recheck my steps and ensure everything has the correct tension and moving smoothly before I move on.
Assembly Phase 2 - [Added 2nd August]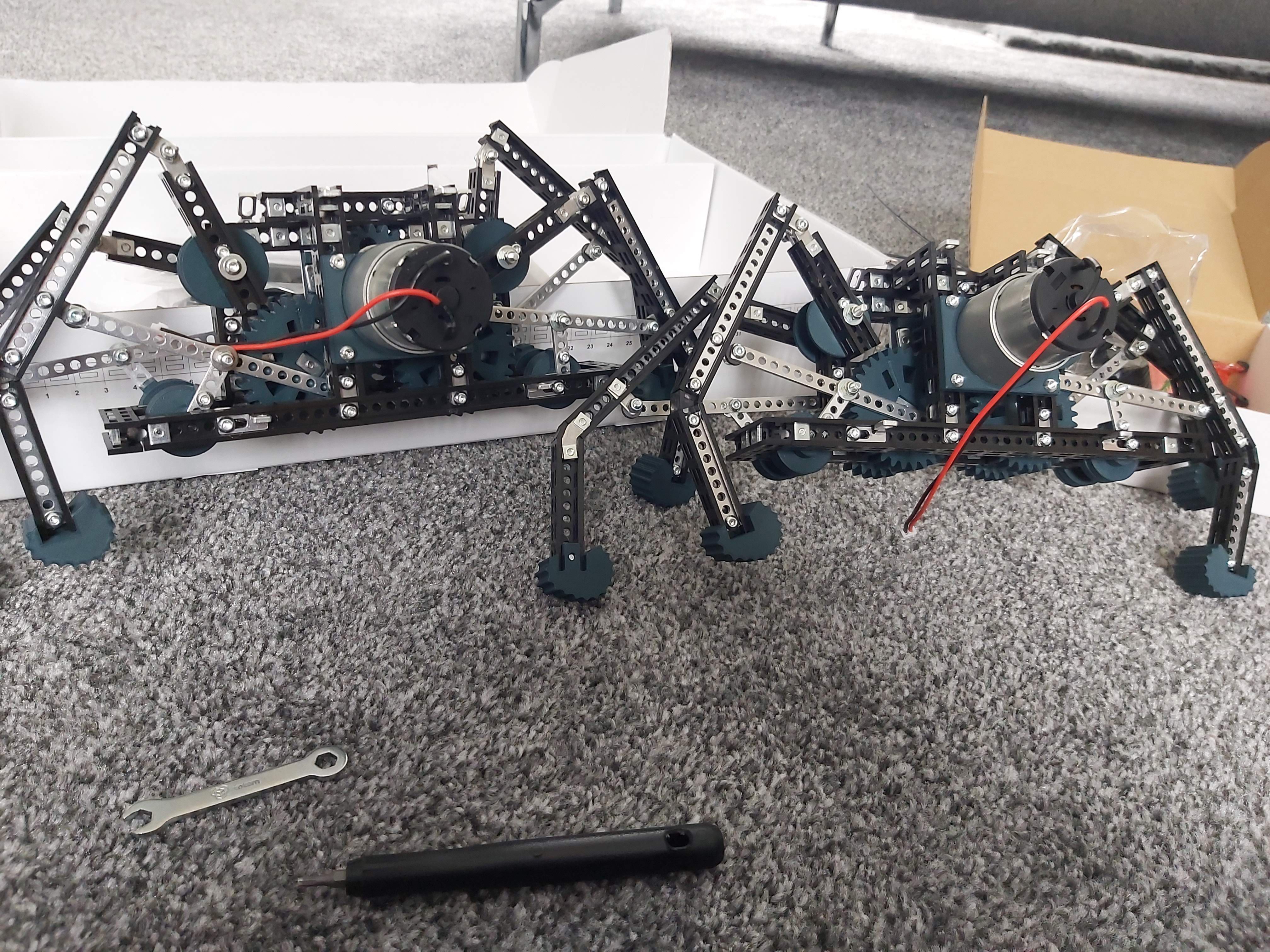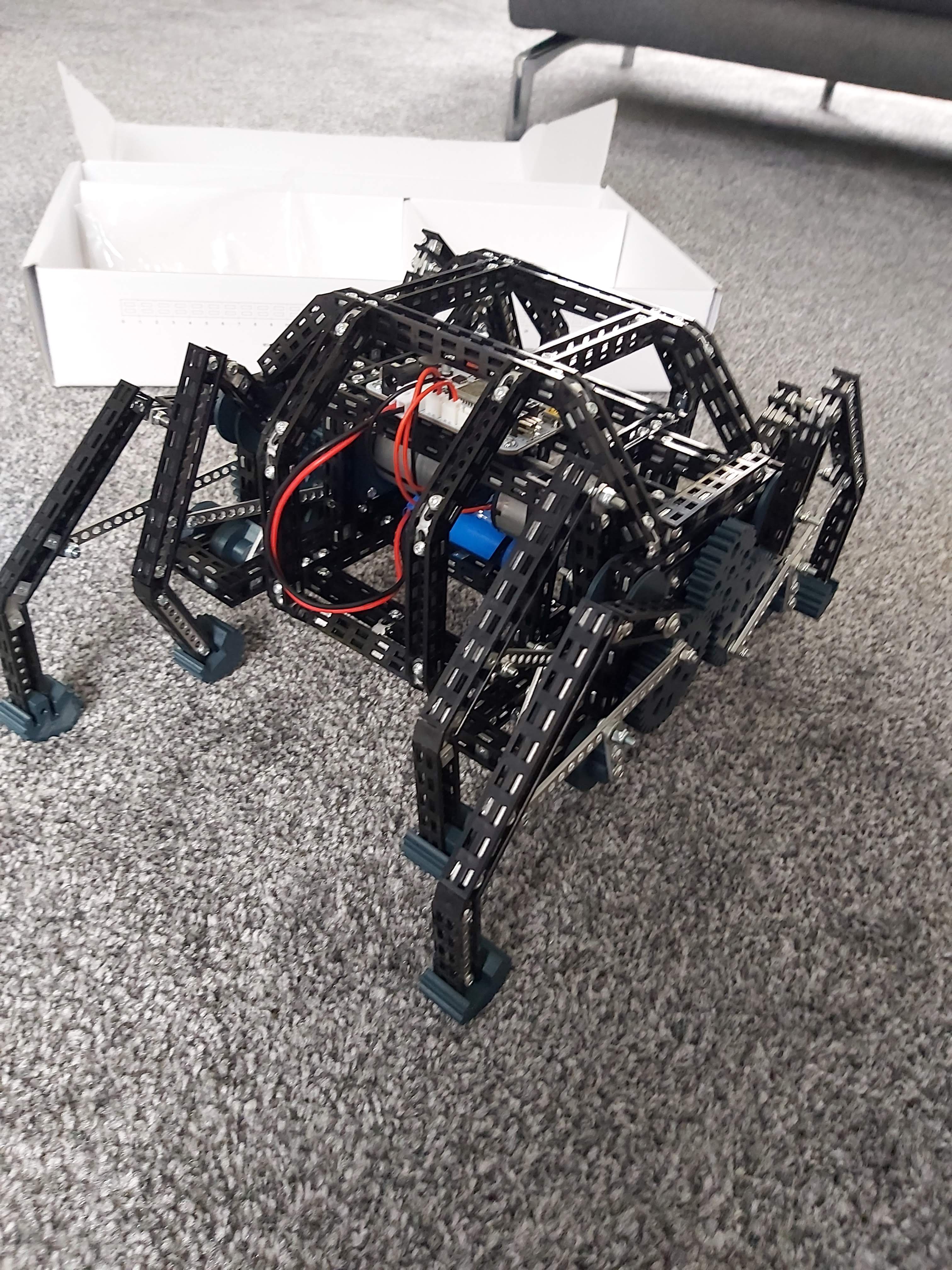 Assembly is complete!
Last week I managed to grab a few solid hours to complete the build, and it flew together. I solved my sticky gears with some screw adjustment; once I had that sorted the kit went together really quickly. The bulk of the construction time goes into assembling the two gear assemblies and attaching legs to it; the centre frame and electronics are simple to assemble.
I've really enjoyed the assembly process. Here's a shot of the new guy (left) alongside the prototype (right):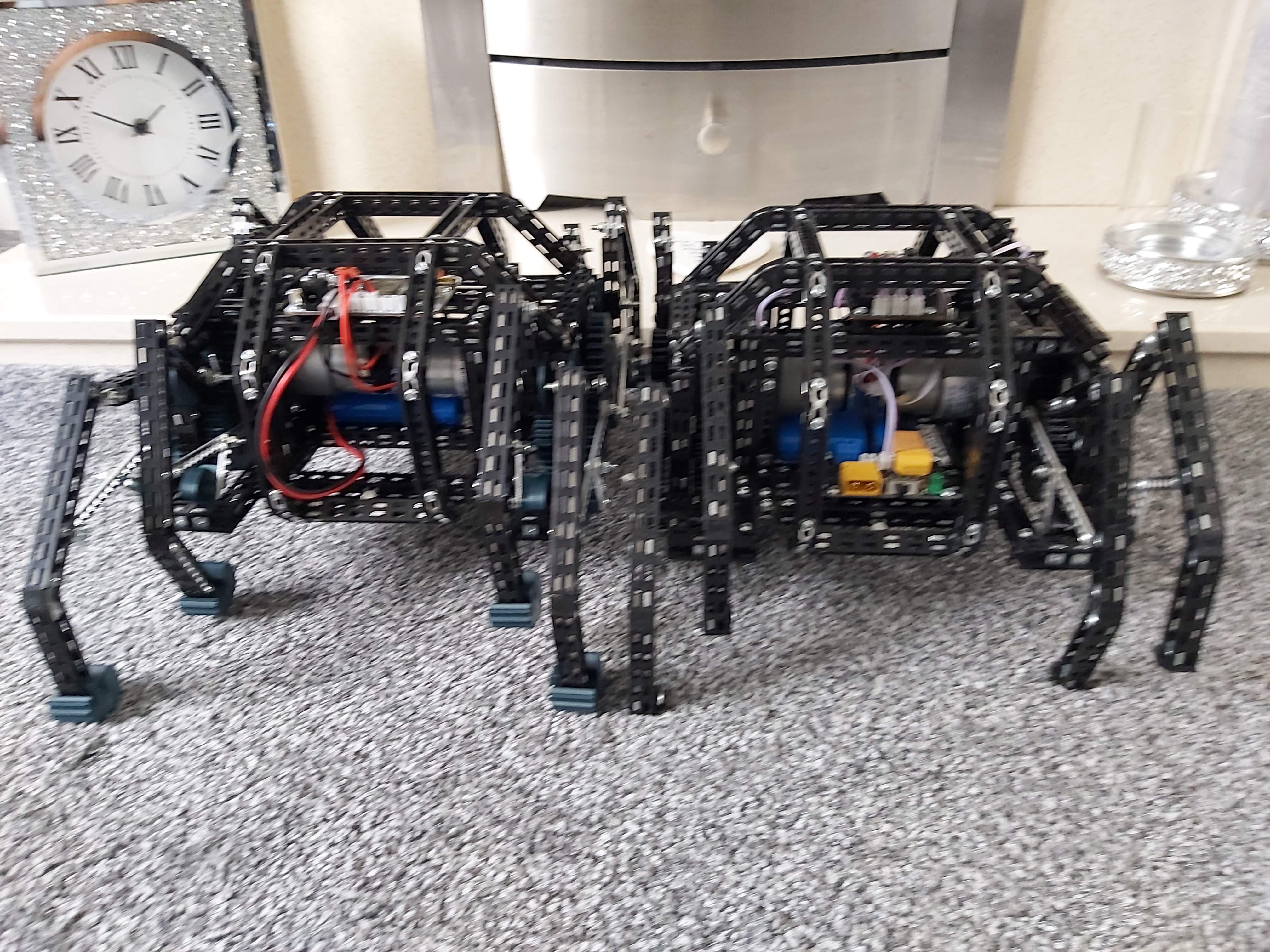 The differences are subtle, but the combination of the new electronics and revised mechanics have created a great, reliable robot that it lots of fun and has lots of potential.
Finishing this has really given me an urge to continue working on the spiders - both of them. 
Firstly I am going to add a Raspberry Pi 3B to the new spider and begin work on commanding the spider via serial. I really want to ass a webcam and create a web based interface for some FPV fun, and I'd also like to add a servo or two for a pan/tilt system. Machine Learning will be looked at once the mechanical additions are complete.
Secondly I'm going to pick up a new X4 controller boar and battery and replace the board that is in the old one, as well as adjust the leg gearing to work as well as the new spider. Once I have two with added Pis and cameras adding some little nerf guns for battling with my son will be a must :-)
Software - [Added 2nd August]
I have given the spider a quick go to test it works, and will be adding more information on the accompanying app and Arduino code options soon. 
So far, a great experience; the Totem app from the Google play store works well; connects to the X4 quickly, and the controls are simple to use.
Demo videos 
Coming soon
Conclusion
Coming soon
Thanks for reading!