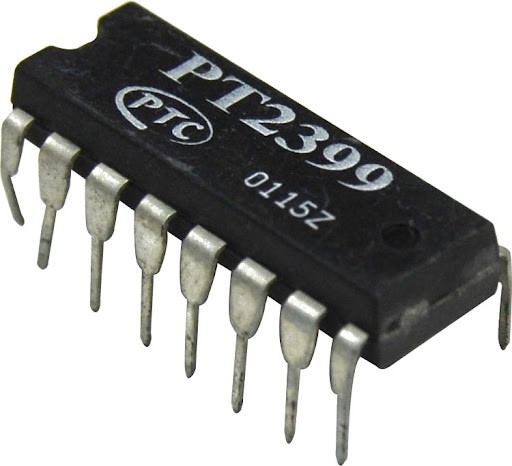 Product Overview
The PT2399 is a CMOS echo/delay processor developed by Princeton Technology Corp. This digital chip includes an ADC (Analog to Digital converter), 44Kb of RAM to store the samples and a DAC (Digital to Analog converter). Although this chip was created as a simple solution to add delay/reverb/echo to karaokes and set-up entertainment systems, it became very popular in the guitar pedal community due to its ability to emulate BBD-based delay circuits, good price, through-hole package, 5V power supply and tolerance to modifications. 
PT2399 Features
CMOS Technology
Least External Components
Auto Reset Function
Low Noise, No< 90dBV Typical
Low Distortion, THD<0.5% Typical
External Adjustable VCO
Available in 16 pins, DIP or sO package
Video Tape Recorder
Video Compact Disk
Television
CD Player
Car Stereo
KARAOKE Mixer
Electronic Musical Instrument
Audio Equipment with Echo Processor
PT2399 Pinout
These is pinout of PT2399,If you need more pinouts please download PT2399 datasheet.
PT2399 Alternatives
BU9253
Advantages of the PT2399
The first advantage of the PT2399 is its simplicity of use. Since it integrates many of the components we need, we can make a delay with only the chip and a few components ! Contrary to the BBD which needs a lot of external circuits.
The clock frequency is also much higher than the one used with a BBD. This results in less problems with aliasing and audible clock noise.
The second advantage of the PT2399 is the cost. Where a BBD costs from 3€ to more than 20€ for the famous MN3005, you can find a PT2399 between 1 and 2€. And since it already includes the clock and op-amps, the cost is even lower compared to a BBD circuit.
Disadvantages of the PT2399
The memory in the PT2399 is very limited, so the more you want long times, the less information the memory will be able to store. The sound quality will therefore be deteriorated over the long delays, causing like the BBD some noise problems.
Another problem is that the digital part cannot be accessed directly. You can't add external memory to it to improve performance with long times.
Another example, the delay time is only controlled with the current on a pin. This is perfect to control the time with just one potentiometer connected to this pin. But it becomes more complicated if you want to precisely control the time with another external circuit, to add a tap tempo for example. Whereas with the BBD, you can generate the clock with any microcontroller.
If you want to know more about PT2399, you can read its datasheet.