Time for another Electronics Goldmine analysis!
2x Box of ICs (>50)
19135; $10.00 ($2.99 when I bought them.)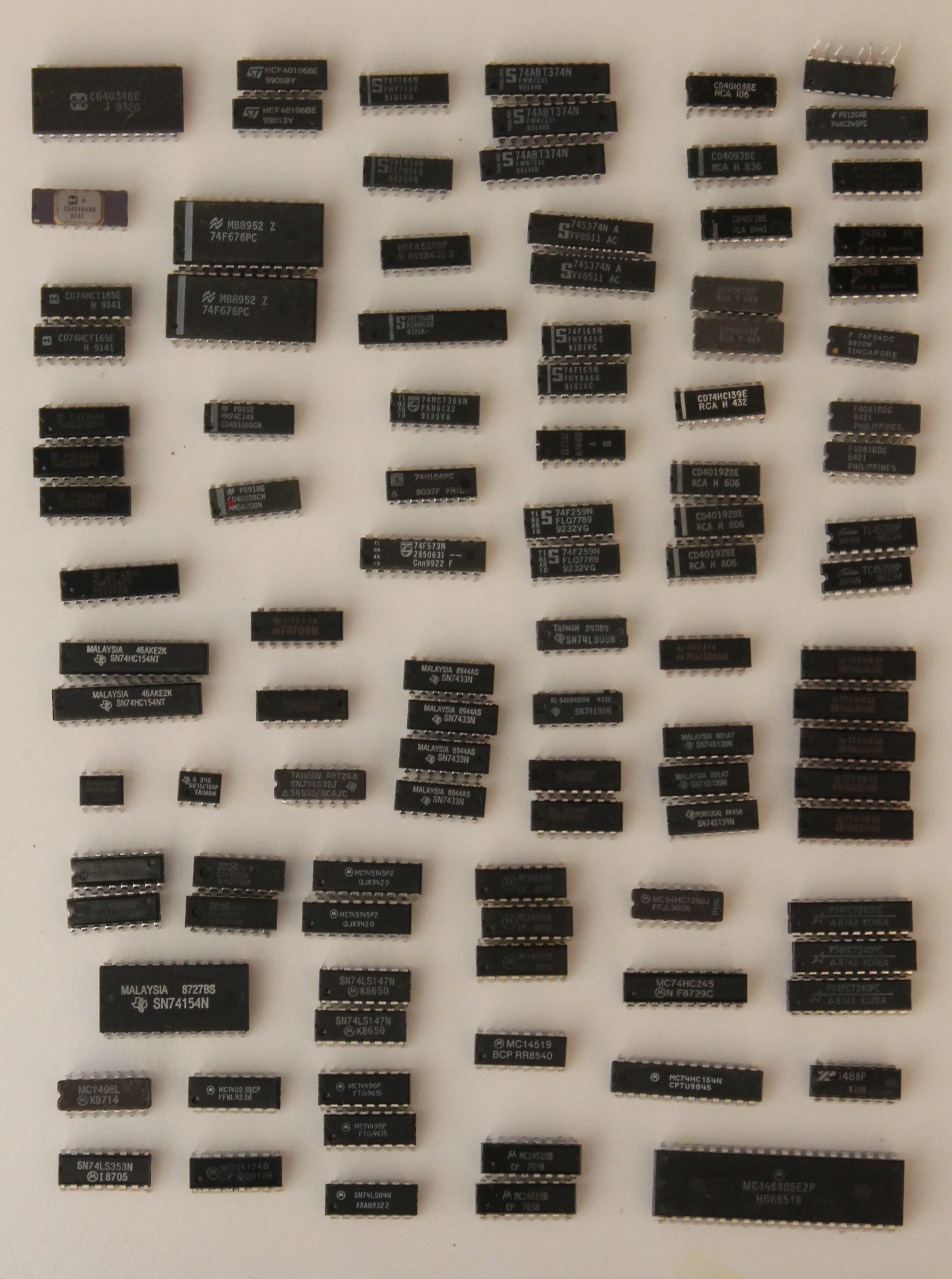 2x CD4002CN - Dual 4-input NOR Gate
1x CD4020BCN - 14 bit up counter/divider
1x CD4034BE - 8 bit ser/par to ser/par shift register
2x CD4040BF - 12 bit up counter/divider
1x CD4049UBD - 6-Channel inverting buffer
2x CD4071BE - Quad 2-input OR Gate
2x 4081BDC - Quad 2-input AND Gate
1x CD4093BE - Quad 2-input NAND Gate
1x HEF4520BP - Dual 4 bit up counter
2x TC4528BP - Dual monostable multivibrator
1x CD40103BE - 8 bit down counter
2x HCF40106BE - Hex Schmitt-Trigger Inverter
3x CD40192BE - 4 bit up/down decade counter
————

1x 74F04DC - Hex inverter
1x SN74LS04N ``
1x SN74LS08N - Quad 2-input AND Gate
1x N74H08 ``
1x SN74F08N ``
1x MM74C14N - Hex Schmitt-Trigger Inverter
1x 74LS14N ``
1x SNJ54S32J - Quad 2-input OR gate
3x 74ACTQ32PC ``
4x SN7433N - Quad 2-input NOR buffer — open collectors
1x SN74ALS00AN - Quad 2-input NAND gate
1x 74H106PC - Dual negative-edge-triggered flip-flop
3x SN74S139N - 2 to 4 line demultiplexer/decoder
1x CD74HC139E ``
2x SN74LS147N - 10 to 4 bit priority encoder
1x MC74HC154N - 4 to 16 line demultiplexer/decoder
2x SN74HC154NT ``
1x SN74154N ``
2x CD74HCT165E - 8 bit ser/par to ser shift register (complem. outputs)
1x 74F166N - 16 bit ser/par in, ser out shift register
2x 74F169N - 4 bit up/down counter
1x SN74196N - Up decade counter
3x P74PCT240PC - Octal inverted buffer, tri-state
1x MC74HC245 - 8 bit bus transceiver
1x 74AC245PC ``
2x 74F259N - 8 bit latch
2x 74283-PC - 4 bit binary adder
1x SN74LS353N - Dual 4 to 1 line inverting data selector, tri-state
1x 74HCT365N - Hex non-inverting buffer; tri-state
5x 74ABT374N - Octal D-type flip flop
1x 74S374N ``
1x 74F524PC - 8 bit registered comparator
4x SN74ALS540N - 8 channel inverting buffer, ti-state
1x 74F544N - 8 bit bus transceiver
1x 74F573N - D-type octal latch
2x 74F676PC - 16 bit ser/par in, ser out shift register
2x MM74HC4053N - Triple 2-channel analog multiplexer/demultiplexer
1x MC54HC7266J - Quad 2-input XNOR gate
————

1x MC146805E2P - 8 bit microcontroller! (datasheet)
3x SN75C188N - Quad line driver/transmitter?
1x 1488P - Quad line driver?
2x MC14490P - Hex debouncer
2x MC14519B - 4 bit AND/OR sel. / Quad 2-Channel data sel. / Quad 2-input XNOR Gate (datasheet)
3x MC14522B - Down decade counter
1x MC1496L - RF Modulator/Demodulator
1x MC14174B - Hex D-type flip flop
2x MC145145P2 - 4 bit data bus frequency synthesizer?
2x HD14020BP - Triple 3-input NAND Gate
1x MC14023BCP ``
1x MC14519 - PLL frequency synthesizer
1x SN75155P - RS-232 Transceiver
1x SN75176AP - Differential Bus Transceiver
Now that's a long list!

104 ICs—that's 52 per box.
8/10: This one was definitely worth it. Although there were fewer ICs in the boxes this time, there was a better variety, and another reason for this was probably the larger chips—less DIP-8s and more of those super-wide, crazy ones.
---
2x Super Electronic Surprise Box
9321; $7.95 each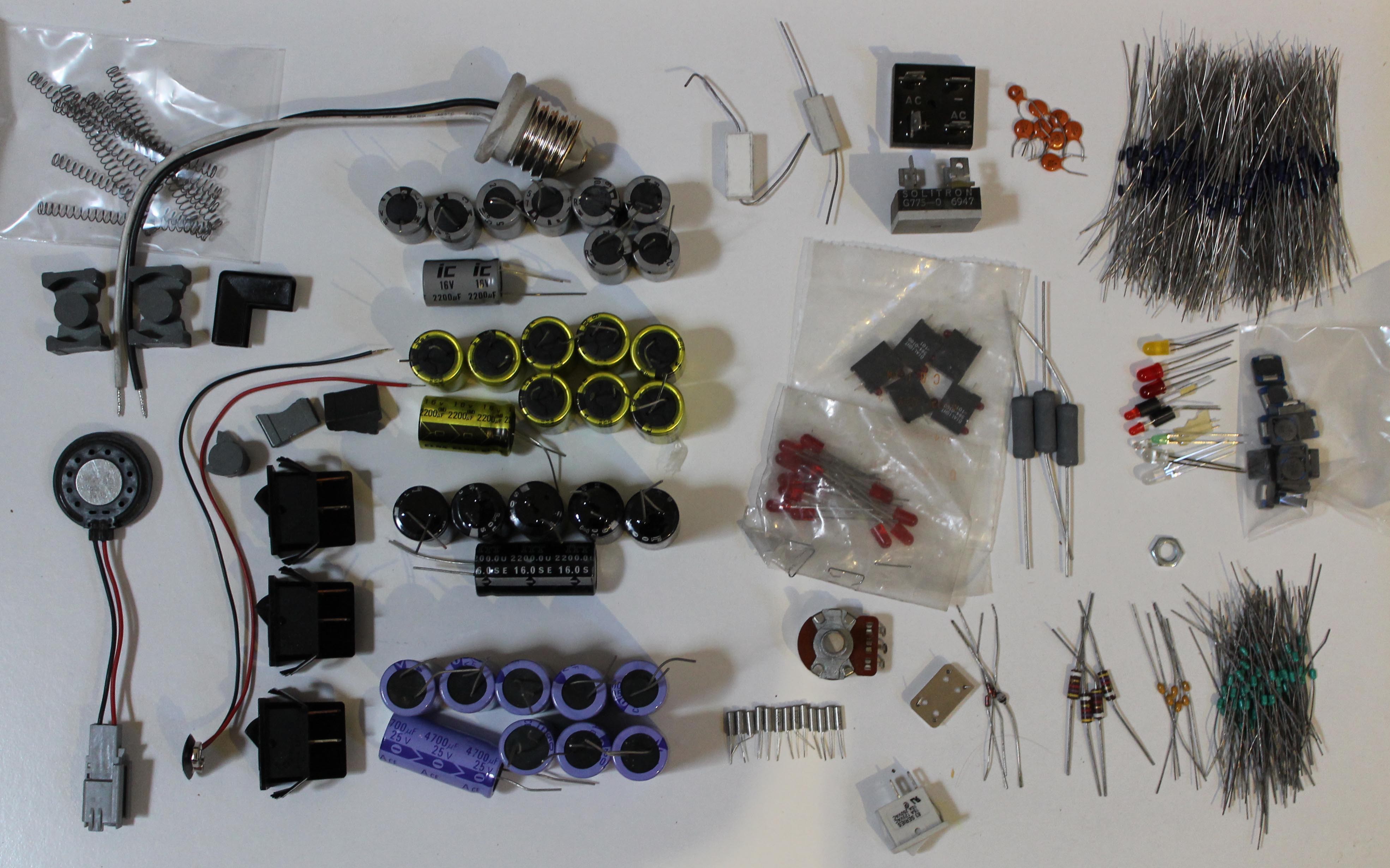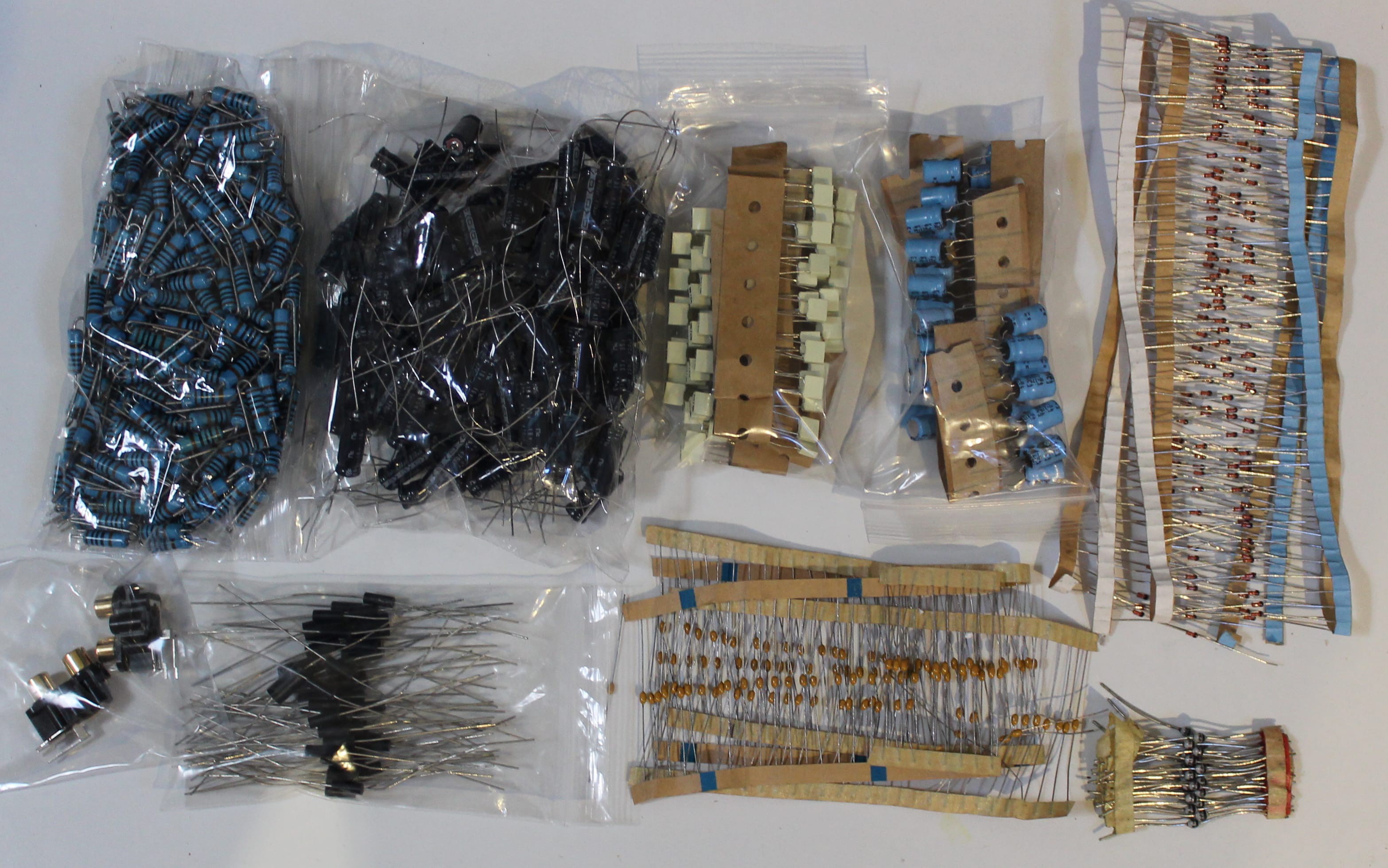 SO.
MANY.
CAPACITORS.
If a component isn't listed here, it's probably a capacitor.
Also:

masses of resistors

those small, dark blue ones that there's a ton of on the first picture have values 1071Ω and 7321Ω
the big, light blue ones are all pre-bent and 100Ω
two sandstone resistors
some random resistors

crazy amounts of diodes
some weird-looking ferrites?
a lamp base with wires—I'm sure some cool mesh-networking thing could be made with these :D
a speaker!
two stereo RCA connectors
two rectifiers
some switches

those black switches (DPST) have a nice insulation between the two sides

springs!
LEDs!
A hex nut
A potentiometer
A speaker with some weird connector
Some SMD inductors
---
Box 2!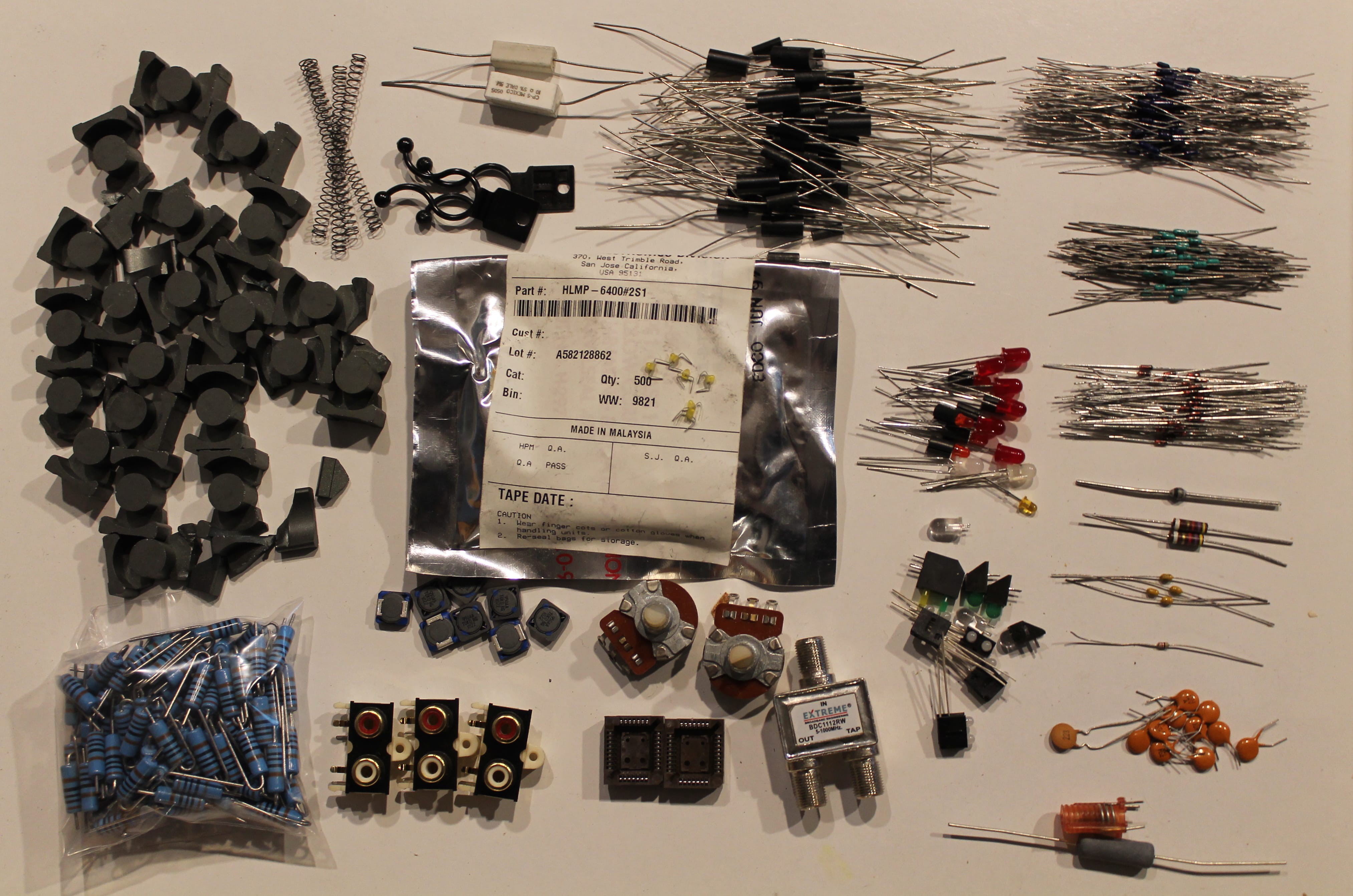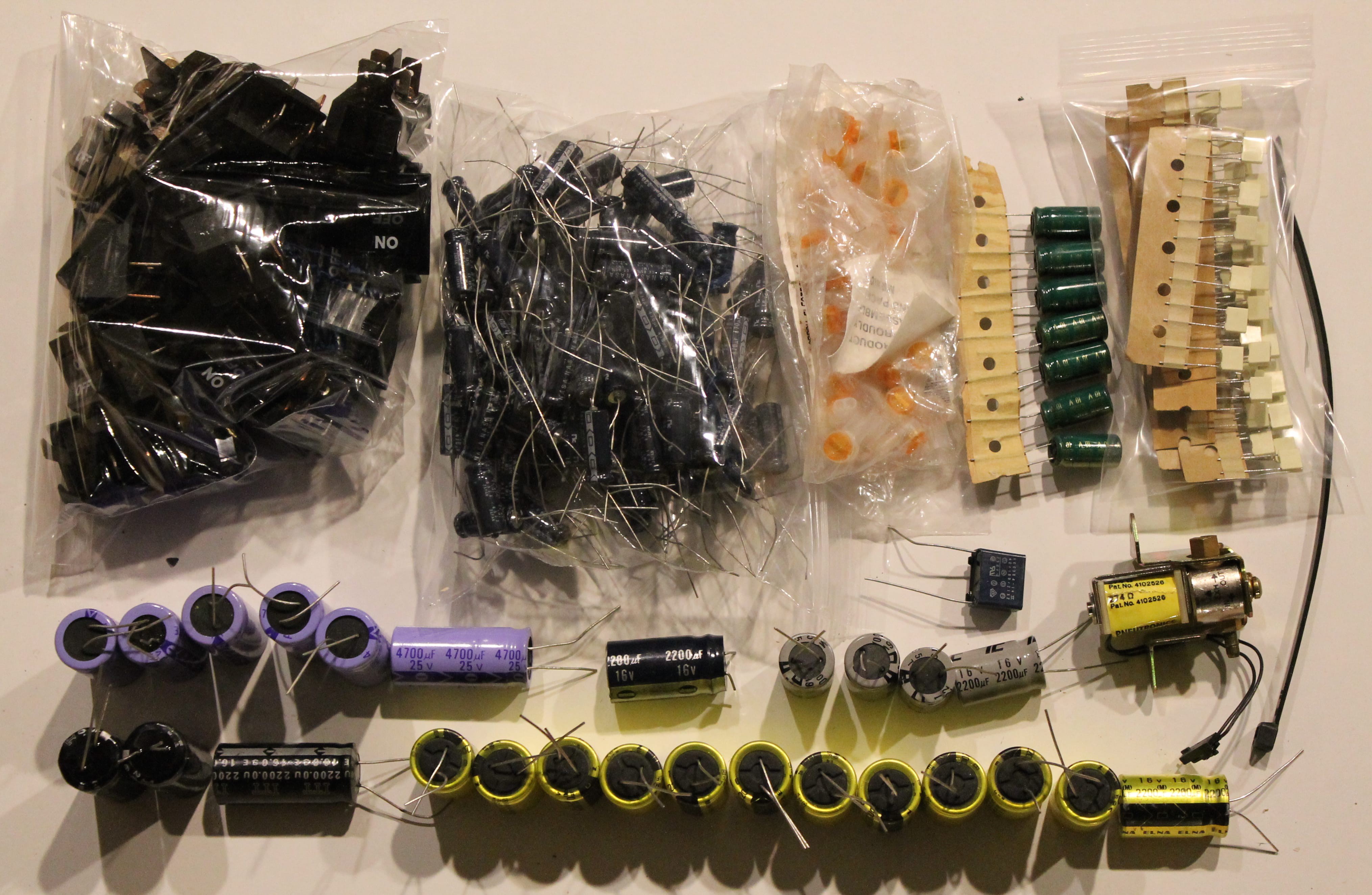 Again, many capacitors.

Also:

A zip-tie—A true marvel of modern electronics.
lots more of those weird ferries
some more of those weird-valued resistors
a few more of those 100Ω resistors
some more random resistors
SMD sockets
3 more RCA jacks (these are a different type)
some more SMD inductors
2 more potentiometers
more springs!
more LEDs!
crazy amounts of those black DPST switches
some form of wire connector

You can remove the orange part, insert wires, push it back in and the two wires are connected. Not sure how else to describe these.

some kind of electromechanical valve
some plastic mounting parts?
That static-resistant bag.

This thing is amazing. There's 500pcs of HLMP-6400 (small, yellow through-hole LEDs with pre-bent leads) inside.

I'll have to make something cool with these. Suggestions are welcome!
8/10: Both these boxes were great.
However, there's an important piece of advice I need to give you:
Don't order these by themselves, and don't order more than one.
It's obvious that the contents of these change from week to week, so it's not worth buying too many at once—consider them an add-on to whatever you're buying (albeit one that is quite heavy and drives up the shipping cost by a few dollars)
---
Thanks for reading!
If you liked this, please consider following me.
alpha_ninja