My first 2 orders were to DirtyPCBs and were satisfying.
The 3rd was to Dangerous Prototypes because DirtyPCBs was down.
Both provide my required characteristics at very good prices : 0.6mm FR4, plated through holes, white mask, HASL finish. You'd think I'd get the same result, since they used the same factories, but I was surprised.
First remark : DirtyPCB respected my milling to the letter. That was pretty cool :-) I gorget which diameter I asked (0.8mm ?) but it went well.
OTOH Dangerous Prototypes replaced my dashed milling to make a "classic milling" just as a normal panelized design. Pretty neat ! However I carefully selected the milling diameter because some boards have very tight dimensional margins. My caliper says around 0.8mm while I asked for 0.7mm. I'll see if it changes anything in practice...
Second remark : Dangerous Prototypes provides only a very low-resolution preview. DirtyPCBs provides high-resolution renderings that helped me get the first boards "right" at the first order.
This matters a lot because (even though the previews are not binding) the markings are important for my display projects. And Dangerous Prototypes cluttered my PCB with the very badly autoplaced parts numbers. With fine pitch SMDs, it creates a mess.
Just have a look at these previews, generated in a second by DirtyPCBs before you commit/pay: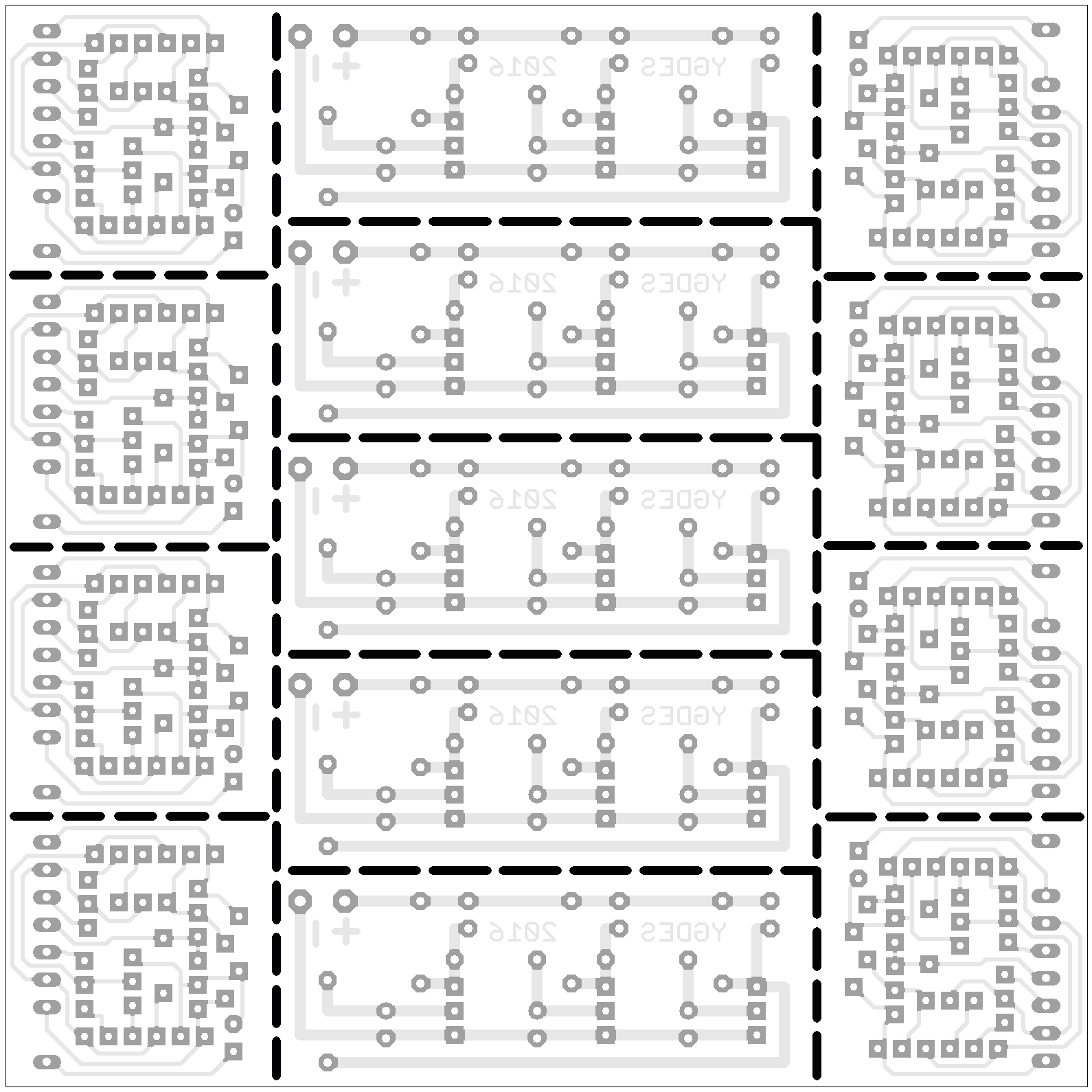 You can easily spot issues.
Now try this on this 150×150px thumbnail:
No higher resolution is provided...
Third remark : In the same vein, I have chosen to cover the vias with mask to reduce visual clutter and reduce chances of shorts. Dangerous Prototypes ignored my DRC (well, not their fault, I didn't provide, but they didn't ask either) and my PCB "visible side" is sparkling with all the HASL vias.
Solution to 2) and 3) : provide GERBER files. This must be evaluated...
4th remark : Now, a pretty miffing discovery : Dangerous Prototypes placed a PCB reference number on the visible side of one of the panelised circuits. Half of my first #DYPLED boards now have an irrelevant string. Why put it on this side ? I should "reverse" the circuit so the markings can be located on the other side....
Let me state (again?) that there is nothing "wrong" with what Dangerous Prototypes did. It's just that the result is not "as I expected". Dangerous Prototypes might have manual intervention, or maybe it was processed and checked by a different operator but nothing was modified on both DirtyPCBs runs. This (and the good resolution of the preview) is why I favor them.
OTOH Dangerous Prototypes provides more options (flex for the win !)
Overall, I have tested the process and got fast delivery for a very reasonable price and I can prototype #DYPLED and others. 0.6mm FR4 is nice, no need to use finer boards. And I know how to make the PCB I want :-)
---
The following pictures show the actual circuits:
Here we see the different style of milling, and the mess generated by points 2) and 3). The user markings are unreadable.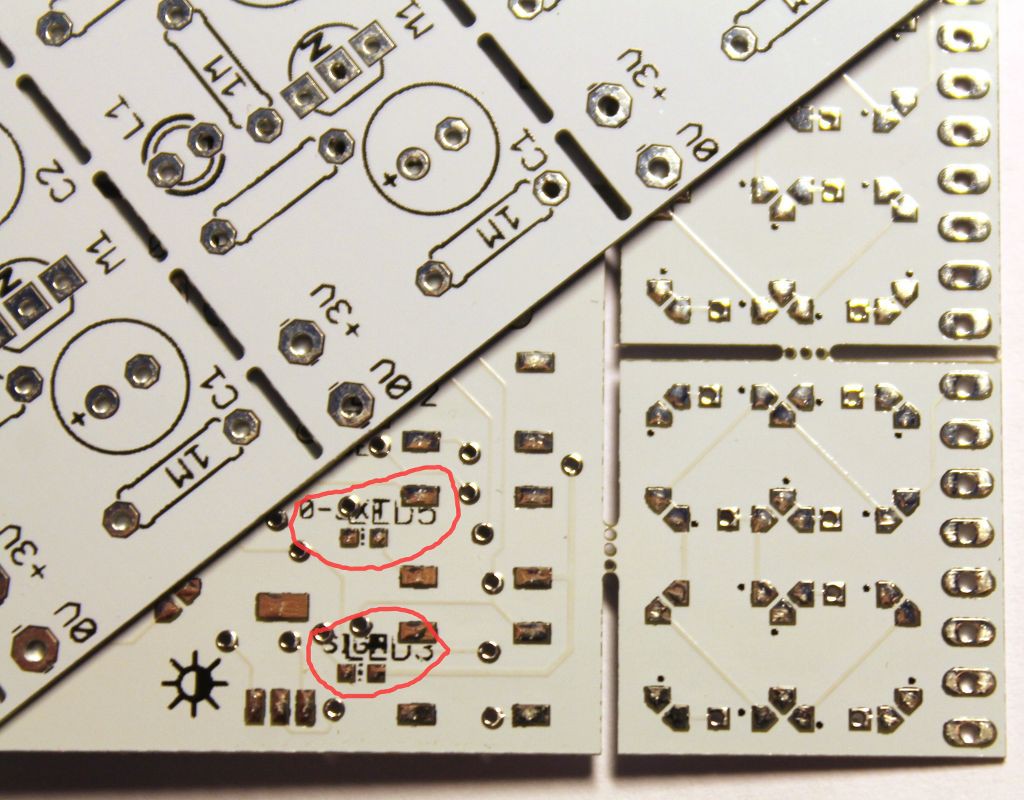 The #DYPLED circuit is way more sophisticated than the #Yet Another Electronic Lampyridae so I shouldn't be surprised that there are more opportunities to mess something up... That's what prototypes are for.
The issues with the mask and silkscreen:
The vias are exposed, they mess with markings and will short signals, the parts references are printed and confuse the user markings, and a random, unwanted reference number is added...
The circuits are actually automatically tested, as can be seen by the tiny dots (from the probes) on many pads. And the process works nicely with 250µ wide pads. Look at the following picture in high resolution: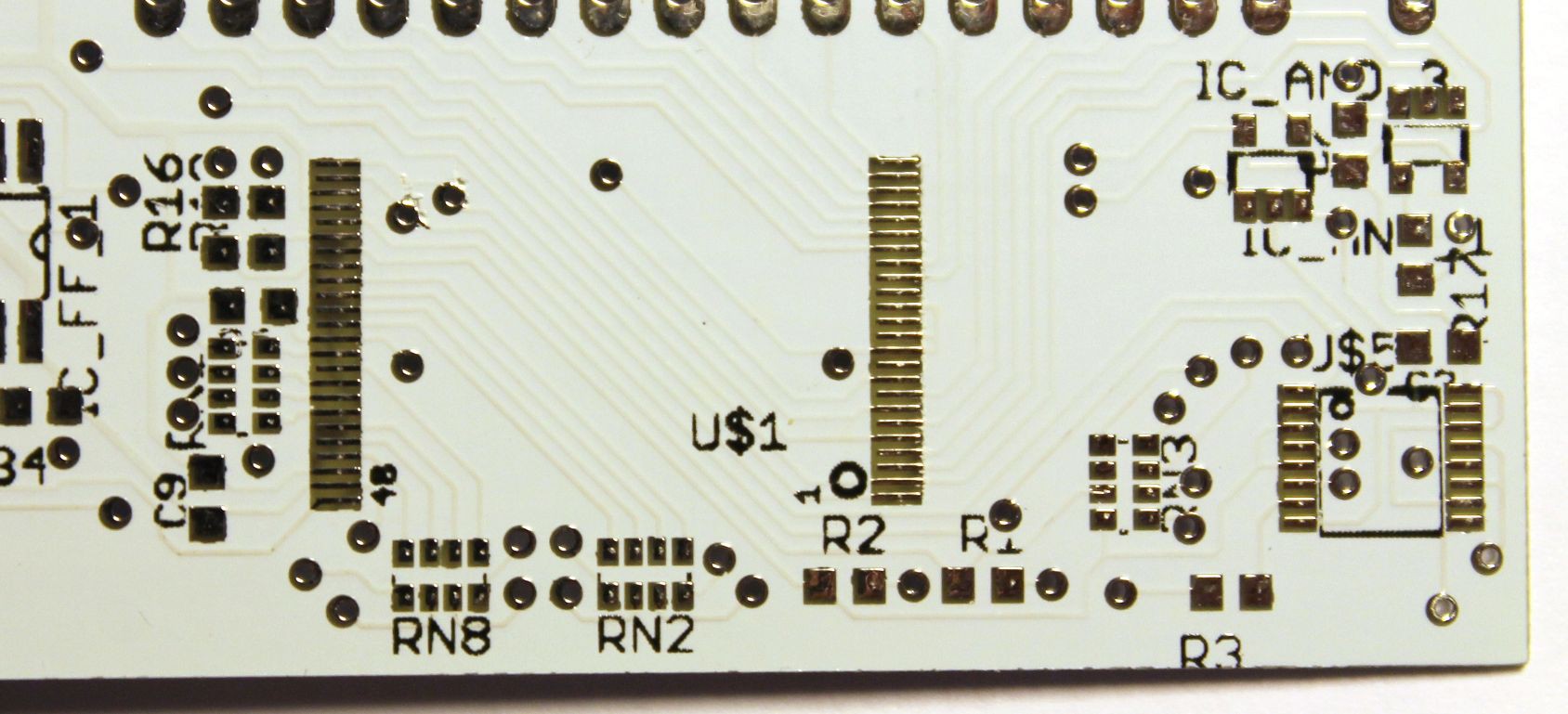 ---
#DYPLED can move forward but the tinned vias are a problem because the 4014 LEDs have exposed thermal pads that will be shorted to other signals. Furthermore, the thickness of the tin lifts the whole LED package, which will be harder to solder... At least I can test the Flash EPROM and all the semi-discrete circuits around it.
Then I'll order a new batch wich fixes the problems I've found...