Update 2019-11-03: There is a way to perhaps reduce the shipping cost. PCBWay has an official store and runs promotions on Aliexpress. The price shown next to the item is not the correct PCB fab price, you have to look in the description for the actual price. You send them the Gerber archive by email and wait for the confirmatory quote. For the case of 10 x 10cm x 10cm bords it is currently 5 USD. However the shipping can be very cheap if you are willing to wait. Perhaps your design is proven and you just want to build your stock. Currently it's free to AU by the shipper's default method. This seems to be their way of attracting new customers.
When I counted a dozen 8085 CPUs in my retro tech stash, I decided to do a SBC project with them. The goals would be to learn to order PCBs online, and several other things. Coincidentally about this time a Pcbway rep contacted me asking if I would like to sample their service and post public feedback.
The design I submitted is not mine, it's a completed 8085 SBC design published by Sergey Kiselev, see my project page for the links. This means I am confident that there are no mistakes in the placement and routing. It is not a complex design, only a handful of ICs due to the use of a GAL to replace a lot of discrete logic, two layers, 0.1 inch pitch ICs, and through hole components. One step at a time; I'll learn to use Kicad/pcbnew for my own designs later.
A personal note: A PCB fab service over the Internet is something only dreamt of back in the days when I started making PCBs, first with resist pens, then later with photoresist, while dealing with noxious chemicals like ferric chloride and xylene. Well the Internet didn't even exist then. The disadvantage of course is the turnaround time so you should be fairly sure of your circuit before you commit to PCB. The old tailor's or carpenter's adage measure twice cut once is very apt here.
Submitting the order through the website
Like many fabs, registering an account on the Pcbway site will get you starter credit.
At this point assume you have breadboarded and debugged your circuit, have laid out the PCB and are ready to generate the Gerber and drill files.
The website is attractive and the steps are easy to follow. Just click on the Quote and Order button and it will take you through the steps. There are help buttons for the various entry fields. Pcbway seems to offer a great variety of options for the boards. I accepted the defaults as I have no special requirements. Maybe one day I'll design boards requiring advanced features. Like other fabs, the magical size 100x100 mm (from the limit of the free version of Eagle EDA, Kicad EDA is always free and has no limit) has special pricing, so usually people start with 5 or 10 boards within this limit.
I noticed that Pcbway offers to upgrade you from HASL (Hot Air Solder Levelling) to the more expensive ENIG (Electroless Nickel Immersion Gold) at their discretion for no extra charge. This Pcbway page explains the two technologies. Searching on those acronyms will find you more explanations. You can veto giving them discretion if you wish.
For Kicad 5 the documentation of pcbnew explains how to generate Gerber and drill files and can also be found in Pcbway's tutorial. For other EDA software there are abundant tutorials on the Internet. Package the generated files (usually 9) as a zip archive and upload to the website.
At this point Pcbway will do a review of the files. Now I uploaded on a Sunday night so either they have software doing the checks, or there are reviewers working shifts which is plausible as a big fab like Pcbway must get a continuous stream of orders from all over the world, thanks to the Internet. In any case it was finished within an hour and I was notified by email that I could go back to the website to pay to start the fabrication process.
There are many choices for postage depending on how impatient you are or how urgent the work is, and of course the faster the more expensive, and could be more than the fab charge. I took the tracked China EMS (E-packet) option which costs a bit more than the cheapest China air option.
As an amusing digression, I expect that the package of 10 PCBs (1.6 mm x 10 = 16 mm, or more) will be too thick to go through my mailbox slot. Our postal delivery workers have heavy workloads so if they can't deliver it into your mailbox, they don't ring the doorbell, but leave a card telling you to collect at the post office where you have to fret impatiently in queue with dozens of people paying their bills because they haven't learnt to pay by Internet. ☹️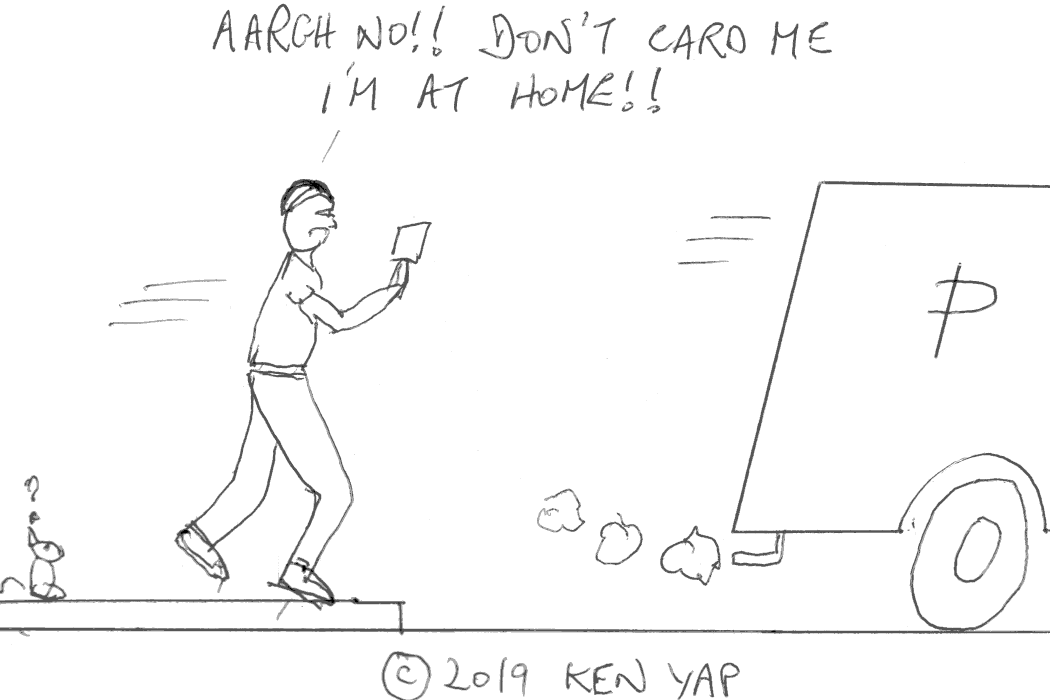 Card has become a verb in this country. 😊 Funny talking about carding on forums, not so funny when you are the unfortunate recipient. Fortunately we can also have parcels delivered to a parcel locker which we can collect from 24/7 using a code sent to us, and this is the delivery address I gave.

Monitoring the fabrication steps
Once your order is paid for, the process will start. You can monitor the steps it's going through. Here is a window snapshot. I learnt something today, the order in which the steps are done. The one acronym new to me was AOI. This turns out to stand for Automated Optical Inspection. From beginning to end takes 1 to 2 days. BTW, Pcbway: this popup window doesn't work properly on my mobile (Chrome browser), most of the rest of the site does.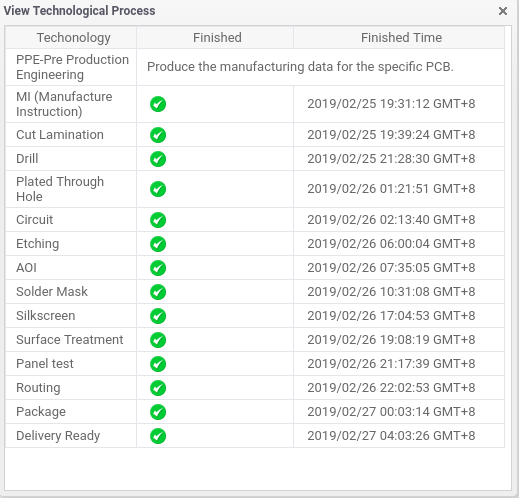 2019-03-27 edit: If you would like to learn more about the manufacturing process, there are lots of videos on YouTube, including some by Pcbway themselves. This one is a good start and here is another one by a visitor. Be aware that more than 2 layers goes through more steps so some videos show these extra steps. What I find interesting is how much automation and yet how much manual handling are involved. Search on "PCB manufacture" for many more videos.
The wait
There was a delay of one day between the end of production and the boards being shipped. Then one more day before tracking information appeared. Beijing post office huh? Wonder which one of two PCB factories did my order.
I tracked the progress of the parcel. What was my parcel doing between 3rd and 12th of March? Standing on Beijing airport tarmac with a thumb extended to hitchhike a ride to Sydney? 😊


This goes to show that unless you are willing to pay a lot for postage, you should have several projects going so that you can occupy yourself while waiting for PCBs.

Evaluation of received boards
Finally this arrived in my parcel locker about 2 weeks after the end of fabrication. For sure nothing is going to fall out with the huge amount of packing tape they used, hahaha.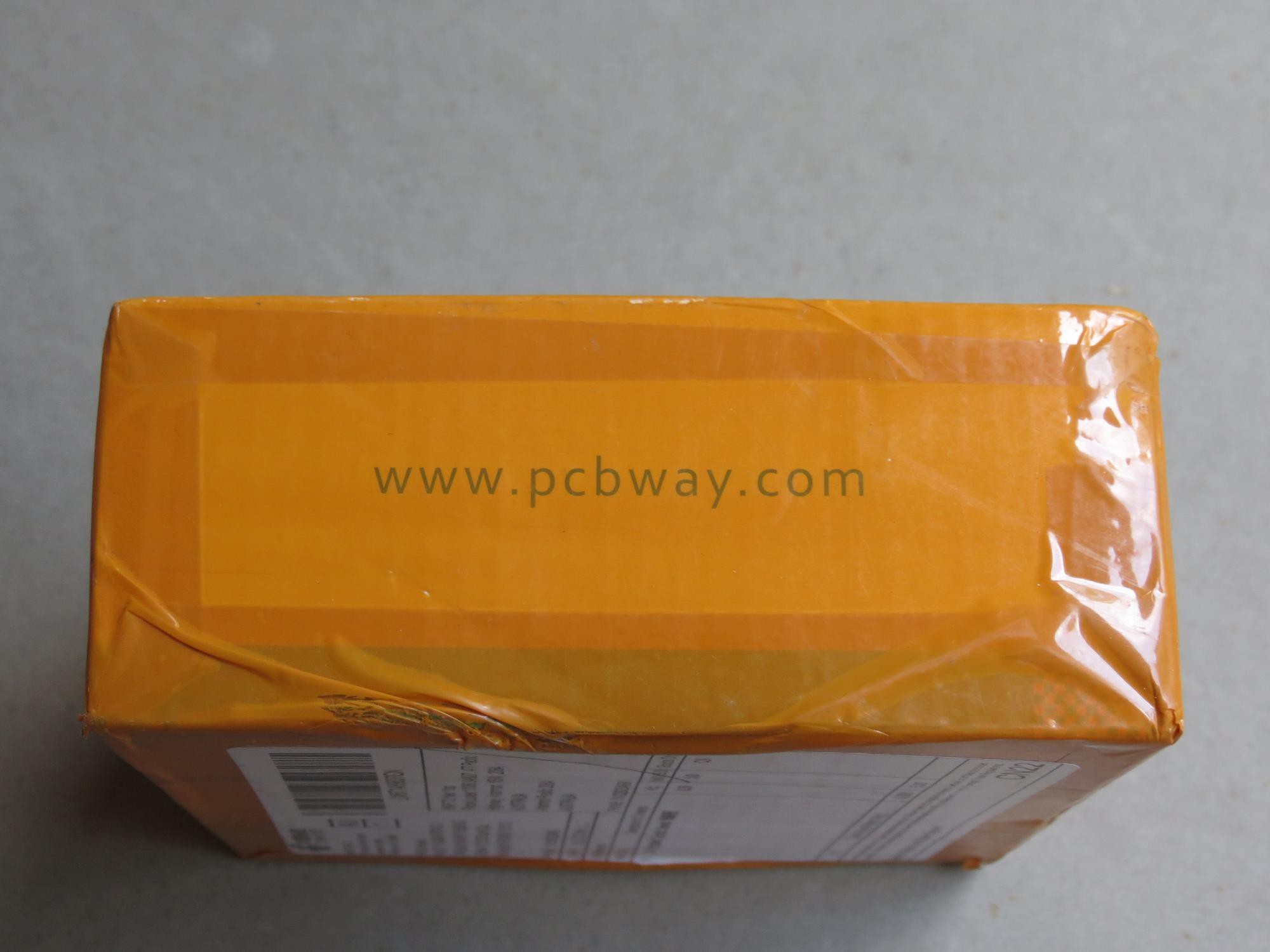 Inside there were 11 PCBs, one extra just in case I suppose, in a waterproof bubble wrap bag. So how good were the PCBs? Here is the top of the PCB.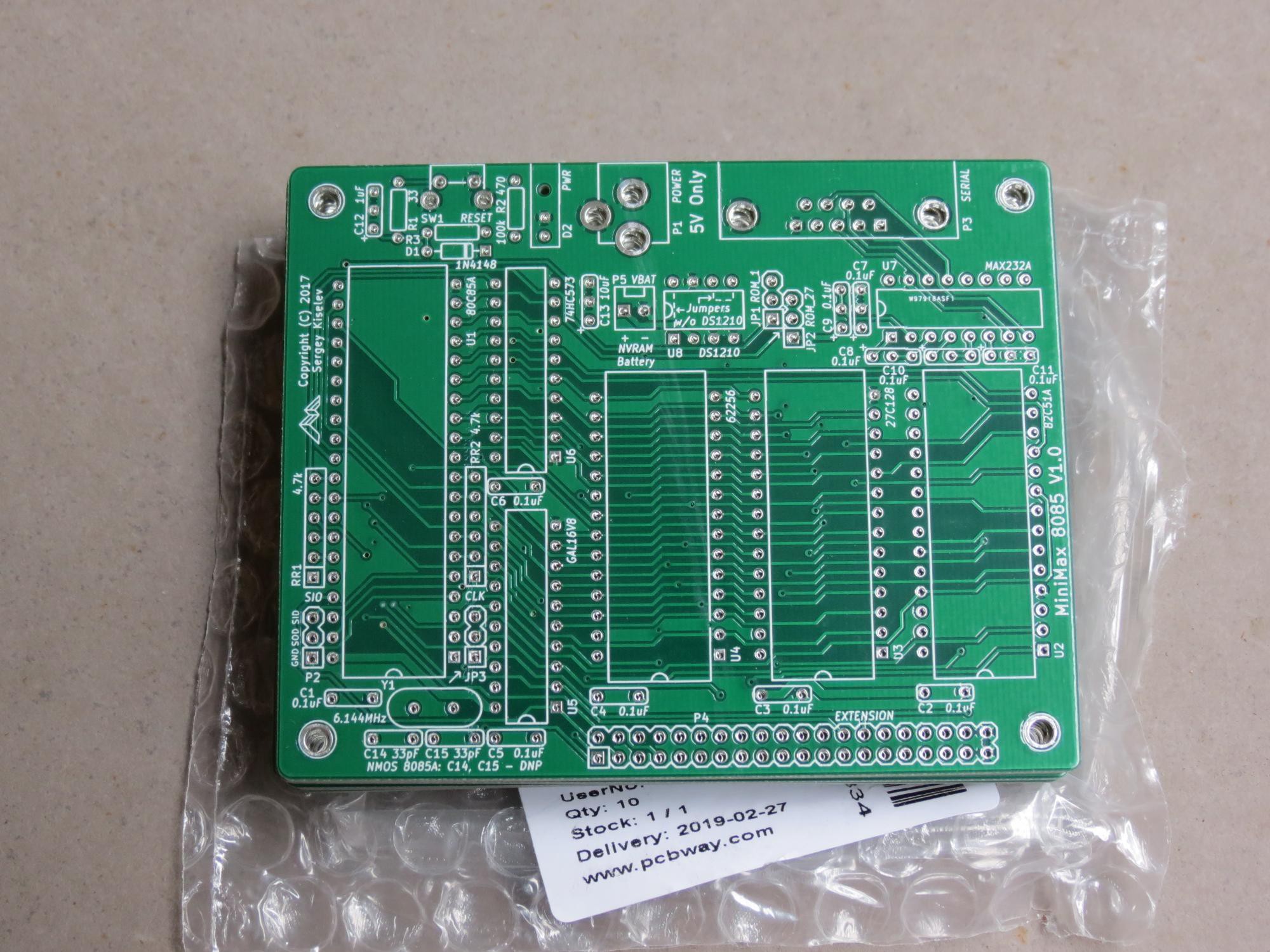 And a closer look. Both the tracks and the screen printing are crisp and well defined. Although mine is not a demanding board, I'm sure their process can handle thinner traces.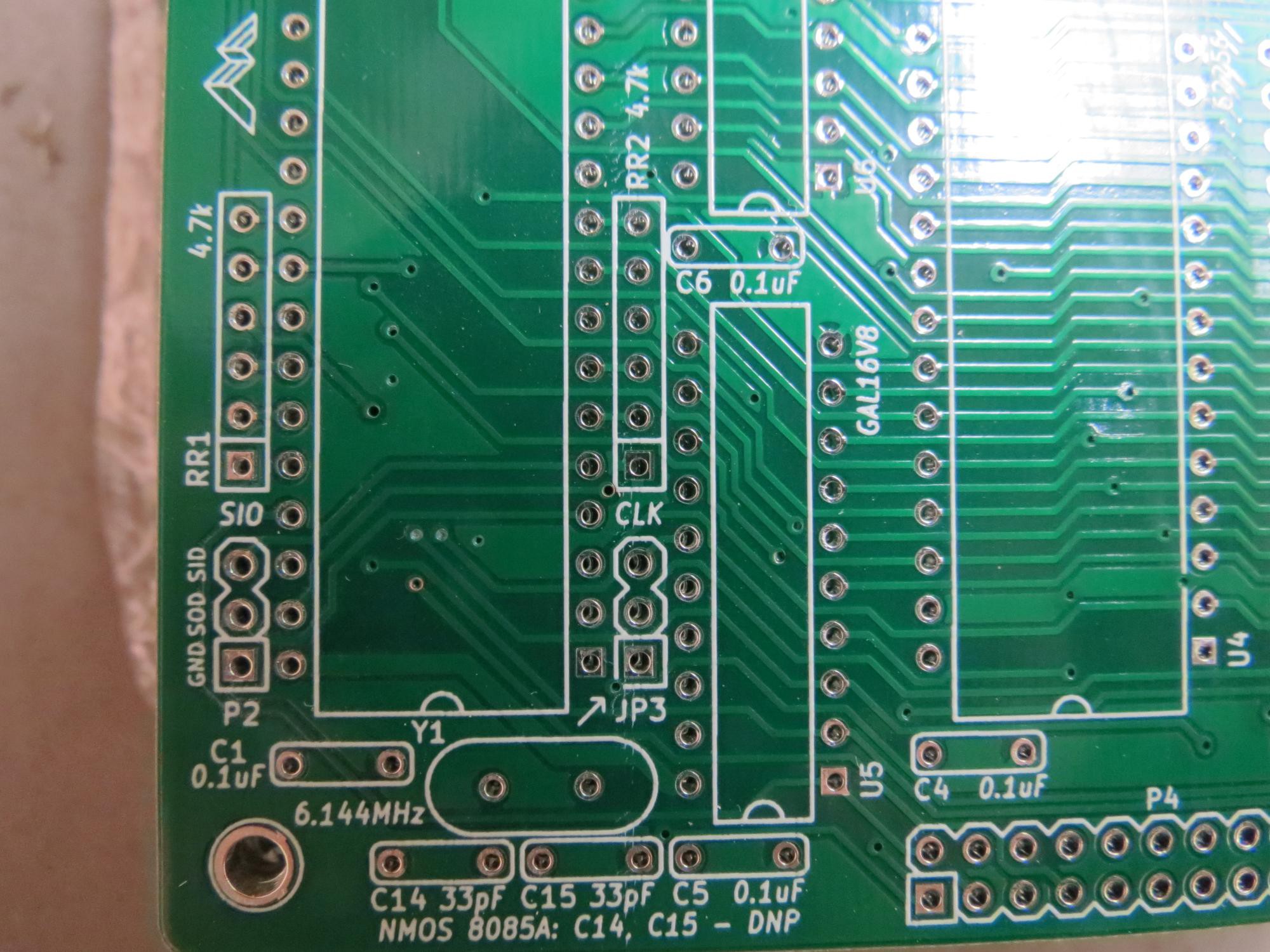 The bottom of the PCB.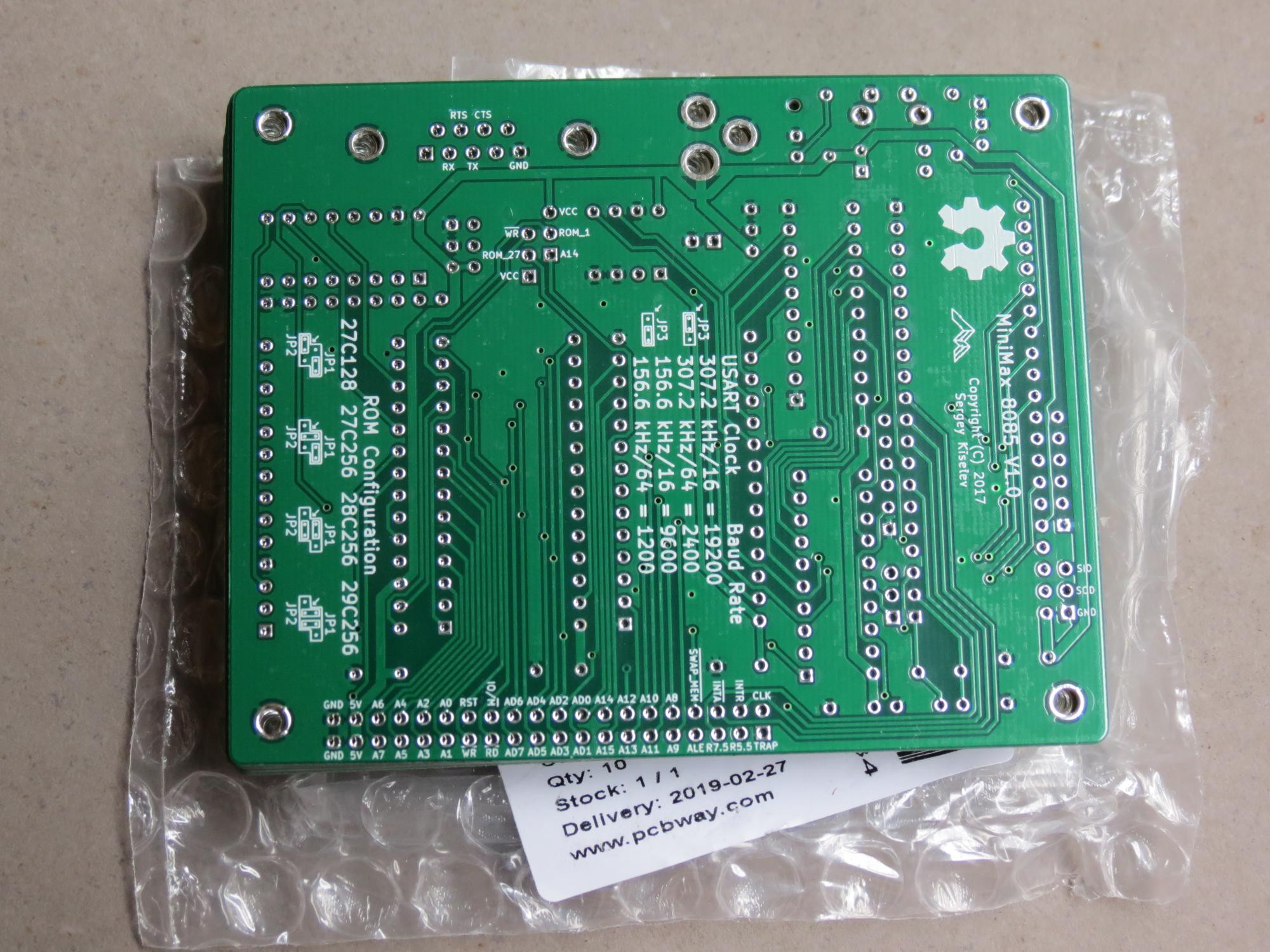 Notice the well defined dots in the legends for the jumpers.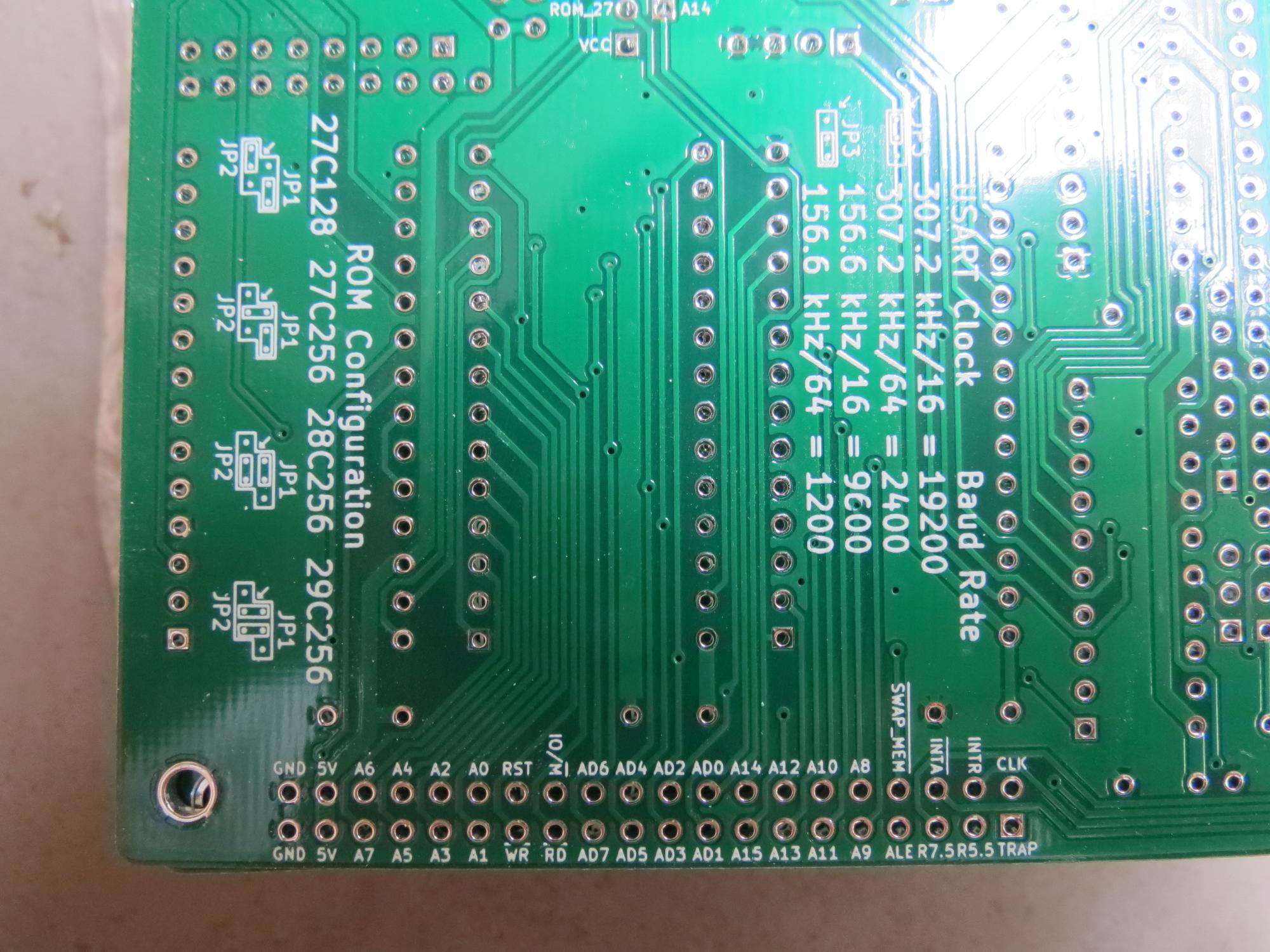 At this point I was going to insert a picture of a partially soldered board, but that would only demonstrate my skill, or actually lack of, in soldering. So I reckon Pcbway has done an excellent job. I would not hesitate to use their service again. And the board does look like the preview later on this page, but perhaps a darker shade of green.

Apologies for the fish-eye distortion in the closeups. I had to use macro mode and put the lens really close to the board. You are viewing it perhaps double life-size on your screen.
If you have issues with the received product, be sure to contact customer service for resolution.
Other services
Pcbway hosts an online Gerber viewer which appears to be an instance of Mike Cousin's tracespace viewer, which is also available as a hosted service here. It's more responsive than other sites I've used. Go wild with it, you are not loading a remote server, the rendering is done using the SVG capabilities of your web browser. Here is Pcbway's announcement. You can use Pcbway's viewer without an account. I used the Gerber viewer in Kicad 5 but the tracespace viewer can also show you the front and back of the board as you will receive them with the silkscreens correctly oriented, not with one reversed as in the Kicad viewer. The board looks so realistic that you sit there, admire it, take selfies with it, and forget that you still have to build your board later. 😊

Conclusion
I hope that my newbie experience ordering a PCB fab job has shown you how to get started. Whichever fab house you choose to go with, in fact, whatever circuit assembly process you choose to use, I wish you much success with your projects. May you never let the magic smoke inside chips escape.