Salutations,
This remains to be put in convenient graphical form but that's requiring more time/energy investment than i can afford to comit at the moment, so here's a simple list reflecting my notes so far...
1st of all my aluminium Full-Length Yellow-flame/Classic Compatible top is crafted into some bulk material rod that measures 26.0 mm x 31.5 mm or 1¼" (dia.) once finished as an outer shell.  Its Flame-Catcher side was performed using a large 14.3 mm or 9/16" (dia.) drill bit then i manually shaped it into a conduit of spherical profile.  The Base-side (Monobloc cavity) was done using 15.9 mm or 5/8" (dia.) and penetrating no farther than 19.4 mm deep instead - or was it 13.8 mm?  That's why i'll need a drawing...
Ayway it leaves behind a ~6.6 mm long path for my Flame-Catcher aperture.  Also, there's a 25 mm (dia.) x ~2.6 mm deep annular Base Recess into which i dig a 19 mm (dia.) x 1.6 to 2 mm deep Internal (hidden) Annular PinHole Channel in order to connect with an On-Top Core-PinHole path directly, while an auxiliary PinHole path can be reached from the Base-side connecting to a handle using this "universal" Mating System: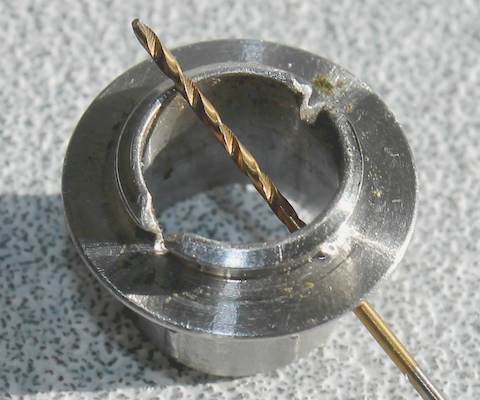 This is actually fall-back compatible, with both internal PinHole paths partly isolated by a "Top-of-Bowl SiC Puck" wrapped in Brass Screen for mechanical support.  That way a genuine VG Classic or Bronze Sherlock handle only disables the Base-side path while the finger-resting site on a top remains functional, not to mention such split dual-path strategy proved to be convenient as this is tolerant of permanent leaks (as when no effort is made to gain manual control, for example)...

When installed a genuine-length 20.2 mm tall/deep VG Monobloc effectively separates both annular recesses while a copper O-Ring seals the space between it and my Flame-Catcher aperture;  its Screw-Base Mating Disc is nearly 0.9 mm thick so this reduces the Base-side recess to about 1.7 mm deep, with the rest of a Monobloc's Screw-Base protruding over a length of ~1.3 mm if i'm not mistaking.  Overall assembly length amounts to 27.3 mm deep/tall, keep in mind a Base-side recess exceeding 2.5 mm may result in friction with its mating handle depending on the model, the Bronze Sherlock handle to be more specific. Total mass of my complete/finished Full-Length cylindrical aluminium top ranges around 43.4 g, while experimenting with a shorter brass version i found it could reach 92.9 g - which is excessive in Near-Symetrical Reversible LAVACapsule scenarios.
Future attempts may eventually aim for some closer emulation of VG's Sphere which is ~35.15 mm deep/tall with a ~40.25 mm diameter.