It's Friday just before work day, so I sent it off hoping to beat the weekend.

You know it is a tiny PCB when the postage alone is easily worth $0.95.  When the board is this tiny, it could easily fit into otherwise wasted space in a batch.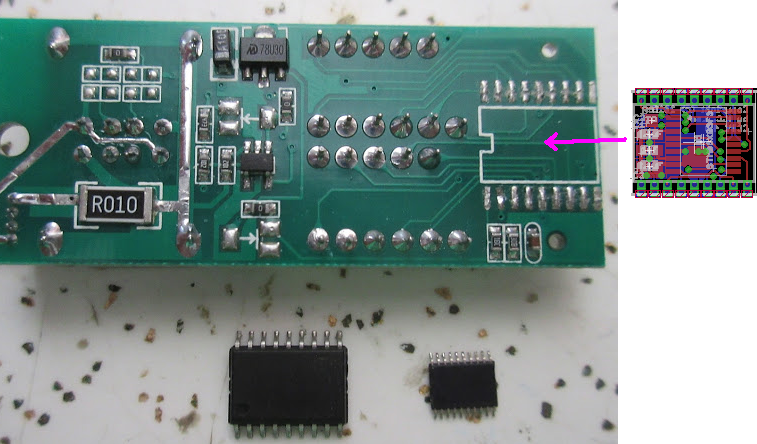 Oops.  flipped the soic foot print.  Have  to redo more routing.  This is why I procrastinate on ordering PCB. When I don't, I miss something.
This is how it would look sitting on a SOIC20 footprint.  (Too lazy to make up a soic18).  The pads are a bit narrower on the USB meter, but it should hold.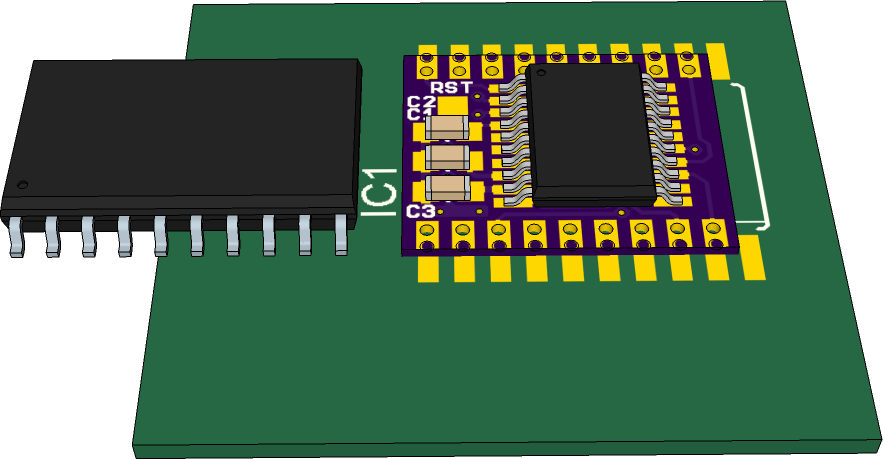 It turns out that I can make a PCB adapter that fits the STM8 to the SO18 (wide) pads. I was going to try to make a flex PCB, but decided to try out the making a Castellated Edges 0.8mm (0.031") PCB instead.

All the GPIO are broken out + 1 pad for the Reset on 0.05" pitch. The pinout is weird as it is a STM8 adapter for the SOIC-18 pin USB meter microcontroller that I have previously wired by hand. 
It's going to take may be 3+ week from OSH Park.
------------------------------------------------------------------------------------
It has arrived.  Original chip (SOIC-18 wide)  vs tiny PCB.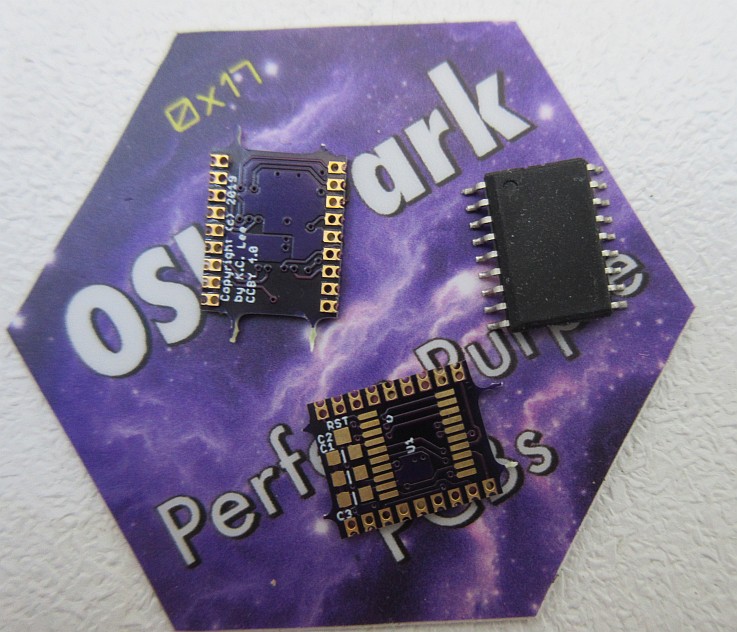 It isn't perfect, but good enough for me.  Some of the barrel was removed by the milling. The hole size was 0.0197" (0.5mm) vs size of mill ~1mm.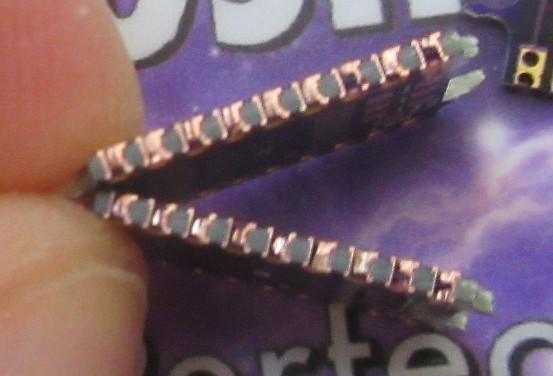 I taped down the tiny PCB for reflow.  I recycled the old parts from the mod.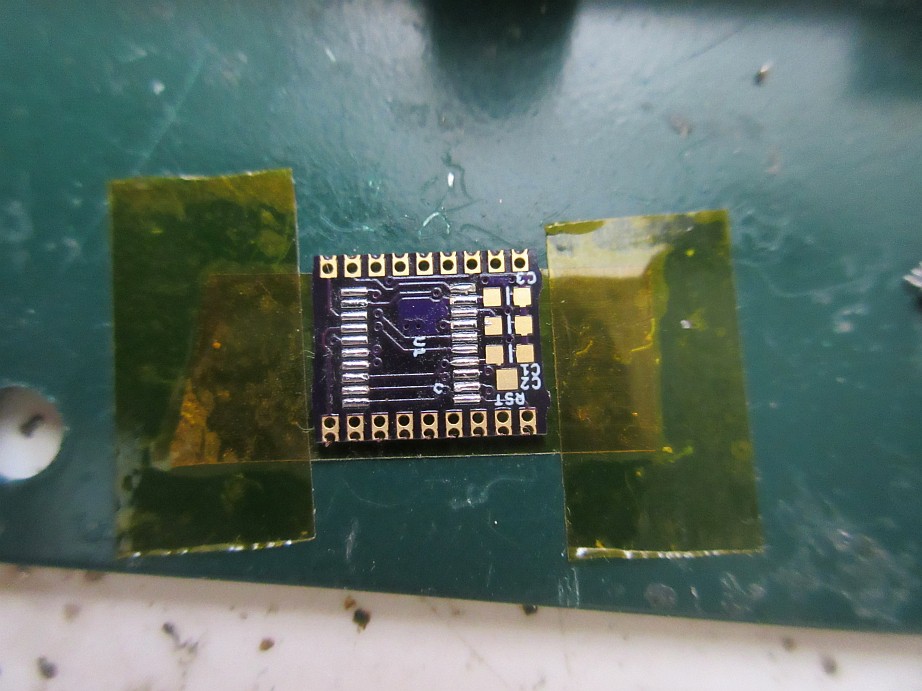 I think it works well enough.  It takes a bit of extra heating to make sure that the solder seeped under the pads as well.  (The 2nd pad to the left was peeled off when I did the initial mod. )
I cleaned up the mod wires.  I routed Gnd, SWIM and Reset (pad RST) to the programming connector. Some of the solder wicked through the via on the inner pads.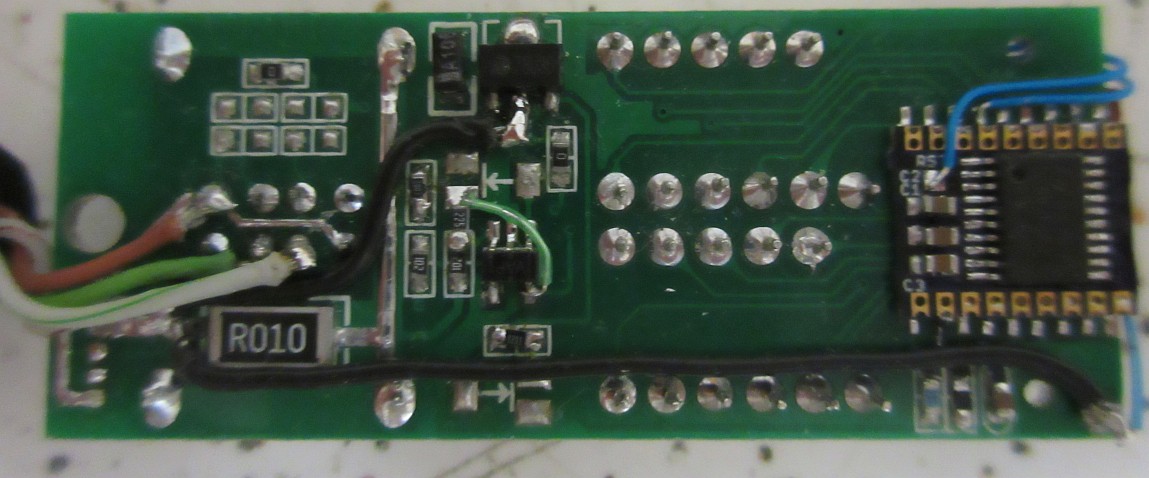 It lights up.