I don't normally do arts and crafts, but have to make my own face masks.
I am making a HKMask which has a face hugging curvature created by a vertical seam.  It seems nice, but this seam is a problem for those of us with nothing but a dollar store sewing kit.  I do like a challenge.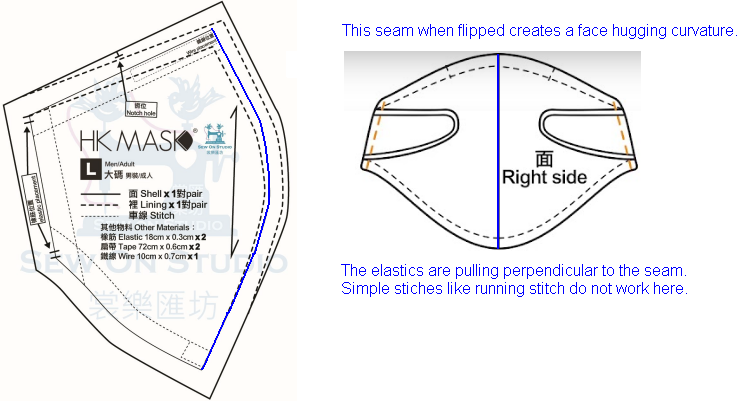 There are a few things I tried to fix for those of us that are not skilled in stitching.
the stitches are done from one side only, so it eliminates the front/back registrations problem
the fold acts as a guide, so it is easier to follow the curve as some of us can't stitch in a straight line.
the force acting on the seam is perpendicular.   This is the case of the puppy dog with the chain (chain = stitches) pulled up vertically as the force vector at 90° = 0. for a regular stitch, it is at its weakest

I am using a modified Blanket stitch for this seam.  There is a series of ovehand knots along the seam that deal with the perpendicular tension from the elastic bands as the loop of the knot is parallel to the force.
The illustration is modified from How To Lace Cable Harnesses which is what I am using.

I glued the two halves with a washable glue stick as the fabric could shift.  Instead of sewing, I fold along the line of the seam.  I use some needles to hold the fold in place while I stitch.

Make sure that you cover all the 4 layers of materials:2 layers x 2 for the fold or this would happen.

The stitching is done at the fold and not at the edge.  I used a spacing of 2mm between stitch and 2mm from the fold. (I might be overdoing the stitching a bit.)

This seam is done.  It is strong and hidden.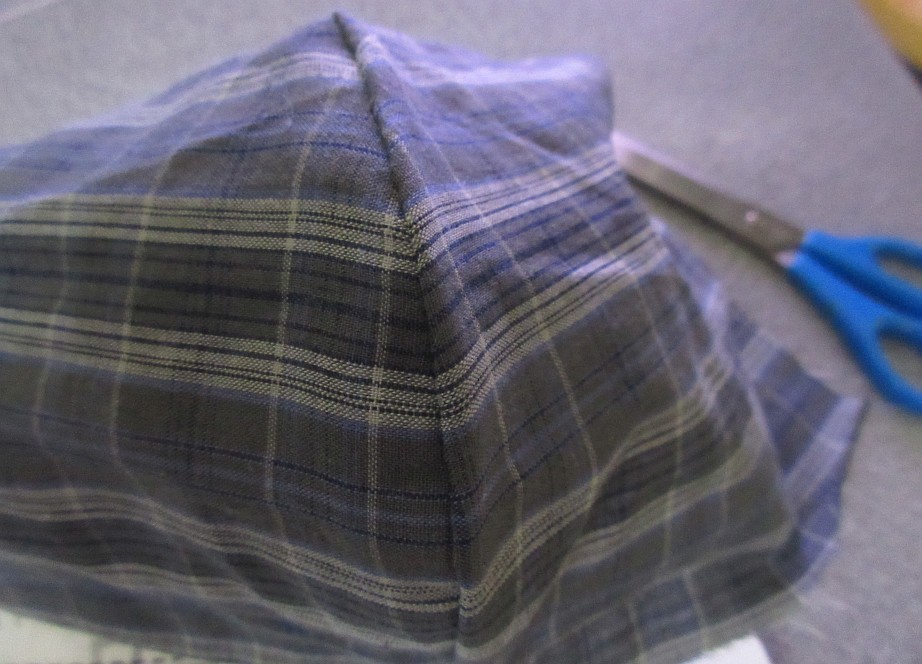 The rest of the seams can be done with regular stitches as they aren't critical.
Elastic bands aren't easy to come by.  See my flat hook for the mask in Small hack for virus outbreak 
Don't worry too much about needle holes as there is a filter layer. 
FYI: filter material