A lithium-ion battery or Li-ion battery (abbreviated as LIB) is a type of rechargeable battery. It is a lightweight, high-power battery used in computers and mobile phone. You might have seen the batteries inside nokia cell phones' had mentioned li-ion on them. These are lithium ion batteries. Li-ion batteries come in several shapes, although a flat rectangle is most common.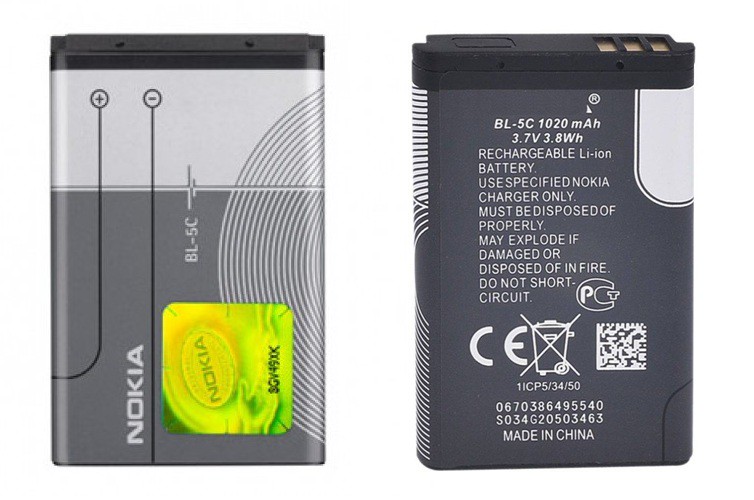 Following figure 2 shows a cylindrical SAMSUNG INR18650-25R 2500mAh Li-Ion Battery. Generally, these battery packs are differentiated with battery capacity (mAh) values. You can view various battery packs here.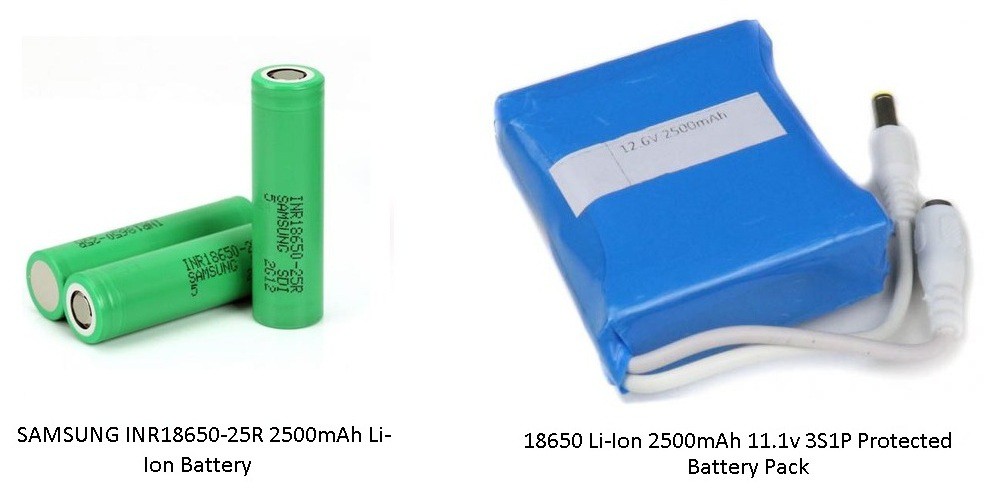 And, today's smartphones also has this lithium ion batteries in them. so, what's so special about these batteries ? To understand this, let's go deeper inside to see how it works?
---

Working of Lithium Ion Battery
A lithium-ion (Li-ion) battery is made up of 1 or more more power-generating compartments called cells. Each cell has essentially three components: positive electrode, negative electrode, and electrolyte.

A positive electrode connects to the battery's positive or + terminal. A negative electrode connects to the negative or − terminal. There is a chemical called an electrolyte placed in between them.
The positive electrode is typically made from a chemical compound called Lithium-Cobalt Oxide (LiCoO2) or Lithium Iron Phosphate (LiFePO4). The negative electrode is generally made from Carbon (graphite). The electrolyte varies from one type of battery to another. The flow of electrons is from anode to cathode. 
The electrolyte carries positively charged lithium ions from the anode to the cathode. The movement of the lithium ions creates free electrons in the anode. These free electrons produce charges at the positive current collector. An electrical current then starts flowing from the current collector through a device being powered to the negative current collector. The device being powered may be a cell phone, computer, etc. The electrolyte separator blocks the flow of electrons inside the battery.

Fig. 3. Charging state

While the battery is discharging and providing an electric current, the anode releases lithium ions to the cathode. These lithium ions generate a flow of electrons from one side to the other. When plugging in the device, the opposite reaction happens, the cathode releases lithium ions and anode receives them.

Fig. 3. Discharge State

In this way, the Lithium-ion battery works. It uses lithium ions as a key component of its electrochemistry. The lithium ions are small enough to be able to move through a micro-permeable separator between the anode and cathode.

To understand this working phenomenon of lithium ion battery through animation, here's a video for you.

---

Advantages and Disadvantages of Li-ion batteries
1. Advantages
Can deliver large amounts of current for high-power applications - Li-ion battery cells can deliver up to 3.6 Volts, 3 times higher than technologies such as Ni-Cd or Ni-MH. 
Long life cycle, extended shelf-life, and maintenance-free: Li-ion batteries are also comparatively low maintenance, and do not require scheduled cycling to maintain their battery life.
They can handle hundreds of charge/discharge cycles: Li-ion batteries have no memory effect. In terms of batteries, a memory effect is a detrimental process where repeated partial discharge/charge cycles can cause a battery to 'remember' a lower capacity.


Low self-discharge (less than half that of NiCd and NiMH): Li-ion batteries also have low self-discharge rate of around 1.5-2% per month. They do not contain toxic cadmium, which makes them easier to dispose of than Ni-Cd batteries.
Light weight: They are much lighter than other types of rechargeable batteries of the same size.
They hold their charge. A lithium-ion battery pack loses only about 5 percent of its charge per month.
High specific energy and high load capabilities with power Cells
High capacity, low internal resistance, good coulombic efficiency
Simple charge algorithm and reasonably short charge times
2. Disadvantages
Degrades at high temperature and when stored at high voltage: Tendency to overheat and can be damaged at high voltages. In some cases this can lead to thermal runaway and combustion.
Extremely sensitive to high temperatures. Heat causes lithium-ion battery packs to degrade much faster than they normally would.
Requires protection circuit to prevent thermal runaway if stressed: Li-ion batteries require safety mechanisms to limit voltage and internal pressures, which can increase weight and limit performance in some cases.
Aging: Li-ion batteries are also subject to aging, meaning that they can lose capacity and frequently fail after a number of years.
No rapid charge possible at freezing temperatures (<0°C, <32°F)
Transportation regulations required when shipping in larger quantities
---

Applications of of li-ion batteries
Lithium batteries have a long list of real-world applications. From life-saving medical equipment to luxury yachts, lithium batteries have wide range of applications.
UPS or Emergency Power Backup: An Uninterruptible Power Supply or Uninterruptible Power Source (UPS) is different from a generator or other emergency power backup. It provides nearly instant power in order to run (or safely shut down) the equipment it is connected to.
Reliable and lightweight marine performance: Upgrading your boat with a long-lasting rechargeable lithium battery provides years of reliability.
Dependable Electric and Power RV: Lithium- ion batteries offer reliable, stable, long-lasting power. It is the best solution for staying comfortable with your devices and exploring remote locations safely. Due to light weight and size, the lithium ion batteries help to power recreational vehicle or electric vehicle with increased efficiency.
Alarm Systems in remote locations: These batteries are ideal for remote monitoring systems due to long life and small size. They do not lose power via self-discharge during the time that your system is inactive. Lithium batteries have a self-discharge rate that is 10 times lower than lead acid batteries.
Storage of Solar Power: Rechargeable lithium ion batteries are the best match for solar panels due to their fast charging. Solar panels produce low resistance charging, which is what lithium batteries require. In addition, lithium batteries charge quickly which allows maximizing the potential solar power storage from each day of sunlight.
Personal Freedom with Mobility Equipment: From electric wheelchairs to stair lifts, numerous individuals depend on reliable mobility technology to live an independent life. Lithium-ion  batteries are the ideal choice for mobility equipment, as they offer size customization, a longer life span, fast charging, a low self-discharge rate and extended run time.
Portable Power Packs: Rechargeable lithium batteries are well-known for powering our phones and the latest lightweight laptop computers. They also tolerate movement and temperature changes, as well as maintain their power delivery during use.
I hope this article is helpful to you.
---
Reference: