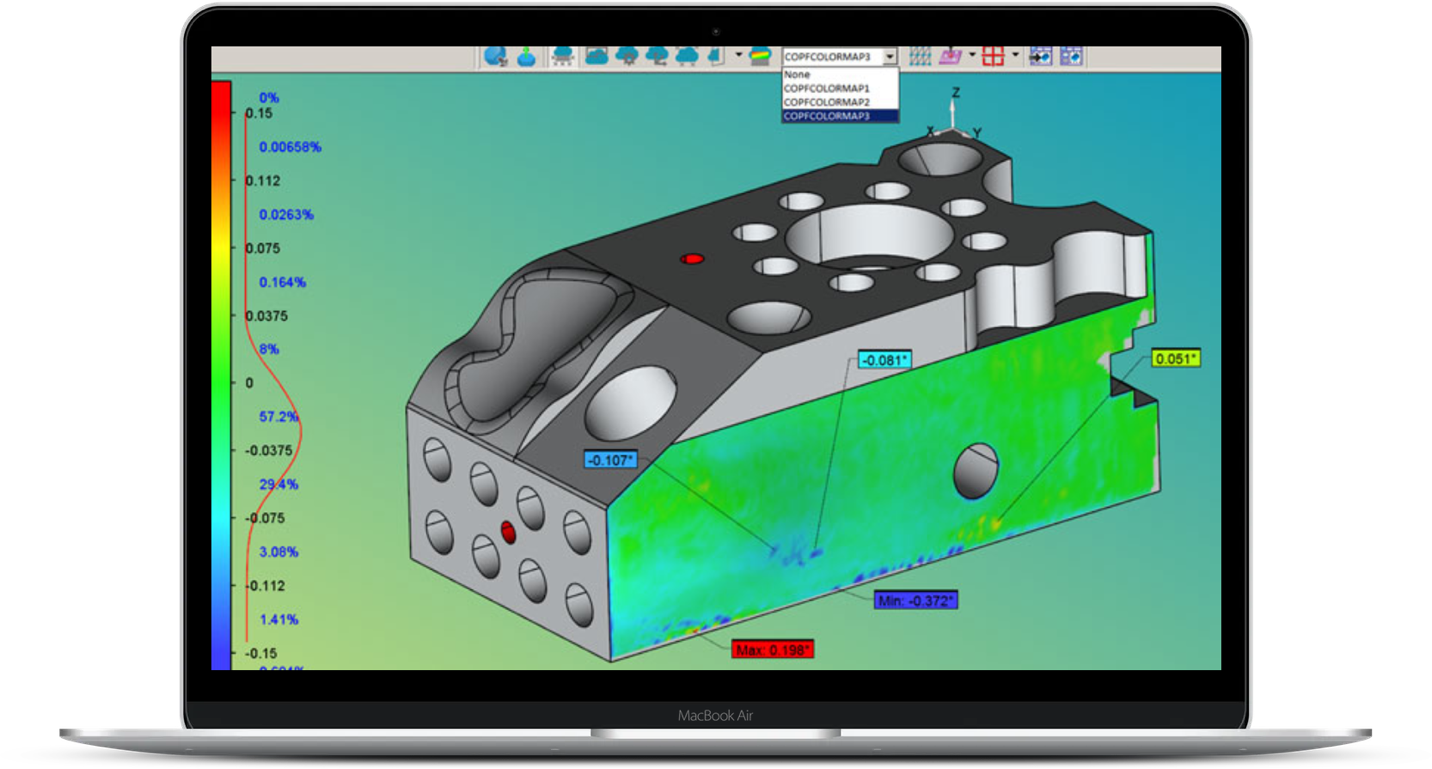 Coordinate measuring machines boast the unique ability to accurately and precisely measure the geometry of an object. Thanks to advanced software developed and updated by leaders in the metrology industry, these measurements are easy to conduct, store, report, and interpret.
The most universally used and respected CMM software is PC-DIMIS, a program that makes dimensional measurement data easy to maintain and access organization-wide. 
There is much value that comes with being familiar with the latest CMM software, and PC-DIMIS is continually evolving to capitalize on the modern capabilities of coordinate measuring machines. Learn everything you need to know about the world's leading dimensional measurement software and how you can integrate it into your manufacturing operations to improve CMM data collection and reporting.
What is PC-DIMIS?
PC-DIMIS is a dimensional measurement program from Hexagon Manufacturing Intelligence that stands for Personal Computer-Dimensional Measurement Interface Specification.
The revolutionary program was developed in 1990 by Wilcox and Associates (now Hexagon) to collect, evaluate, manage, and present manufacturing data obtained by coordinate measuring machines. It has over 30,000 seats in place across the world.
Upon its inception, PC-DIMIS was the first CMM software to use CAD models to inspect parts, link CAD systems with measurement software, digitally stimulate measurements, and align complex and contoured parts. The software even implemented a set of sheet metal measurement routines to help streamline processes in the automotive industry.
The Three Configurations
There are currently three basic configurations available of PC-DIMIS. These configurations are:
PC-DMIS Pro, (the baseline package) 
PC-DIMIS CAD (for inspection programs and evaluating measurement results)
PC-DIMIS CAD++ (enhanced CAD capabilities). 
These programs are all available with optional modules so that businesses can personalize the software based on their unique needs. There is PC-DIMIS software available for portable coordinate measuring machines, laser trackers, and CMM touch interface. 
Benefits of PC-DIMIS
PC-DIMIS offers a full suite of benefits for manufacturers and CMM operators:
Increased Productivity: Using the PC-DIMIS software allows you to maximize your capabilities by automating measurements and related manufacturing processes so that you can increase productivity and production outcomes. 
Accuracy: PC-DIMIS accurately calculates an object's geometry to help improve tool accuracy and reduce production line mistakes often caused by human error.  
Innovation: There are ample benefits that come with innovation. The PC-DIMIS software allows you to innovate your processes by using the program's accuracy, automation capabilities, and data reporting to take your production to the next level. 
Updated PC-DIMIS
As of right now, the most recent iteration of PC-DIMIS is PC-DMIS 2019 R1, which Hexagon's Manufacturing Intelligence division launched in June 2019. This version boasts a new GD&T section, a Capture tool, and more. 
Ken Woodbine, Product Line Manager for Metrology Software at Hexagon Manufacturing Intelligence, shared in a statement that "PC-DMIS 2019 R1 continues the trend towards optimizing each of the three primary metrology tasks of measurement creation."
Reap the Benefits of PC-DIMIS Training
Companies around the globe use PC-DIMIS. The software is updated almost yearly with advanced features to ensure CMM operators around the world can operate machinery seamlessly and measure products as accurately and conveniently as possible.
To stay in the know about PC-DIMIS and up to date with its new features and iterations, you can get PC-DIMIS training from CMM experts. 
This training is great for new team members, as part of onboarding, and to brush up on your software knowledge. With training, you can ensure you are using PC-DIMIS to its full potential.