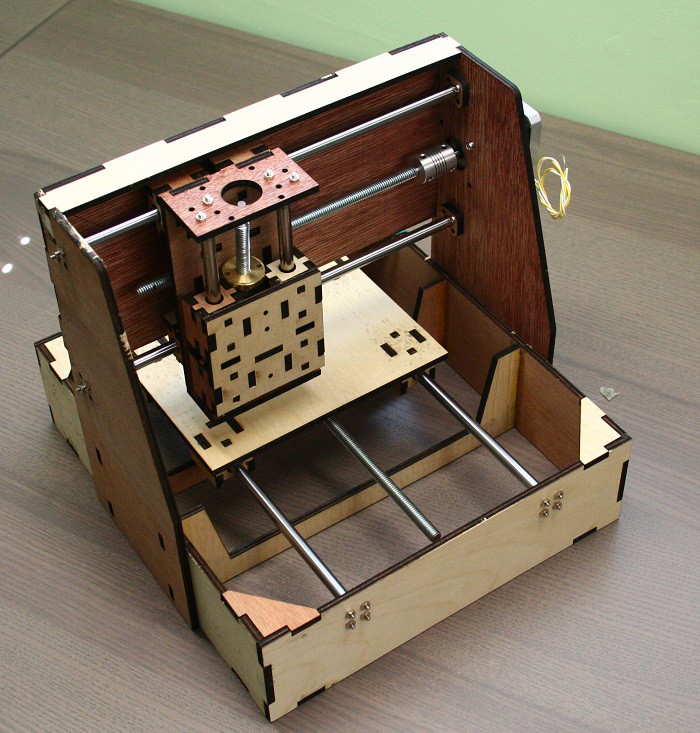 I finished cutting most of the wooden parts and assembled them, I cut all of the linear rod and the remaining threaded rod. Most of mechanical assembly is complete. I put together an end stop based on the DarwinOptoEndstop for the X axis and hooked up a spare RAMPS board I had and did some basic motion testing. I tested the X Axis against a dial indicator to see how it performed, initial tests put the error at around 1 thou over the inch travel of the dial indicator.
I found a problem with the bearing mounts, they aren't quite tall enough and the platforms collide with the linear rod supports by about half a millimeter, this reduces the travel of the table by about 10mm. I will have to extend the bearing mounts in the next version. The Z carriage was also very tight and I may make it slightly wider in the next version. With it built this far I am also fairly sure the gantry mounts are too far forward to get the full cutting area once I get the Dremel mounted, so in the next version I'll move it back some to extend the cutting area. The last major design piece to do is create the Dremel mount.
I've also posted the current CAD drawings to GitHub, I have not fixed the issues above and I suspect as I finish the first prototype I'll find other problems. The drawings were done in Geomagic Design, but there is an exported DXF in the repository that is used to create the files to cut on the laser cutter. I use Inkscape to split the DXF into 300x200mm plates for the laser cutter. Currently I am generating plates as needed for parts that I've made changes to, once I get a finalized design I'll post the final plates I used.