Many aspiring Racing/Triathlon/Fitness cyclists have to dig deep into their pockets to be able to afford the overpriced Branded Cycle Power meters that are on the market these days (off the peg prices range between $700 to $1500+ )
My incentive with this project to explore and develop a system which will drastically bypass the high costs down to a level where they would be standard factory fitted by default and affordable by all the young&veteran racers out there. (off the peg prices to date $20 to $30- ).
---
The Basic system requirements are in this order :-
Speed + max Speed + Average Speed
Distance + accumulative distance (yearly)

Cadence (pedal rotation counter)

Power Meter (load cells on crank arm)

Wireless Web logging

Altimeter

For more accurate power calculation

Temparature For more accurate power calculation

Heart Rate

Incline and Lateral motion measurement.

Calories burned

---
Wheatstone Bridge output (it will be calibrated for 45-75 kilo-gramm loads)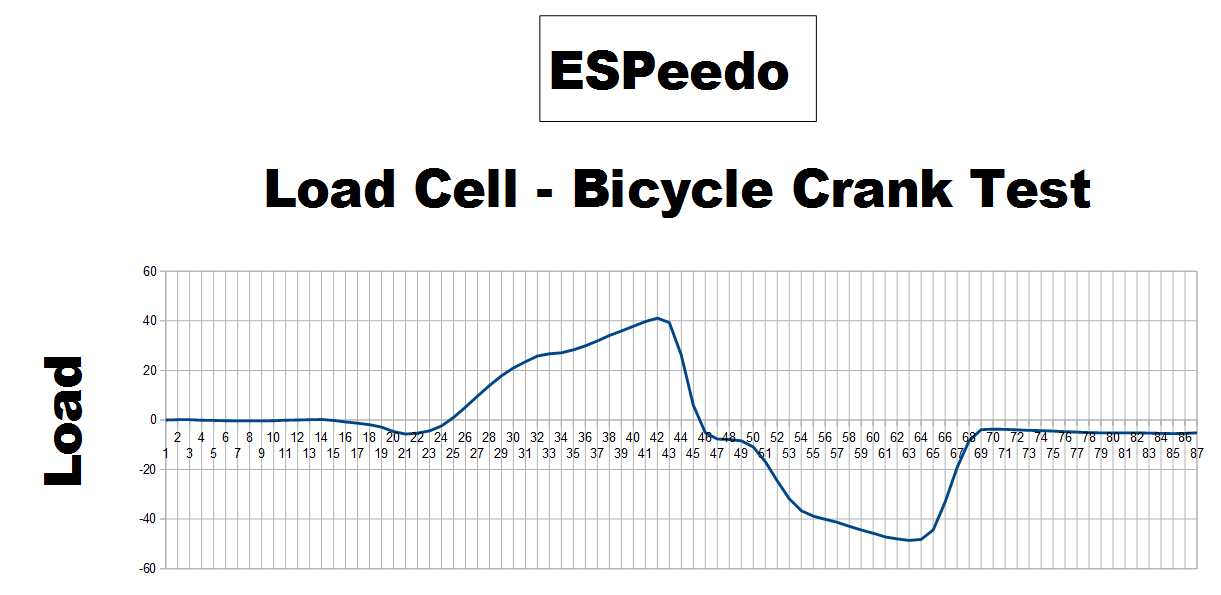 Load cells placed at exact middle upper surface middle of crank (my cranks are 175mm long) using "Super Glue".
(two part epoxy's can be used also however care has to be taken to ensure the gauge is tight to the surface).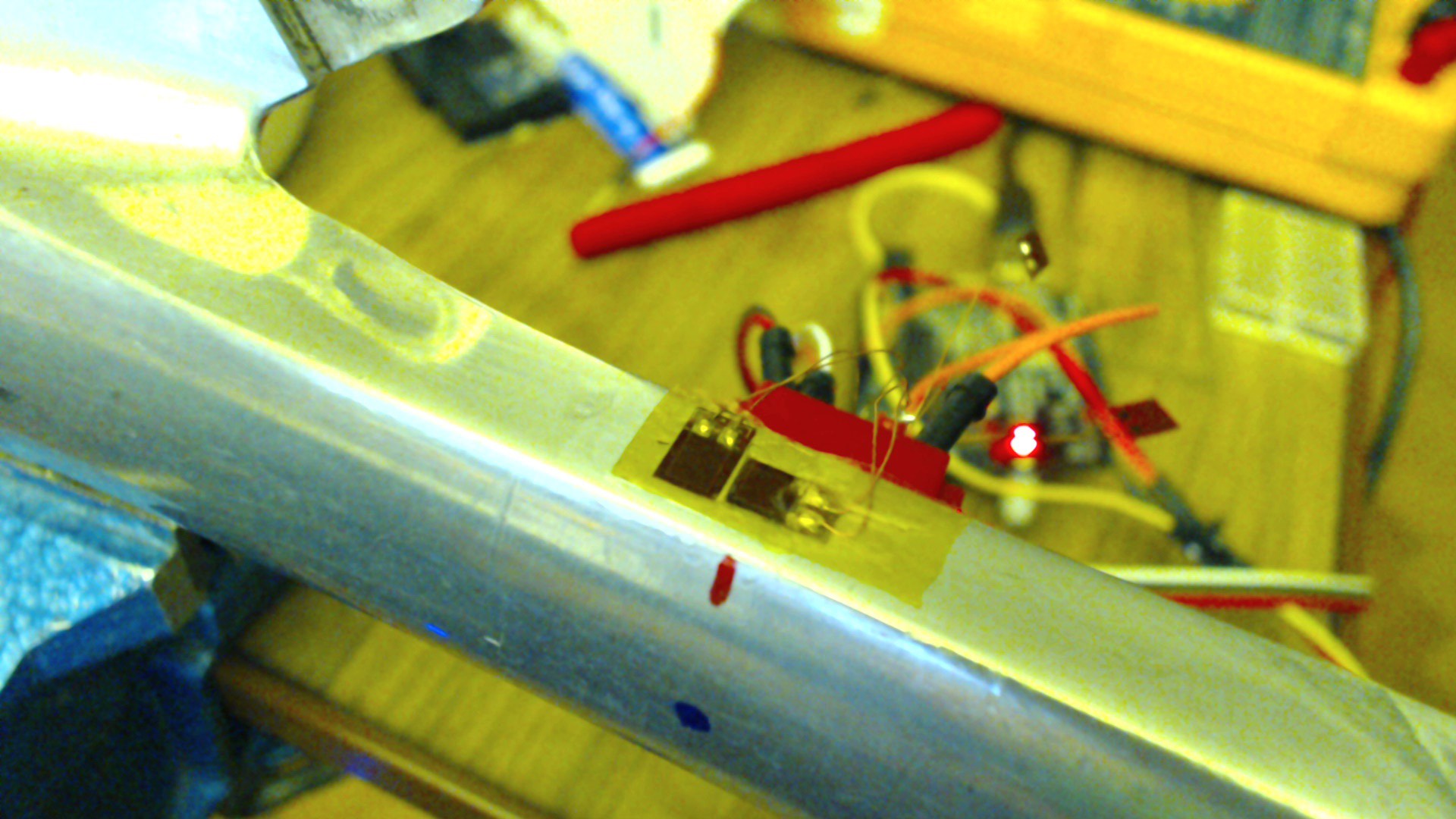 Surfaces must be flat and smooth , here 240 grit wet&dry sandpaper was used followed up with a metal polish, degreasing was done with Acetone. Care has to be taken that no oil or grease from fingertips etcetcetc comes into contact with the surface or strain gauges until the glue_ing stage is finished.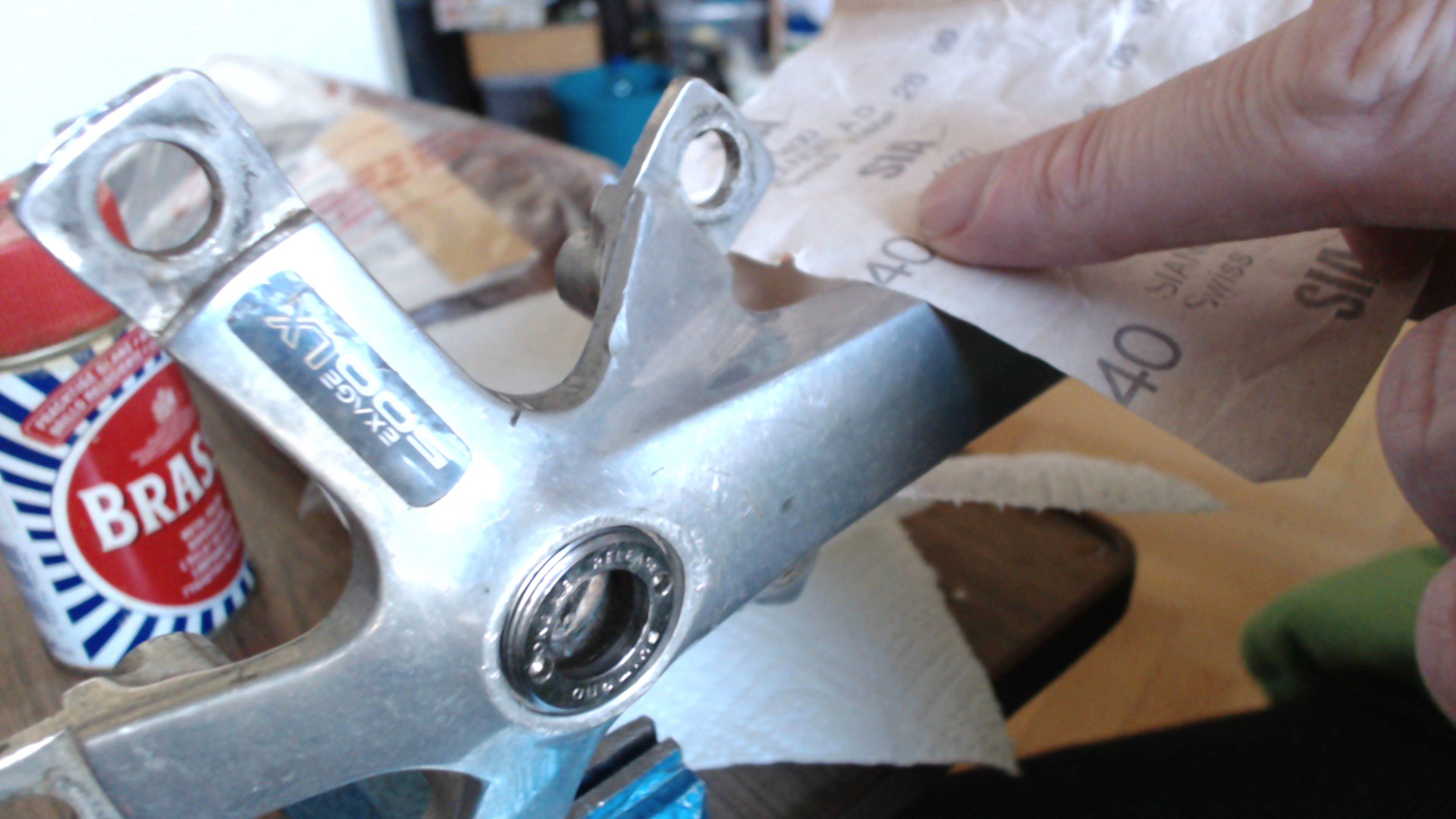 4 Strain gauges are used :-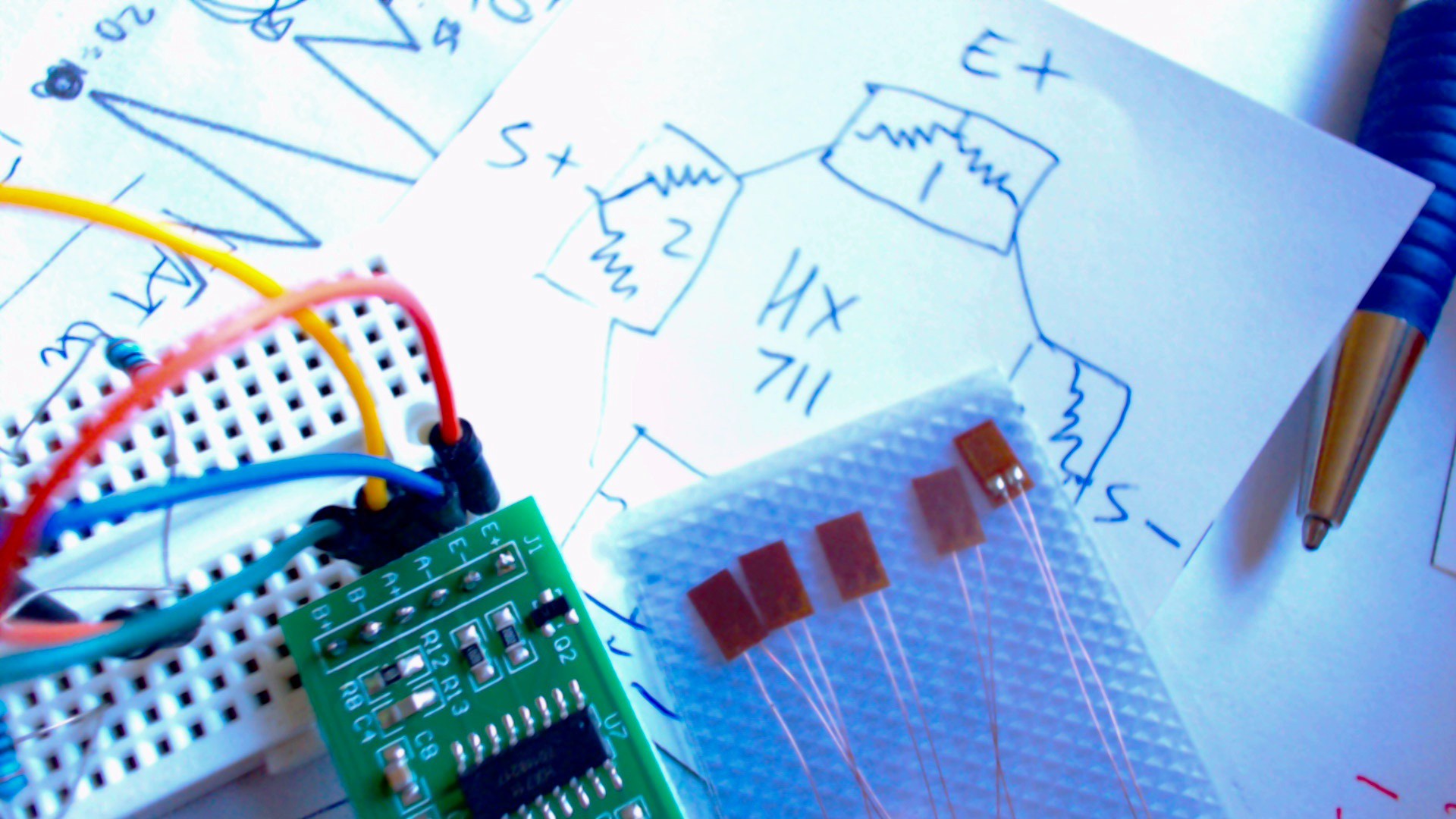 ....and placed on the crank in this configuration :-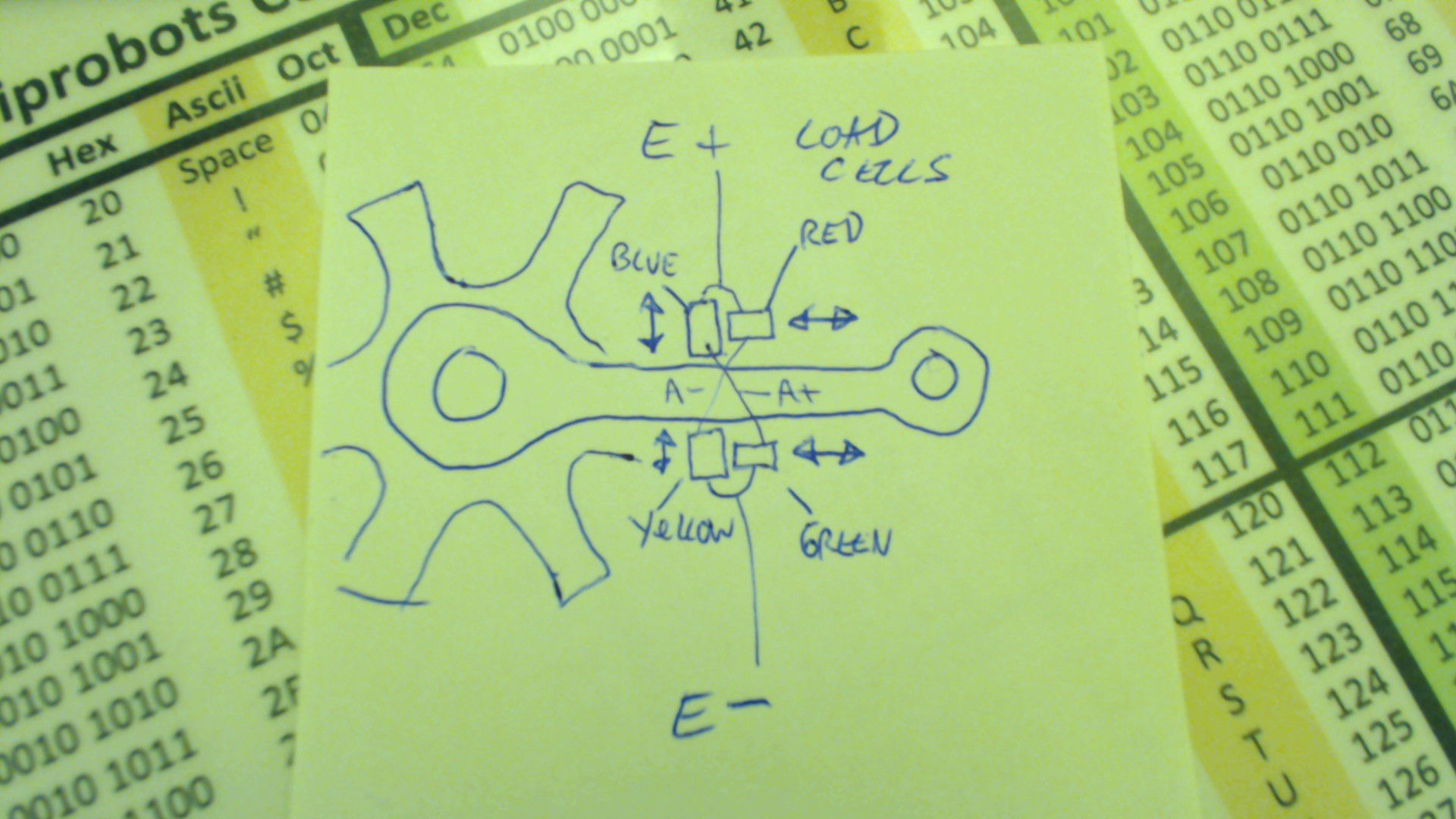 Notice the orientation , the horizontal one is the active cell and the vertical is the temperature balance one (effectively it can be regarded as passive)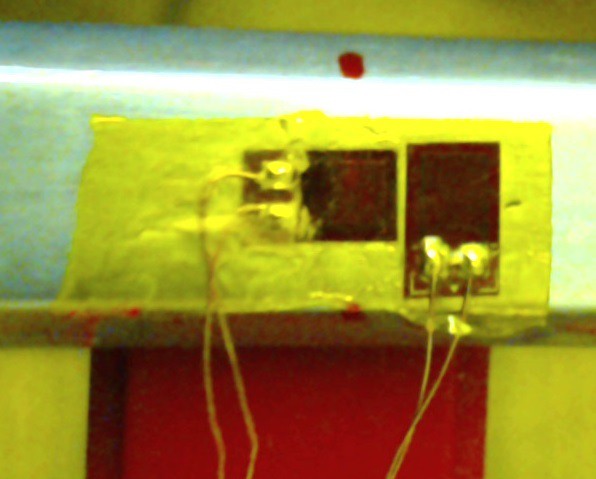 There seems to be not much information about the positioning of the load cells, most show them placed half way on the crank, alternatively they can be placed within the hollow type axles for torsional data. The latest method is to place 3D force sensors inside the pedals as the force vectors are not only "down the track line".
---
Below is one of the cranks I broke whilst training on my "Rollers", so it makes me think they should be placed here instead :-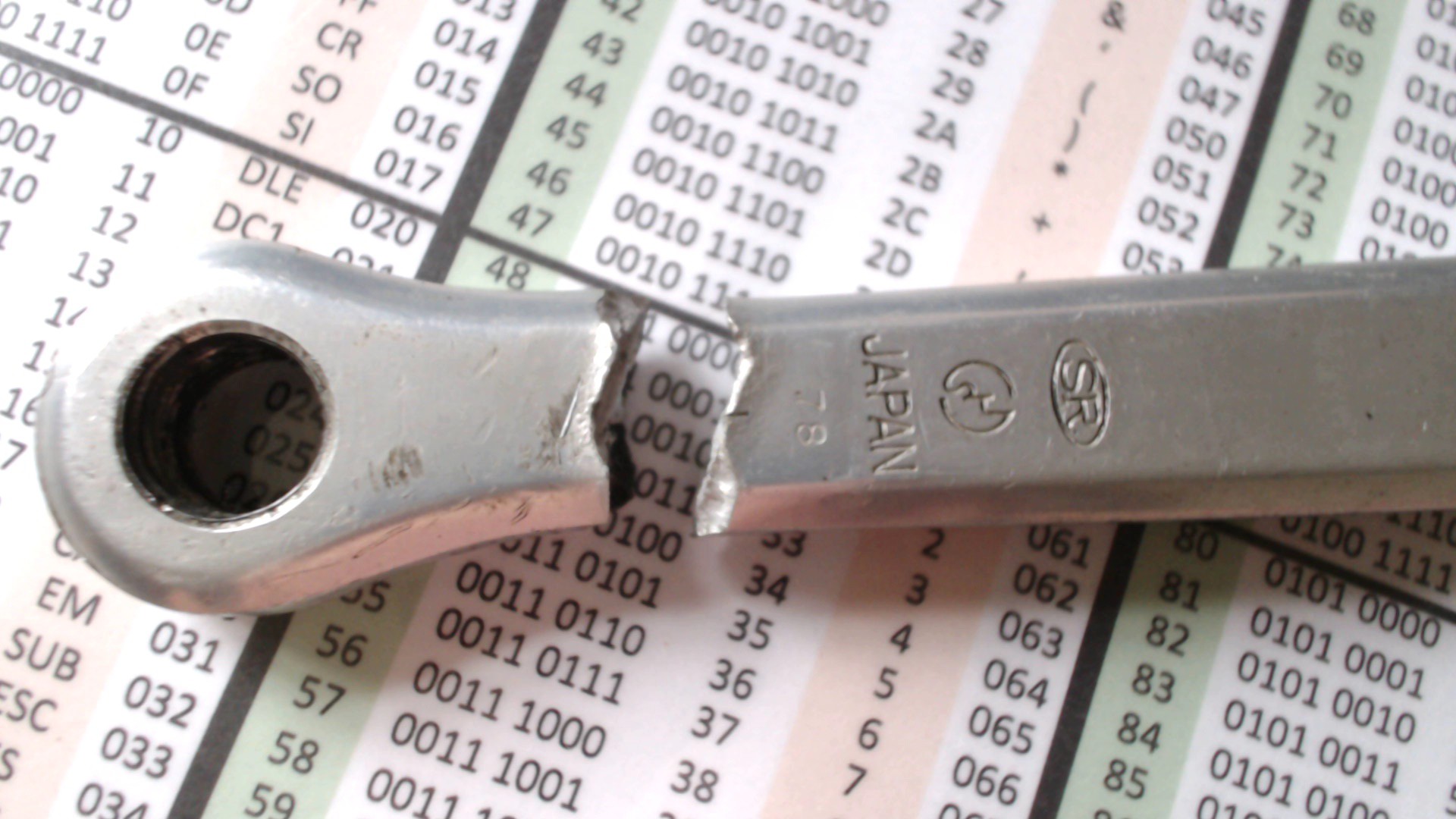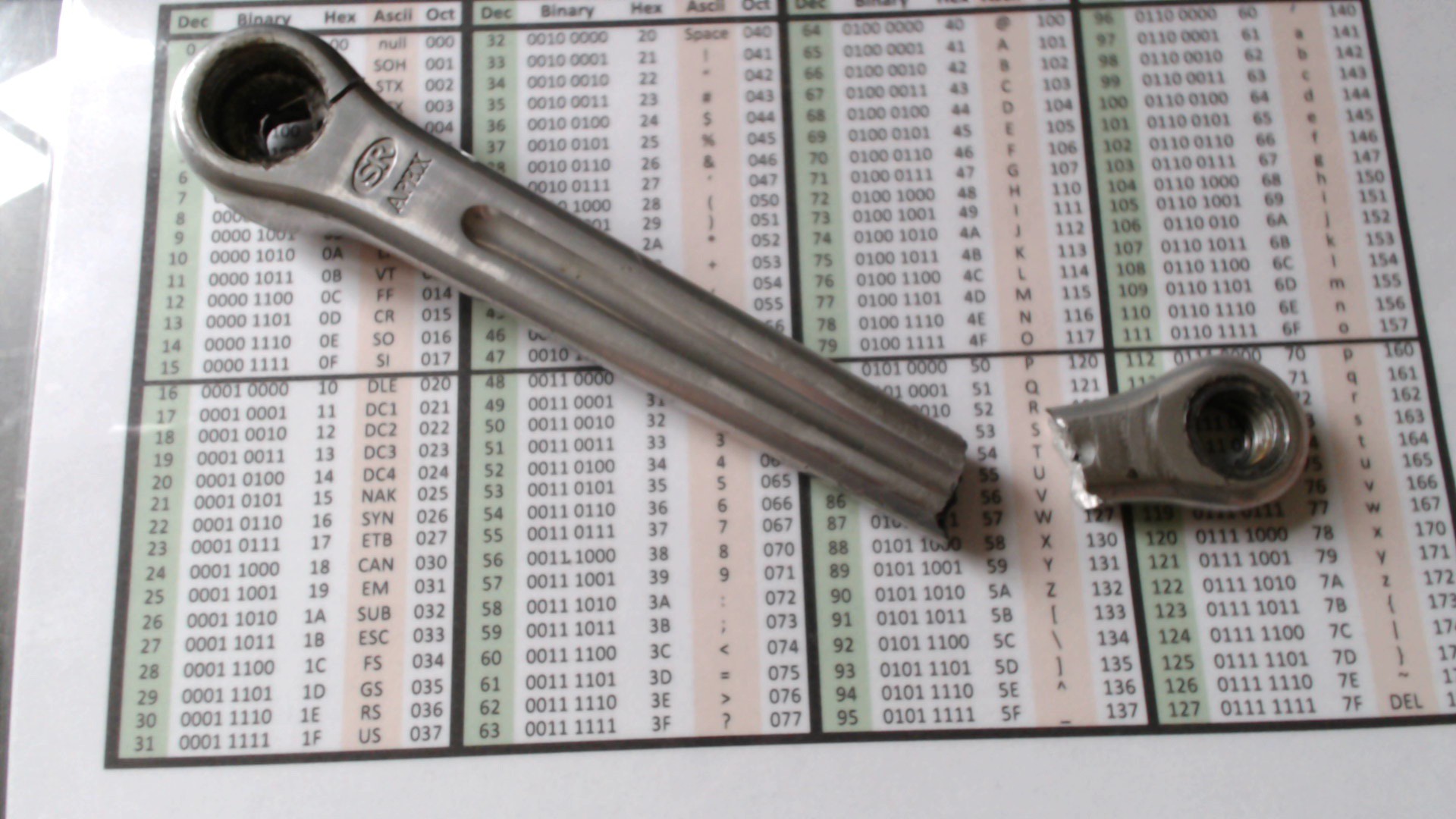 ---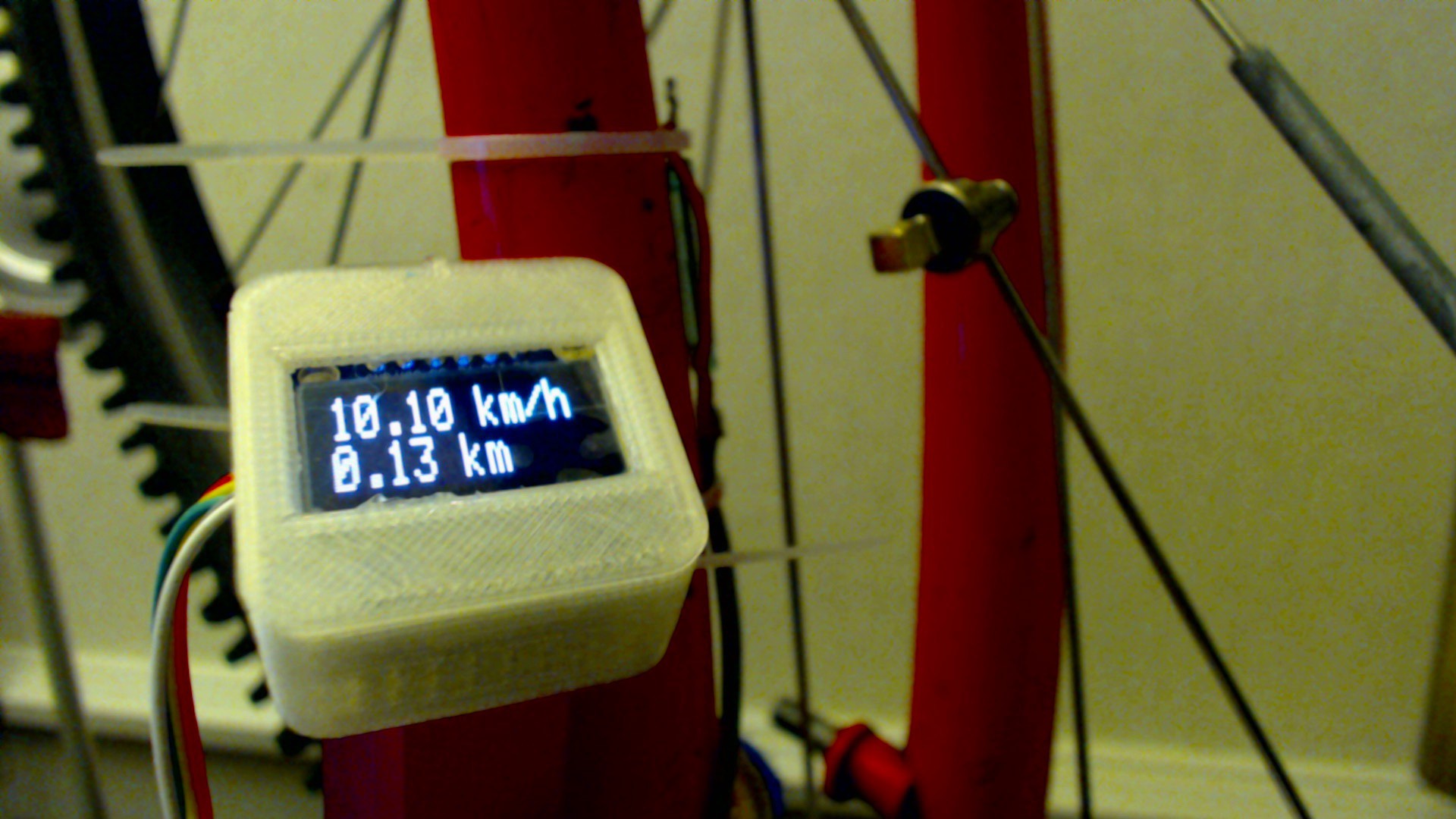 ---
Commercial product's for just "Power" measurement cost between $700-$1500 ,......
....This version is <$25.
---
The Build in more detail .
ESP8266 series 12
This will be affixed to the crank arm and transmit its serial derived data via WiFi to handlebar GUI (also an ESP8266 in server mode) , software very subject to change at momo until the mechanics are finished.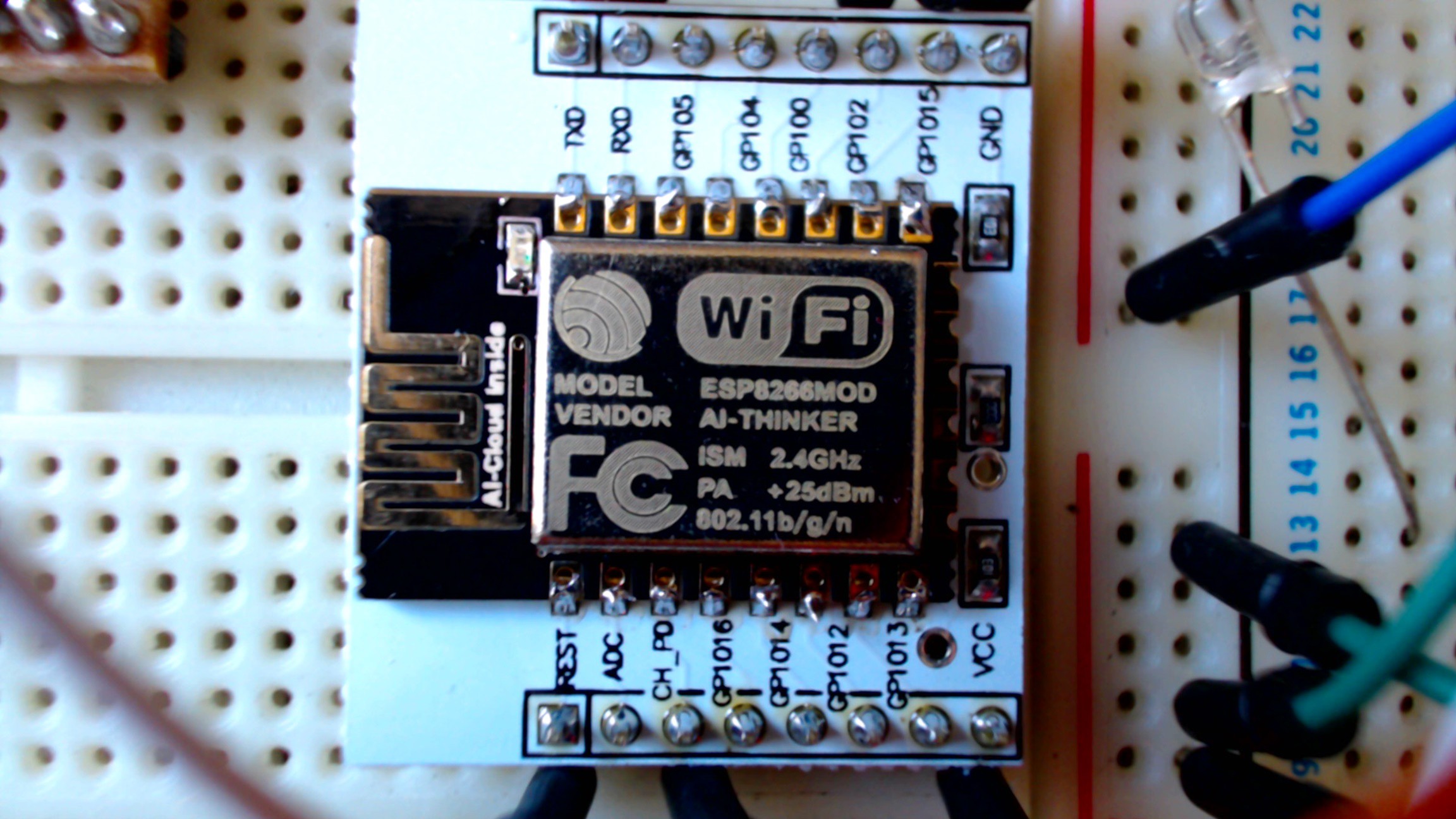 Update 20160325 :- Simple local server test works , accepts /torque /analog /digital parameter to extract more goodies out of the ESP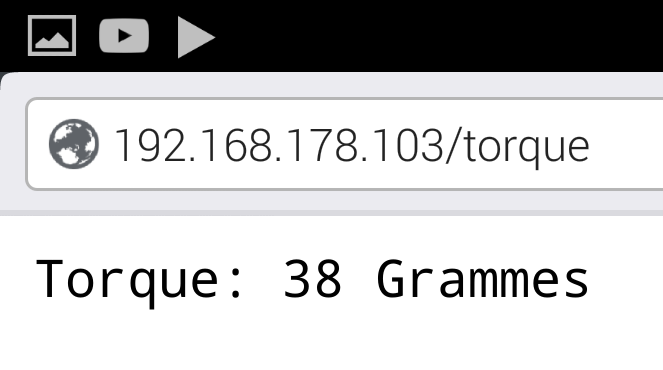 OLED display ----- upgrading to TFT soon as amount of data is getting very interesting

Reed Switch and magnets .... maybe upgrade to hall effect Sx's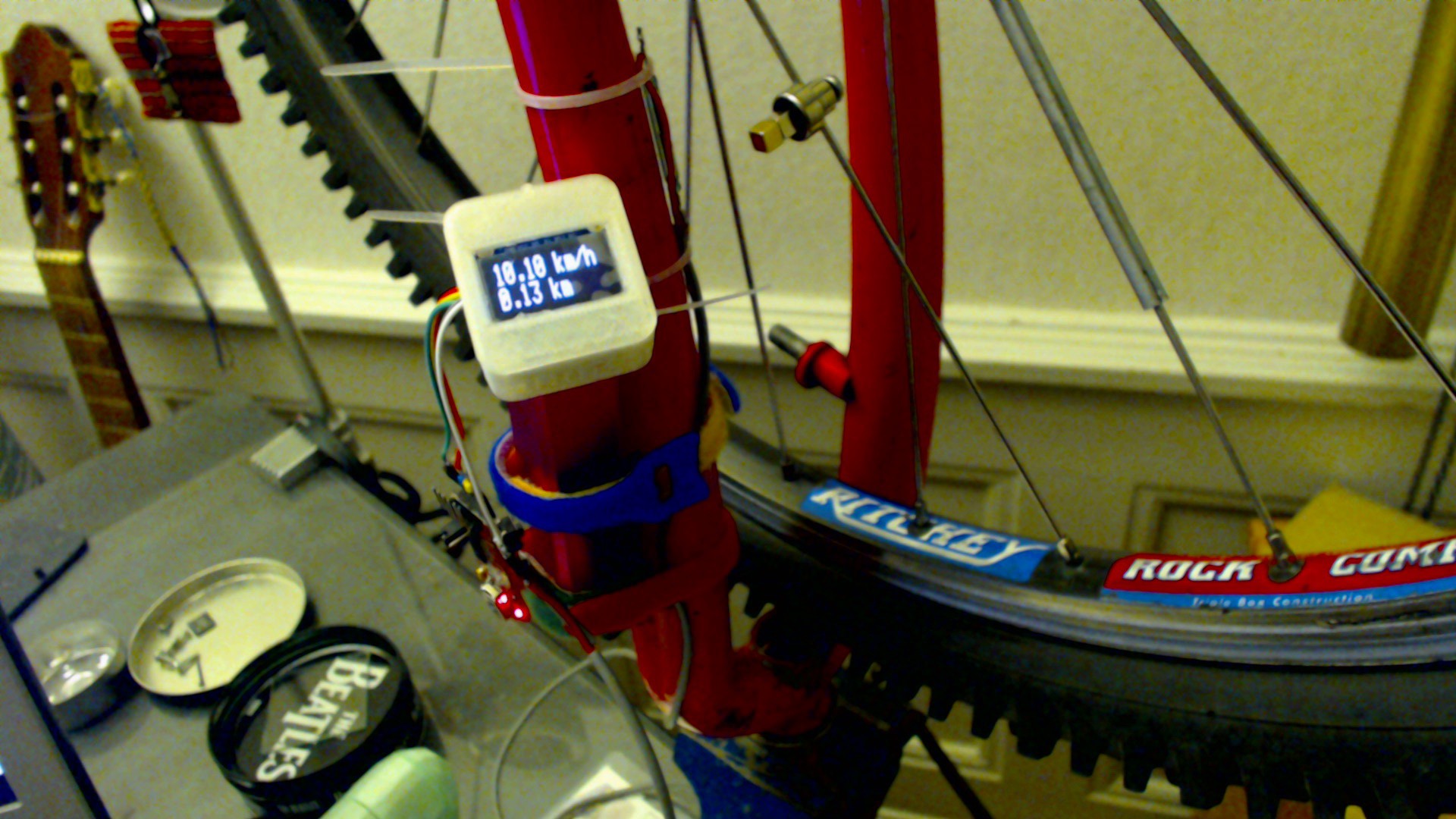 The basic speed & distance calculations was straight forward and work well , however I am currently using change of state polling on the Reed Switch which is not the best, better would be to use interrupts (I have tested some interrupt code and it also works well , however I am not to sure about the implications of marrying interrupts with any form of WiFi Web access yet ie. speed implications).

They are wired in a Wheatstone Bridge arrangement as below..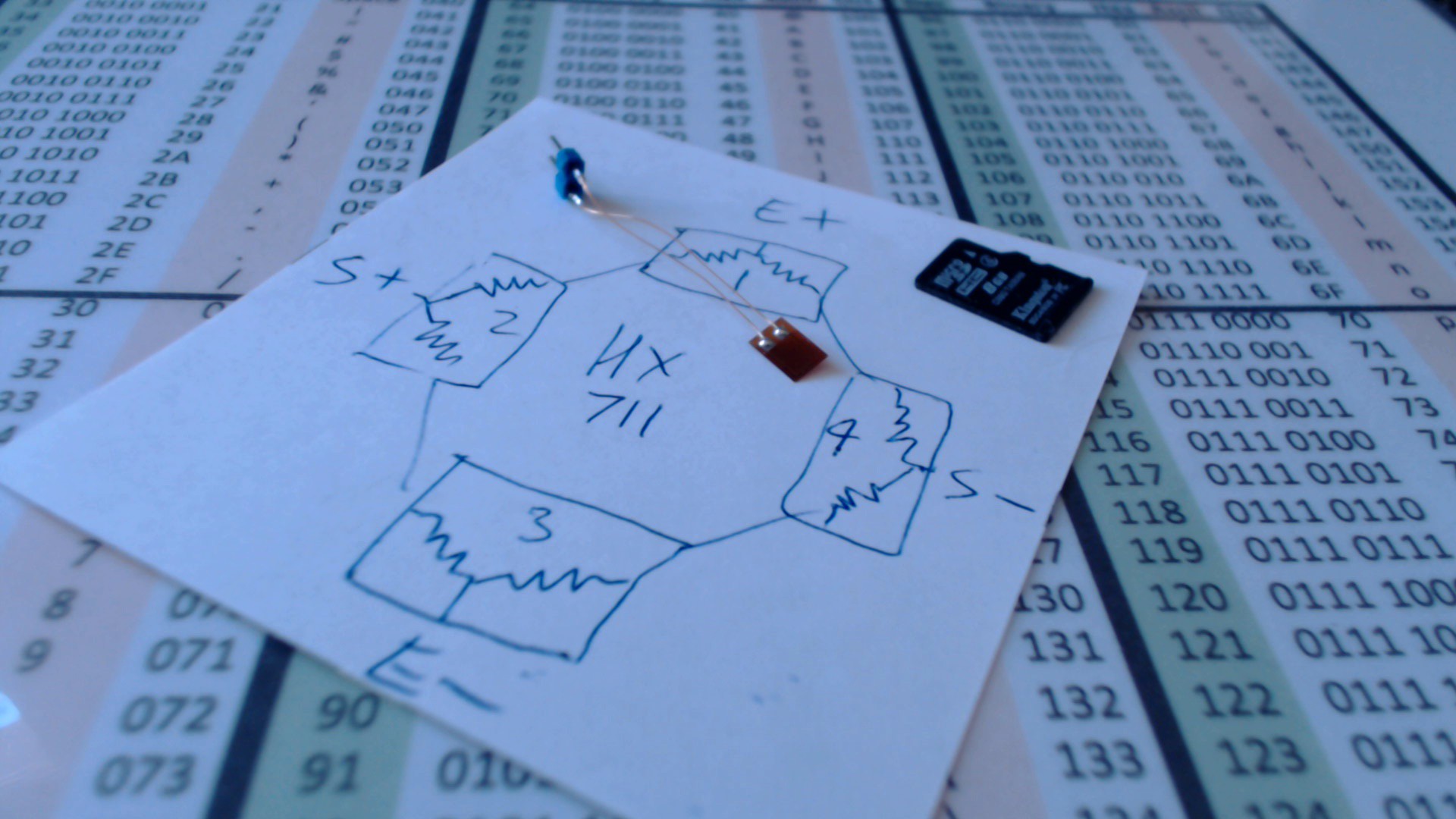 The load cells are tiny ( micro sd card give comparison ).

I am using a complete set of 4 load cells, 2 active ie one in flexion config and one in extension config (one on top of crank and one below to get max deflection)

The second 2 load cells are passive in the bridge arrangement and act as balancing resistors that compensate for temperature changes (and to some extent noise).

The load cells are fed to a HX711 Instrumentation differential (2 channel) amplifier which when polled spits out the data for calculating applied load.

The onboard ADC has a whooping resolution of 24 bits (24 bits to measure a range of ±20mV " Awesomeness)