Between the 6th and 12th of June, the Blockfest was held at Ecole 42 in Paris.
We were there to welcome new members to the contributors team and work on a very first prototype: how to make 3 independent RaspPi Ethereum blockchain nodes to communicate with each other and make transaction.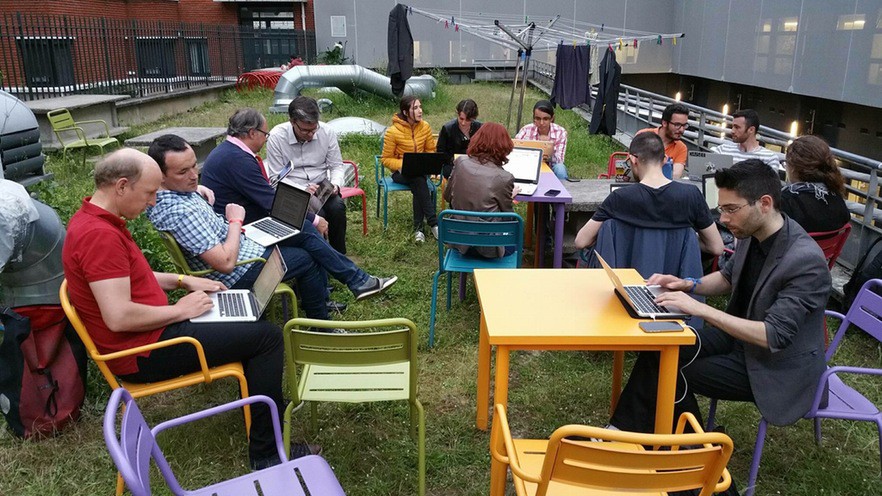 You'll find the detailed documentation following THIS LINK. More specific documentation can be find HERE about how to deploy a local ethereum blockchain on one or more RaspPi. More specific documentation about the SmartContract is HERE. Last of all, our presentation about our production can be found HERE.
---
Who were the contributors ?
---

Smart contract


Mentors reviewing smart-contract. Photo RIeul (CC-BY-NC-SA)

If not enough electricity on the blockchain he buys at the main producers.

Exchange with Pierre-Alexis Ciavaldini (co-organiser of the BlockFest, student at 42).

Triptique :


Principle :

To be defined :

Paradigm :

How would it work between a producer and a consumer ?

The producer's account is credited with the right amount of money (less the potential fee for running the grid

Transactions :

2 timing :



Ethereum / IoT

An Ethereum node running on a Raspberry Pi. Photo RIeul (CC-BY-NC-SA)




For each 3 Pi, here are the steps for setting up a local blockchain:
Note: If the Geth command does not work > export PATH=$PATH:$HOME/go-ethereum/build/bin


RaspEth communication