Twin flowers ( fleurs jumelles) is a project mixing art, social experiment and tech

Fleurs jumelles, twin flowers, is a bioart duo: Half sculpture, half living plants, both connected to the blockchain

- One attracts you to donate ether or bitcoins. For each donation, the plant shiver of excitement. Donations get stored in the duo's wallet until the amount is enough to create a child sculpture, chosen by the community of donors

- The other has the ability to survive: It is equipped with a humidity sensor and sends alert on the network before drying out.
This project is a creation of Les Usines Louise ( art ) and Xavier Lavayssière ( Code ) inspired by the Plantoid by Primavera de Philippi

Problem

We are experimenting in the art financing & community field. Our experiment allows art to be crowdsourced and the community of donors to have a responsibility and a say in further development of the art experiment
Team
Les Usines Louise is a creative exploration/development process of the contributive economy and frugal innovation by Isabelle Radtke, sculptor and learning bio hacker at La Paillasse Saône.
Xavier Lavayssière is an entrepreneur, lawyer and coder, passionate about how technology will improve our society.
Technology

The Twin flowers entirely relies on open source technology: Raspberry, Arduino & Grove ( for the first prototype), open hardware sensors, ethereum ...


Process
Users give to the twin flowers through an address indicated on the sculpture. This makes them part of the contributors community. They get feedback if the plant is drying out. Once a cap is reached, they can vote to the artist the would like to build a follow up of the initial sculpture.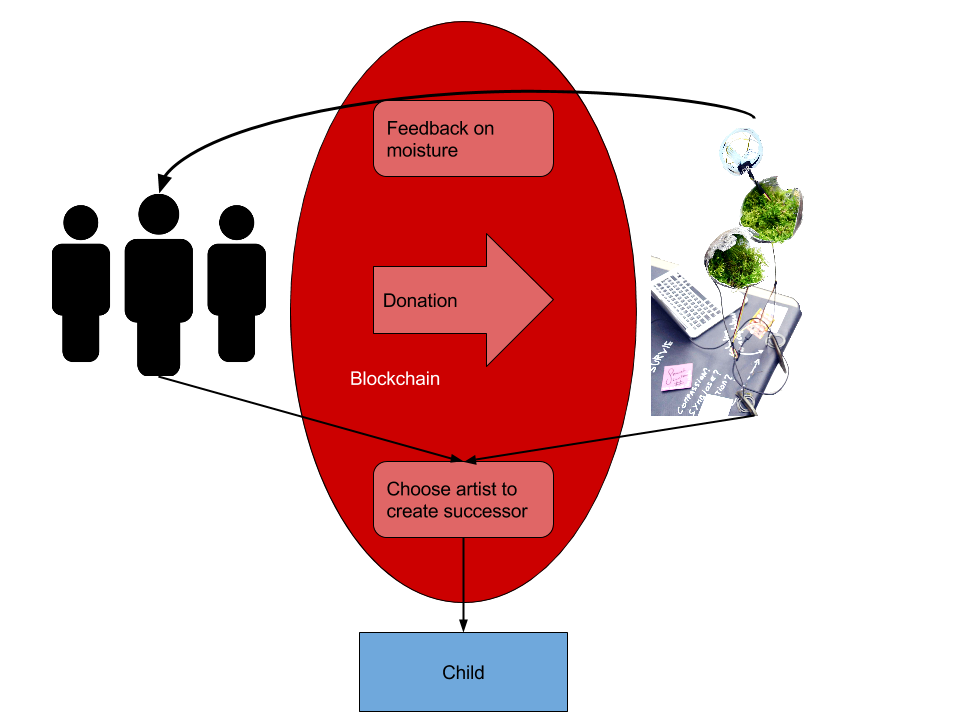 Genesis

First design sketch - discussed with Primavera on 12/2 2016 - I understand that I was expecting too much from the plantoid, I was confusing blockchain with artificial intelligence. The Plantoid does not make decision by itself, it relies on humans to make the decisions.


Stages
Feb - April 2016 : Concept and experiments
April - May 2016 Launch first prototype
Juin - Septembre 2016
Fleurs Jumelles will be on display at the woodbine gallery, in Montalk, NY
Perspective
This project is part of bigger scope: self owning of nature. You can check this interesting project https://rfcx.org/ and https://hackaday.io/project/11168-smart-forest