Right now, this device is built with two uses in mind:

Amateur Radio paging system. Something in the lines of a one-way system (for now): a base station made of a CC1101 plus a hefty power amp broadcasts messages over 70cm band to small modules people carry around. The small receivers include an LCD and buttons to display and acknowledge the messages.
Digimodes interface: the CC1101 can transmit using 2FSK, 4FSK, GFSK, MSK, OOK and flexible ASK (as per the datasheet).I thought it would be interesting to make a small interface linking this module to a PC, and maybe add a small PA to bump up the power up to 7W. I never got into digimodes over UHF, this may be a chance to do so.I think non-amateurs may also use it as long as they don't use a PA and stay in the 433MHz band.
The uses can also be expanded for a more general public, for instance:
For weather alerts
For earthquake alerts
...?
The following block diagram summarizes the inner configuration of the device: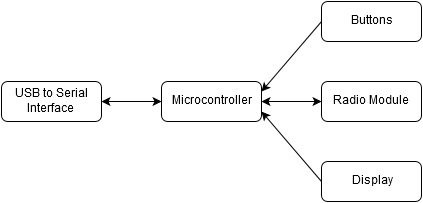 Logs :
Why Waffle you may ask? Well, I like waffles, it's a catchy word, and I've always wanted to name one of my projects after food. My friend @Frédéric Druppel found a matching abbreviation for it: Wireless And Free Format Lite Emitter. Feel free to find another that matches the project's name :)