In the previous log I was pretty happy with my transformer power supply. Then I realized that at full load the voltage out dropped too much. I would like to keep the output at 170VDC.
So, I wanted to find a regulated high-voltage power supply. First I designed a boost converter that takes 12VDC in and yields 170VDC out. It might work, I just need the parts to come in. The problem with such high voltage ratios is that they lead to a slow charge time for the inductor, followed by a very fast drain into the output capacitor. So it requires high-quality high-speed low-ESR parts.
Apparently you can use a transformer instead of an inductor, but I hate transformers because I don't know how to wind my own (I really should learn, though), and almost inevitably the specs I need aren't anywhere to be found.
In the meantime, I found a Chinese manufacturer on ebay that makes 12VDC in to 100-250VDC out, 70W open-frame supplies. It looks like a plain old boost converter with a big transformer. The chip, predictably, has its top dremeled off so that we can't see what it is, but of course it's going to be an 8-pin dc/dc converter chip, so it doesn't really matter what it is.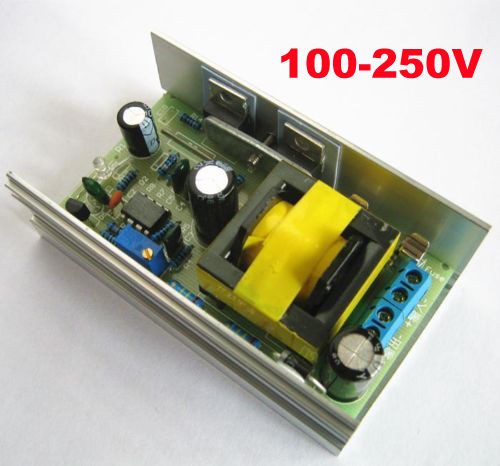 I bought two. One for testing and one for tearing apart to reverse engineer and post here. If it works, great. If it doesn't, oh well, it was only USD 12.50.
The power supply is arriving via ePacket from China. This is basically a free shipping thing that the US and China has going. But it takes a while, like up to three weeks. I've had better shipping times, though, since I'm on the west coast of the US. So hopefully I'll have this soon.