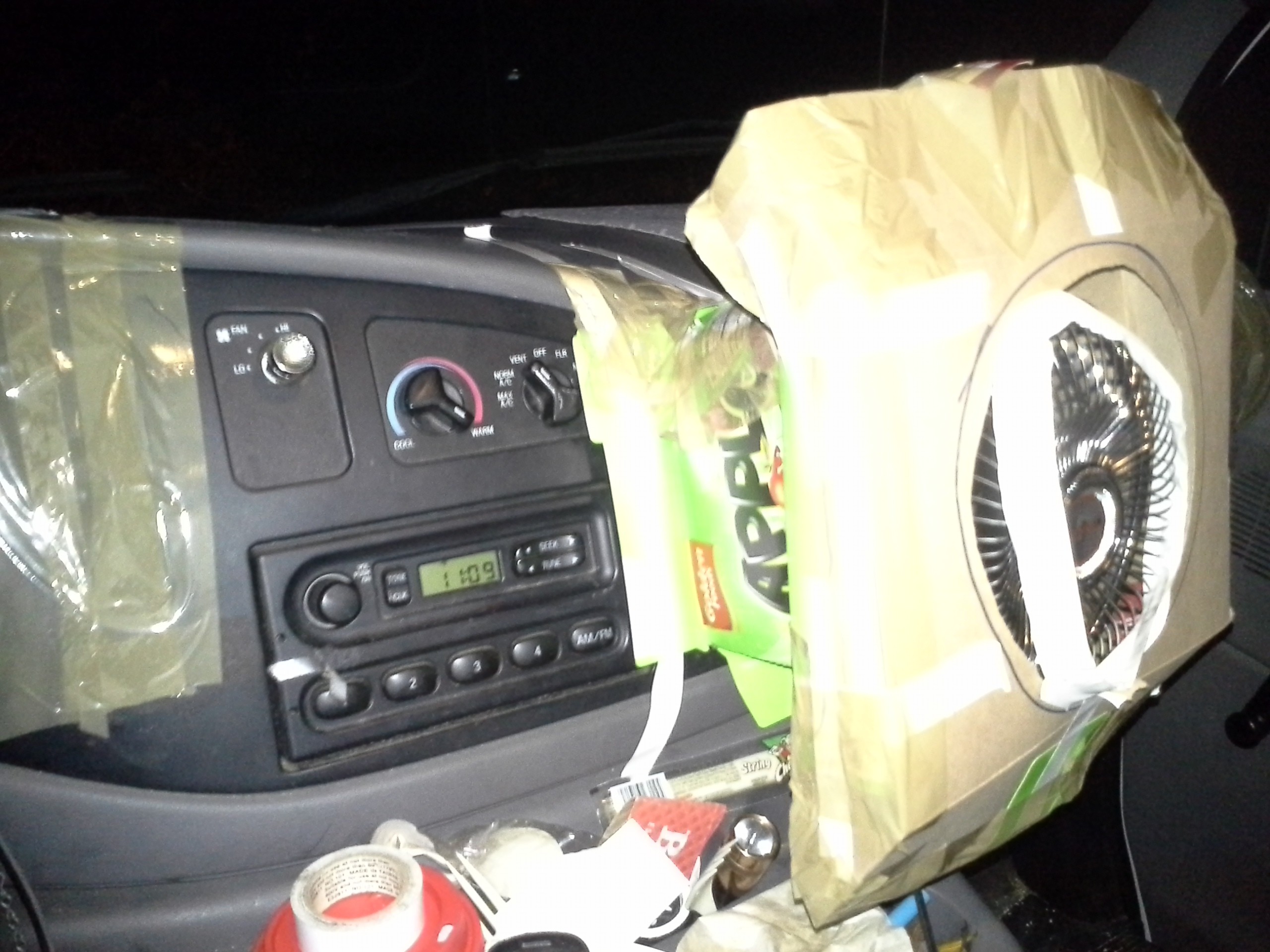 ...and... it's already falling apart, less than an hour later.
I'm definitely no aerodynamics expert... but I first tried a cone, tightly-wraped, and, well, it only kinda blowed. Then some experimentation led to the conclusion that most of the suckage comes from the *side*. Thus the boxy front 'mushroom' and surface-mount.
A little better.
suffice to say, the reinsert-connector-method failed almost immediately after the last log-entry.
Today, dug out the motor with every intention of soldering, to instead discover that it worked when starting from some positions, but not others. The commutator was badly corroded in some spots, badly worn in others, and copper shavings everywhere.
Did some filing and cleanup of the flecks inbetween... and it eventually worked *every* time. Actually marked all the starting-points I tried, until probably 40 roughly evenly-spaced all the way around. Perfect, really. And just enough time till sundown to put it all back together and bask in the warmth during sunset.
As soon as I finished a guy asked for a jump-start... turns out his starter was fried... smoke pouring out, and... inaccessible by the likes of me. So while watching sunset in warmth, counted my blessings, and stuck around while he waited for AAA.
Went for 'breakfast', finally, and the blowage decreased on the way until... nothing, by the time I had to open my window at the drive-through.
Thus, the 'mushroom' fan at my vent.
Also weird: when this first happened, I ran into an friend, car-liver, who on the same day became without heat... actually had an engine-fire. pretty gnarly, a several-day repair for the likes of car-dwellers, especially considering the new lack of mobility. But, looks like the damage is mostly limited to wiring, so hopefully things'll get running soon. Anyways, he's an elder gentleman, with elder-pains, in a car, not a van, so could probably benefit more from some 'good vibes' sent his way.
and the night prior, ran into another elder-homeless-friend, sans-car, who's lost more sleeping bags than he can count... so, I guess there's alotta folk who could benefit from warmer days.
as to the commutator; it would seem the brushes have worn down to the copper mounts, thus the shavings everywhere. It was luck, really, I was even able to see inside, let alone do some cleaning. There's a cooling-port on the side. But if it is the brushes, then accessing them (let alone finding replacements) would be quite difficult...
There's talk of a junkyard trip for the engine that caught fire, so might have to do the same for my blower, and maybe my rear window.