The Project Synopsis (in a nutshell):-
A great deal of information can be gathered about the way we walk, walking incorrectly can bring pain and discomfort, walking correctly will bring vitality and flexibility. This insole provides a tool for diagnosing the directions of any imbalances.
The working mechanism leans on the premise that when you flex a piezo element it generates a voltage, multiple sensors have been placed around a shoe sole, by walking/running the foot flexes this sensor sole and the multiple transducers react to any load placed on them.
This data is collected and displayed as a heat map on a remote screen Graphic user interface (screen) for analysis either in "Real Time" or in recorded playback.
The software will diagnose whether the person is leaning their weight to much on the Medial or Lateral side or also Posterior or Anterior side or any combination of the previous.
Data can be used to create a corrective 3D insole which is permanently placed in person shoe to correct the load distribution.
The project uses easily obtainable low cost components which can be sourced world wide, enabling 1st,2nd,3rd,extraterrestrial world countries to profit.

Update 20160924 :- Live remote data flow
At last this is the first "Round Robin" test of the live remote data collection to display GUI.

Update 20160511 :- Here is a quick video overhead of how the system works, showing details of the mechanical & electronic set up.

Update 20160425 :-
The components arrive pretty quickly .... the fittest ones won.
Two different sized transducers and BlueTooth modules.... (to date I use only the 20mm type)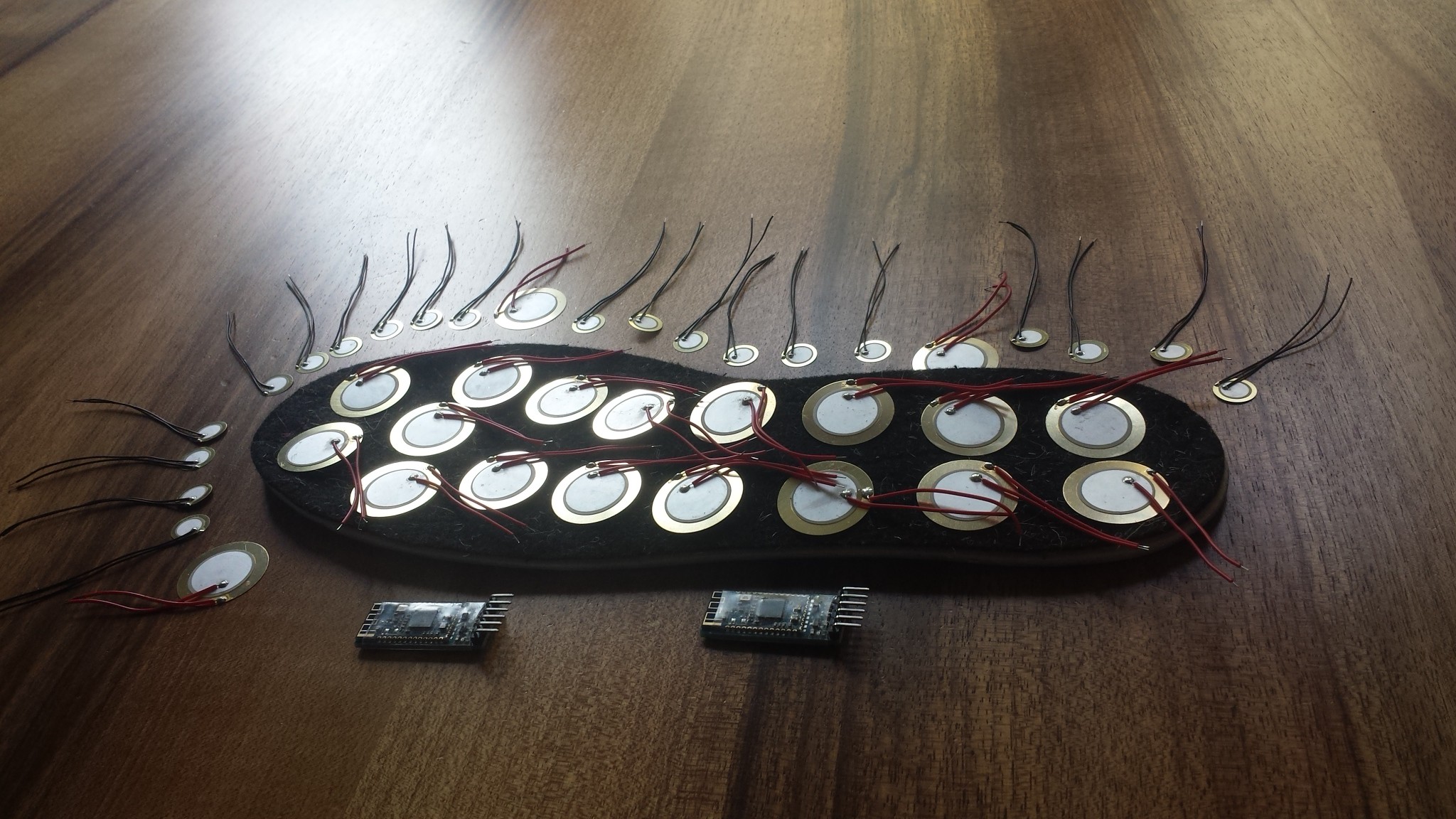 Project Materials and Aims :-
Each persons foot pressure/walking gait is different, with also right/left foot idiosyncrasies .
The aim is find the optimal walking gait for the person being monitored and to find out differing patterns between right and left feet, then display this in a meaningful easy to understand way.

To do this we have a multitude of pressure sensitive sensors placed throughout the insole, this means that some cross/relationship calculations can be made between adjacent sensors.
With the data it will be possible to create a real-time coloured stress map which is displayed to a smart phone for immediate diagnosis by doctor or/and recorded for later playback.

Basic outline and materials (BOM is in one of the Logs):-

Consists of one Right and one Left foot sensor
2 Comfy flexible insoles circa 3-5mm thick each which will sandwich the sensor array
16 Piezo transducers per shoe
Atmel Mcu to process the transducers and packet the data for transmission.
Either MCP3008 (10bit fast adc chips) or ADS1115 (16 bit not so fast adc chips)
BlueTooth adaptor/module to transmit sensor data to smart phone.
Batteries.
Smart phone or remote PC for displaying data.
SD card to enable logging of data (maybe it gets used on extended walk).
Envisaged challenges :-
Piezo's are fragile and prone to snap on excessive force. (too date none have broken)
Reading 32 Analogues from the sensors and extrapolation of data.
Heat generated by feet. (proved not to be an issue since I sandwiched the sensor array between two thermal soles).
Creating an APP based Gui for a meaningful quickly readable display.
How many different insoles would be necessary from small to large (or will one size fit them all)
Possible sensor alternatives :-
Strain Gauges
Conductive Foam (I already have experience here and jar of conductive graphite fluid)
Compressive laser light tubes
Capacitive plates
Air pressure
Possible additional "Spin Off's" :-
Athlete sports analysis (real time - during event and training)
Cycling foot load analysis to pedal
Walking sensors for immersive Virtual Reality.

Update
05/08/2016
:-
No Place for Stilettos
Blender jumps into action to design the Piezo sensor holder sole.

Click my log here for more details

Update 05/11/2016 :-
Squeezing the Crystals and 3D printing the sole.
Click my log here for more details on the 3D printing process
The 3D printed sole uses ABS plastic, split in two...
Read more »