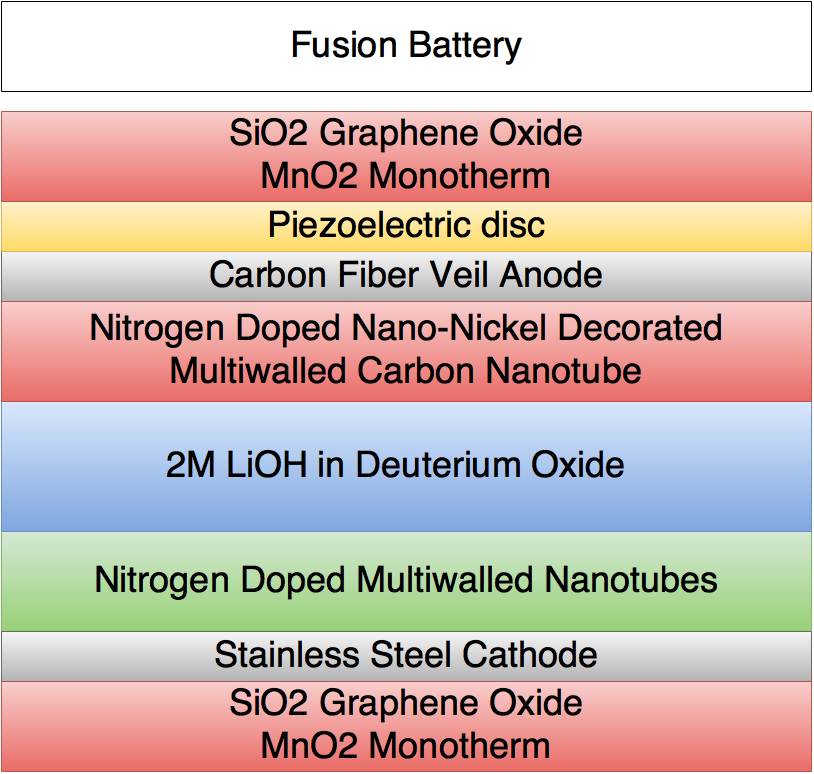 https://www.google.com/patents/US20130266106?dq=ininventor:"James+F.+Loan"&hl=en&sa=X&ei=0bMOU4nIJMyGogT-1YLoAg&ved=0CDUQ6AEwAA

Based on this patent I intend to increase the amount of heat generated in the energetic particle synthesis by using nitrogen doped nano-nickel decorated multiwalled carbon nanotubes.
Utilizing piezoelectric discs to pump vibrational energy into the cell in intervals I hope to achieve latent heat that can be converted to current utilizing monotherms or peltier devices.
Monotherms can be seen here, I am not sure if they are just galvanic cells that are running off of latent moisture in the atmosphere or what but I will try anyway.
This documentation describes Open Hardware and is licensed under the CERN OHL v. 1.2. You may redistribute and modify this documentation under the terms of the CERN OHL v.1.2. (http://ohwr.org/cernohl). This documentation is distributed WITHOUT ANY EXPRESS OR IMPLIED WARRANTY, INCLUDING OF MERCHANTABILITY, SATISFACTORY QUALITY AND FITNESS FOR A PARTICULAR PURPOSE. Please see the CERN OHL v.1.2 for applicable conditions