I am excited to let you know that the time has finally come for the alpha stage of the ODrive project. This consists of two components, the alpha software release and the manufacturing run for ODrive v3.2.
TL;DR: Get your v3.2 alpha board Here.
ODrive v3.2
The new design is ready, and can be reviewed here. The design will go to production on Monday the 17th of April. As a one man team, I would greatly appreciate any and all feedback in from your review. Feel free to leave comments on this post, or write a private message.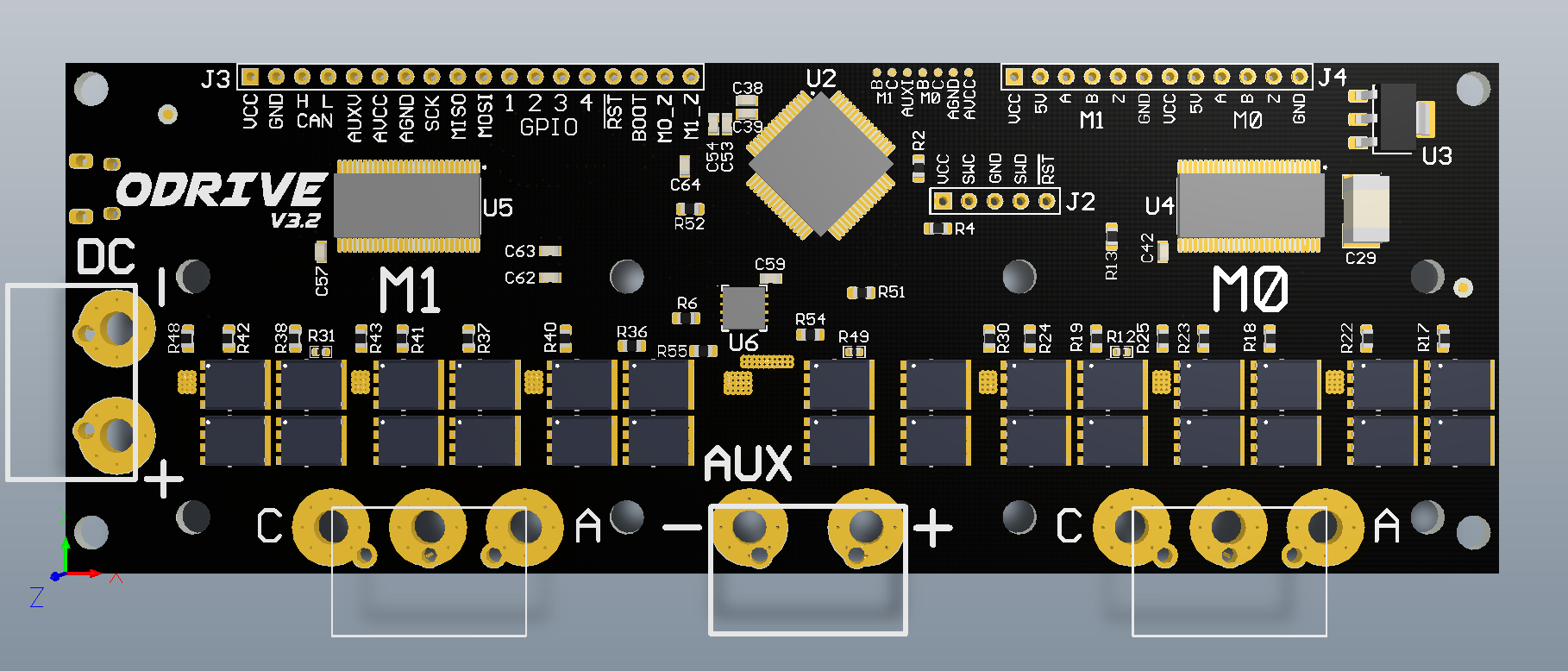 Changes from v3.1
Fix current sensor filter capacitor values
Break out the SPI port
Consolidate all 0.1" headers into two long rows
Remove the confusing EV (Encoder Voltage) rail.
Add test-points for most interesting analogue signals
Add precision LDO for AVCC (analog VCC)
Change MOSFETs to a slightly better Rdson version (30% better)
Adjust heatsink holes
Add fiducials
Improve labling
ODrive v3.2 production run
You can buy a board in this run on the shop: https://odrive.xyz/shop. The expected shipping date is expected to be the 15th of May, and the pre-orders will close on Monday the 17th of April, though some extra stock may be left after that. This is the board revision designed to be delivered simultaneous to the alpha firmware release.
Firmware alpha release
You can check which features will be included in the release here. The alpha release will include all the core features of the board, and allow go-to commands sent over USB, as well as step/direction interfacing.

Proper documentation, setup and tuning instructions will be ready for you by the time that the board ships.
ODrive is for real

As I mentioned in the previous post, I finish my day job on Friday, and I will be taking up developing ODrive full time.
ODrive is a serious product and deserves a website, so I bought the domain odrive.xyz, and set up a Squarespace website. As of the time of writing, I have only added the shop page: the reason for putting up that first is to be able to take the payments for this v3.2 pre-order. I've been focusing on getting the v3.2 board ready, and I haven't had time to put the rest up just yet. It will be up soon :)
The reason I'm sharing this with you now, is because some people astutely pointed out that a website with no content, and only a shop page, looks very suspicious. Rest assured that the site at odrive.xyz is mine, and communication from oskar.weigl@odrive.xyz is legitimate. Any payments should go to ODrive SWE, and the address of the business is in Stockholm, Sweden. The VAT number of the business is SE901114035801.
ODrive forums

I am deeply impressed with the projects, ideas, skills and contributions that all of you have conveyed to me through various channels. I am really excited to talk to you about your application, how we can build the ODrive community and advance the project. In the next couple of weeks, I will set up an online forum for ODrive, and I hope you will join the community there!
This will be the place for all kinds of discussions, comments, ideas, feature requests and queries. It will also serve as the main place to get help with your ODrive; where I, and others who will be gaining experience with the board, can all help you and each other. We'd also love to hear about your project: what you wish to do when kilowatts and micrometers meet in an affordable package.