Well, one of the things I have learned: Cooling systems are crucial if you want your plants to survive. It took me some time, but I got myself a cooling system. Yes, you heard it: I am cooling the water. When the plants were dead, I realized one simple yet problematic thing: The fogger tends to heat up the water (even though it is not supposed to). And if the water becomes too hot, the plants will curl up and die...
So, I did what every respectable hacker would do: I thought about a good way to cool down the system. Which would take me a fridge, a peltier element and a lot of other components... Which would set me back over 100 euro for the fridge setup alone (70 euro for a cooling unit, 30 usd shipping, piping material and a water pump). Then, I realized: What if I use the same system that I want to use for another project of mine? So, I went out, ordered some stuff, gutted out an old computer that I did not use anymore and voila, it works. Do note that you need access to plumber tape though, just in case.
Its working now for 3 days without any problems. What you see in the picture is the new system that I built. What you don't see in the picture are 2 little plants that I manage to salvage from another gardening project (growing peppers), with a bit of luck they will survive and show me that it will work better than their counterparts downstairs.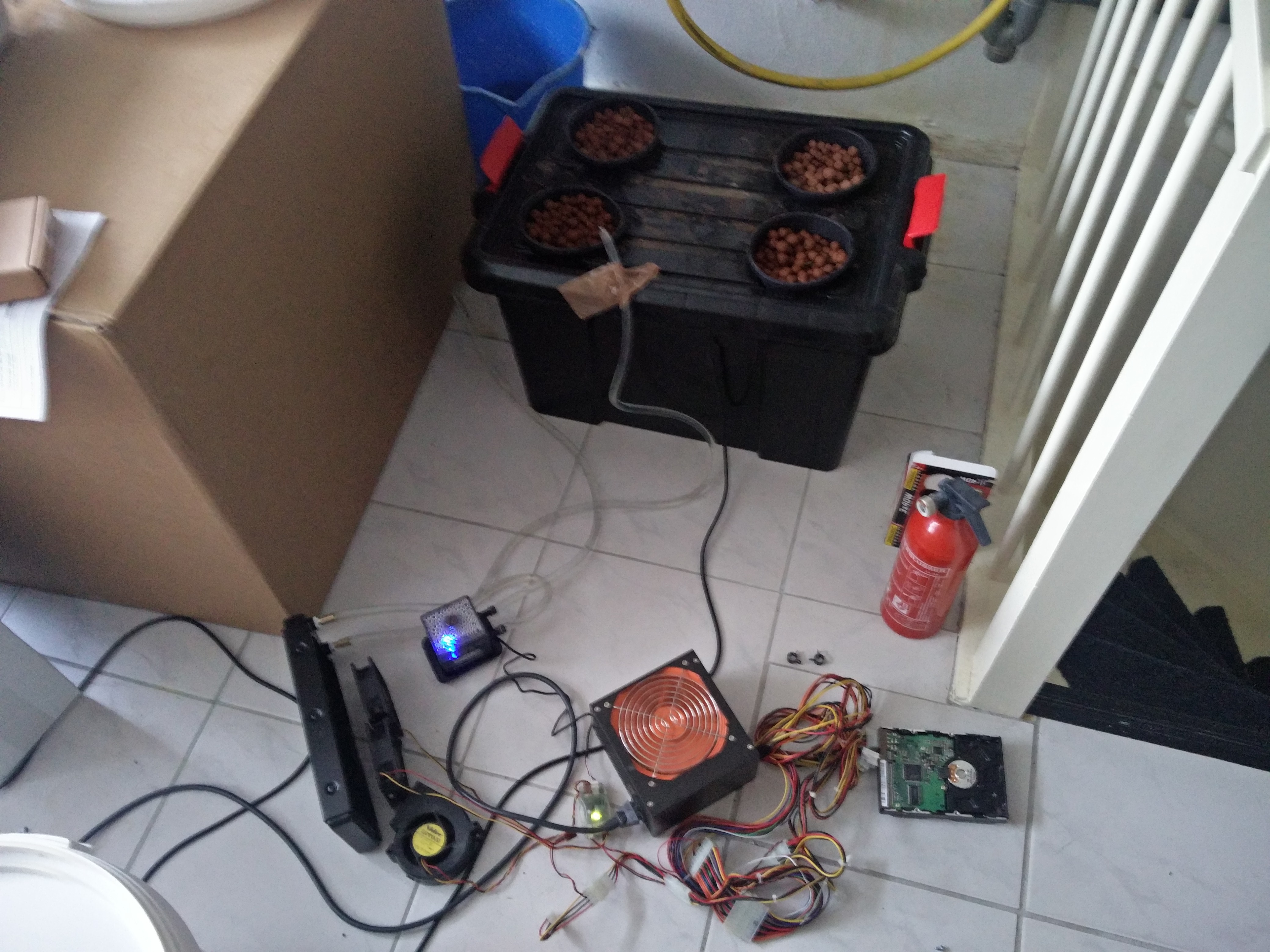 There are currently 2 fans cooling down the radiator. I did not turn on the third fan, since it is very loud and noisy. It does however work really well to cool down the radiator, just in case the water temperature starts to rise to malicious levels... I have to design a good way for this. The hard drive is just there to provide a ballast to the power unit, you don't want to have them running without at least a good source of power drain.
Next thing on my list is to add a power meter to see how much power I am actually using, but at this moment it seems like everything is working perfectly. The water is chilled down to acceptable levels, however I still need to find a way to make it a bit more permanent and to make sure that the system is being controlled by some sort of controller, so that I don't have to power this on for a long period of time and actually save energy.