I have no experience at all on making a PCB. But I want to try it with the diy arduboy project. Fortunately I found @Amal Shajan video and he's kind enough sharing his PCB design for another arduboy project on easyeda.
Then I fork his design which is already good enough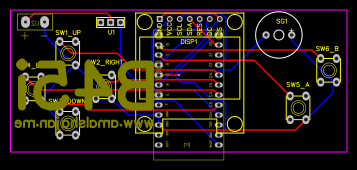 and from there I modified his design to learn about making PCB and also to suit my needs.
Changes that I made from his design are:
Adding Pin 3 to the buzzer to suit the arduboy library
change the position for few pad
narrowing the buttons to make it more ergonomics for my hands
rounded the edge of the PCB to make it look more nice and to prevent cutting to the skin
Added holes to the edges to mount cover for the PCB on the top and bottom
After all the changes above, I came up with my own design which still a bit simillar looking but with more feature