I built some experimental boards for use with solder-tabbed CR2354 cells: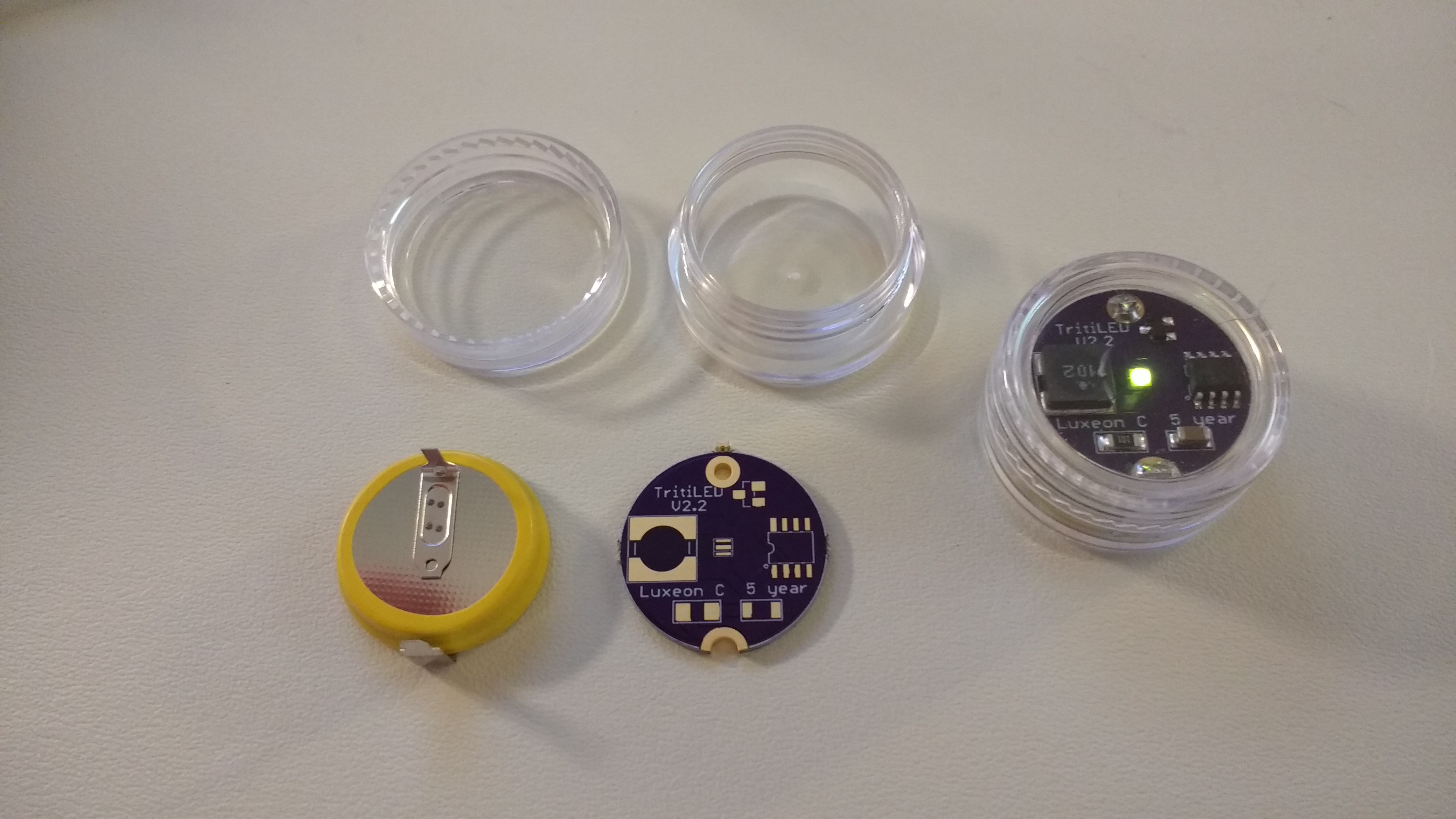 The PCB is designed to fit into a "5g" polystyrene jar, available cheaply on Amazon.  These jars provide some water resistance - I imagine sealing the threads with some silicone caulk (or even epoxy) should thoroughly waterproof them.  The CR2354 cell barely fits into the jar - you have to bend the positive tab a little to get it in there.  The solder tabs make battery changes more difficult, but with a 560 mAh capacity, the cell should last around 5 years.  The soldered battery connections also eliminate any issues with contact corrosion over time.
There is no switch and hence no blinking modes.  In fact, the circuit has been stripped down to what I consider the bare minimum:
The assembled version shown uses a Luxeon C "lime" LED, which claims 152 lm/W - it's a bright yellow-green color, and very visible in daylight, but not as bright as some of the other cyan LEDs I have tried for dark-adapted eyes.  I have some cyan and green (530nm) Luxeon C's to try next.
Here's an assembled one next to a V2.2: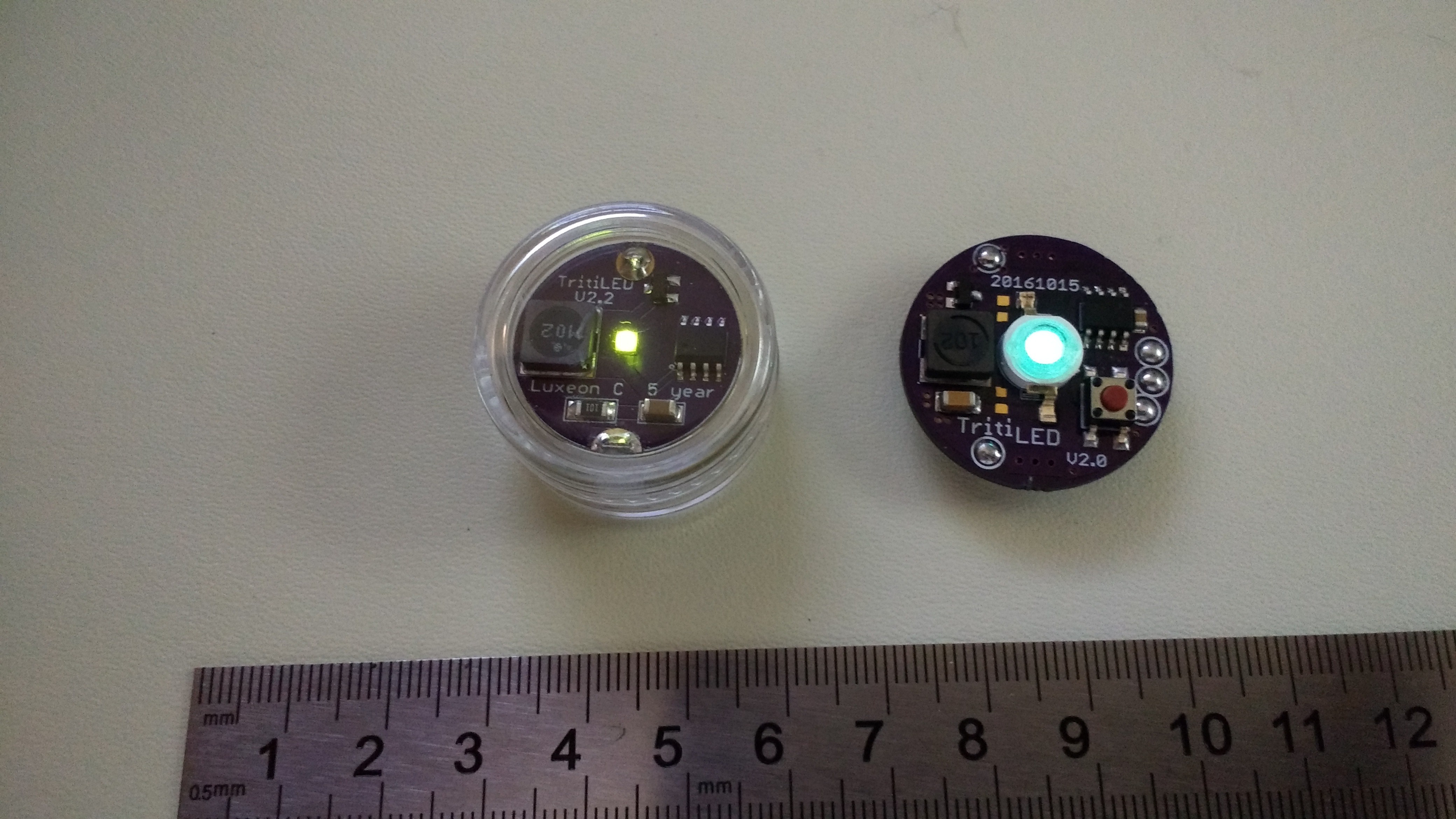 One problem with this PCB is that because the LEDs have a low profile, the inductor blocks some viewing angles on one side.  The problem isn't terrible, but I thought I might avoid it by moving the LED to the other side.  There is just enough space created by the battery tabs to clear the components on such a reversed board.  Here was my first attempt: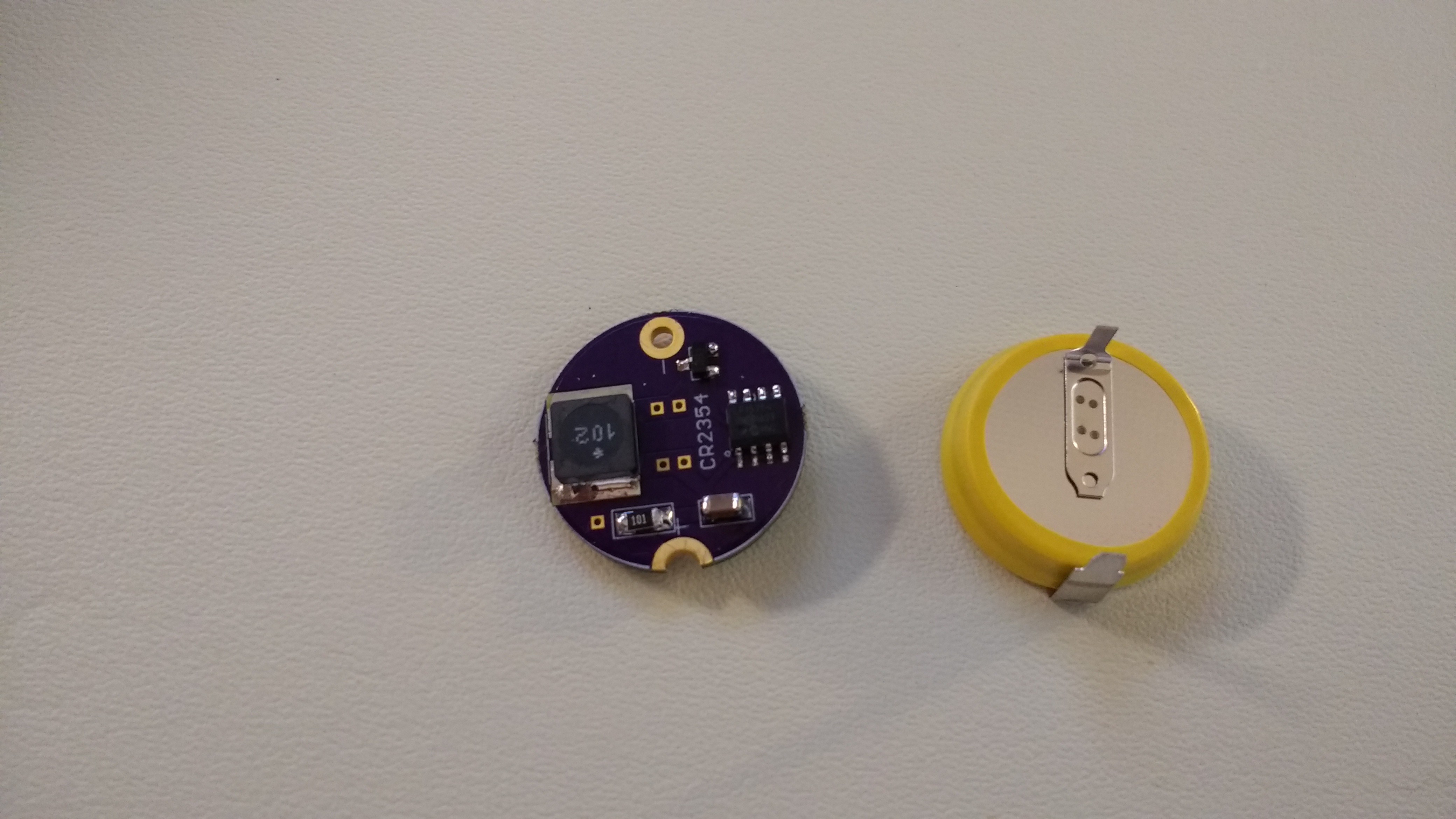 The LED is on the other side of the board: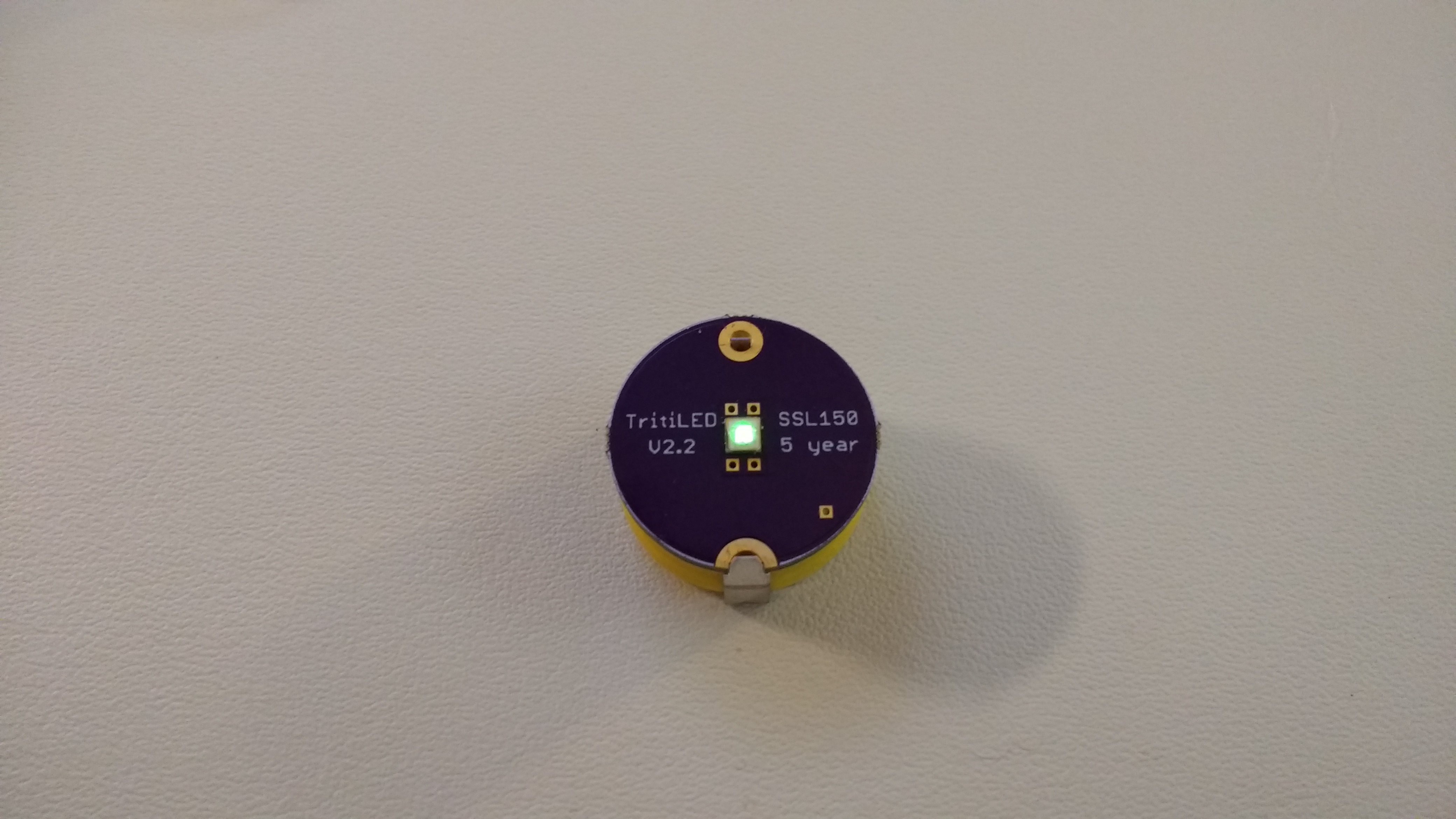 This creates a clean look and avoids issues with low-angle visibility, but introduces another problem: the board has components on both sides.  You might be able to do this with a reflow oven, but I couldn't do it with a skillet, so I reflowed the LED, then manually soldered the rest of the components on the other side.
For this board, I also decided to try a new LED: the Osram Oslon SSL150, which boasts high efficiency and great viewing angles.  Unfortunately, I didn't realize that this LED also contains a parallel reverse protection diode.  This protection diode conducts whenever the MOSFET turns on, drawing huge (but brief) spikes of power.  Unfortunately, this raises the consumption from around 14 uA to 850 uA!  So, instead of five years of service, you get around one month.  I won't be using these LEDs going forward.
I have a few more "reversed" boards like this being fabbed now - for Luxeon C and Cree XP-E2 LEDs.  I like the little jars a lot.  They're not as sexy as a custom enclosure, but they're functional.  I'm hoping to get a chance to test water-proofing them soon.  The deepest I can probably manage easily is around 50ft at the bottom of the Great Sacandaga Lake.
I also picked up some "10g" jars, which are large enough to contain the original CR2032-powered V2.2's with room to spare, and will also fit tabbed CR2477 cells, which will run markers for around 10 years.  The CR2477's are expensive, but 10 years is a long time.
The PCBs shown here (and more I haven't tested yet) are in the GitHub repo.  I'll probably remove all the ones with SSL150 LEDs, because they're not worth building.