Thanks to the bright and sunny day, the batteries could perform their first charge / discharge cycle yesterday: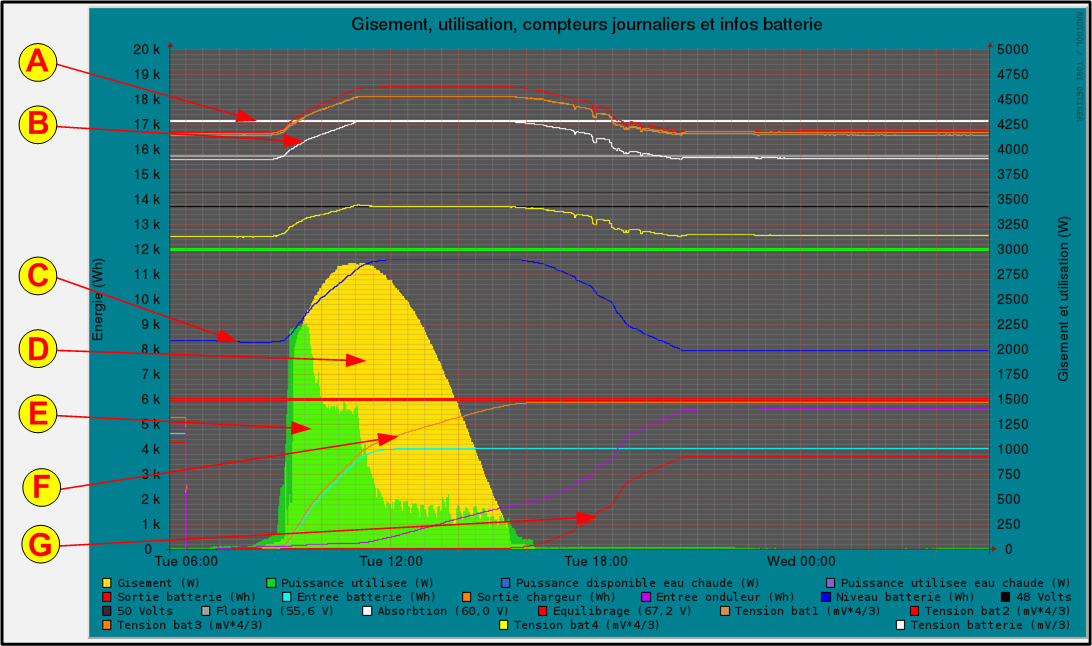 A - This thick white horizontal line indicates the end of charge voltage. Currently set to 60 Volts. This corresponds to 60 / 15 = 4 volts per element. This is a very safe end of charge voltage for LiIon batteries.
B - This white curve is the voltage of the stack. During the night, this voltage was of about 54 V (3.6 Volts / element). At 8:50 AM the sun began to shine (brutaly) on the panels and the charge started. The voltage rose up to exactly 60.0 V which was reached at 11:00 AM.
C - This blue line is the State Of Charge (Fuel Gauge). Its max is set currently to 12 kWh. (Thick green horizontal line) and min to 6 kWh (Thick red horizontal line). During the cycle the SOC started at 8.5 KWh, reached approx 12 KWh and decreased to 8 KWh.
D - The yellow area is the solar potential - eg the maximum solar power available at any time. Its smooth envelope indicates that the sky was perfectly clear during all this day.
E - The green area depicts the solar energy used. The power reached 2250 Watts (see the scale on the right) during the first part of the charging cycle (constant current phase), then decreased to 1500 Watts (constant voltage phase). and then to approx 350 watts ("noise" floor of the house).
F - The orange curve indicates the energy delivered by the charger: it reached approximately 6 kWh at 4:00 PM.
G - The red curve is the energy delivered by the battery. The battery started delivering power when the sun went down at 3:30 PM. The battery had delivered 3.6 KWh when the system switched automatically back to the grid power.
A few comments:
The battery behavior is really great. Its voltage reflects well its state of charge.
The system switches currently automatically back to grid when the battery has lost 4 kWh. This figure could be increased to 6 or 7 kWh to use more of the battery capacity. (Nominal capacity is 11 KWh).