Hi Friends,
for XATC i need a Tool Length Sensor. Ok, i can buy a micro switch ... but you know ... i love to design my own, cuz i'm addicted to
#Fusion360
, this program is so great and i love it.
Ok, my idea ... i build a 3d print and put 2 neodym magnets (12x3mm) inside, once on the bottom and second on the top of this enclosure . They are in front with the same poles and repel each other. This will replace a springload and works in every case, the surface of the top magnet are the sensor. We need only the wire from touchprobe connected to this magnet and thats all :)
I get my prototypes in the next days, maybe i make some photos ... but my boat vacation will start at weekend ... we will see :)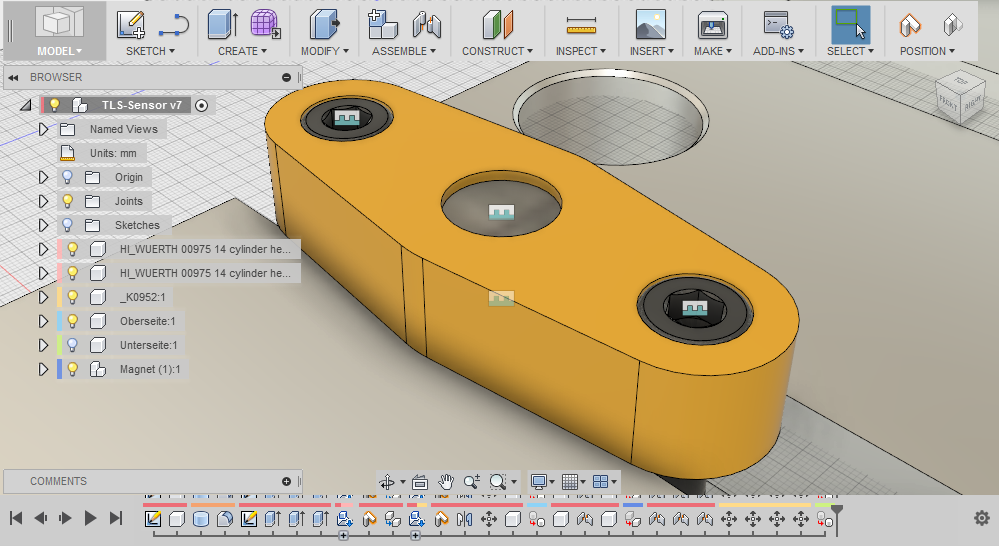 Hi Friends, ok this is the last message before we start the Vacation. After 2 weeks i'll send new magic things :)

Well, my 3d printer guy was very fast and i got yesterday the first 3d Prototype. I have to say awesome quality! The funny part was, bring this 3d magnets together in this small 12x10mm hole. After some tests, i used 2 iron wrench and hold the magnets in position. Zhen it was possible to put both of them in this enclousure.

Here some Photos, first from prototype ( i need a name for this, hmm ... "XTLS" :) ) and complete on my (dusty) CNC Table.

Now i need a z-max wire, also i want to mill a aluminium top plate on the second prototype for more simple wiring.
cu

Frank