Project Overview

This booster will be a 6" ID rocket motor with a high thrust to mass ratio capable of heavy payload lofting or multi-stage use. It will utilize approximately 78 pounds of PNCP rocket propellant to produce around 2,500 pounds of thrust for 3.5 seconds. This will come in at a full O-class rocket motor, just under the FAA class 3 permit requirements.
Once flight worthiness of the design is proven, it is possible to add an additional 2 grains (8 feet total propellant) and increase the nozzle throat to increase thrust. For heavy lifting, 4 of these boosters can be strapped together similar to a Nike Hercules, providing nearly 10,000 pounds of thrust at a full Q designation to be used as the first stage of a 3 stage sub-orbital 3U cubesat mission at significantly lower costs when compared to existing services.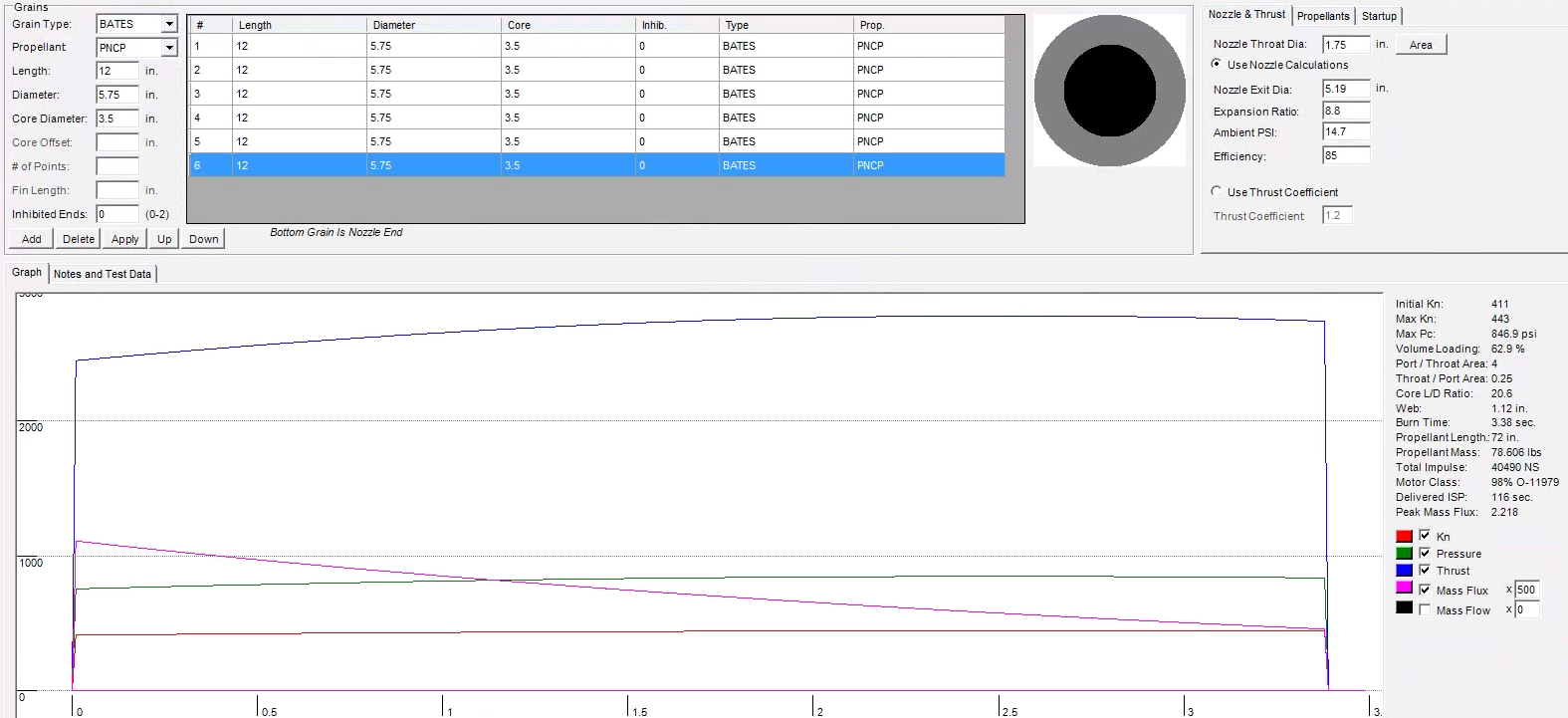 Project Stages
Grain casting jig and large quantity propellant casting methodology fortification
Construction of 6" ID steel thick walled single grain testing rig for use in propellant characterization testing, grain geometry deformation testing, and grain slump testing. Measurement of chamber pressure only.
Full scale motor casing and nozzle construction to include motor case, forward bulkhead, low KN nozzle, and high KN nozzle. Nozzles will not have mass reduced for flight until after verification of design specification to avoid unnecessary loss in manufacturing time.
Full scale motor grain casting (78 pounds of fuel)
Full scale low KN sonic nozzle static test (no divergent cone or expansion), measuring chamber pressure
Full scale high KN nozzle static test, measuring chamber pressure and thrust
Full scale flight test
Possibly adding 2 more grains into tests
Unknowns
Will the PNCP propellant scale to this large scale diameter without compromising integrity?

Initial grain casting and characterization testing will let me know.

Will the large surface area to ignite pose an issue to ignite?

Will be answered after the first full scale static testing

Steel, Titanium or Aluminum casing material?

Further research to see if titanium's added weight is worth the hassle

My first price quote came in at $325/ft for the grade 2 titanium, so looks like it'll be steel or aluminum, with steel for the testing rig.

Final nozzle diameter and expansion

To be decided after initial full scale propellant characterization testing
Other Thought

This project will be long in duration, as family and work comes before rockets not to mention the complicated nature of rocket science. Stay tuned!