Note: This log entry is a living document. I'll be updating this post to reflect the current configuration as time goes on.. There will also be a log at the end of the post noting modifications to the log, etc..
UPDATED-----> 09.23.2014

Ok.. It's been a lot of tweaking, and refining...  A lot of going over the design, fixing issues and overcoming problems..  But I have reached a pretty good point with the spectrometer design..  I managed to design this part of the system so it can be used completely independently from the rest of the raman setup..  You can print this portion, install the optics, setup the fairly simple electronics, configure the software, make some minor adjustments to the optics so they're properly aligned, hook it up to a PC (or the ramanPi) and get some work done!
This spectrometer should be about on par with what you'd get from an ocean optics commercial product... Well, at least as good as one could expect to get..  I might experiment a bit with better options than razor blades for the entrance slit..  But really, the diffraction grating is pretty much on par, the CCD is the same model... we should be getting some great results... I need to calibrate mine with a known light source... I have a neon ampoule, and a mercury vapor lamp...I'll be trying those out pretty soon..  In the mean time, I did a quick sample with a 532nm laser....  Here's the result from that...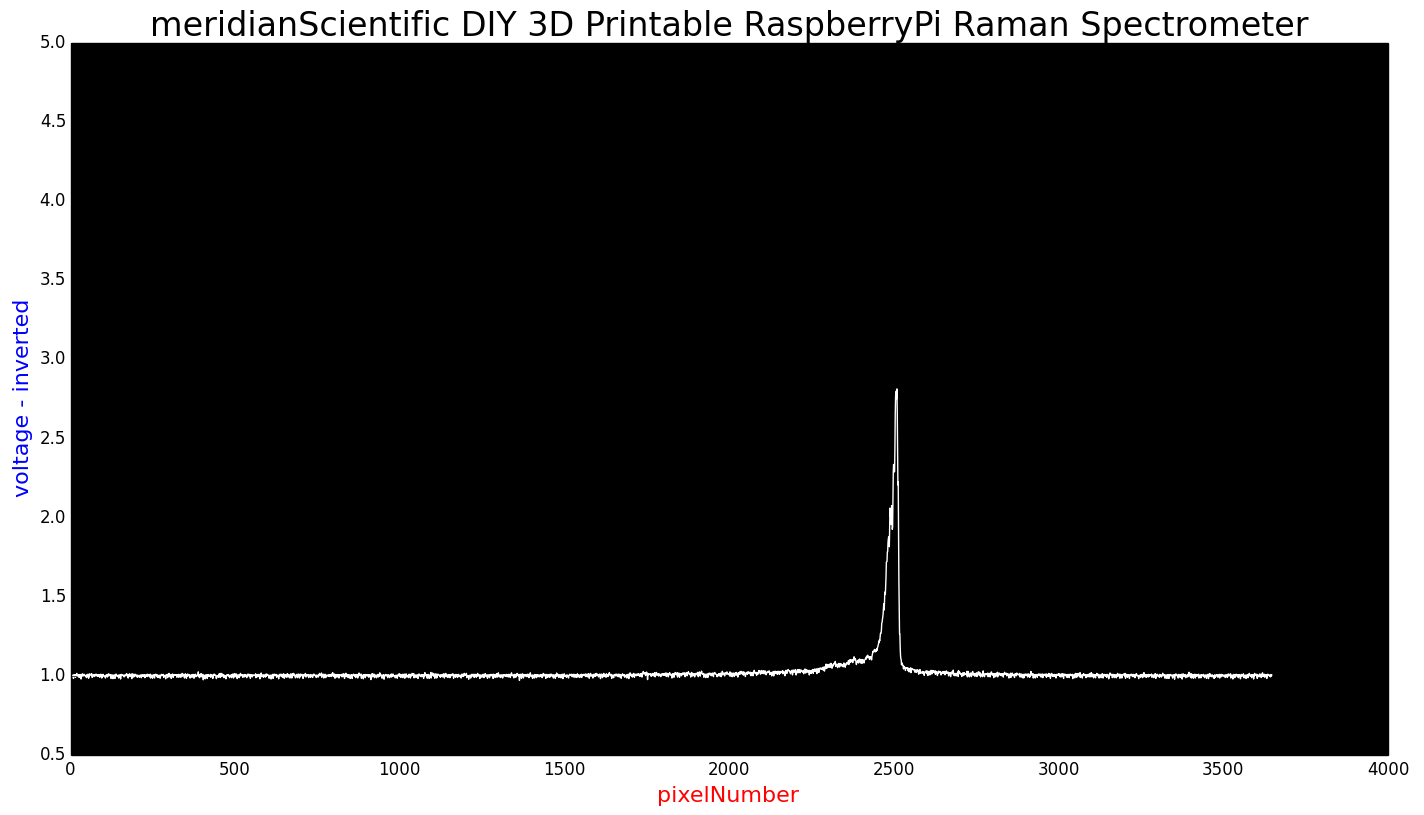 I'd call that pretty clean considering it is my first try... and it's a cheap eBay handheld laser pointer... Unfortunately, we can't use that to calibrate the spectrometer... 
HOW TO BUILD A SPECTROMETER - PART 1
I wanted to make this post a sort of how to for assembling the spectrometer... as much as I can anyway...  So, here's a quick guide...!
We start by loading up the files to print the plastic parts...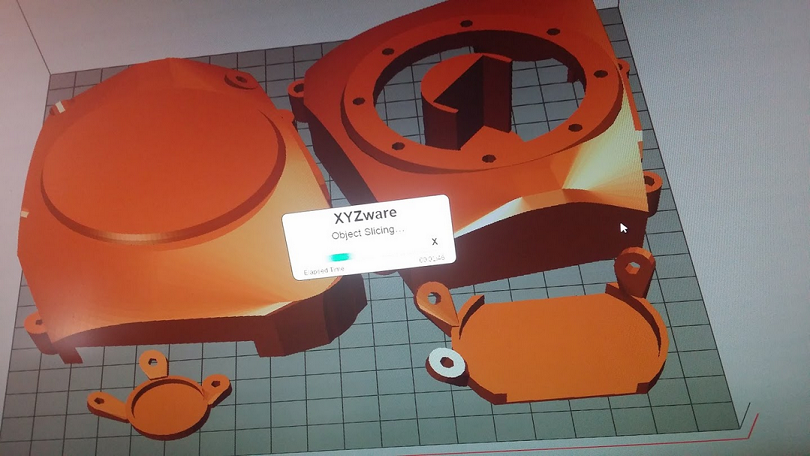 Set up the printer and start printing.... Wait a good 12-18 hours....
Keep an eye on it every once in a while...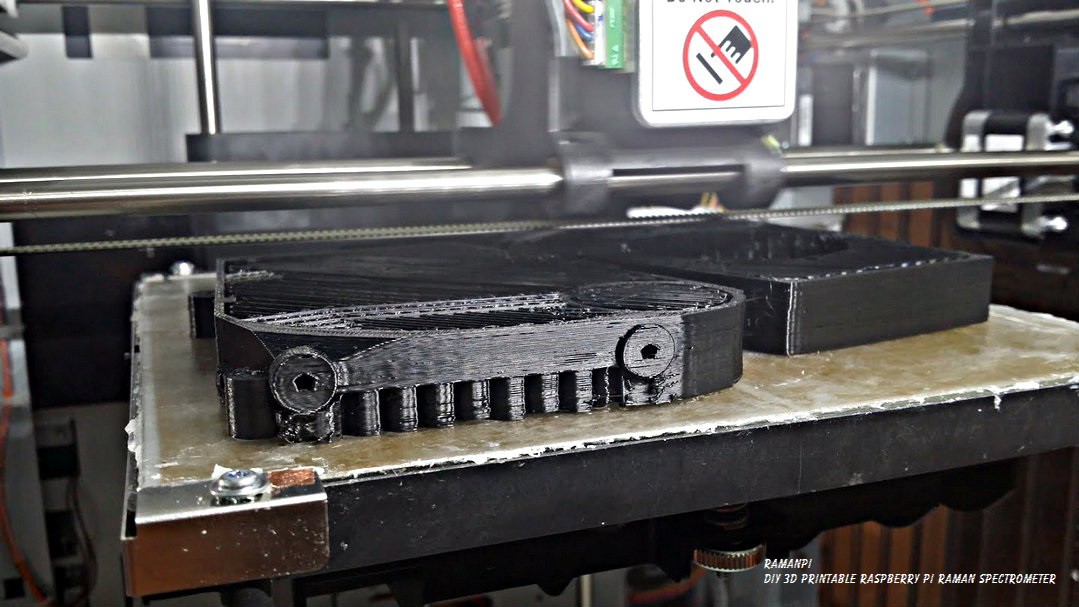 And then you have the makings of quite a few lost weekends to come.. 
Once you've removed it from the printer... There's going to be a little cleanup required...  All the supports, and rough edges, screwholes and everything need to be free of debris, etc..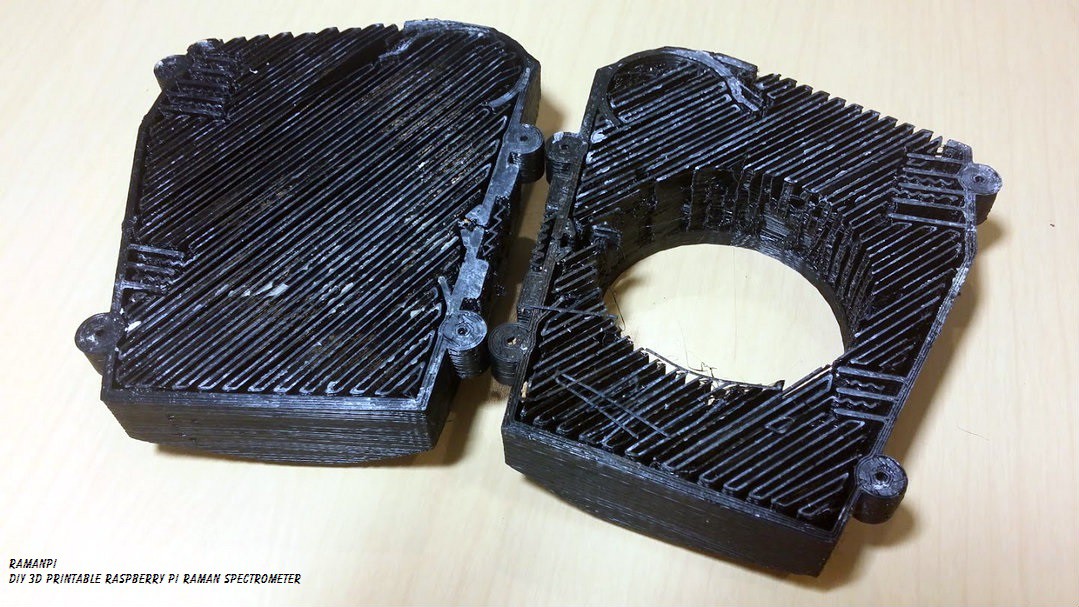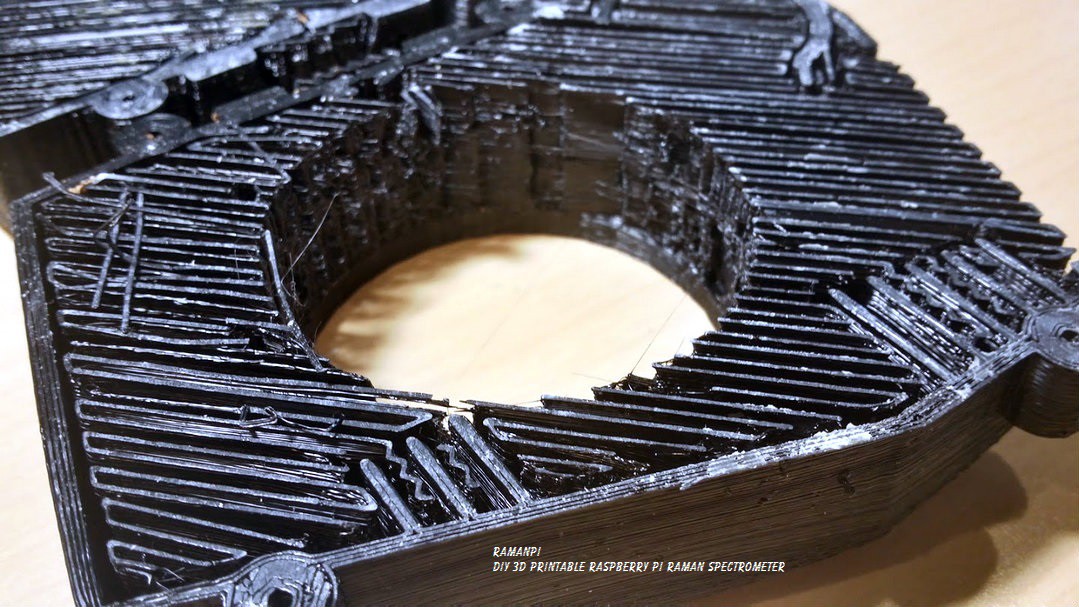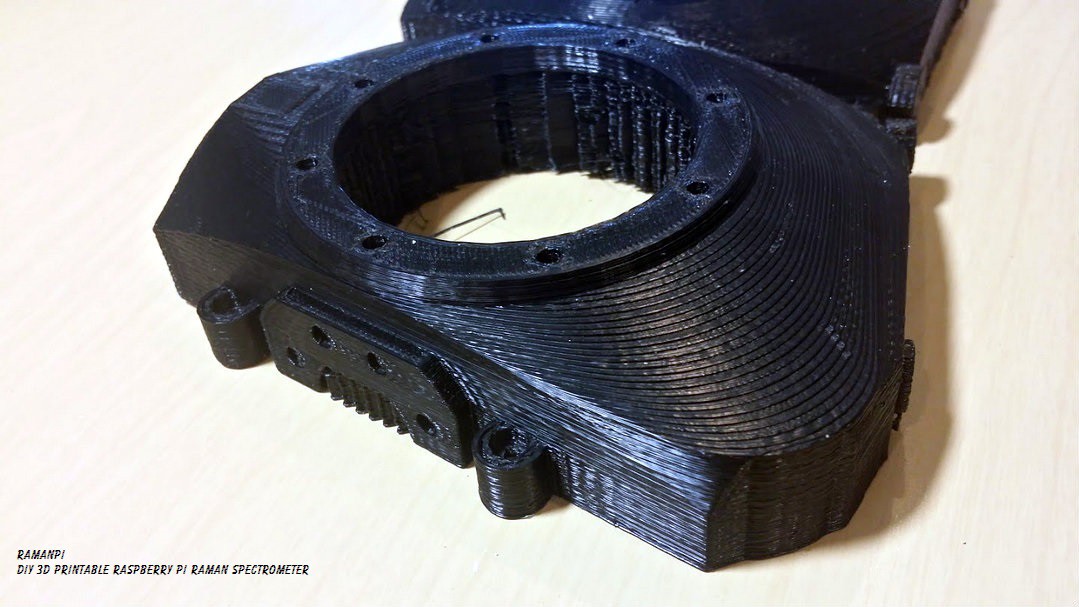 Once you get that all cleaned up.. Your spectrometer parts should look something like this...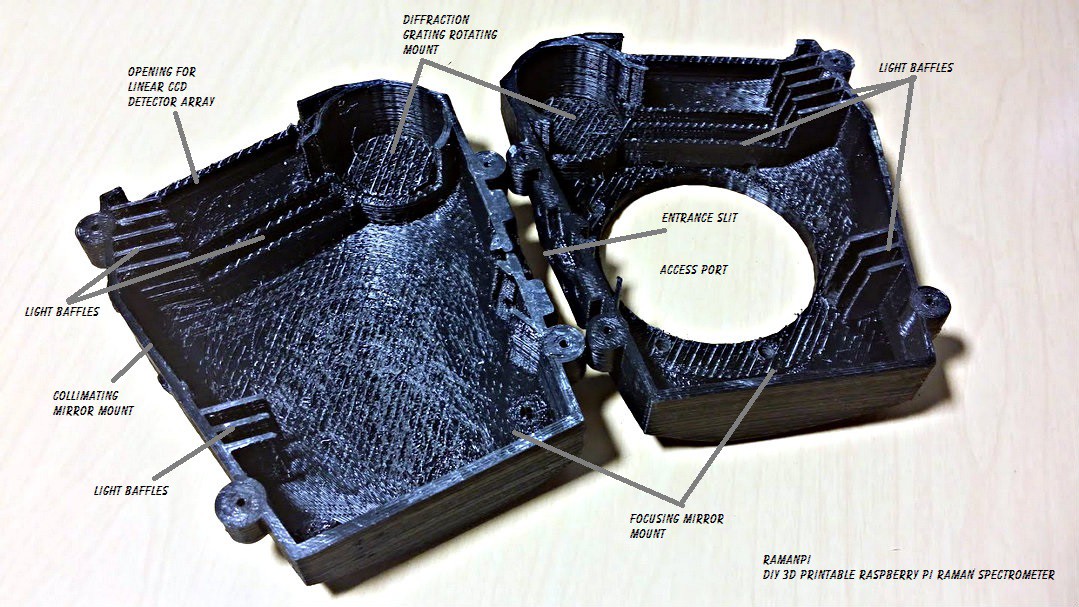 Gather your other parts... The access port cover, the necessary screws, the diffraction grating..the collimating mirror, the focusing mirror...the mounts for the optics...your imaging board and the CCD board...
Here are the parts I designed this version of the spectrometer to use..and is what I am using in mine..
The diffraction grating...    Stock No. #43-216
Edmund Optics 1200 Grooves/mm, 25mm Square, VIS Holographic Grating ......   $135.00
The collimating mirror....    Stock No. #46-239
Edmund Optics 20mm Dia x 80mm Focal Length, Spherical Mirror   .......................   $37.50
The focusing mirror...        Stock No. #43-471
Edmund Optics 50mm Dia. x 100mm FL Protected Aluminum, Concave Mirror  ...   $42.50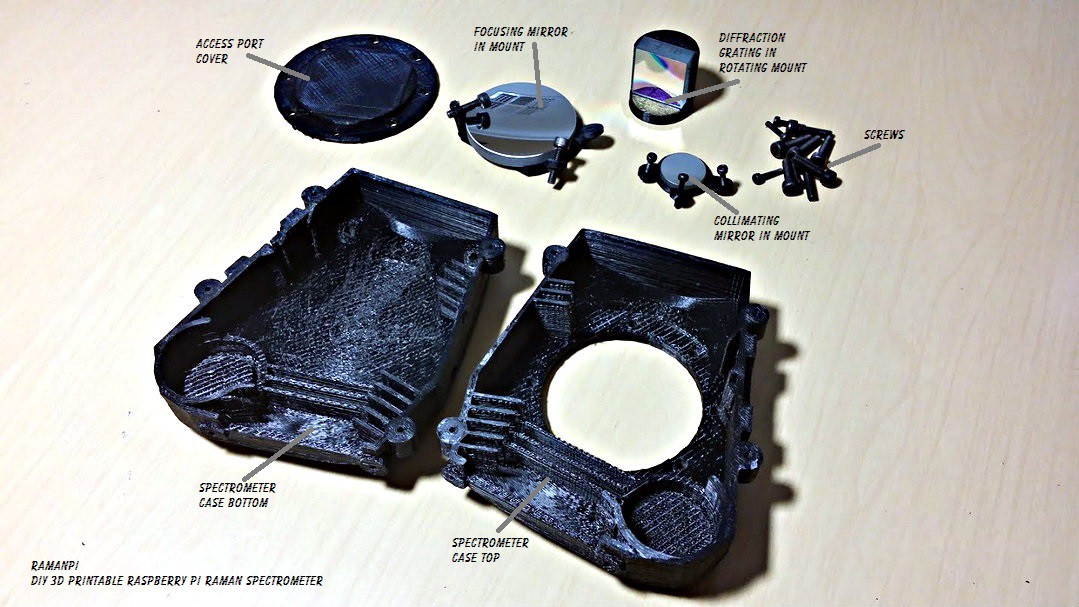 I'll post the specifics on mounting the optics in their mounts soon, but for the moment, lets assume they're already mounted..
Go ahead an place the focusing mirror assembly in place and screw in the adjusting screws...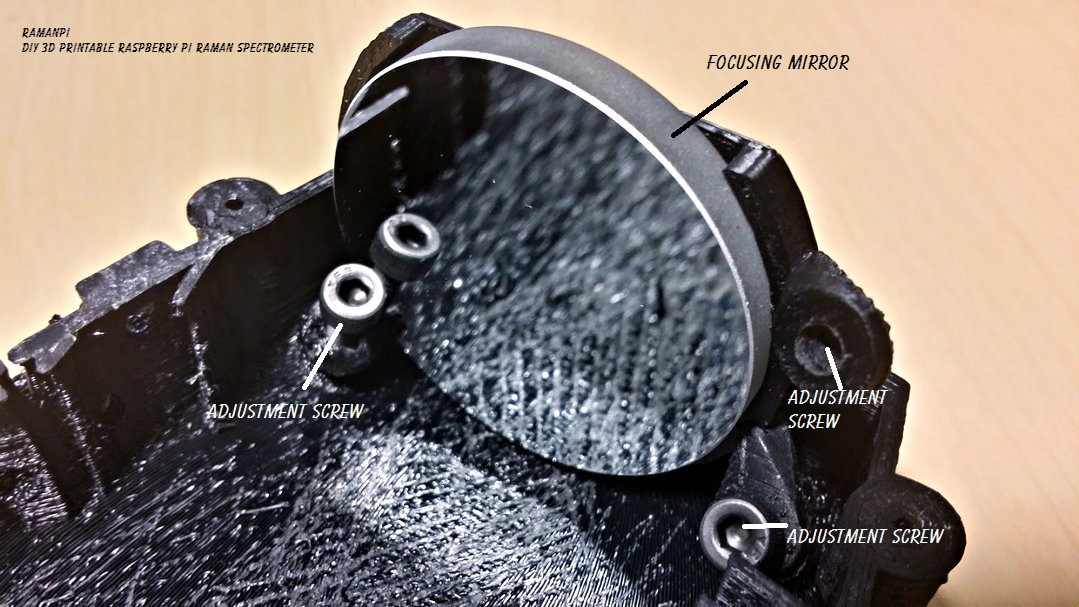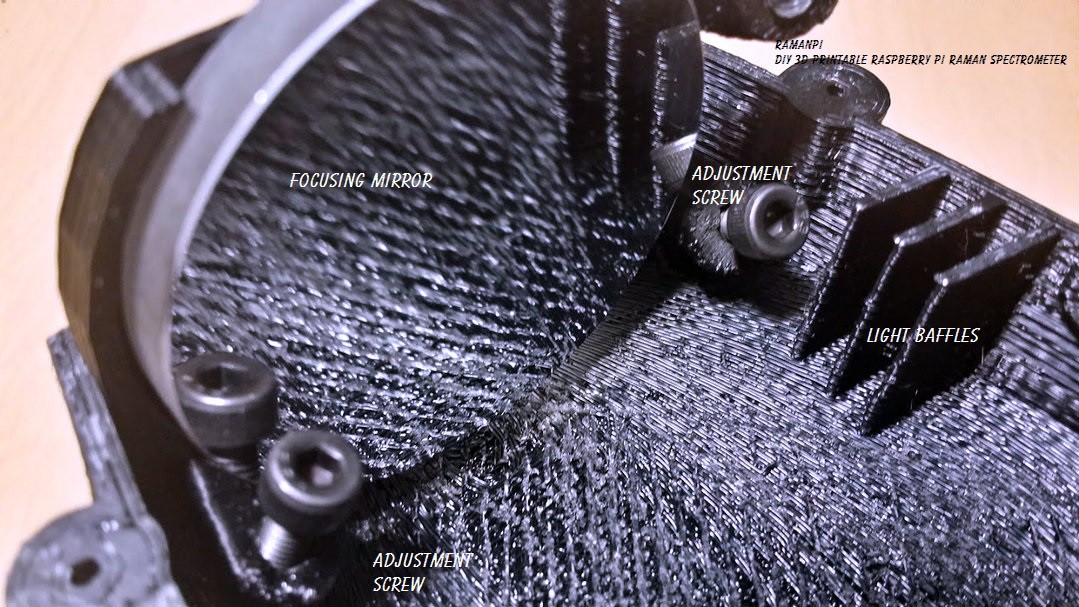 And always... make sure you're wearing proper gloves, and not to touch the surface of the optics!!!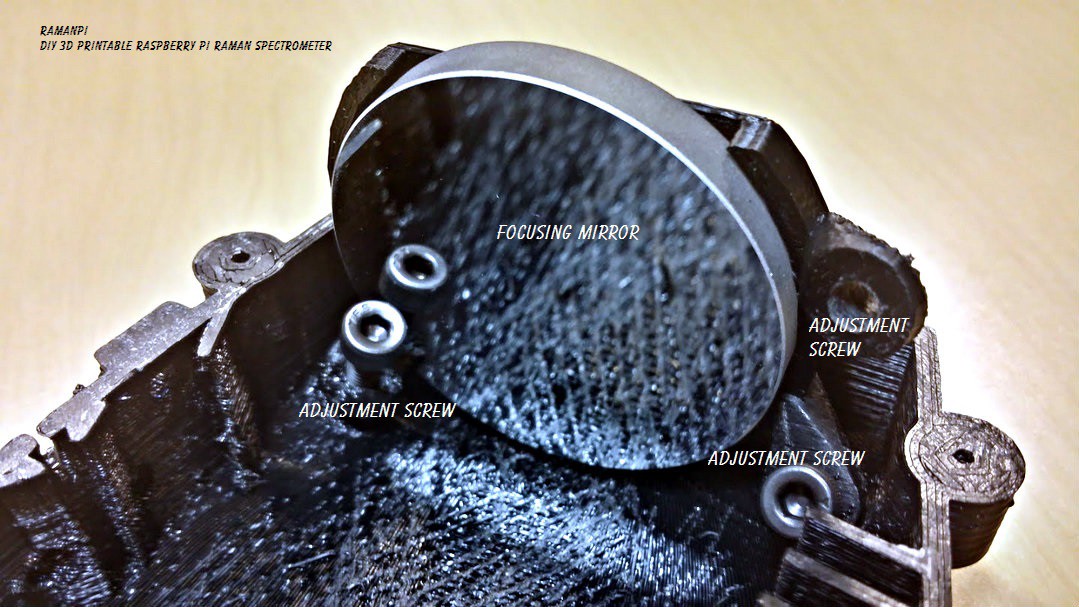 Now, let's go ahead and place the collimating mirror assembly into place and screw it in...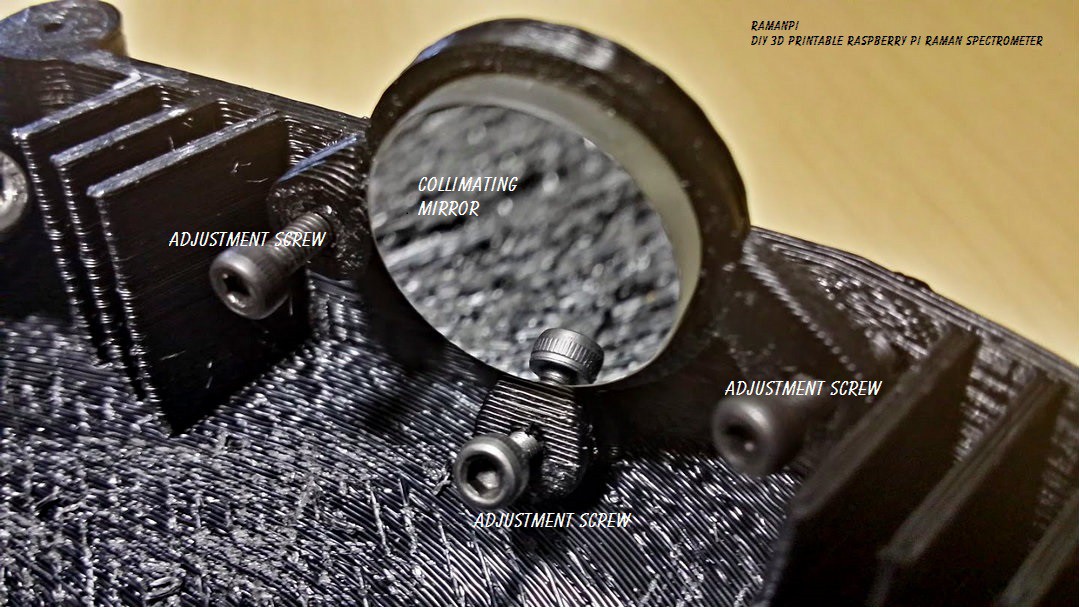 Again, make sure to be very careful not to touch the surface!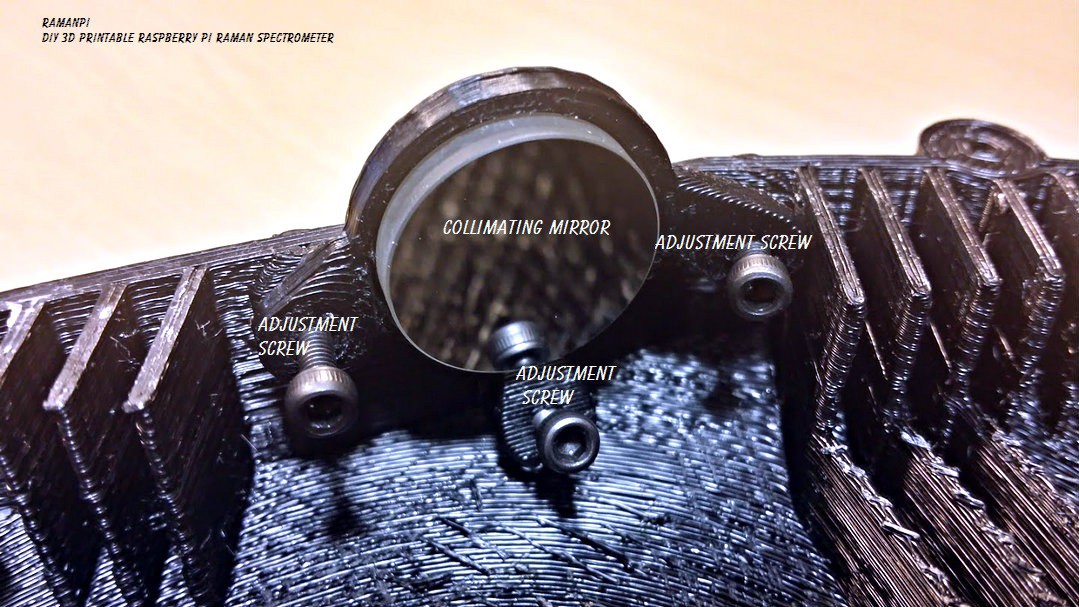 Once that's in place, go ahead and place the diffraction grating assembly in...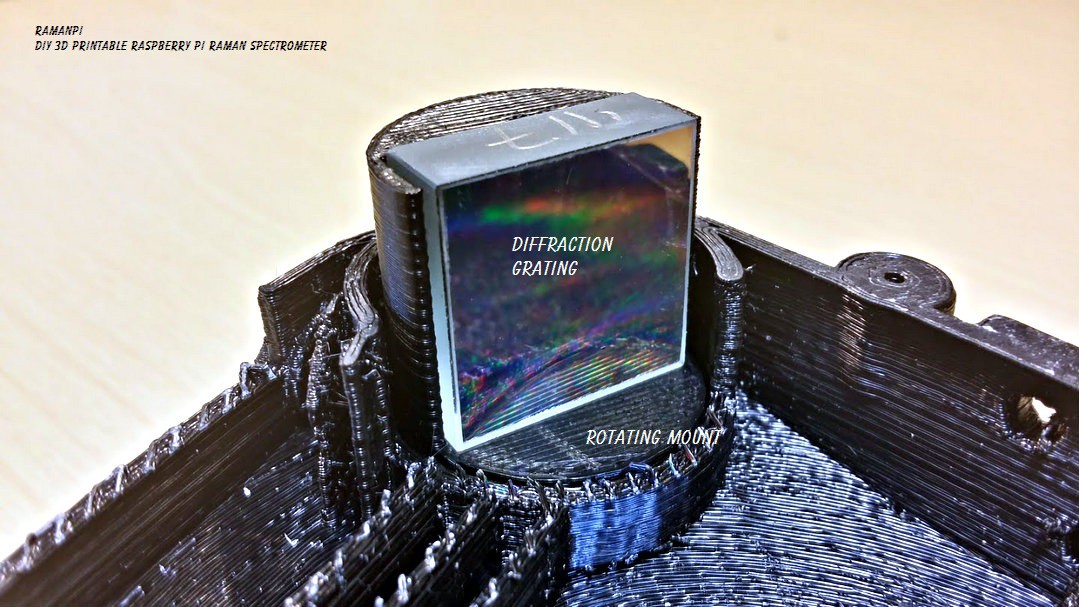 BE EXTRA SUPER VERY MAJORLY CRAZY ULTRA CAREFUL NOT TO TOUCH THE DIFFRACTION GRATING SURFACE!!!!!!!!!!!!!!!  ANY CONTACT WILL RUIN IT... Just look at mine... :(  It fell on it's face on a very clean surface and is going to have to be replaced...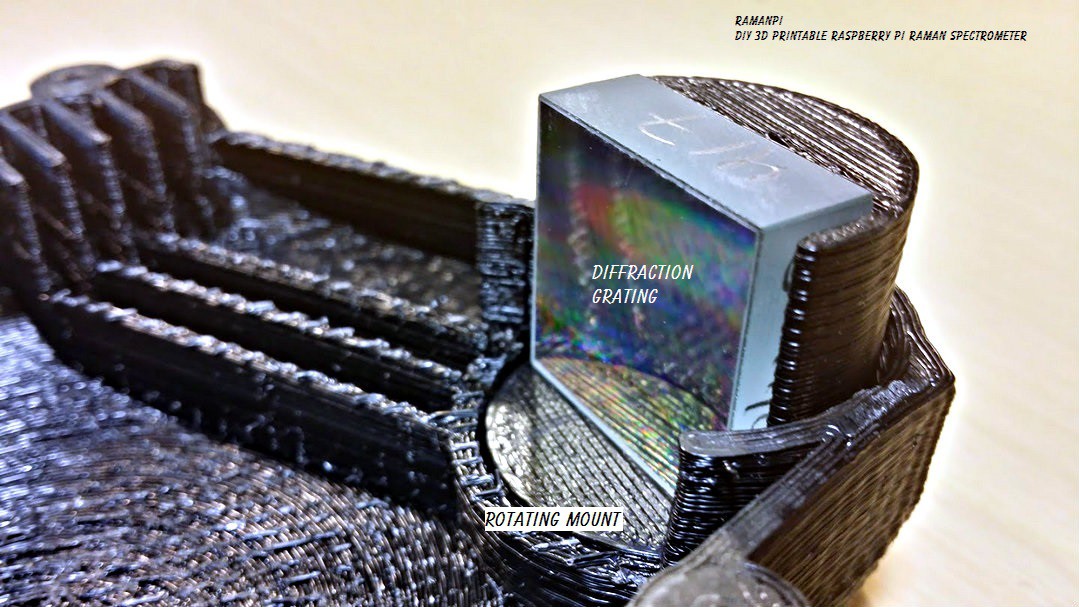 Here is what you should have at this point... A very nice start!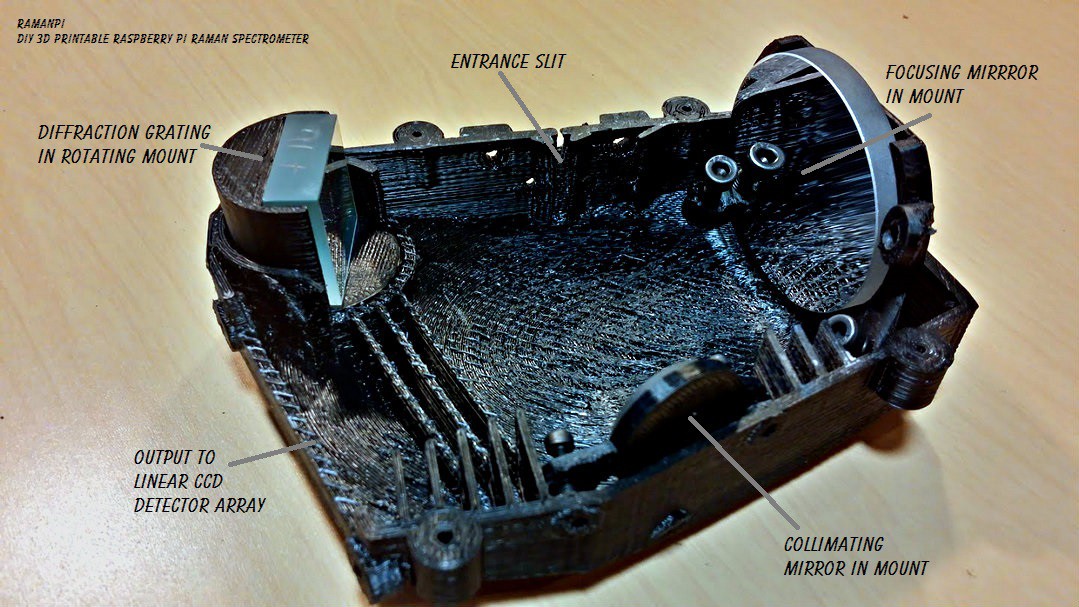 At this point, your optics are probably going to be way out of alignment.. We'll have to make sure they're all snug and aligned before we can use this thing for anything...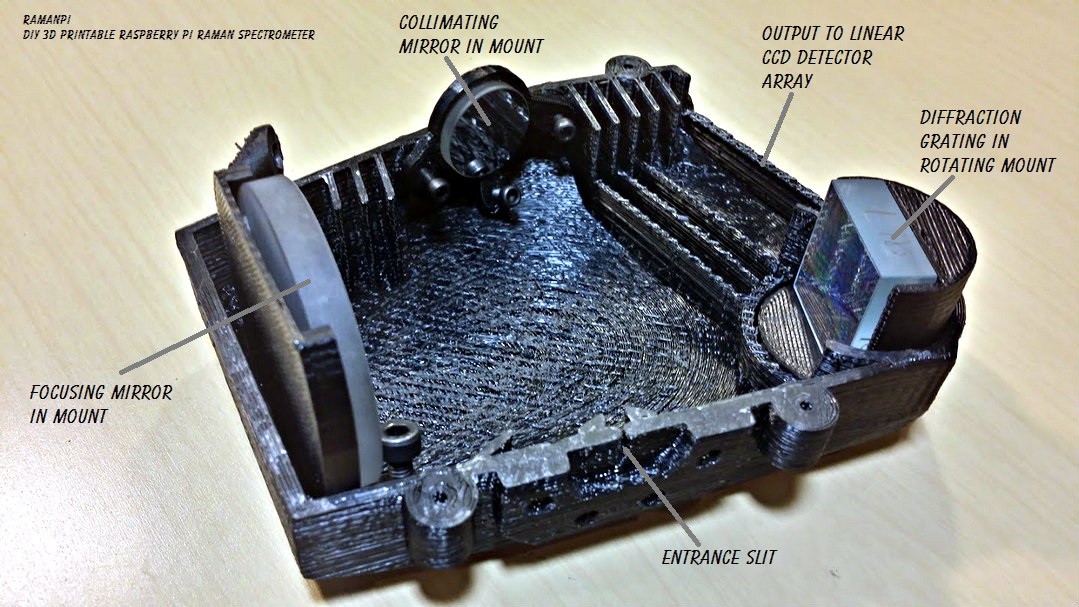 But we'll cover alignment in another project log as well... For now, let's follow through with getting this thing assembled!  Take your top and the access port cover...get the mounting screws........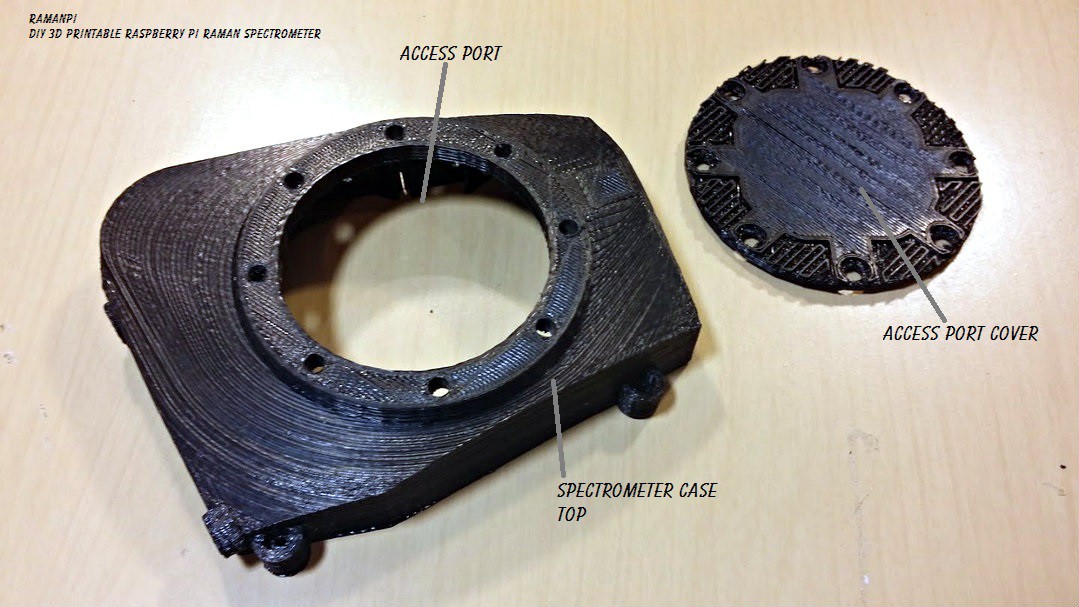 Place the access cover over the access port and align the holes....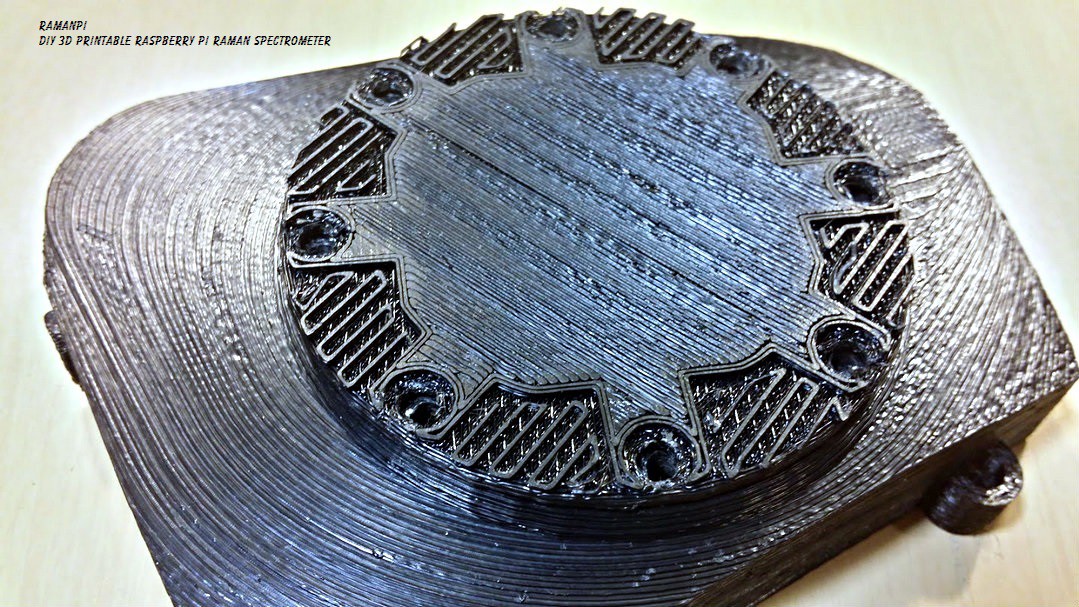 Place the screws in place and start tightening them!  I recommend an alternating pattern...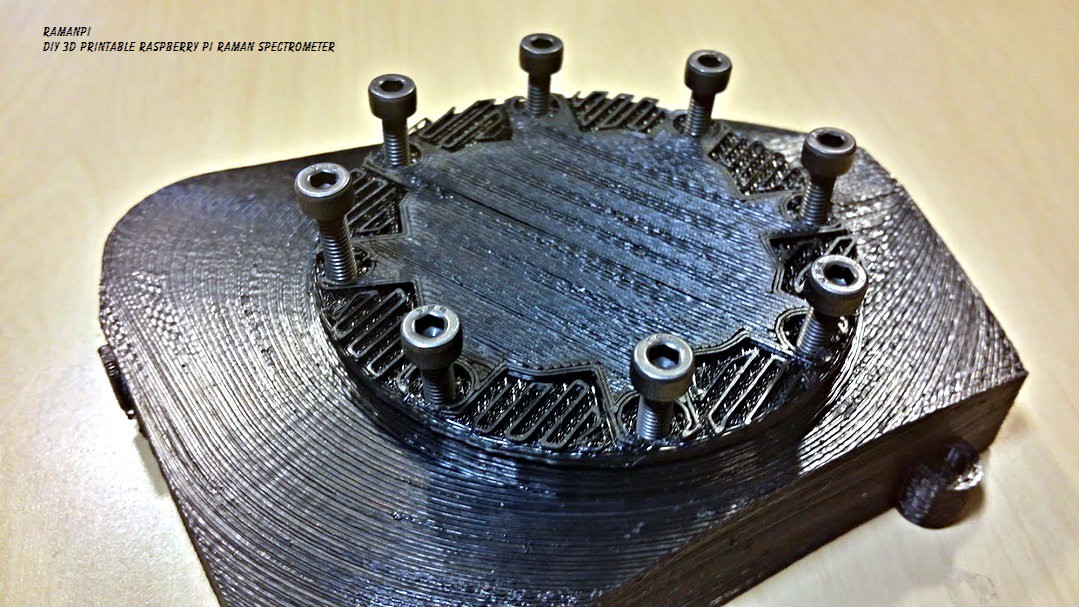 And there we have a spectrometer!! Almost ready for use!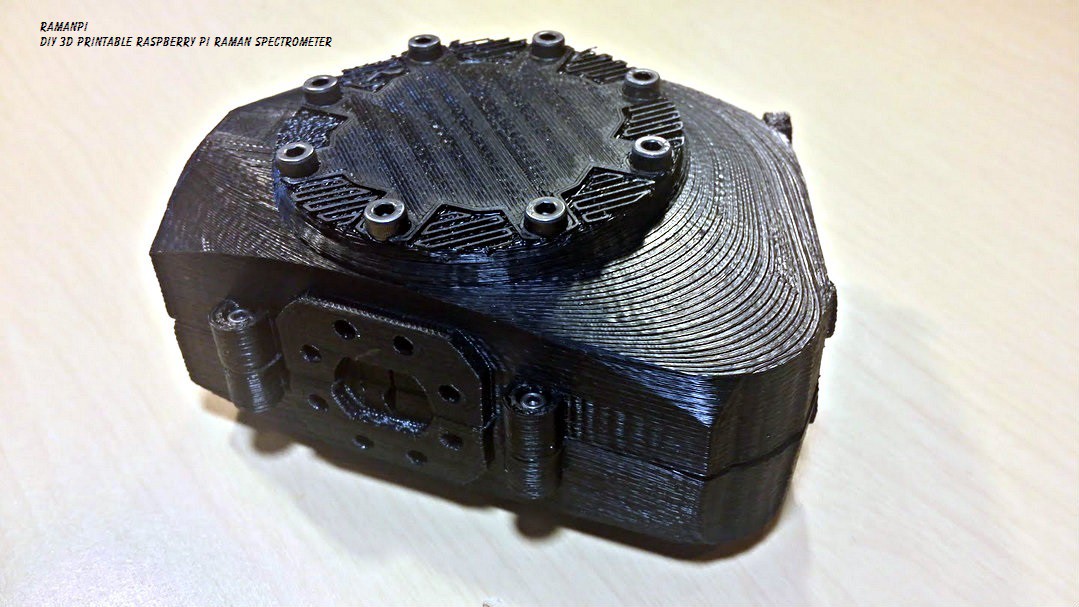 We will cover placing the CCD board in another post as well... But this is where it goes.. :)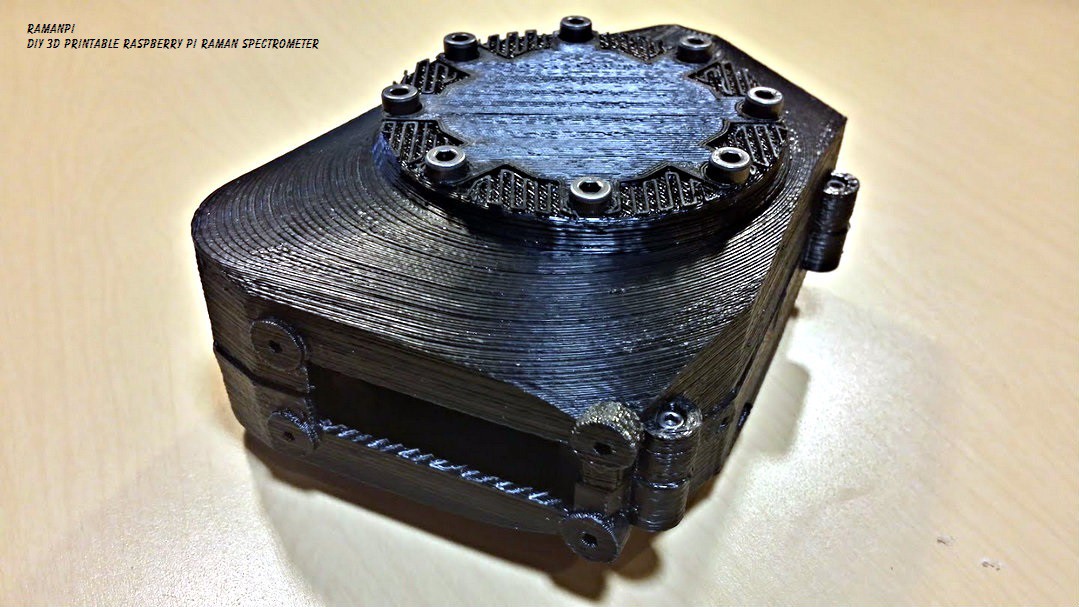 Looks great doesn't it???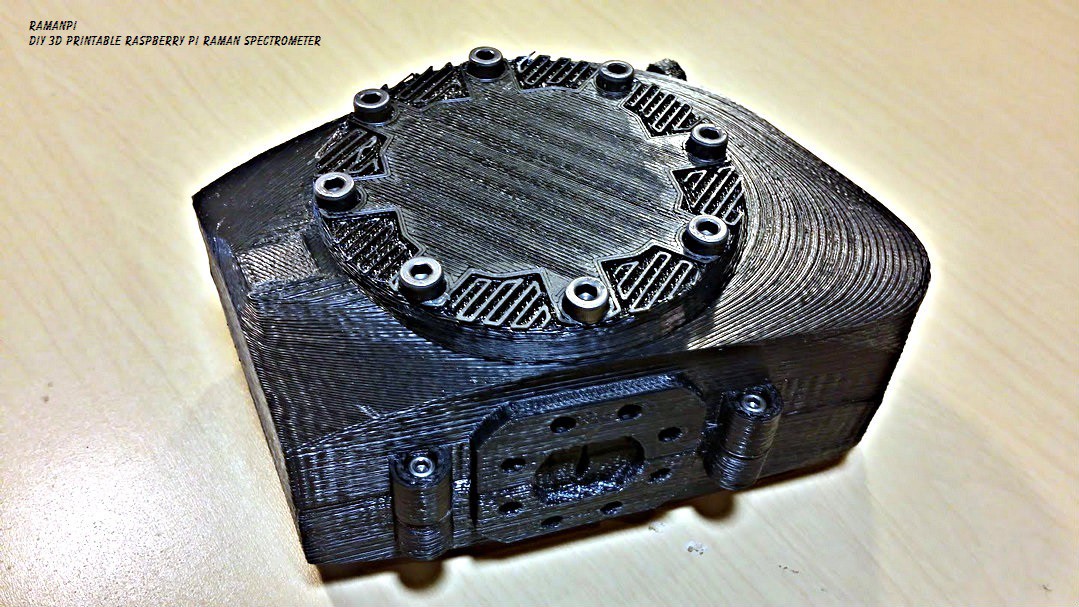 Here's some sneak preview pictures of the alignment process...
If you can't tell, I'm pretty happy with how this part came out.....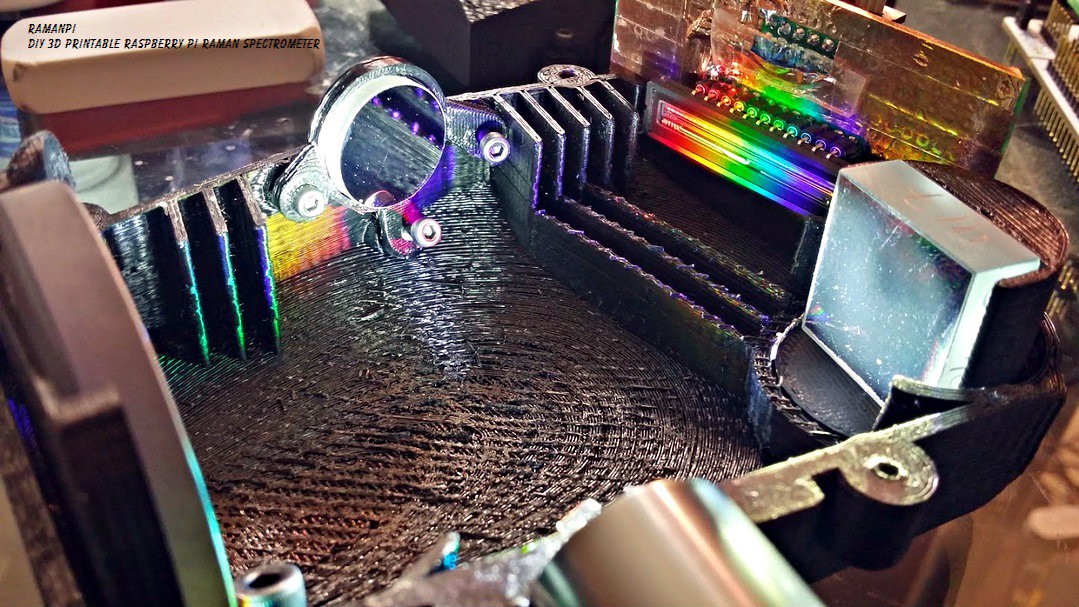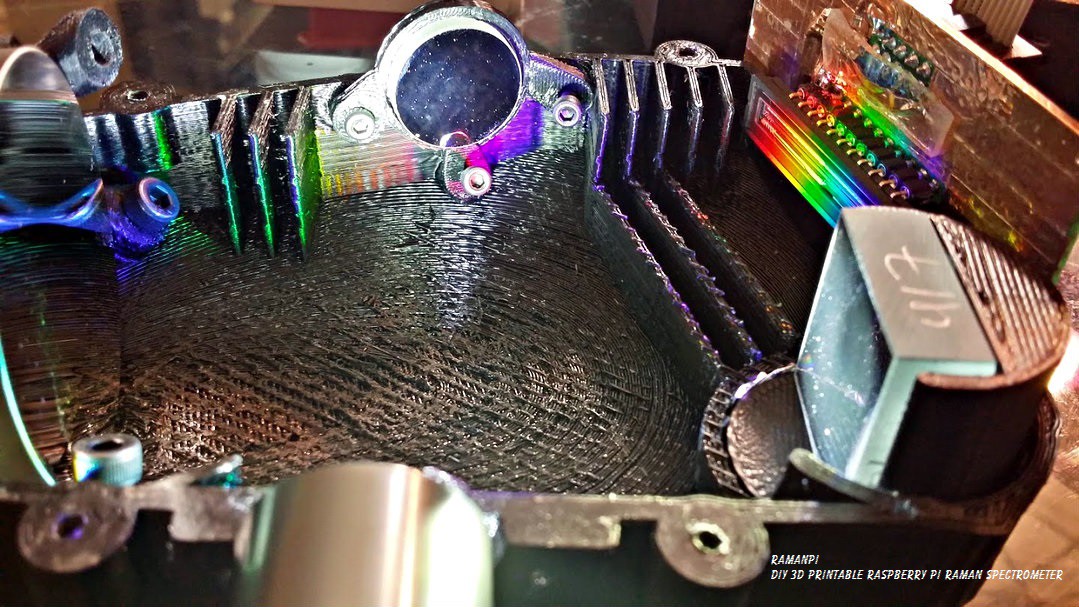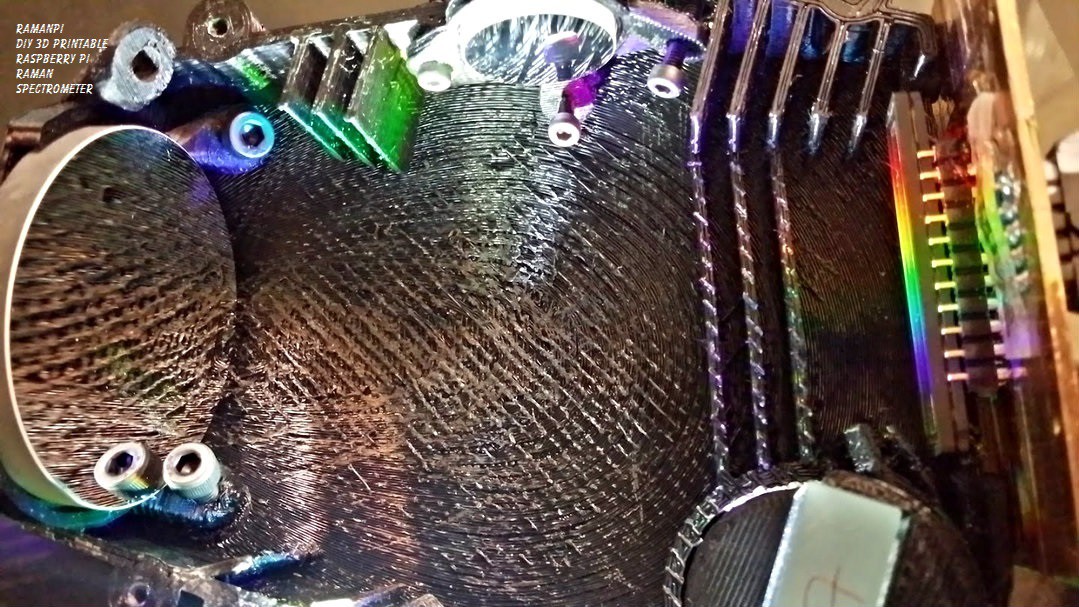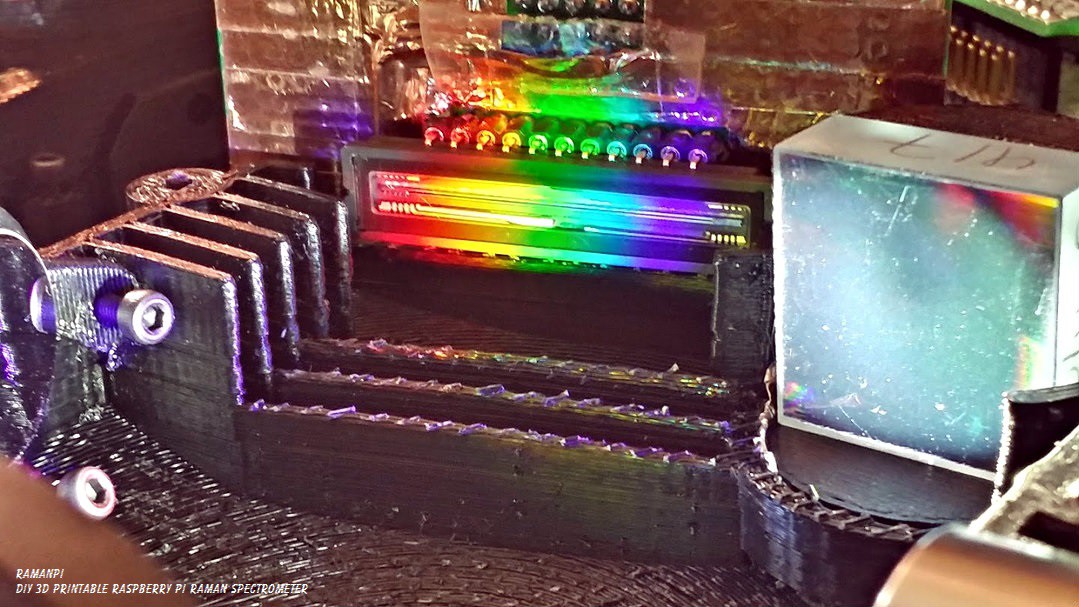 I'll be picking up where I left off with the electronics and software now... And I am aiming for raman spectra by the end of the month!!  This is a quick little test I did (not calibrated) using some filters... More on this soon!!!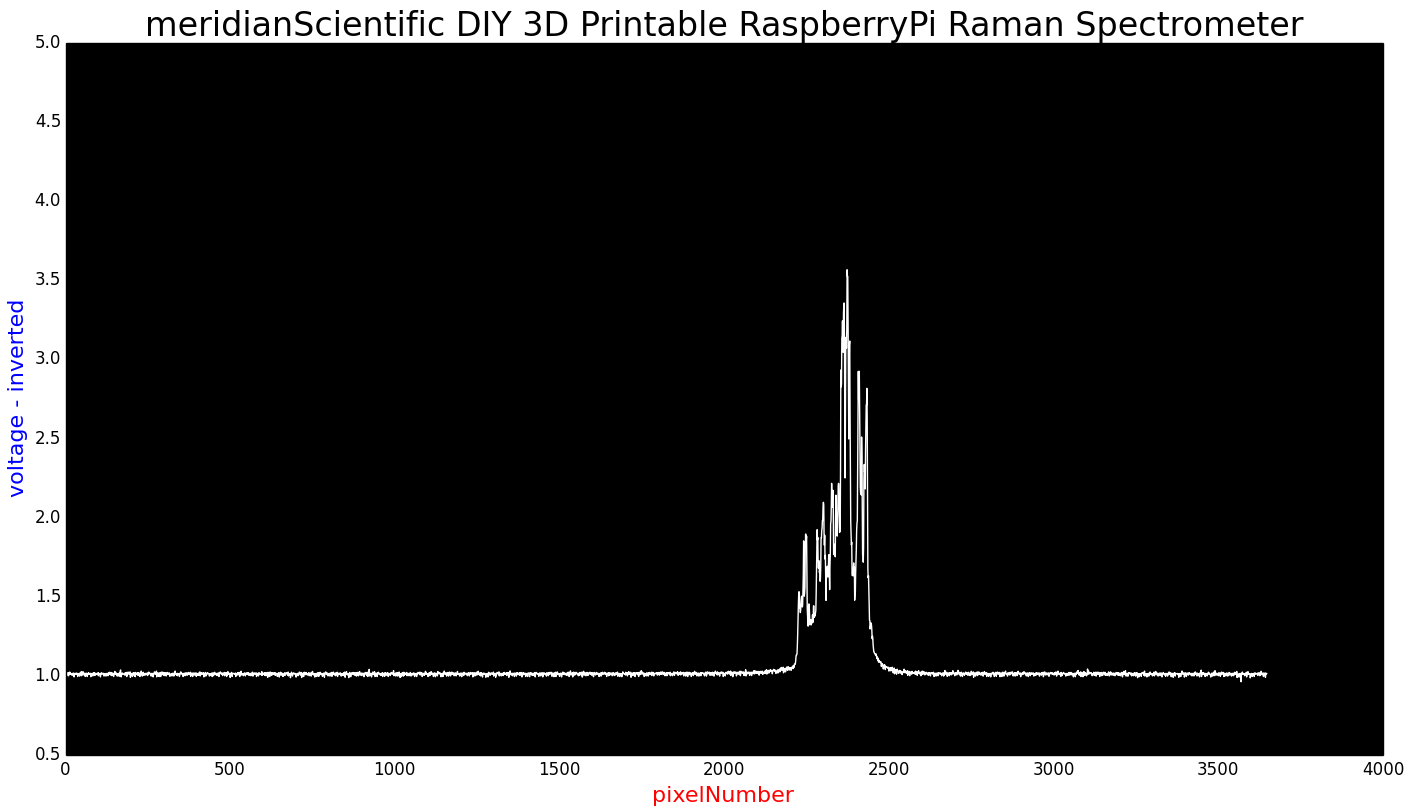 Does this look good on me?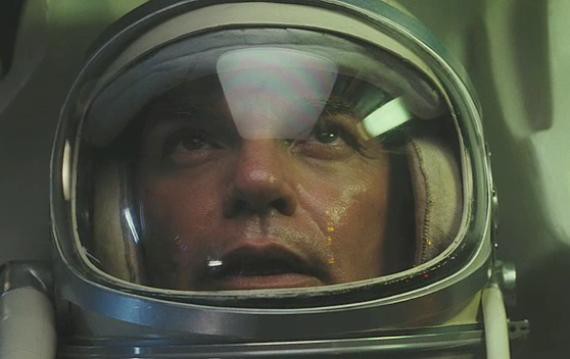 LOL...

Edit:
A little better example of the 532nm laser... I think I had the beam misaligned on the first image... This one's not as strong, but I closed the entrance slit a tiny bit...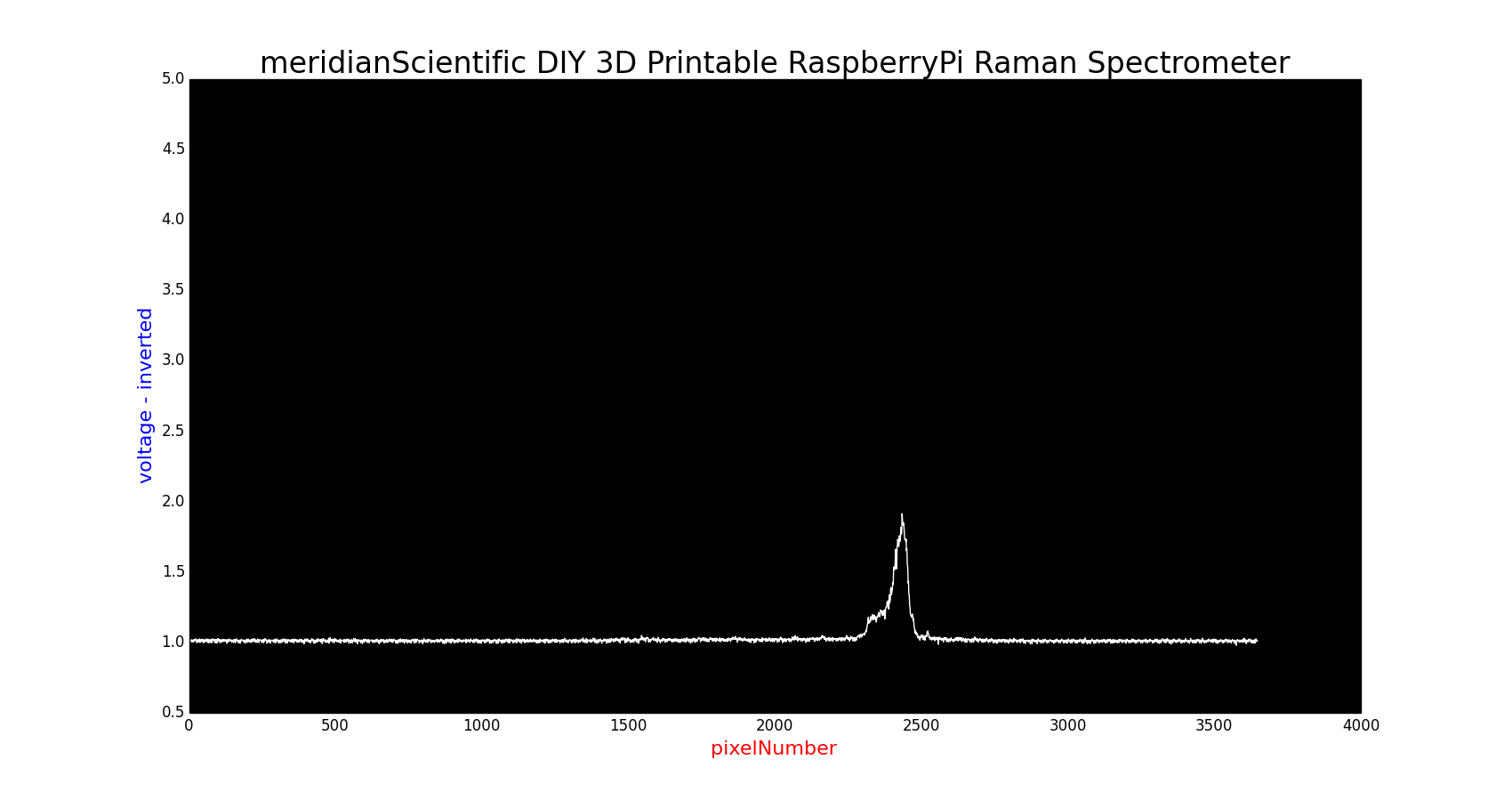 Update: 09.18.2014
Here is a much better signal from a better aligned laser in the test stand bolted to the side...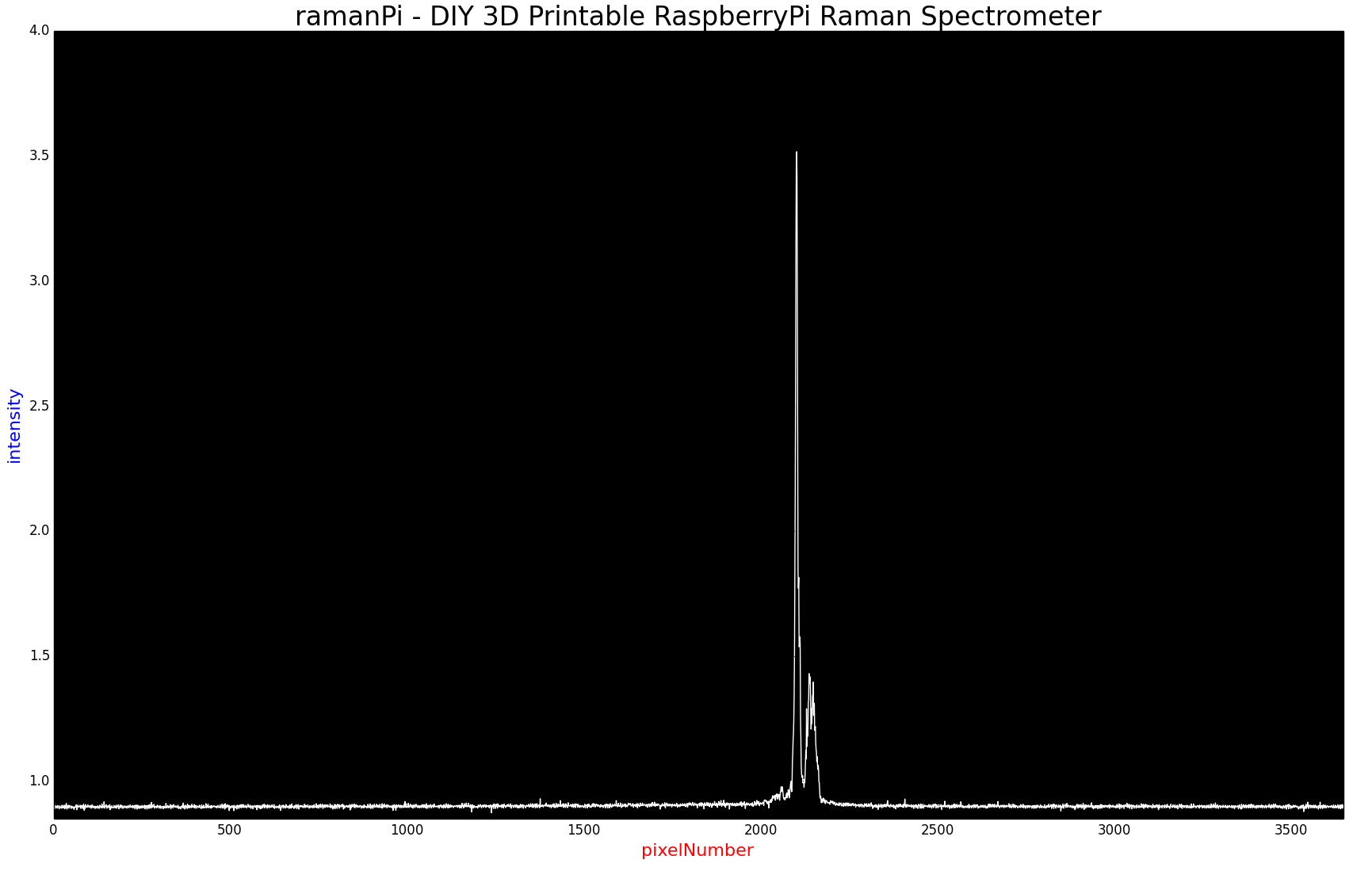 Update Log:
09.17.2014 - Started maintaining this post as a living document.. Added Title to start of instructions.
09.18.2014 - Added 532nm laser spectrum update at bottom...
09.23.2014 - New Logo