Testing Propagation Delay
I have previously mentioned propagation delay tests using a 5 stage ring oscillator.
So what is that?
A 5 stage ring oscillator (web.mit.edu):

Here is my implementation:

Note: I have not made provision for speed up capacitors in this design but you can work it out.
So to measure propagation delay measure the frequency and then divide the frequency period by 10.
Now you can easily use bread board here if you don't like strip-board.
I used a ring oscillator to check if my base biasing formula worked (and it did):
Rb=0.72*Rs/(Vcc-2*0.62-0.72)
Where Rb is the base drain resistor (1k3 ohms in the above design) and Rs is bias supply resistor (5k1 ohms in the above design).
Nowadays I would use 1k2 ohms and 4k7 ohms as these are easy to get in bulk on Ebay.
If you use a one diode design (2 input NAND gate) then use Rb=0.72*Rs/(Vcc-1*0.62-0.72):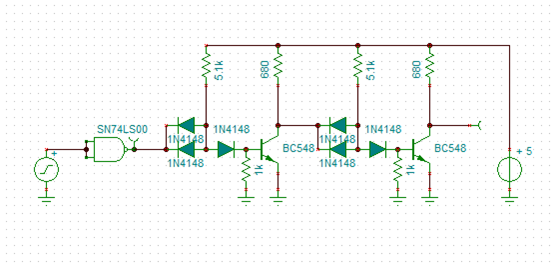 If your interested in a really fast and minimal design consider Johnny Lovqvist's design: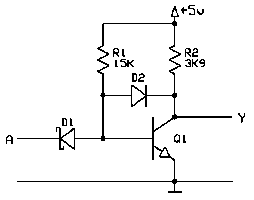 The only down side with this design is the reduced noise margin (which is a worry if used to build complex circuits).

AlanX