While waiting for my new PCBs to come in, I started a new project; building a Delta 3D printer from scratch. That consumed all of my time, and when I was finished with that and returned to my ePaper Temperature and Humidity displays, I realized I made a mistake, so I need to get the PCBs re-manufactured again. After about 6 months of languishing on my bench, I decided to finish this thing up.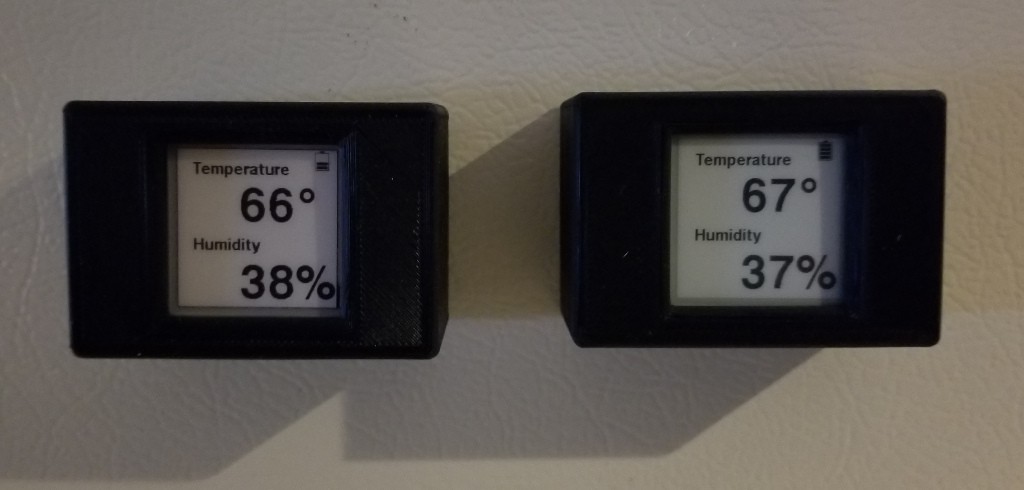 The tri-color display is on the left and the 2 color display is right.
Chugging through the numbers, about 75% of the lifetime on a CR2032 battery is going to be determined by the number of times the screen refreshed, with the rest being the idle current. According the my calculations, the tri-color ePaper disply should make it 103 days on a battery, while the 2 color display version should last 375 days.
I put fresh batteries on both units on Dec 2 2018, 12:00AM. My calculations tell me that the 3 Color display should die on March 15, 2019 and the 2 color display on December 12, 2019. Of course a lot of this will depend on how much energy the battery can really deliver out of its theoretical 225 mAh.
Things I have learned:
Keep clock rates on the microcontroller low. It makes a big different in idle current.
The multicolor ePaper display use a great deal more energy than the black and white ones.
I2C clock stretching, or anything that pulls the lines down for extended periods of time, waste energy. Try to keep the amount of time the pull down resistors conduct to a minimum.
Open Drain output on a microcontroller have high RDSon (on resistance) and make lousy switches. Use an external FET if you want to do something like switch power to a peripheral.