Is there anything to be careful about, when dealing with Ge transistors ?
According to a retired engineer, soldering is tricky. I know Ge is very temperature-sensitive but he advised to not cut the leads. I'm still not sure about the exact meaning but Ge transistors can easily get destroyed during soldering. The soldering iron should be set to the lowest possible temperature, and I will find a way to cool the part down before and immediately after the joint is made...
Who else can share their precious advices ?
---
Now I get it why transistors were socketed back in the days...
And this might be a solution. High frequency signals require short leads and the transistors should barely sit above the PCB plane to keep lengths and traces as short as possible. I'll have to find thousands of individual female sockets that I solder in the PCB holes. I have a "small" stock, maybe a thousand of them, but that is far from enough for a whole system...
(picture found on eBay)

I use these a lot to make prototypes, they are very handy. Unfortunately, all I can find (yet) is small sockets assembled in one (or two) row with 2.54mm spacing. Any hint for where to find individual pins ?
Furthermore, I would cut the smaller end because the larger socket part would go through the PCB. That's a lot to cut...
---
Update:
I have about 4K receptacles of this kind: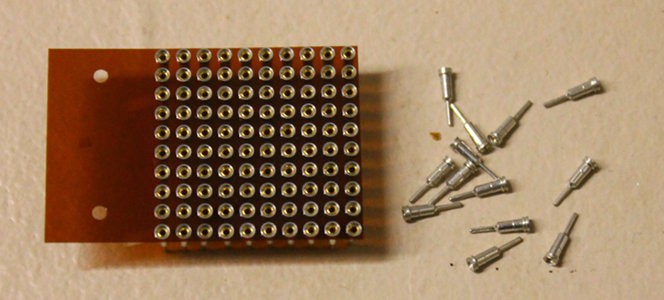 First problem : I only have 4K. The AF240 has 4 pins so that's only enough for 1K transistors (barely enough for the register set alone). I got at least 8K AF240 (see below to see how it looks like) so I'd need a crazy 32K receptacles!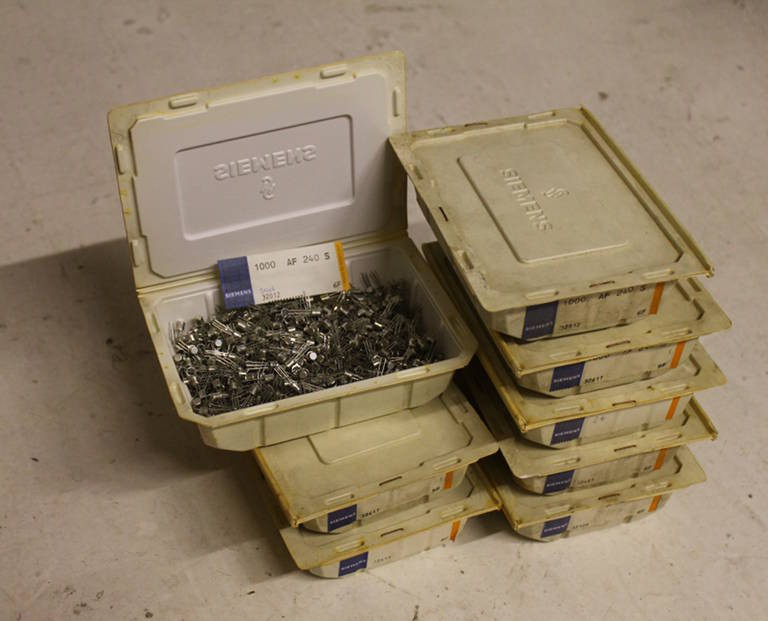 Second problem : To get enough receptacles, I'd have to spend about $200 (that's chinese dollars, you know, you get what you pay for...)
Third problem : Reliability. The transistor doesn't move much but... multiplied by 8K, it's a recipe for catastrophe ! I should rather make small modules with a dozen of transistors and test them well (eventually replace a failed part).
Using receptacles, a vibration, a mishandling or any physical influence could perturbate the circuit, making it hard to use. I'd rather damage a few transistors before use, than spend all my time guessing with can got slightly upset...
Concerning soldering : I did some research of the "mesa" technology and it does not seem to be particularly fragile (compared to others) so I'll make a bet by carefully soldering.