Project Soapbox Racer
There is a community of people developing open source FPGA  SoC cores to emulate some of the vintage computers such as Amiga, Atari ST, C64 etc.  With a bit of customization, it would be possible to recompile for this board. This board has same amount of FPGA resource and SDRAM size as the Mist  http://code.google.com/p/mist-board/wiki/ListOfFPGAProjects
This can be used as a development board for learning ARM and/or FPGA/CPLD.  The FPGA is well supported by Altera with their free suite of design/synthesis and debugging tools including free logic analyzer Spinal Tap II.
As the name implied, it doesn't come with a powerful V8 engine.  This board is not build for speed.  It is designed for emulating computers that fell off the technology curve in the late 80's with today's components that have good performance/price ratios.  I have also added a few of the connectivities (Ethernet, HDD, RTC, Front panel soft On/Off control etc) that we have come to expect but are missing on the other open FPGA projects/products.
Unfortunately, the I/O of modern FPGA are no longer 5V tolerant.  Most of the FPGA boards out there simply breaks out the pins on to a header without any level translations leaving users to fend for themselves.  Even if the inputs are 3.3V, the loose piece of wire in the typical "proto" set up is a signal integrity nightmare.  When combined with a fast rise/fall time can generate high voltage pulse.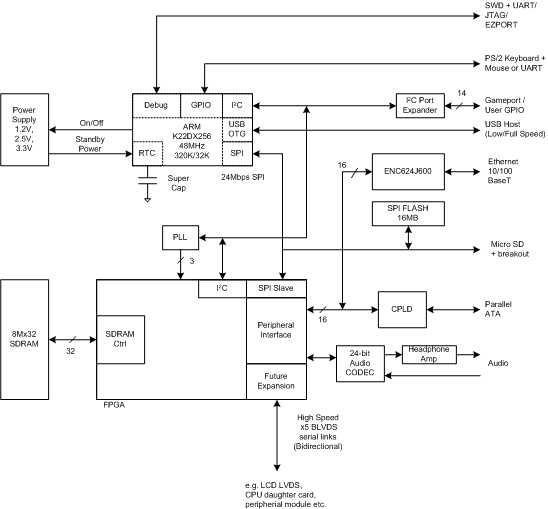 The FPGA is the main star of this board.  It has enough resource to implement a 68000 CPU core and Amiga chipset.  It is connected to 8Mx32 (32MB) of SDRAM, Audio CODEC, CPLD and the ARM chip.  The CPLD controls the HDD PATA interface and shares the bus with the 10/100 BaseT Ethernet.
The ARM chip is for loading FPGA configurations stored inside a file system, on screen menu for selecting the FPGA core, configuring PLL frequency, debugging and emulate peripherals (e.g. USB or PS/2 mouse/keyboard, Real Time Clock)
3D Rendering of what the PCB would look like (based on EagleUP ulp): See http://eagleup.wordpress.com/
Updated pictures: (finalized rev 0 PCB)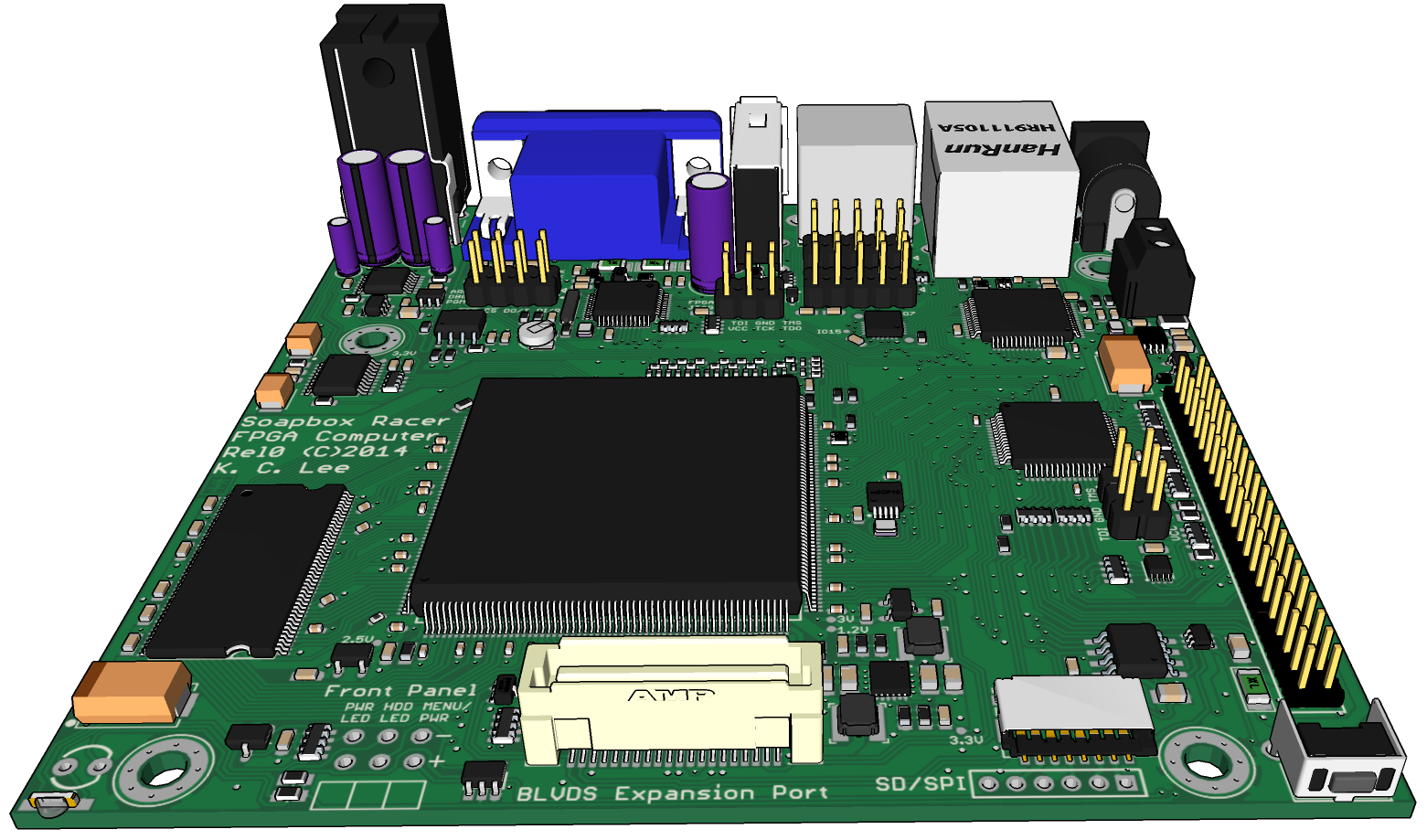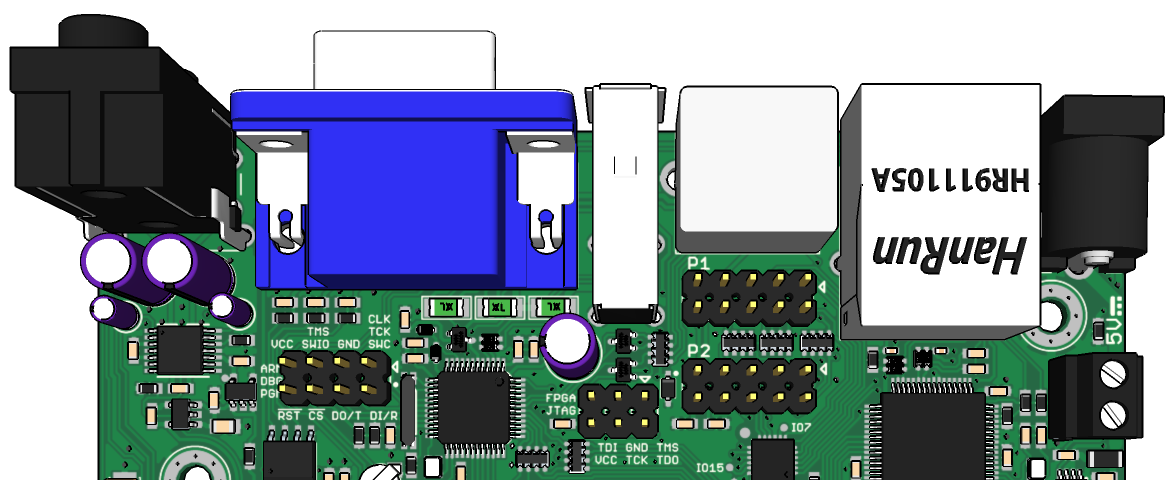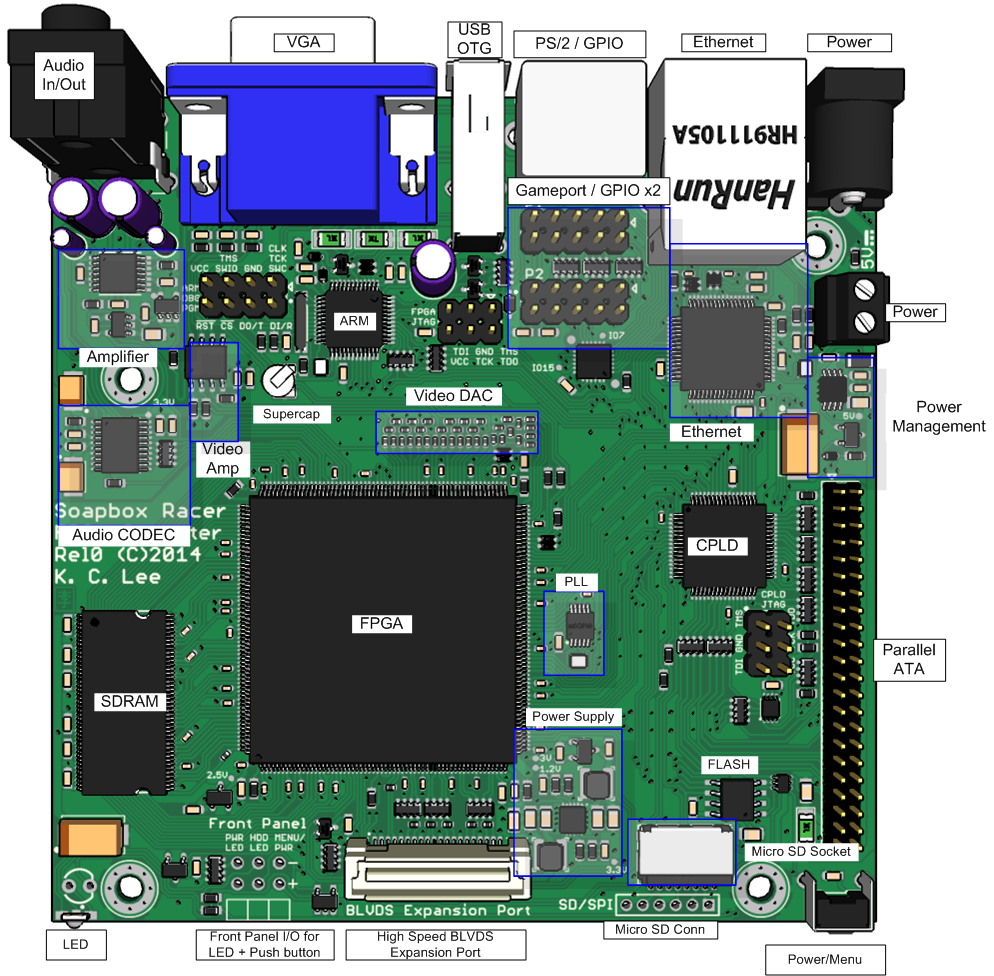 User I/O:
The user ports on this board are 5V tolerant.  While the board has been optimized for emulating a computer, the ARM, CPLD and FPGA can be programmed to do something else other than just a computer.
"Nothing is true, everything is permitted." ―The Creed's maxim.
Power: 5V DC
An alternate 3.5mm screw terminal is available if the board is to be power internally inside a case.  The 5V input is protected by AP2511 2.5A current limited switch (UL recognized). There are 4 additional PTC for the user I/O connectors. The current limit switch also allows the ARM to switch on/off the rest of the system under firmware control.
Mass Storage:
Since the I/O can be re-purposed for the end application, it is important to have alternatives means of storing FPGA configuration or hosting a file system for the computer emulation environment.  Onboard 16M bytes SPI FLASH, removable MicroSD are supported by this board. 
Ethernet:
10/100 BaseT Ethernet is provide by Microchip ENC624J600 in 16-bit multiplexed address/data bus (Microchip PSP) connected to the FPGA. 
Parallel ATA:
Parallel ATA is fully 5V tolerant and is cconnected to a Xilinx XC9572XL CPLD with series termination resistor.  There is a 16-bit data path connecting the CPLD/FPGA.  The data path is also shared by the Ethernet chip.  Ethernet and ATA data path can be rerouted to ARM inside the FPGA once configured.  (The ARM chip also has an unused SPI data path connected to the CPLD.)  This interface can be reprogrammed if an application requires a parallel high speed LVTTL/TTL/5V bus to the FPGA.  e.g. a 18-bit LVTTL LCD, logic analyzer inputs, 8-bit I/O bus etc. 
There are a lot of below $10 bidirectional PATA to SATA converters available from China at the usual place should one decided to keep up with...
Read more »