I am still waiting for my Vacuum pen + suction pads from DX. So what to do with my new and tiny parts in the mean while?  
Here is what I have put together in about 10 minutes hack to make a vacuum pickup tool.  You probably have seen it dine a doze of times on the web.
1 fish tank pump modified to have a suction outlet, silicon hose, 1 plastic disposable 0.5mm mechanical pencil - mine has a rubber grip coating.
Edit:  Added scan picture of valve modification.  
Note that the pump is different, so YMMV, but the general idea is there.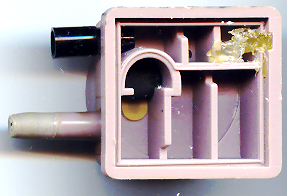 Basically remove the valve.  I have seal the hole at the right hand side with hot glue and drill a hole on the left side for the plastic tube for the suction port.  Dremel a U shaped opening for the new port.
The suction port is a plastic tube from a butane lighter refill tip.  I guess the longer plastic tube from the guts of the mechanical pencil is probably better.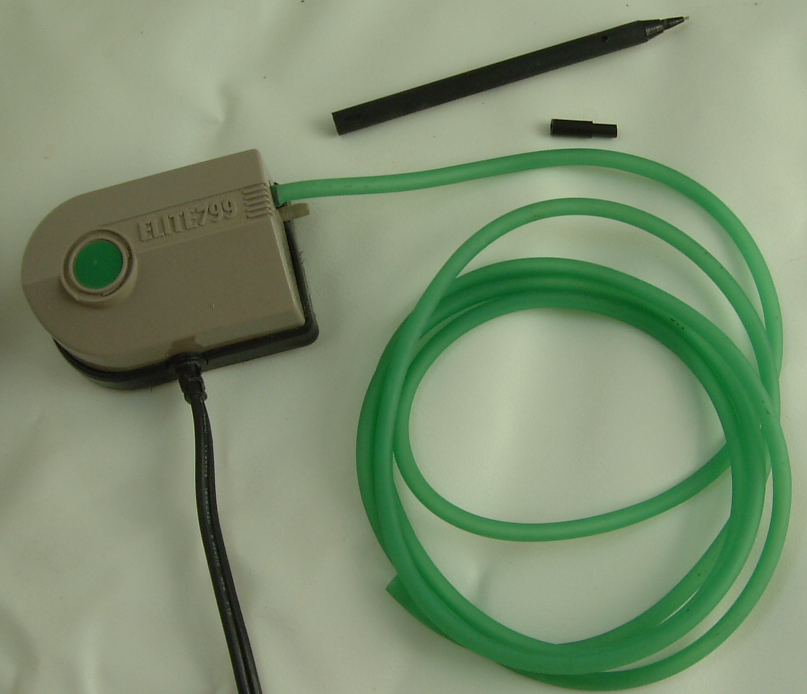 I have gutted the inside of the mechanical pencil and essentially using body of the pen as a plastic tube.  I drill a small hole on one side where my finger would cover to enable the suction.  I made an air inlet out of the plastic tubes what was inside and epoxy that to the end.  I save the clip and use it as a valve to cover the hole.
0.5mm ID is just the right size to have enough suction, but small enough to block a 0402 part.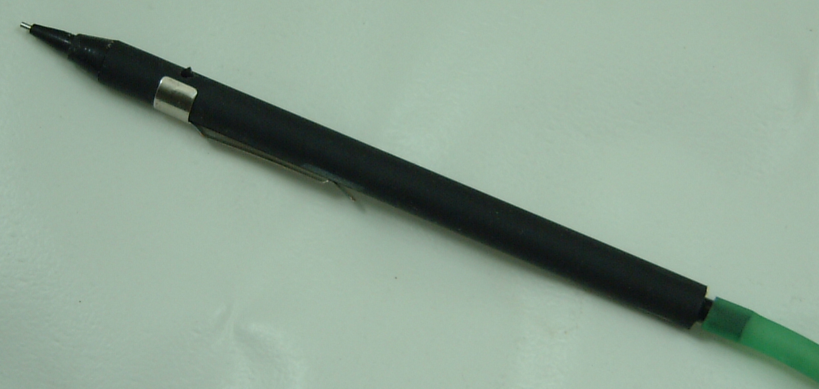 In case you are wondering how much suction that 0.5mm mechanical tip has. That's a case B Tantalum (tantrum) capacitor. I had rotated the clip to covers up the hole for continuous suction. It is easier to not have my thumb blocking the capacitor in the picture.
My "granite" campo patterned desk is pretty bad for working with 0402. 
It doesn't work on heavy parts with a smooth metal surface. It does work on that tiny supercap. It helps a tiny bit if you put a PVC insulation from a wire around the metal tip of the pencil which help air seal on a smooth slippery surface. For larger heavier parts, I would have to use a good pair of tweezers. The problem with tweezer is that sometimes the parts might decide to fly off across the room if you try to hold them at an angle. I am still waiting for my vacuum tool with their silicon suction cups. 
Update:
My DX shipment finally arrives.  They look so much bigger in the pictures.  
SKU 72691 IC Chip Vacuum Pen Suction Pads Set for Electronics DIY USD$ 3.31 
http://img.dxcdn.com/productimages/sku_72691_3.jpg
The 72691 is made to look like the $20 HANDI-VAC® Vacuum Tweezer Kit.  It comes with 4 tips. The top part needles are made to look like metal but are plastic coated with a conductive Aluminium coating. On 2 of them (straight ones), there is low resistance (around 10 ohms) to the metal needle while the other 2 (bent ones) are open circuit.  I pushed in the needle and wiggled it a bit against the top and now they seem to be conductive. The silicon cups are non-conductive, I am hoping that they are made of ESD dissipative silicon.   I have to say the overall built quality is so-so, but okay for $3.31.
I made an adapter from the left over pencil parts and use heat shrink to make a fiction fitting for the pencil.   The large silicon suction cup from 72691 works well for QFP208 package.

SKU 24038 Replacement Suction Pads for Electronics DIY (5-Piece Set) USD$ 1.60  
http://img.dxcdn.com/productimages/sku_24038_1.jpg
The smallest silicon suction cup from 24038 fits over the mechanical pencil tip.  It works very well and can (barely) handle a PLCC44 package.  Wish there were more for that size, but that isn't too bad for at $1.60.  
I'll probably get some dispensing needles from DX next time I have an order and see how well they work.  The fine tip of this $1.39 set looks to be promising.
http://img.dxcdn.com/productimages/sku_294771_1.jpg
The silicon cups works so much better than just the bare pencil tip. I think this would good alternative to holding onto the fine pitched leaded packages or having small packages flying across the room.