​This was a project a few months in the making. I originally started it while I was still at SpaceX but really got to focus on it right before burning man 2013. I really wanted an 8 ft long carbon fiber staff with a ton of full bright white capable RGB LEDs on it. (I'm a big guy so I wanted something that felt big enough for me).
It went through two major revisions. The first one had a .75" diameter core round carbon tube from dragonplate and was scaffolded over this with laser cut acrylic spacers.  The second revision had a 1" square carbon tube core from Pu-Feng, a custom routed carbon bridge piece/electronics enclosure in the center using v shaped clamping blocks to tie the two halves together. A polycarb cover was placed over the assembled staff to protect the LEDs.
If I had to do it again, I'd definately ditch the protective cover and try to move the LEDs inside the carbon (maybe a carbon truss structure as opposed to the tubes.) as it adds alot of weight and unnecessary complexity. 
First Revision prototype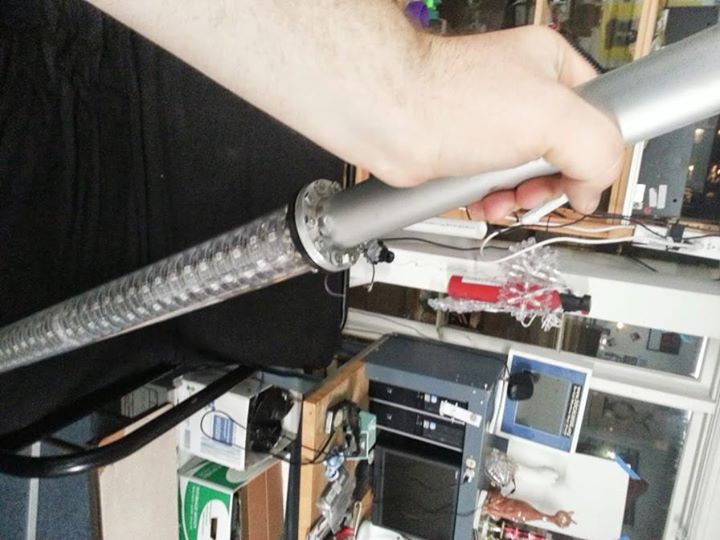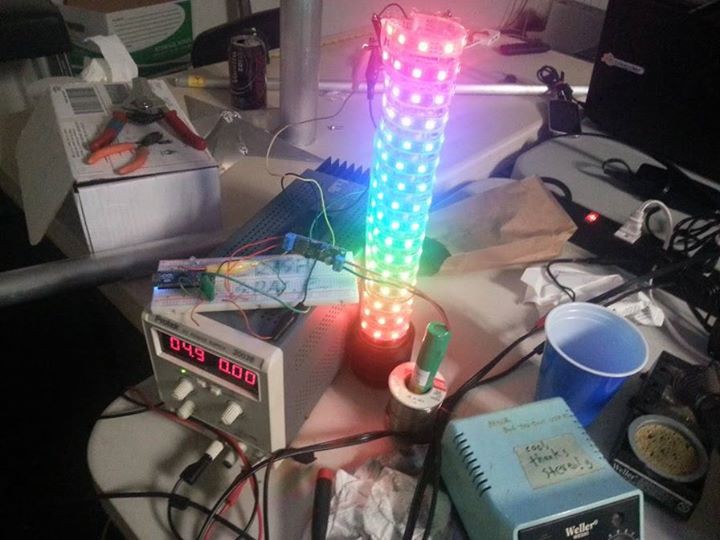 For the second prototype I scraped together some carbon tube from around the lab and got in on an order of 2811 addressable RGB LEDs via the local hackerspace Crashspace ( I think I originally ordered 10m or so, for ~ 300 dollars)  I got some 7.4v 2.6 AH packs with built in protection boards from batteryspace and some step down regs from Pololu for bringing the voltage down to 5v. 
Second staff:
Matt rigged up a teensy with a level translator to drive the LEDs ( I was originally using an arduino pro mini and adafruit's neopixel library, but the teensy was much better at high rate control of the LEDs). Then he added a couple of "modes" and a brightness/speed adjust paramter for the control knobs. I'll add a cool video and gif of the modes shortly