Just a quick update talking about two hangouts that we demonstrated the AFSR on! (Also includes a special sneak peek)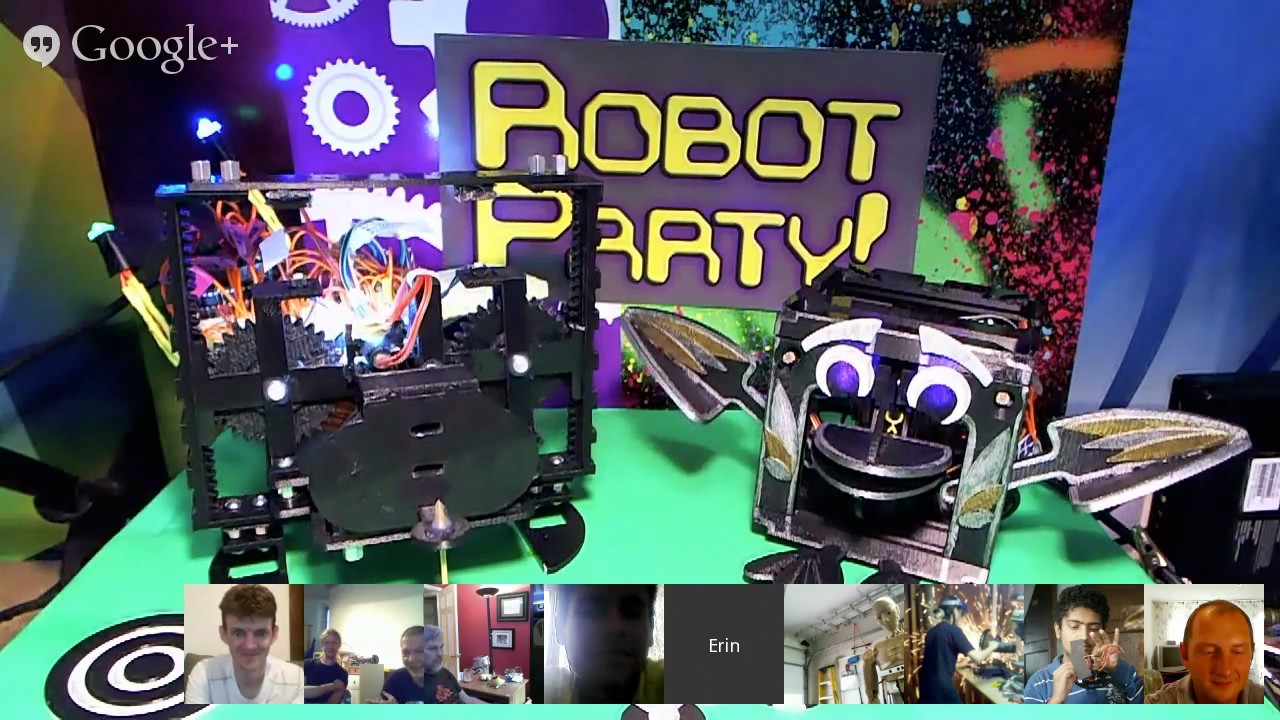 ---
Robot Party
We recently showed the AFSR at the Robot Party on Saturday (July 19th), near the end of the hangout. Check out the video recording of it, we show our project at 1:39:16.
The Robot Party is a Google+ hangout where robot builders from all around the world can show their robot. I started it many years ago, before hangouts existed, and we had to use Ustream and communicate via IRC chat.
Sneak peek! Here I was showing the AR marker that we might be using in the project.
The Robot Party is a great way to learn about what other robots people are building! If you're interested in it, join the Robot Party Rockstars group.
---
Studio Y
Tonight (July 22nd), we showed the AFSR to 'movers and makers' at Studio Y via a Google+ Hangout.
Studio Y is a group of young people (around my age) who want to drive positive change in their communities. They meet at the MaRS Discovery District in Toronto. MaRS is a large entrepreneurship centre in Canada.
It was great to hear the questions they had about my robots. Also cool to hear what they were hacking on.
Special thanks to Asad (@asad_ch) for the speaker invitation!
---
Future
There is another event coming up soon where we can demo the AFSR. This one will be in person, so it will be exciting to see how people will look at the robot and what their thoughts will be.
Really looking forward to this next event- it will be like a 'demo day' of sorts.
More updates coming soon. The robot has progressed quite a bit since the last update, but we're working on putting the finishing touches on it before a new update!
We also received a box full of laser levels that we are dissecting (thanks Chris for sending them). They have a reflective sensor pair that might be useful for the encoder hack. And of course, there is also the lasers themselves :)
Stay tuned for more updates coming soon!