22 July 2018
Got the latest design revisions back from OSH Park and put three together. I consider these the first "production" boards even though I assembled them by hand; they are the final design and ready for a pilot production run in China:
Also, I was able to buy some of the AS72651 and AS72652 ICs so these are the first boards that have all three of the actual AS7265X ICs: AS72651, AS72652, and AS72653. The previous designs used AS7263 for the AS72651 IC and AS7266 for the AS72652 IC. I bought the AS7263 and AS7266 directly from AMS and these are supposed to be identical to the AS72651 and AS72652, respectively. But probably pre-production variants or something. Anyway, these three boards use the "proper" or more likely "production" versions of the AS7265X chip set.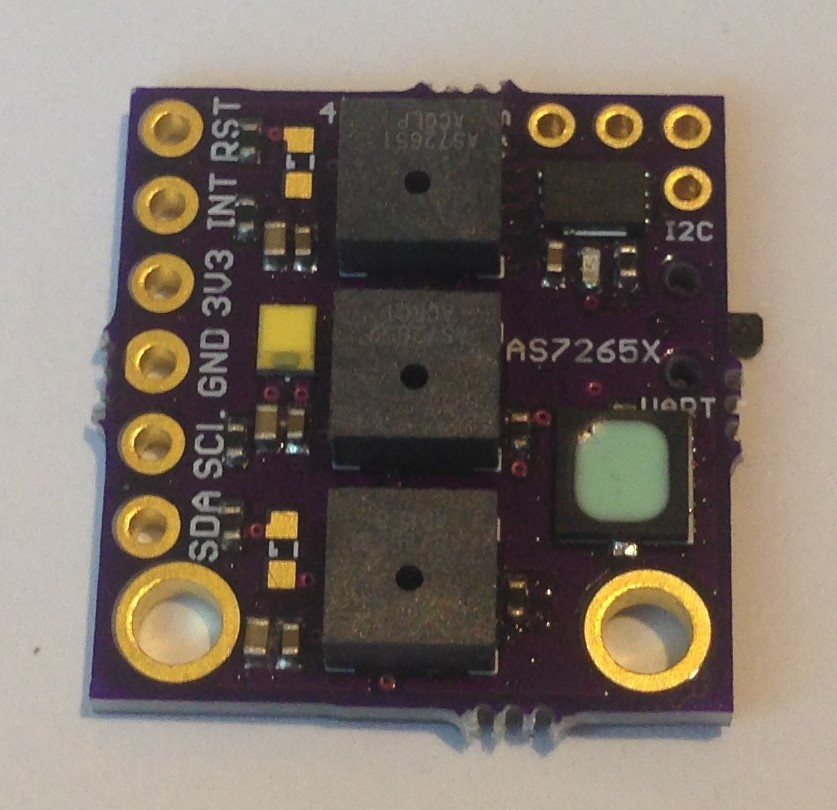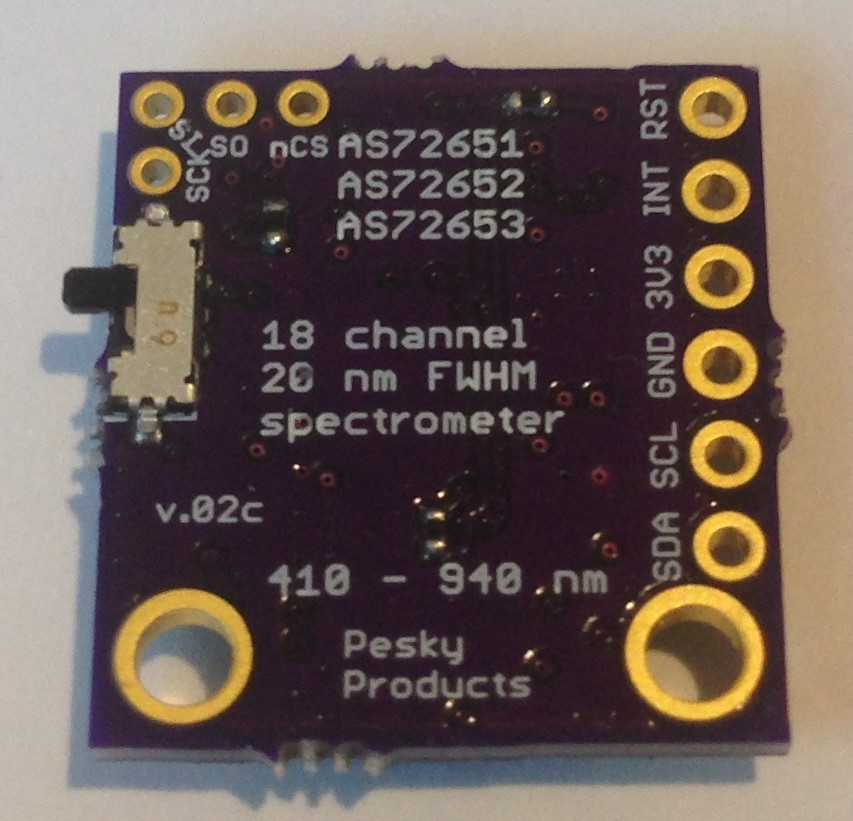 Everything works as expected. The switch I added to the back changes the mode from UART to I2C; in the former case SDA (RX) and SCL (TX) serve as the UART port. The fact that these have 4K7 pullups doesn't seem to impede the serial UART data flow. I prefer I2C but it is nice to have the option at the flick of a switch. I suppose a solder jumper would have done as well and saved a bit of BOM cost.
I should be possible for the user to use a soldering iron to add 0603 leds of his/her choice for the other two source leds. I like having the broad-band IR source led (the bluish square thingy) but this adds significanlty (~$5) to the BOM cost. I think the spectrometer works well-enough with only the broad-band white source led (smaller yellowish thingy) for many applications, so I am kind of on the fence about the benefit of having the IR led too.

The total cost ended up being about $21 without the IR led and about $26 with. So this meets the goal of a "Compact, $25 Spectrometer".  I listed the final design version (v.02c) of the AS7265X spectrometer as a product on Tindie for $49.95 with the option of adding the broad-band IR led for $10 extra. Considering I will assemble these by hand for a while to test demand, this is still a bargain. But for the cost conscious and/or those that want an assembly challenge, the design files and BOM are open source. I will post the final design and BOM on the project page.