Banana PI BPI-M2 Ultra is the open source hardware platform, Banana PI BPI-M2 Ultra is a quad-core cortex -A7 CPU ,use Allwinner R40 design, it support WIFI+BT on board.and support SATA interface on board.
Banana Pi BPI-M2 Ultra series run Android, Debian linux, Ubuntu linux,Raspbian system and other OS.
Banana PI PBI-M2 Ultra hardware: Quad Core ARM Cortex A7,ARMv7 CPU, 2GB DDR3 SDRAM, 8G eMMC flash on board
Banana PI BPI-M2 Ultra with Gigabit Ethernet port, It can run Android smoothly. The size of Banana PI BPI-M2 Ultra same as Banana Pi BPI-M64, support 1080P video, the 40 pin GPIO header is pin-compatible with Raspberry Pi.
The new BPI-M2 Ultra is a tiny little computer with great big ambitions. The expandable single-board device runs either Linux or Android and features impressive specs that outshine comparable products by a substantial margin. Highlights include a quad-core ARMv7 processor, a Mali 400 MP2 GPU, 2G of DDR3 RAM, a microSDXC slot,8G eMMC flash,WIFI&BT onboard and support for 1080P ultra high-definition video.
More specs follow below.
Quad Core ARM Cortex A7 CPU
Dual core Mali 400 MP2 GPU
2G DDR3 SDRAM
support SATA interface
MicroSD slot supports up to 256GB expansion
8G eMMC flash (option 16/32/64G)
CSI camera intface and DSI display interface support
10/100/1000 Mb Ethernet port
(3) USB 2.0 hosts and (1) USB otg port
1080P high-definition video playback
HDMI port and multi-channel audio output
WIFI&Bluetooth 4.0 with 802.11BGN onboard
3.5mm Stereo Output mini-jack with microphone support
Built-in 3.7V Lithium Battery Charging Circuit
Hardware security enables trustzone security system, Digital Rights Management (DRM), information encryption/decryption, secure boot, secure JTAG and secure efuse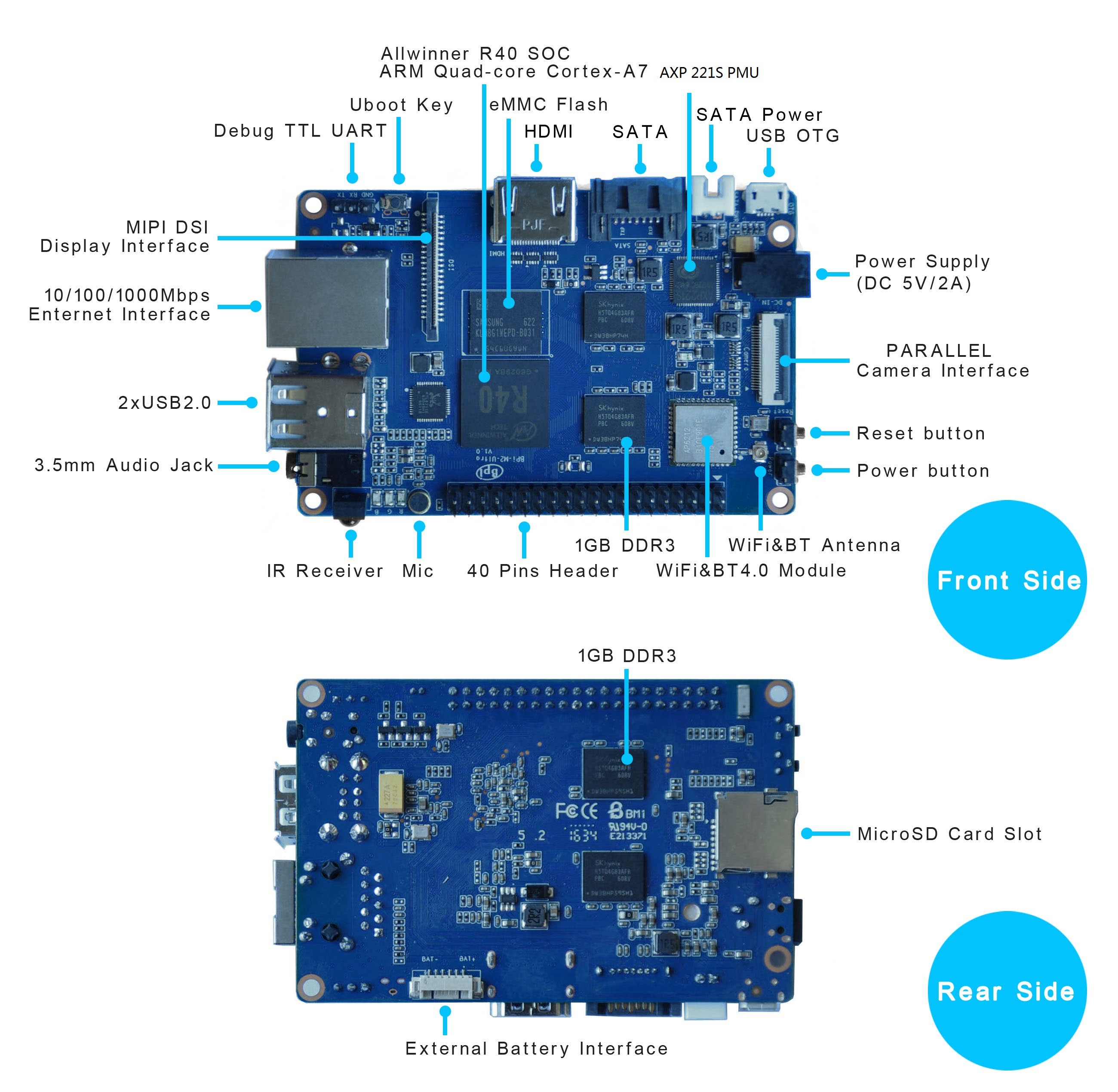 40 PIN GPIO define