The water flow detector module is supposed to be attached to water pipes (hot and cold) and accurately detect when water is flowing through the pipes. Non-invasive water flow measurement modules exist in the form of ultrasonic transmitters and receivers. The transmitter and receiver are placed on the pipe and depending on speed the water flow the transmission time will differ since the flowing water carries the waves emitted be the transmitter. Problem is, these sensors are not easy to get and anything but cheap, as well as not suitable for an ultra-low power module.
Since it's not necessary to measure the exact flow rate but rather whether the water is flowing or not, a simpler solution will do. The first experiments were conducted with a piezoelectric vibration sensor and an electret microphone, both attached to water pipes in hopes of measuring vibrations caused by the water flow.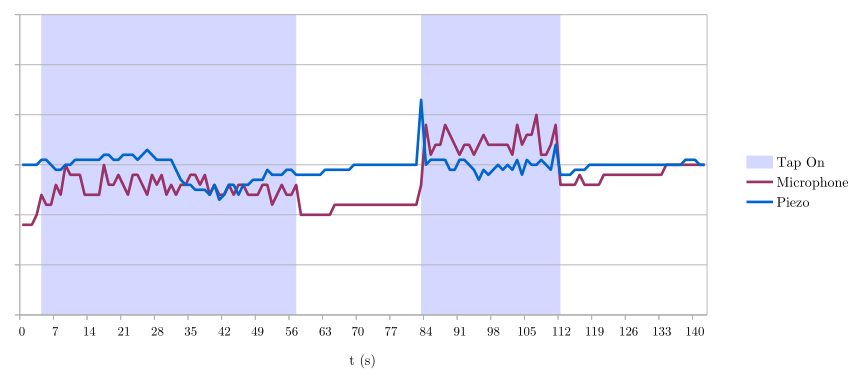 Data collected from a piezoelectric vibration sensor and a capacitor microphone attached to a metal water tap
The graph makes obvious that the difference between flowing and not flowing water is minimal. In addition, the sensors would also measure any other sound/vibration caused by other sources. With little hope of getting usable data with this setup, the idea was scrapped and other possibilities were explored.
On a brighter note, I discovered that piezoelectric vibration sensors do a great job at measuring heart rate. (http://hackaday.com/2015/03/19/measuring-heart-rate-with-a-piezo/)