CrowPi is now live on Kickstarter with 121 backers peldging $24,091. If you are/will be Raspberry Pi users, CrowPi is perfect to make your making easier. Back us Now to bring it to life!
Why do you need CrowPi? 
Before you answer this question, let's do a simple quiz game. Do you face the problems below? Just say YES or NO.
You're interested in electronics or Raspberry Pi, but you have no idea how to start.  
You're passionate about STEM education, but you can't find useful and easy materials to teach with.  
You're using Raspberry Pi, but you don't make the most of it. You completed some simple experiments, and you want to explore more projects and dive deeper into the electronics world. 
If you say YES once, CrowPi is born for you. CrowPi will help you solve all the problems mentioned above.  
What's the advantages of CrowPi?
CrowPi has many advantages compared to the traditional ways of DIY electronics. You can start some projects instantly and easily with CrowPi. It's very convenient to carry CrowPi with us because of the neat case and compact layout.
All-in-One Kit, CrowPi embeds regular materials for doing RPI projects
Printed user manual and step by step digital tutorial
Compatible with Raspberry Pi 2/3 and Raspberry Pi Zero
Portable, you can take CrowPi anywhere you want
Can be extended and upgraded
Can be used as a computer 
Status LED indicates which sensor is currently working
Useful for any age at any level
Support multiple operating system and programming language

What can you do with CrowPi?
Once you install the Raspberry Pi board with CrowPi, you're ready for making endless possibilities. 
Practice primary coding by making your own Scratch game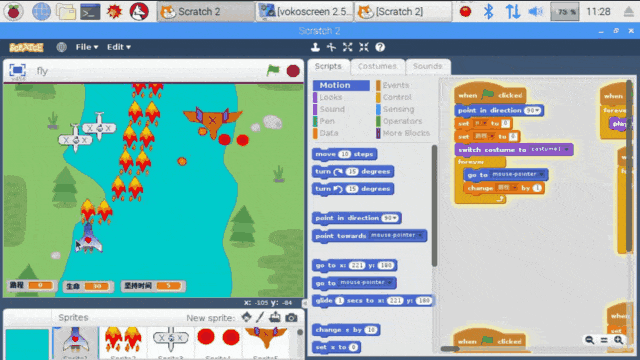 Control the hardware with Scratch programming skills
Develop Python programming skills
Create PC control system( You can also click the button on the touchscreen monitor)
Build simple electronic projects
You can also build more complicated projects all by yourself after you master the fundamental knowledge, for example bluetooth or wife wireless control, face recognition, gesture control and so on.
Check it out on Kickstarter and Back us with 4 options of CrowPi Kit for different demands at special offer!