It's been a while since my last update here. A few reasons. First I wasn't diving that much in September (got sick) and then later I got busy setting up twin tanks for myself and my fiancee so we can dive longer. Here's what happened since my last update:
I've tried to reach out to NOAA (National Oceanic and Atmospheric Administration in US) in Seattle asking to help me scale my meter in knots. No luck. Some people replied saying that they are not the right people :) I'll try again later.
I've made an underwater sleigh with some weight on it. The idea was to tie my meter to that sleigh, and drag the sleigh using my 300ft measurement tape at different pace. Instead of making water moving around the meter I would make the meter move through the water. I could easily measure distance and travel time. In theory it would work well. In practice it didn't. Here's what went wrong:

It's hard to find a patch of ideally flat unobstructed bottom. Incline made my sleigh go sideways. Kelp and other obstacles wouldn't let me to pull sleigh smoothly and at a very consistent pace.
Even though sleigh with buoy would weigh only 1-2lb underwater it wasn't very easy to stay put underwater while pulling tape.
I think in ideal conditions this idea is ok but in my circumstances I need to find a way to improve implementation significantly to make it work

I've had the buoy deployed for two weeks but bug in my logging firmware wouldn't put circuit board to sleep so battery lasted only a day and a half.
After fixing firmware I had my meter underwater for a week with following settings: every 30sec capture 2sec at 10Hz. With proper standby mode it seems that I can have a month of logging on my 2500mAh 18650 battery.
Below is one of observed days data: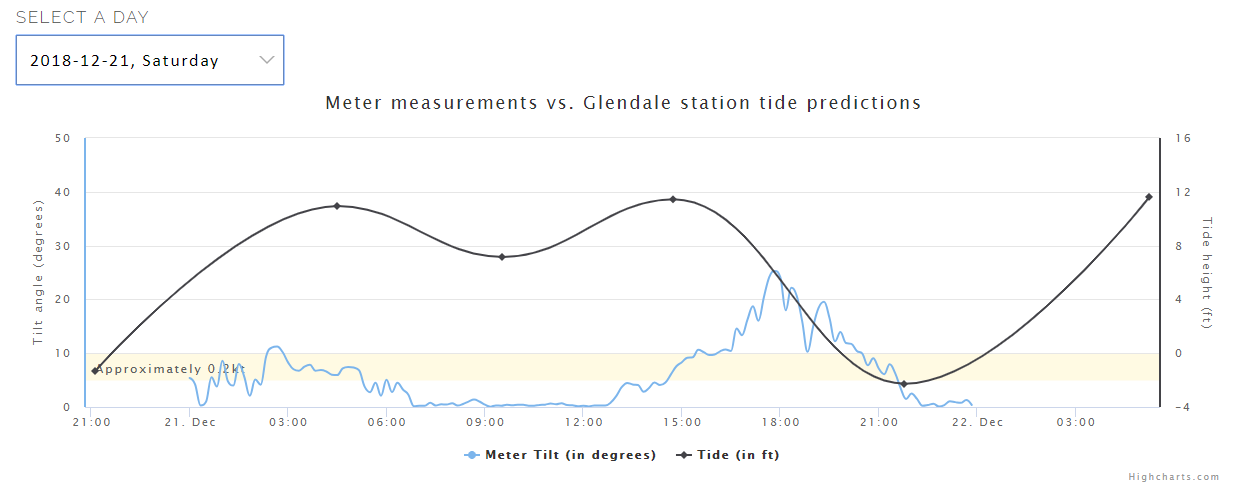 Full week of observations can be found at http://mukilteo.pnwdiving.org/ (Dec-15 - Dec-22 2018)
My plan and next steps:
Check if reducing interval between captures from 30sec to 1 or 2 minutes will change picture or not.
Update log processing scripts to make them more robust, testable and structured. So far it's just a bunch of scripts that read one set of files and write result into some other files. 
Continue capturing data.
Try again to scale meter in knots.
After a few months worth of data try to run some regression to possibly figure out good enough prediction model.