This HaD project begins with my latest STM8 eForth log.
Richard's nRF24L01 library for STM8 eForth was a very good starting point for experimenting with the most prolific of all transceiver devices (in the meantime I learned that genuine nRF24L01+ chips are rare, and the best one can hope for is the "quite OK" SI24R1. For simplicity I'll refer to it as nRF24L01, and I also try to get a set of radio modules with genuine chips to test compatibility.
The cool thing about using STM8 eForth is that it's far more than a programming language on a nimble µC: it's also an operating system and a programming environment. I'd like to explore how to install features, "software apps", over the air.

For obvious reasons, a wireless sensor should consume very little energy, and selecting a µC with an RTC and very low energy needs in halt state is an important requirement. I'll start with cheap CR2032 coin cells, but other power supplies will be considered (e.g. a "solar garden light" style power supply with a single NiMH cell). I designed a STM8L051F3P6 breakout board that will be the foundation for my first experiments. As a PCB design tool I use  KiCad 5.0.0.rc2, and the first set of PCBs I ordered it from @oshpark.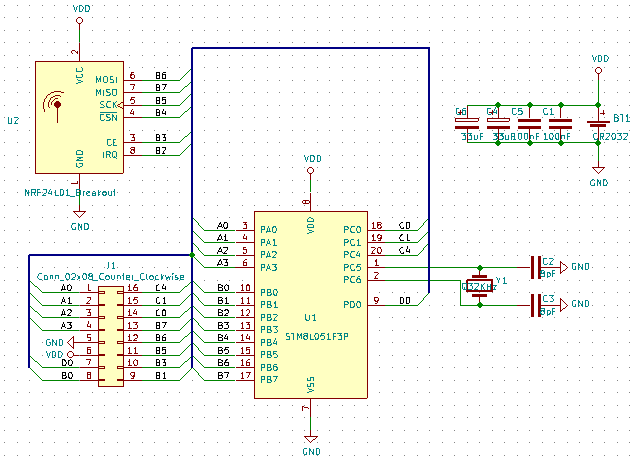 While I wait for the PCBs to arrive, I'll be working with an STM8L051F3P6 breakout I made some time ago, and I'll try to design a first sensor PCB with a humidity/temperature sensor.
@Wassim uses a BME280 chip in his Home Smart Mesh project. The page Humitidy Sensor Shootout offers a great overview, and the Bosch chip appears to be one of the best. It also offers a barometric pressure sensor, let's see what can do be done with it.