The latest article in Low Tech Magazine is on compressed air energy storage.
Reading around led me to Blade compressors.
There's a fairly clear video here, starting 60 seconds in.

Essentially the cylinder is a hollow doughnut/toroid as the cylinder with a piston moving around inside. 2 holes in the cylinder, an input and output are separated by a disc which has a slot in it to let the cylinder through (watch the video).
This got me thinking. its a nice design but pretty impractical for a home builder to cobble together. The 'blade' needs to match up perfectly with the piston, and the cylinder has a slot cut into it to attach the piston to.
To avoid the slot the entire thing could be turned into a linear motor. In my head there would be a ball bearing for the piston, copper coils around the cylinder to propel the piston.  The problem then is syncing up the blade to open when the piston is approaching and then I thought what about a second ball bearing? one ball bearing goes around the loop compressing the gas, once it gets to the ball bearing 'cylinder head' it hits it, the cylinder head gets knocked out of position becoming the new cylinder (like a Newtons cradle, thus the name) and the old cylinder stops becomes the new cylinder head. the new cylinder does it's loop, before hitting and replacing the current cylinder head and the cycle repeats.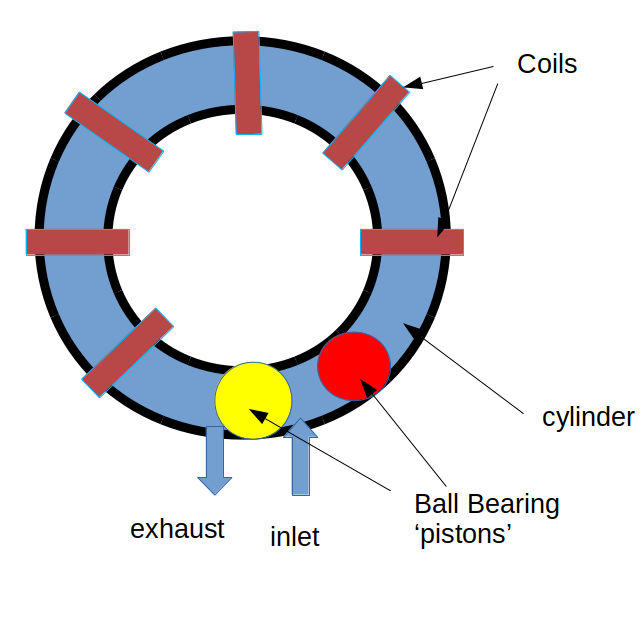 Much googling hasn't turned up any alternatives, and I can't think of any show stopping issues.